Questival is Here
RuneScape's 200th quest –
Dimension of Disaster
- is almost upon us, and it's high time to celebrate.
Welcome to Questival
: our two-week questing extravaganza!
This week, we'll be focusing on all the 199 amazing quests already released in RuneScape. So, prepare for competitions, chances to ask your most burning quest questions, and events galore!
---
Quest to Impress
Here's a quick run-down of some of the most important quest stats for the 199 quests to date.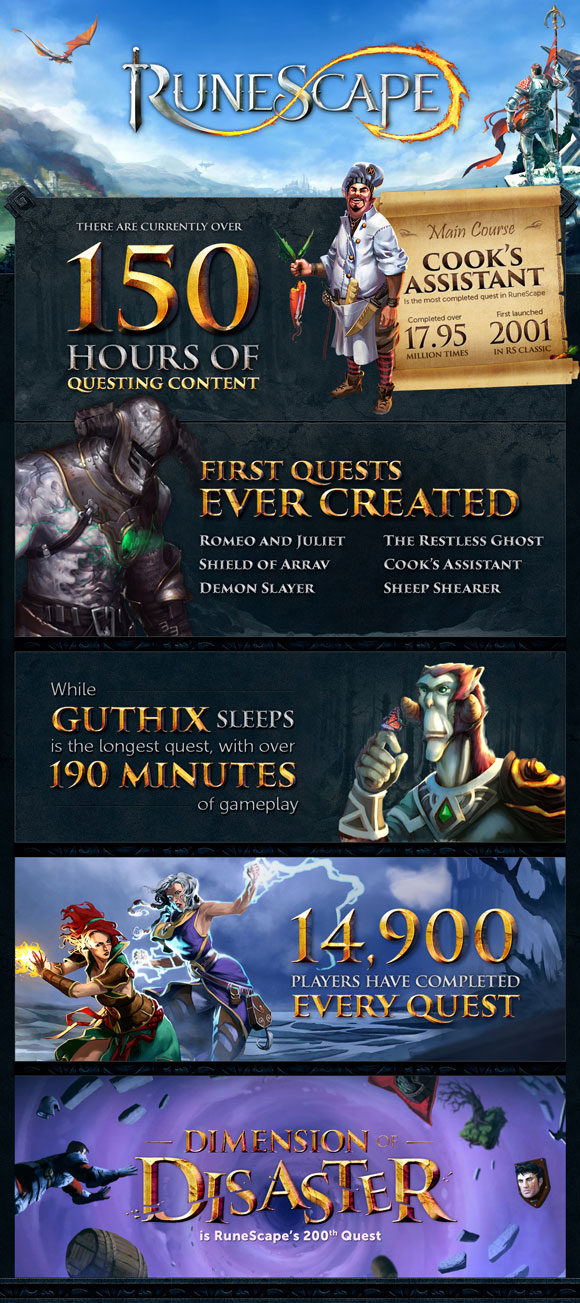 ---
What is RuneScape's Greatest Quest?
Want to win one of seven exclusive, signed, framed pieces of 200th Quest art?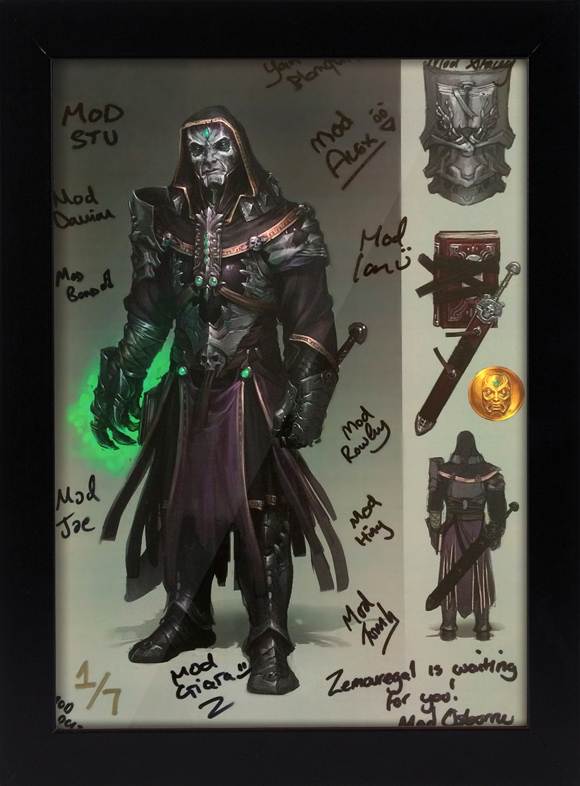 To win this amazing prize - as well as a signed, IRL party hat - we want you to dust off your crystal balls. A couple of weeks ago, we made a poll asking you for your favourite quests. Now, we want you to predict which of the 199 will win.
Head to our Facebook page to enter
. We'll reveal the top 10 quests in a video next week.
Any questions?
Check out the competition FAQ
.
---
Players' Gallery #51 – Your Favourite Quest Moment
We've opened up entries for a quest-themed Player Gallery. Create your interpretation of your favourite quest moment and send it to us to enter!
Find details on the Players' Gallery thread
. Don't forget, you can
enter via email
, or on Facebook, Twitter or Instagram, by uploading your picture with the hashtag
#RSPlayerGallery
.
Prize: One of the seven exclusive, signed & framed prints, feedback from our concept artists, seven days membership, 200 RuneCoins, and an XP lamp.
---
Ask Us Anything about Quests!
With 199 quests, there's a heck of a lot to talk about.
That's why we've set up two Q&A sessions for you. In the AMA, you can ask anything you like about RuneScape lore, as well as anything else about what makes up a quest – be it graphics, audio, narrative, QA or development. The live forum Q&A is on the 200th quest. For both, there'll be plenty of JMods on hand to take your questions.
---
Quest Competition
On Saturday 28th March, you'll have the chance to prove you're RuneScape's best quester.
We'll be tracking the number of quest points gained from 00:00 UTC on Saturday 28th March until 23:59 UTC Sunday 29th March.
The player with the most quest points gained will be crowned King/Queen of the Questival and will gain access to the
Questival King or Questival Queen
title - along with a whole host of other prizes!
There are no-sign ups as we'll be tracking this for all players. If you're new to quests, then there's never been a better time to start. If you're a grandmaster, then get yourself a new account to maximise your chances - we'll add the title to your main account if you win!
Visit the quest competition forum thread for more details
.
---
Quest Events
Celebrate RuneScape's quests in style with JMod events happening over the two weeks.
If you can muster the courage, be sure to head along to the Broken Home mansion on World 23 at 15:00 UTC on Friday 20th March to take part in a Broken Home speed-run! It's our first re-playable quest, so even if you've completed it before you can still take part and prove your worth!
Mod Lee's running a
One Small Favour Hide and Seek
event, today at 20:30 UTC on World 37.
That's not all – we'll be running regular events throughout the week. Be sure to
check out the JMod in-game events thread
for full details.
See you there!
RuneScape Community Team

17-Mar-2015 13:32:55 - Last edited on 18-Mar-2015 10:20:34 by Mod Kalaya