Community Chronicle - Jan
The holidays are over, and all are in awe,
Before the kind presents, events, and giveaways galore!
We hope this chronicle will bring you some cheer,
And we wish you all a happy new year!
---
Thanksgiving
In late November, we released a community-oriented Thanksgiving mini-event where players were asked to help the Lumbridge cook's brother gather 20 turkeys scattered around Gielinor. The twist was that each turkey was named after a JMod and had very distinctive description text!
The new reward this year was the title "the Thanksgiver", and we were very proud to see many of you sporting this newly acquired accolade.
The four-day event culminated with a big Thanksgiving parade around the free-to-play world, greeting passing NPCs and completing spur-of-the-moment challenges along the way!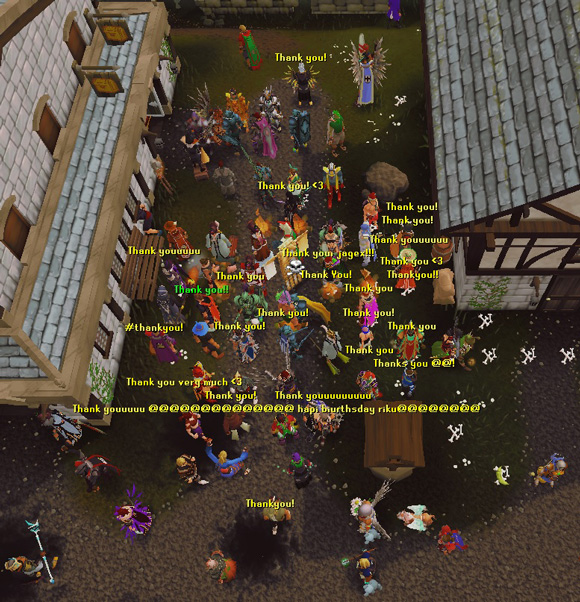 ---
Christmas Story Competition
As it was Christmas, we thought it fit to organise a nice forum competition with a cool prize up for grabs. The theme - quite unsurprisingly - was Christmas, and the task was to create a Christmas story composed of the images with captions.
The prize - a Sennheiser Gaming headset - was awarded to
Hriak
for his musical "Scaping in a RuneScape Wonderland" story!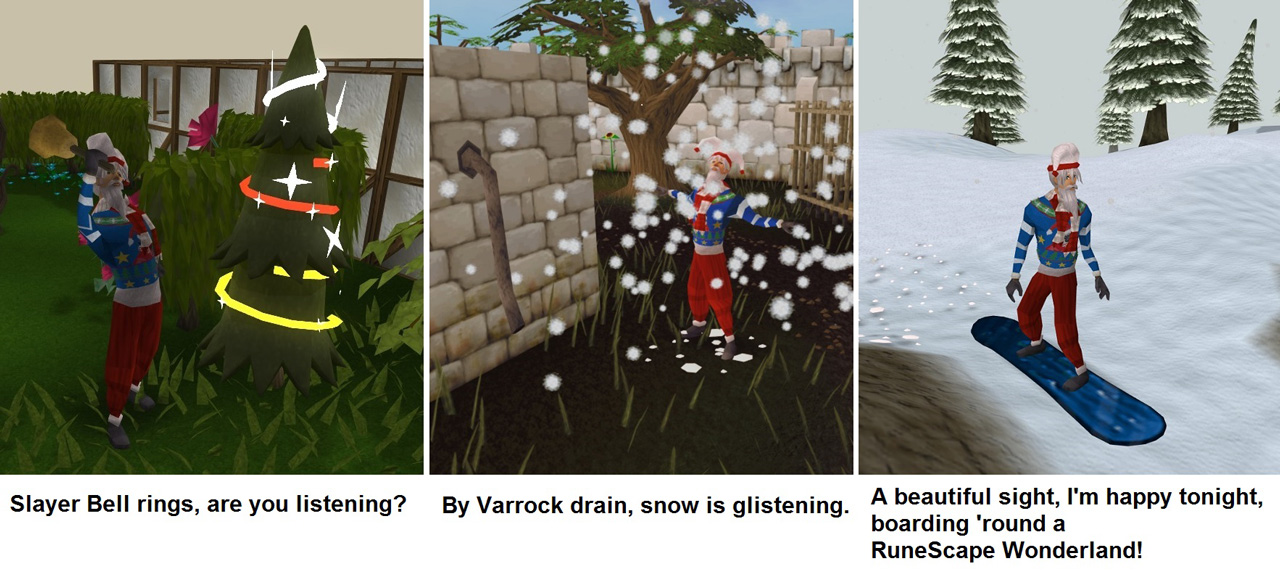 ---
Forums
If you haven't visited the forums throughout December, you've missed out! Every day from the 1st through to the 25th December, daily competitions offered a great range of prizes up for grabs. Through small competitions like "Where am I", "Spot the difference" and logic puzzles, prizes like a Premier Club membership, RuneScape Baubles and RuneScape crackers were up for grabs.
Take a look here for the winners
!
The forum games board recently had a rejuvenation with a bunch of new threads. Be sure to stop by the
Forum Fight
when you feel like throwing a few virtual punches, or if you have a joke to tell, make sure you leave it on the
Jokes and Funnies thread
!
Social
Competitions
December was an incredibly busy month for us! We had a whole host of giveaways on our Facebook page with our amazing RuneScape Advent-ure competition, with prizes ranging from Bonds to a brand new laptop - one per day from December 1st to Christmas Eve.
You can
check out the list of winners
, so if you see anyone you recognise, give them a pat on the back!
---
Jmods on Twitter
Ever wanted to know what a JMod has had for breakfast, or the inner workings of the RuneScape offices? Maybe you'd like to ask them a question about their job, or win a giveaway when a mod hits 1337 followers. Well, we have around 100 JMods on Twitter, and they'd love to chat with you. Make sure you check out our
official list of Jmods on Twitter
and follow them all!
As a side note – if you're looking to follow JMods, please only follow accounts who appear in the list linked above. Mod JD has more information about staying secure on Twitter.
We Love Yew
Finally, here's one of our favourite posts from the past month. It's from Tumblr user Skindrips, and it made us giggle.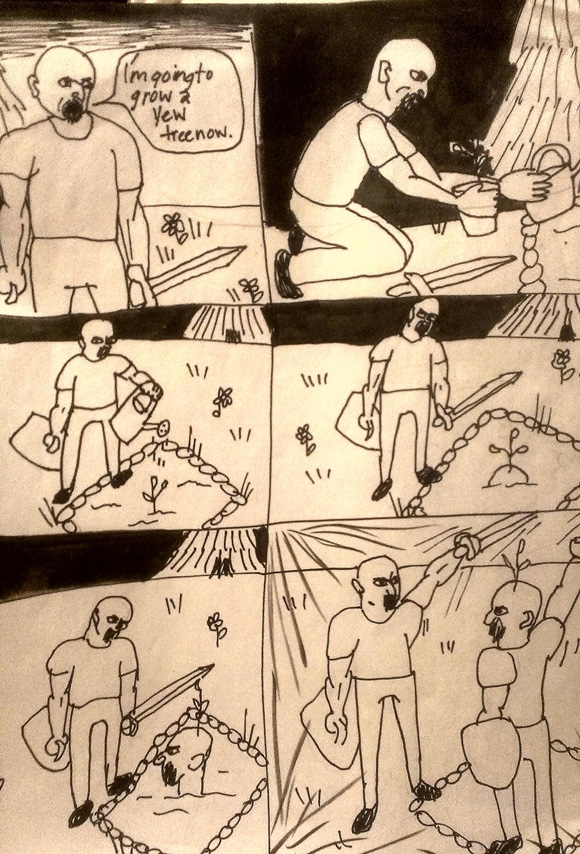 ---
Gameblast 2015
Work is underway in preparation for GameBlast2015, in aid of the charity SpecialEffect.
GameBlast15 is a nationwide charity gaming event that will transform the lives of gamers with disabilities, and Jagex is proud to be at the heart of all the action!
We're back again this year with a colossal non-stop 24 hour live stream packed full of activities, events, challenges, giveaways and - of course - a few surprises too! We'll be posting up loads of information with more details soon.
---
Events
We had an eventful month in December with all the snowy updates. We enjoyed a number of events and even had the team on the live stream so you can see what we're like behind the scenes.
Events kicked off the first week with a snowman apocalypse. Mod Jon and Mod Neena took you around the land of Gielinor where snowmen were causing riots in and around the city. Check out our group photo in Varrock!
We took to Twitch in force throughout December, as our ultimate streaming duo Mod Kalaya and Mod Jon were joined by Mod Balance to celebrate the release of Snowverload. Players managed to take down the icy enemy with a little help from Santa, and a few hints from the stream! Later in the month, Mod Infinity grabbed his board and joined Mods Kalaya and Jon for a snowboarding extravaganza live on stream.
To top all of the Christmas events off, we rounded up all the Jmods we could for a Christmas party in the Falador party room. You could say it got a little heated in there!
As well as all the Christmas and winter themed events we had over the holidays we also had a range of other events from Pest Control, Trouble Brewing, a Kalphite King mass and Soul Wars. Thanks to everyone who came along, tuned in to our streams, or hung out in our friends chats!
The events continue this month too –
check out this thread for details about upcoming events
. Plus, you can get involved right now by joining the "Mod Events" friends chat!
Videos
In the last edition of the Community Chronicle, we featured the pilot episode of TheSirMikkel's new series "The Release". Check out this playlist to watch the series so far.
L3W7LxwtTCh5NGWQVS7lv3b0dfVMlryuO" frameborder="0" allowfullscreen>
In this next video, HelmsDeep Productions take us back in time in this RuneScape and Old School crossover video – all about time. We're certainly looking forward to future episodes!
---
That's all for this edition of the Community Chronicle! Don't forget that you can submit your work, event ideas, or other community news to
community@jagex.com
and we may feature you in future editions!
Thanks to everyone who sent in a Christmas card to our postbox. We loved them all!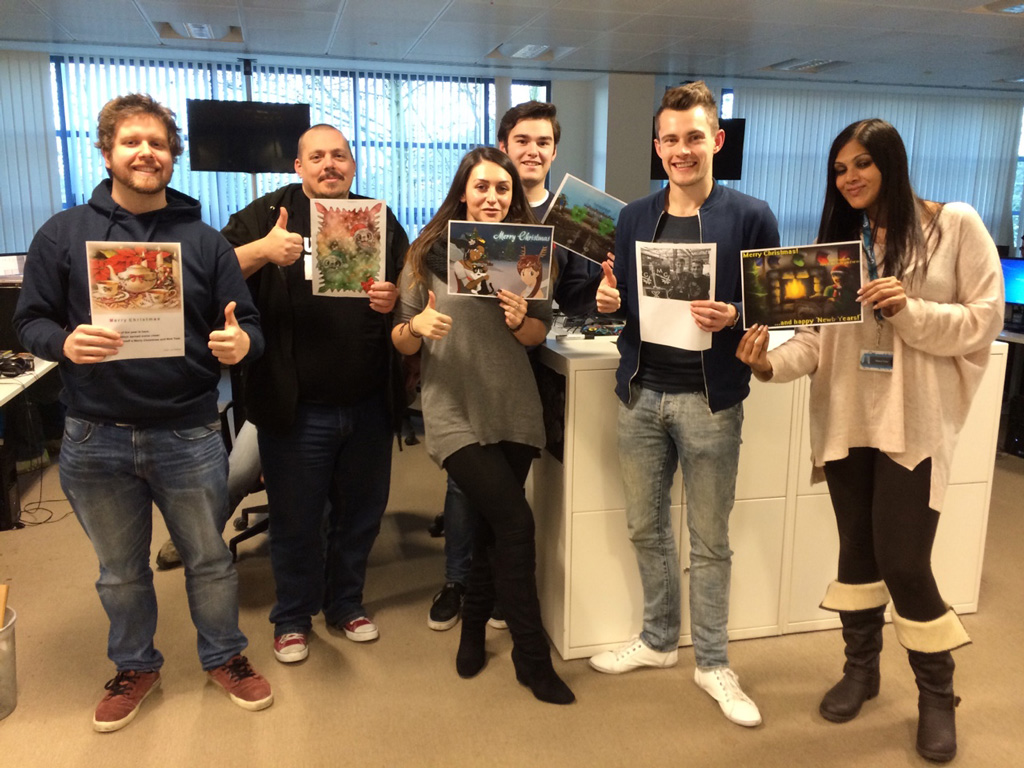 The RuneScape Community Team

08-Jan-2015 16:06:30 - Last edited on 09-Jan-2015 10:24:09 by Mod Balance