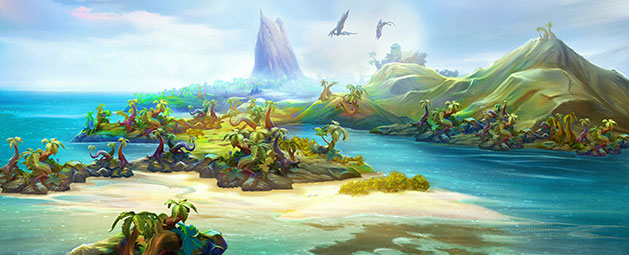 Storm clouds have gathered in Gielinor, and within them lies a long-kept secret... that's about to be revealed!
The Land Out of Time!
Welcome to The Land Out of Time! This lush jungle island may be full of new surprises, but don't underestimate the ancient terrors concealed within. This newest addition to the growing world map of Gielinor is packed with adventure and brimming with mysteries awaiting discovery.
Better still, there's not long to wait before you can set sail! It's certainly going to be an exciting summer.
The Story So Far
SPOILER WARNING: If you're yet to play the recent Desperate Times quest, now's the time!
Alternatively, if you'd prefer a quick re-cap right now, this cinematic outlines the story leading up to Desperate Times and this one covers the dramatic events that took place at the end of the quest.
Want to find out more?
We'll be revealing more about The Land Out of Time in the weeks to come, so make sure to keep a close eye on our livestreams, videos and social channels.
The RuneScape Team
~ Mod Meadows ~ Forum Curator ~ Tweet Me @JagexMeadows ~
21-May-2019 11:31:36 - Last edited on 21-May-2019 18:04:41 by Mod Meadows