<!>
July Caption Competition
This photo shows
Mod Jon H
representing the Community Management bowling team at the recent
JuneFest
player meet in Cambridge: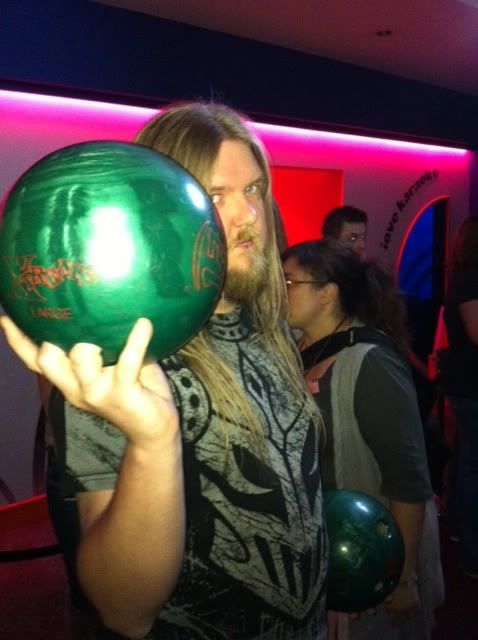 Your task is simple: Come up with the funniest possible caption for this image.
Once you have your answer, post it on this thread or send it to us by email at
competitions@jagex.com
. Please include the word
'caption'
in your subject header to help us spot your entry! If you are under 13, please ask a parent or guardian to email your entry to us on your behalf, from their contact email address.
You can enter as many captions as you like. We read every single entry, so you will have the same chance of winning whether you post here or submit by email.
Lastly, if you're entering by email, please remember to let us know your RuneScape account name! (Obviously this isn't a problem if you're posting on the forums.
)
The competition will close on
Friday 22 July
- so get your captions in as soon as you can. We will then go through all the entries and find the ones that get the best response from everyone here.
Although the main reason for this is to have fun, we will offer up a couple of prizes for the wittiest entries:
Winner
The winner will receive a complimentary 2 months' membership to RuneScape and a RuneScape mouse mat signed by Mark Gerhard and a selection of other J-Mods.
Awesome runner-up
The awesome runner up will receive one month's RuneScape membership.
Both winners will have their captions featured in the next newsletter.
So, good luck everyone - we can't wait to see your great ideas!
<!>
Useful Links...
29-Jun-2011 12:39:10 - Last edited on 29-Jul-2011 13:11:04 by Mod Jon H

Please note that anything in () are not actually part of the caption (Unless you think it makes it funny, in which case it is)

As the competition desperately attempts to cast flame strike in order to get a strike, Mod Jon H steps up and casts flame surge, destroying the pins. (And the competition)
Someone tell him you can't bowl two balls at once
Wait! Your telling me bowling isn't like golf...
What do you mean a 50 is bad?
Look mom, both hands!
How is he so good? He practices on gnomes...
Bowling for Dummies: Don't hold the ball like this.
iove karaoke too!
Do I hold it like this?
GET THE CAMERA OUT OF MY FACE! (Hulk Smash!)
Why did they pick me to represent them? I'm not even part of Community Management!
Karaoke! See you later!
Any Mod: Jon... when we said we were doing rollbacks we didn't mean like this...
Okay guys, until now it was all fun and games, time to get serious!(steps up, throws the ball... STRIKE!)
FOR THE LAST TIME! STOP THROWING THE GNOMEBALL!
HAHA! I CAN STOP AN EARTH SURGE!(120 Magic)
Wait!?!? I thought this was going to be candlepin... (If you don't know what it means... look it up)
Do you need a better reason to stay in school...
Leave bowling to the professionals... like me! (He steps up throws it... STRIKE!)
01-Jul-2011 15:36:33 - Last edited on 04-Jul-2011 05:45:51 by [#0OZOH0DJV]
Quick find code: 254-255-100-62935650Back to Top