<!>
August Caption Competition
Who is this and why is he dancing alone?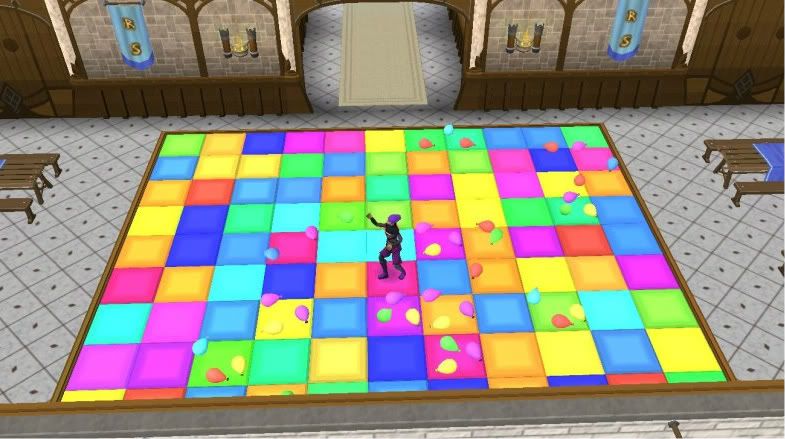 Your task is simple: Come up with the funniest possible caption for this image.
Once you have your answer, post it on this thread or send it to us by email at
competitions@jagex.com
. Please include the word
'caption'
in your subject header to help us spot your entry! If you are under 13, please ask a parent or guardian to email your entry to us on your behalf, from their contact email address.
You can enter as many captions as you like. We read every single entry, so you will have the same chance of winning whether you post here or submit by email.
Lastly, if you're entering by email, please remember to let us know your RuneScape account name! (Obviously this isn't a problem if you're posting on the forums.
)
The competition will close on
Friday 19 August
- so get your captions in as soon as you can. We will then go through all the entries and find the ones that get the best response from everyone here.
Although the main reason for this is to have fun, we will offer up a couple of prizes for the wittiest entries:
Winner
The winner will receive a complimentary 2 months' membership to RuneScape and a RuneScape mouse mat signed by Mark Gerhard and a selection of other J-Mods.
Awesome runner-up
The awesome runner up will receive one month's RuneScape membership.
Both winners will have their captions featured in the next newsletter.
So, good luck everyone - we can't wait to see your great ideas!
<!>
Useful Links...
29-Jul-2011 12:03:01 - Last edited on 29-Jul-2011 17:40:05 by Mod Jon H

Jan

2014
and tonight's spotlight dance goes to... errmmm whoever that is!
This appears to be where I need to put something funny
29-Jul-2011 19:42:18
May

2018
2nd
29-Jul-2011 19:44:05 - Last edited on 16-Aug-2011 15:05:24 by The V


Hey! This balloon had a whip in it! W00t!
29-Jul-2011 19:48:09
Jun

2006
The real reason why Auguste's idea nearly didn't get off the ground...
(Ref Enlightened Journey)
29-Jul-2011 19:52:57 - Last edited on 29-Jul-2011 19:53:38 by Aeternabit

Smelly Pete's party room never took off quite as well as his brother's.
29-Jul-2011 19:53:06
The contents of this message have been hidden
29-Jul-2011 20:04:42

Dec

2005
"It was the world's saddest 99 Party."

"Oh, oh, oh, dancing with myself!
Oh, oh, oh, dancing with myself!"

"Wait, was the party 2:00pm BST or EDT?"
Max Quest Points. Max Cool Points. Host of the Immensely Popular Lords of the Wait.
29-Jul-2011 20:22:23

Mar

2019
buyers and cellars:caper#4
step one: enter portal
step two: blend into purple square
step three: steal clan dragon(99 thieving required)
"easy"
ohh purple i love purple...u guys go ahead im gonna watch this square for about an hour
"sorry guys too much clan tacos =("
"peanut butter, jelly time"
"they allway leave like 2hrs into musical statues"
WARNING: THIS NEXT CAPTION IS A BIT CHEESY.... but worth it
"ahh now that everyone has left i can finally listen to a little pop"
29-Jul-2011 20:22:27 - Last edited on 30-Jul-2011 20:48:40 by Ryza
Quick find code: 254-255-111-63045570Back to Top