<!>
September Caption Competition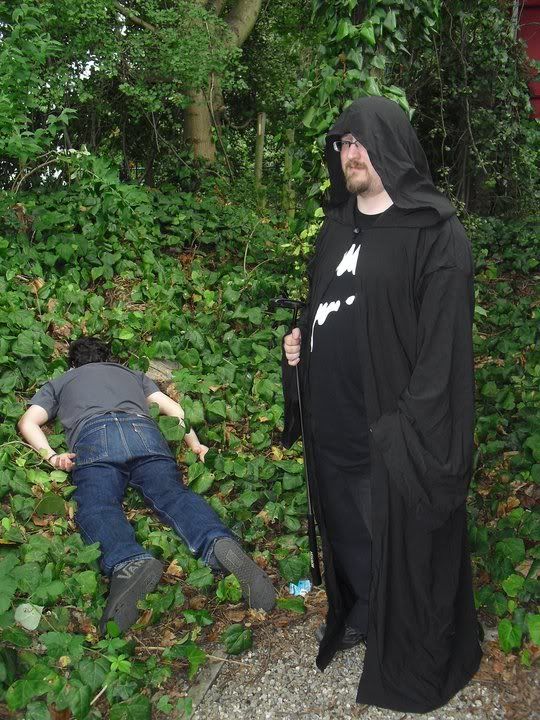 "OMG! This floor is delicious!"
Your task is simple: Come up with the funniest possible caption for this image.
Once you have your answer, post it on this thread or send it to us by email at
competitions@jagex.com
. Please include the word
'caption'
in your subject header to help us spot your entry! If you are under 13, please ask a parent or guardian to email your entry to us on your behalf, from their contact email address.
You can enter as many captions as you like. We read every single entry, so you will have the same chance of winning whether you post here or submit by email.
Lastly, if you're entering by email, please remember to let us know your RuneScape account name! (Obviously this isn't a problem if you're posting on the forums.
)
The competition will close on
Friday 23 September
- so get your captions in as soon as you can. We will then go through all the entries and find the ones that get the best response from everyone here.
Although the main reason for this is to have fun, we will offer up a couple of prizes for the wittiest entries, and both winners will have their captions featured in the next newsletter.
So, good luck everyone - we can't wait to see your great ideas!
<!>
Useful Links...
25-Aug-2011 10:46:27 - Last edited on 26-Aug-2011 11:40:09 by Mod Jon H

*touches the stomach* "I have had enough of the TASTY floor, I will let someone else have a turn."
"He's gonna turn into a ghast soon, time to get out of here, OMG NO, they updated the Mort Myre Swamp, now I am stuck!!!!!!!!!!!"
"I will burn this Corpse and get a Soul Talisman from it."
26-Aug-2011 12:39:59 - Last edited on 10-Sep-2011 03:08:32 by Mu7c Ronaldo

Well I guess that bush just owned him.
He tried to lure me - Karma hitted back.
26-Aug-2011 12:45:23 - Last edited on 26-Aug-2011 13:02:37 by Rouz

"Told him he should have used an agility pot before trying"
"normal people just sit down when they need to rest.."
26-Aug-2011 12:45:26

"I warned him. Never. touch. my. beer."
"I warned him. No. more. pillar. jokes."
"Unconscious stranger with spread legs + golfstick = win."
"This guy just asks for a kick with this golfstick.."
"And you're not going home untill you find that golfball.."
"Let me escort you to Lumbridge Mod M.. Wait.. is it September?"
"H4h4 l2r3sp4wn n00b!"
"I just love it when gravestones dissapear."
"Training thieving irl by blackjacking because you're a fearless Jagex Moderator."
"No, no, no.. You're doing it wrong. Just rightclick to examine the plants."
"Now where shall I hide the body this time?"
"Emilee! I thought I told you to hide it properly?!"
"What? I aint done anything dude?"
"Sooo THAT's what planking means?"
"Now that's what I call a good faint emote."
"Next week to #Runescape: Man-eating ivy!"
"And the new skill is...: Planking!"
"Oohh that's why they removed the tree spirits randoms!"
"So that's why this idea of male spirit trees was canceled."
"Ohhh he said Hi mister great lord and ruler of death? I'd swear he said smack me on my head."
"I've been waiting for hours.. When will this dude finally transform into a ghast..?"
"I told you to bring food when travelling through Morytania.."
"We should have picked the easy route Zachory.."
"Death enjoying the fact that citadels have no fences."
"Looks like the Dominion tower won't have fences on the roof."
"Looks like Grim has gained some weight lately."
"Now to burn this thing so I can upgrade my Ivandis flail.."
"Note to myself: Make sure you don't let go your golfstick when golfing."
"Now call me a fat Grim again huh?"
"To do list: Kill an ivy bot: Check."
"The awkward moment when you hit a colleague while golfing."
"I told you it was poisonous.."
"The only way to Lumbridge ~ Poisonous ivy." Ah Shut up Airs..
"I wish my dog was as good at pretending dead as this guy."
"Nobody calls my scythe a golfstick without suffering for it."
"Ohhh.. So that's how Death looks like as a human."
"3..2..1.. Coming! Now..Where could he be
26-Aug-2011 12:46:10 - Last edited on 29-Aug-2011 20:30:51 by MasterM

Bring out your dead, bring out your dead!
26-Aug-2011 12:54:55 - Last edited on 26-Aug-2011 12:55:12 by Thomas P G
The contents of this message have been hidden
26-Aug-2011 12:55:04

-"It's not enough that I've killed him, but putting his face in an ant pile? now that was just evil of me"
-"here we see two individuals trying to hide from sunlight. One takes a much more drastic approach, while one is smart enough to bring robes"
-This is what happens when Pking isn't restricted to the wilderness...
-Faceground.
-Ok, get up, they're starting to make captions out of us.
-After killing a man, perhaps he will turn over a new leaf?
(terrible pun!)
"I'm becoming one with Mother Nature!"
"No you just look idiotic to me"
"I told him not to beat me at minigolf or I would beat him."
you can guess how many men this minigolf cruisader has killed! Four!!
(play on words...just an awful pun honestly)
I pushed him over, and then he died I swear!
26-Aug-2011 13:00:41 - Last edited on 26-Aug-2011 13:10:02 by Celeste Afro
"I bet I'll get a TON of prayer experience if I burn this thing."
26-Aug-2011 13:14:05 - Last edited on 26-Aug-2011 13:16:10 by Fire OnToast

Jan

2021
Dont EVER try to scam me again!
26-Aug-2011 13:19:19
Quick find code: 254-255-117-63140318Back to Top