<!>
October Caption Competition
This month's caption image features me, Mod Jon H.
To celebrate the
forthcoming Agility update
I decided to get out and train my own IRL Agility!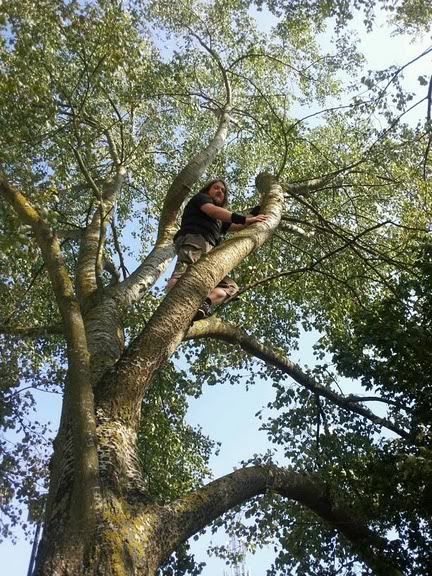 Your task is simple: Come up with the funniest possible caption for this image.
Once you have your answer, post it on this thread or send it to us by email at
competitions@jagex.com
. Please include the word
'caption'
in your subject header to help us spot your entry! If you are under 13, please ask a parent or guardian to email your entry to us on your behalf, from their contact email address.
You can enter as many captions as you like. We read every single entry, so you will have the same chance of winning whether you post here or submit by email.
Lastly, if you're entering by email, please remember to let us know your RuneScape account name! (Obviously this isn't a problem if you're posting on the forums.
)
The competition will close on
Friday 21 October
- so get your captions in as soon as you can. We will then go through all the entries and find the ones that get the best response from everyone here.
Although the main reason for this is to have fun, we will offer up a couple of prizes for the wittiest entries, and both winners will have their captions featured in the next newsletter.
So, good luck everyone - we can't wait to see your great ideas!
<!>
Useful Links...
03-Oct-2011 17:56:42
"Seems like I lost my monkey greegree again!"
"Oh no! I forgot to take with my Surefoot aura!"
03-Oct-2011 18:05:37 - Last edited on 03-Oct-2011 18:17:11 by Just†Do†lt
Jan

2014
"now wheres the rope to get down... ahh glitch!"
This appears to be where I need to put something funny
03-Oct-2011 18:19:02

"C'mon Mod Captain, drop the hatchet, I was kidding."
(see June Caption Contest)
03-Oct-2011 18:21:22 - Last edited on 03-Oct-2011 18:25:34 by Crupulus
I told you not to insult the owner of the owner of the Gnome Stronghold Course.....
03-Oct-2011 18:22:17 - Last edited on 03-Oct-2011 18:23:31 by Jade††Monkey
"You need 8 Agility to access this branch..."
"Doh!"
03-Oct-2011 18:25:01
Can you see the Zamorak Nest yet?
03-Oct-2011 18:25:06 - Last edited on 03-Oct-2011 18:27:17 by Jade††Monkey
On second thoughts, we should've just let him click the tree to climb down.
03-Oct-2011 18:32:41
NO! I think it's MY Robin Hood Hat....
03-Oct-2011 18:33:04

Gatestone teleport gone wrong.
03-Oct-2011 18:36:02
Quick find code: 254-255-124-63247432Back to Top