December Caption Competition
This month's caption features the one and only Party Pete!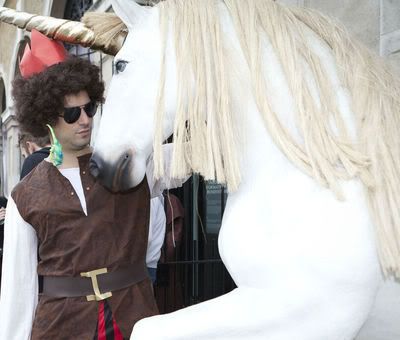 Your task is simple: Come up with the funniest possible caption for this image.
Once you have your answer, post it on this thread or send it to us by email at
competitions@jagex.com
. Please include the word 'caption' in your subject header to help us spot your entry! If you are under 13, please ask a parent or guardian to email your entry to us on your behalf, from their contact email address.
You can enter as many captions as you like. We read every single entry, so you will have the same chance of winning whether you post here or submit by email.
Lastly, if you're entering by email, please remember to let us know your RuneScape account name! (Obviously this isn't a problem if you're posting on the forums.
)
The competition will close on
Friday 23rd December
- so get your captions in as soon as you can. We will then go through all the entries and find the ones that get the best response from everyone here.
Although the main reason for this is to have fun, we will offer up a couple of prizes for the wittiest entries, and both winners will have their captions featured in the next newsletter.
So, good luck - we can't wait to see your great ideas!
02-Dec-2011 18:17:37 - Last edited on 05-Dec-2011 15:04:29 by ModáJonáH
After a night spent partying, Pete truly was a hoarse whisperer.
02-Dec-2011 18:50:31

Mar

2020
Come on Dobbin, we can win the race!
02-Dec-2011 18:51:57

It's Party Pete's faithful companion!
02-Dec-2011 19:08:39

Pete teaches his new friend disco dancing for beginners - starting with 'the point'.
02-Dec-2011 19:09:13
The contents of this message have been hidden
02-Dec-2011 19:16:31

Party Pete: Poor stuffed unicorn... Well that's what you get for trying to nail my phat...
---
Party Pete: I told you... You could take either the red pill or the blue pill...
~ Freeze
02-Dec-2011 20:17:57

Anybody want to bet that the pillar on left background owns this dude before hes healing aura is cast ?
02-Dec-2011 20:44:12
"Duuuuude!"
"Hey watch your horn, or I make it to dust!"
"Watch where you're going!"
"How do I get this big creature in a balloon?"
"I clearly said that I want a black unicorn."
After a real big party, Party Pete goes home with his mate.
"What's wrong unicorn? Do I have something in my ear?"
"You like my afro right? Or is it the party hat you're looking at?"
"Heeey! Nice costume! Wanna come to my party?"
02-Dec-2011 20:46:38 - Last edited on 02-Dec-2011 21:52:04 by JustáDoált
Feb

2008
Caption:
"On the first day of Christmas I gave to Party Pete.. A unicorn hitting on him"
02-Dec-2011 20:59:52
Quick find code: 254-255-135-63420972Back to Top