Thank you!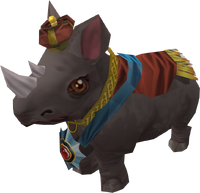 It's been just under 3 short weeks since we released the Rhino Awareness event into RuneScape, and already thousands of you have learned more about the critical danger rhinos are in, and have gained your own mini Rhino pet in the process.
We hop into game regularly, and it's been a real delight to see so many of you sporting your White & Black royal rhinos, showing your support to the cause and rallying up against illegal poachers.
Our amazing analytics team have been hard at work processing data from this event, and have been kind enough to provide us a load of juicy data pertaining to all things Rhino. Sharing is caring, so feast your eyes on this encouraging table!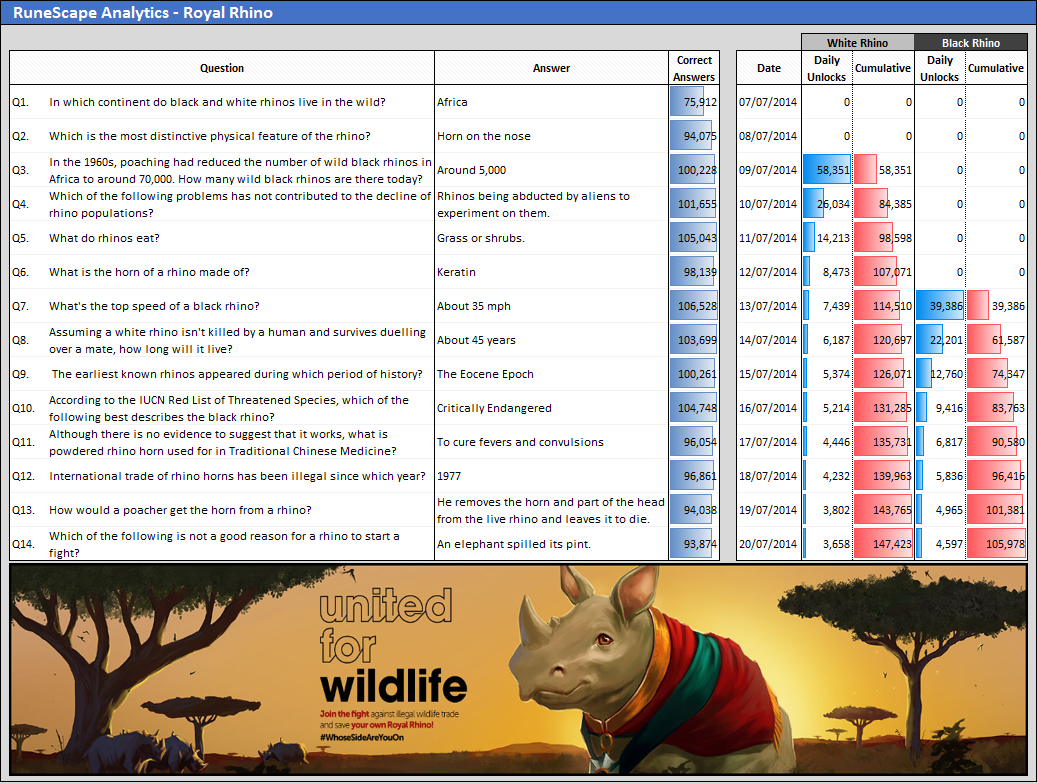 Click image to enlarge
It goes without saying that we're incredibly thankful for the support you have all shown towards this truly wonderful charity. Your support will go along way in helping protect this vulnerable species, and is testament to how united the RuneScape community really is.
Don't forget we'll be hosting an in-game party tomorrow to celebrate the events success. More information can be found
here.
Thanks,
The RuneScape Team
Mod Infinity
Senior Player Support Manager
24-Jul-2014 17:16:02 - Last edited on 24-Jul-2014 17:40:43 by Mod Infinity

Jan

2019
Interesting Statistics! Thanks for posting this! I never even new that rhinos were near extinction before this even, so I definitely learned a great deal!



,ˆ¨

..

,¹';ˆ¹,

.

,¹¹,

.

¨¯"¸

...:.:;;:.:...

Hyles

...:.:;;:.:...

¸"¯¨

.

,¹¹,

.

,¹ˆ;'¹,

..

¨ˆ,

'.,¸¸,.'

.

'›.‹'

.

',¸¸,

'.,¸¸,.'

Value, Rationality, and Reality

'.,¸¸,.'

,¸¸,'

.

'›.‹'

.

'.,¸¸,.'
~Hyles~
"The man who acquires the ability to take full possession of his own mind
may take possession of anything else to which he is justly entitled."
~Andrew Carnegie
24-Jul-2014 19:20:06
Quick find code: 254-255-379-65434775Back to Top