Get your Goblin Basher!
Redeem a blue RuneScape pre-paid game card from 7-Eleven at its highest denomination in the next two weeks to receive your free
Goblin Basher
!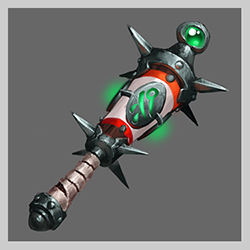 This mighty spiked mace is tiered, so you can change its required Attack level - and stats, of course - at any time! You can also right-click it to generate an off-hand version!
Please note: the Goblin Basher is only available with blue RuneScape pre-paid game cards, from the USA, Canada and Australia, at a value of $25US/$25CA/$40AU.
To find your nearest 7-Eleven, head over to our
store locator page
.
This offer ends 27th April 23:59 BST. Don't forget – redeem a blue pre-paid card and in addition to receiving the Goblin Basher you'll also get to choose between a wide range of benefits, including: 100 days of membership; 60 days of membership with 32 Treasure Hunter Keys; and 950 RuneCoins!
Any questions? Take a look at our
FAQ
.
If you're a gold
Premier Club
member there's no need to pick up a pre-paid card from 7-Eleven – you'll receive the Goblin Basher in your inventory the moment it's released.
The RuneScape Team

14-Apr-2014 08:22:58 - Last edited on 14-Apr-2014 08:41:25 by Mod William