This week sees the release of OldSchool RuneScape's 6th birthday event and the remaining changes from QoL Combat and Skilling polls!

Old School's 6th Birthday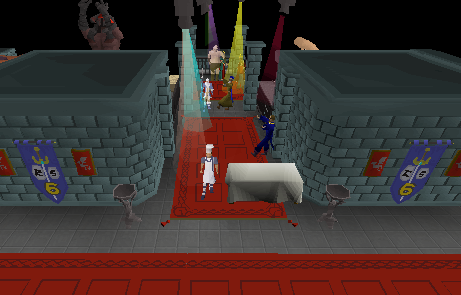 Friday 22nd February marks the 6th anniversary of the launch of Old School RuneScape. It's been a fantastic journey, with player numbers gradually growing to their current highs, as the game carved out its own distinct identity within the RuneScape universe as a fully fledged MMO in its own right. We'd like to thank you all for your support over the years; without the passion of its players, OSRS would never have even existed, and without your perseverance, it would have faded out long ago instead of flourishing as it has. We're marking the birthday with a small holiday event. Beneath the Falador Party Room, in the underground museum, the artisans have opened the exhibition of major updates from the last 12 months, and a selection of RuneScape's familiar faces have gathered for a party.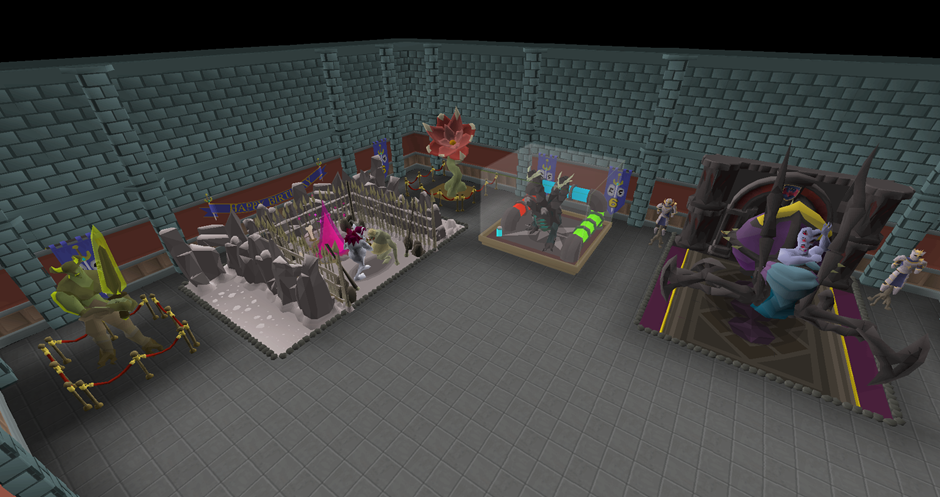 The Cook from Lumbridge Castle has appeared in Falador to cater for this party and, in a nod to our oldest quest, he's going to need an assistant. Meet him in Falador, in the museum below the Party Room, and see what he needs.
Hint: Bring your own cabbage
. There's a cake in it for you. A big one. You'll also get to unlock all the items and emotes from previous years' birthday celebrations.
Birthday Livestream
Make sure to join us on our
Twitch channel
tomorrow (
Friday 22nd
) at
3pm GMT
to further celebrate Old School's 6th birthday! We'll spend this time to look back on the history of Old School. You can also expect lot's of stats and information from our analytics team.
Merch Store Update
To coincide with Old School's 6th birthday, we're adding lots of new merch to our
store
alongside the livestream! You can expect some new pins and keyrings from AngelsScapes including a commemorative 6th Birthday Gnome Child.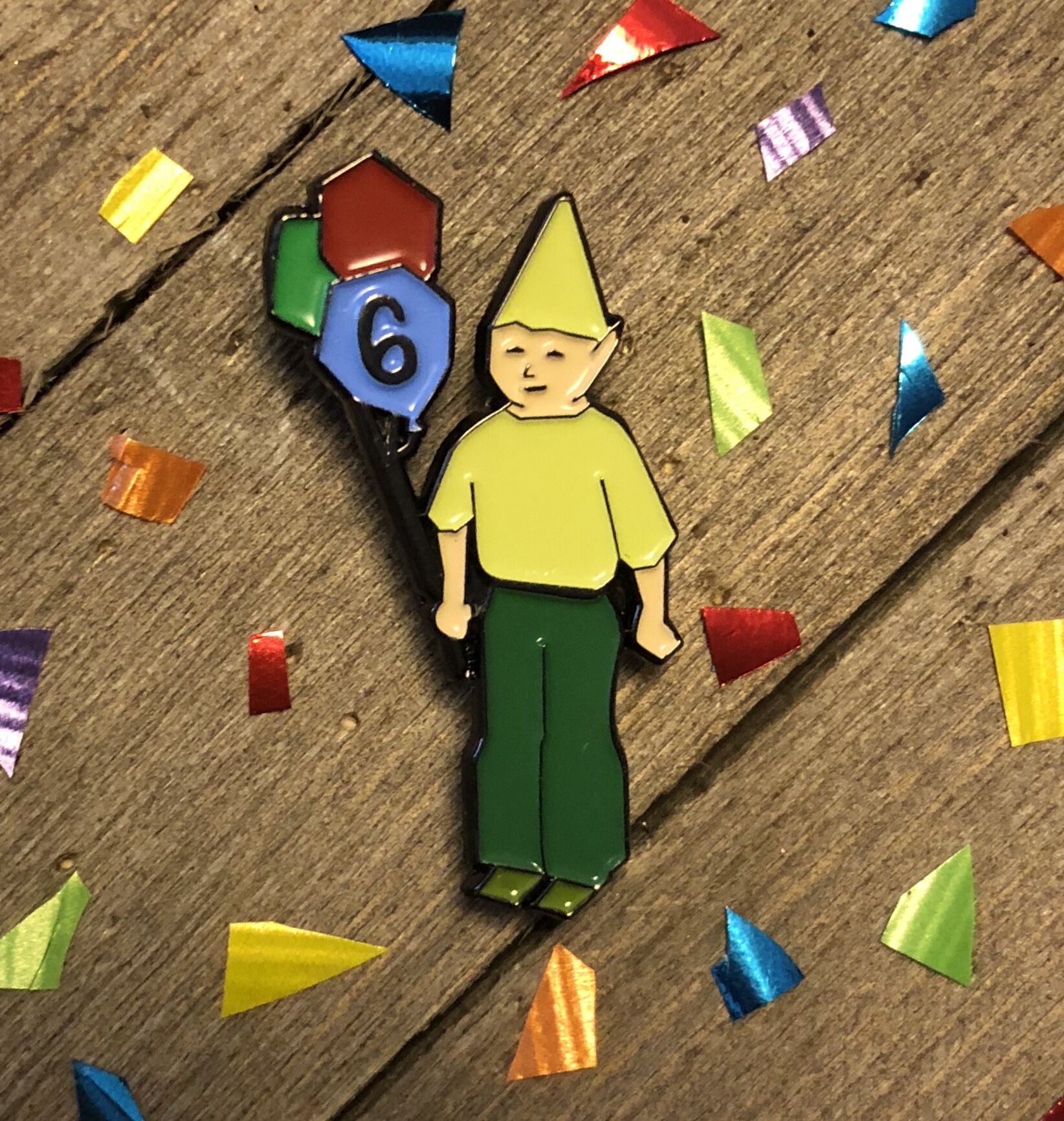 Autocasting and Attack Styles
Changelist:
For live updates on the associated bug, see below or follow this
Twitter thread
.
21/02/2019 12:04 GMT
- A temporary hotfix has been deployed to prevent players using staves and relevant magical weapons for melee combat while the XP bug is investigated. A permanent fix can be expected soon. Once that is in place, we will investigate our options to address accounts affected by this bug.
21/02/2019 12:33 GMT -
The bug has now been fixed. We will turn our attention to deciding the best course of action to address accounts that were affected by this update.
A forum post
has gone live for affected users to enter the details of accounts the gained unwanted XP. For more details, see
this Tweet
or the thread itself
here
.
Autocast Options
Magical weapons which share the same spell selections will now remember previously chosen spells for autocasting. This means you can switch between your various weapons, knowing that the same spell will be ready when you switch back to your staff or wand! Note that your autocast selection will not be remembered in PvP areas.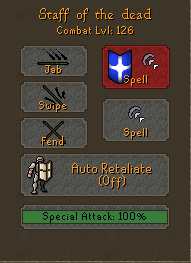 Combat Styles
Weapons that share a category (daggers, swords, bows etc.) will now remember the combat style that was used. For example, if you equip a Rune sword and select the Aggressive option before switching to another weapon like a bow and changing style to Accurate, switching back to the Rune sword will retain the Aggressive combat style.
Pures be aware:
double check your attack style upon logging in after this update!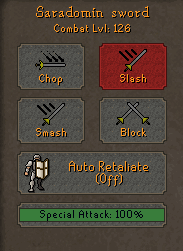 Here's an example of how the two changes above may interact to be aware of: If you use the Ancient staff on autocast mode, and are on the Ancients spellbook, you can correctly select an ancients spell. If you then switch to a sword, you come off of autocast, and if you switch back you go onto autocast. However, if you switch to, say, a Fire staff which cannot cast ancients, it correctly switches to melee mode because it can't cast Ancients. This then has changed the combat mode for all staves, so re-equipping that Ancient staff will not put it back into autocast mode.

Automated Processes
During Skilling week of QoL month, you asked for several processes which require each individual item to be used to happen automatically, so we've made these changes to the processes below. Note that doing each of these manually will still be faster waiting for them to happen automatically to avoid affecting current XP rates. However, the automatic option offers a less click intense method to those who want it.
Auto-enchanting jewellery: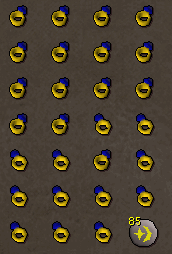 Enchant jewellery spells will now automatically enchant the next items of the same type once the spell has been cast on the first. For example, a player who selects to enchant a Sapphire ring, will have all other Sapphire rings enchanted over time in their inventory. The three processes below will also continue automatically once started:
Each step of creating Serum 207
Filling Watering cans
Splitting Coconuts with a hammer

Other QoL Changes
The Magic skill guide has had its icons updated to be the relevant spell beside it: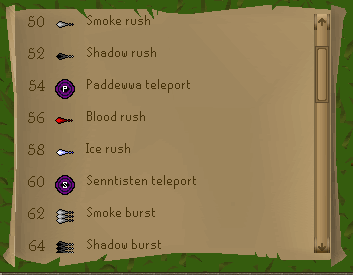 The following remaining changes from both the Combat and Skilling weeks of QoL month have also been made:
Fossil and Ancient Wyverns now drop Volcanic Ash
Volcanic ash obtained by mining now scaled to your Mining level. Those go from 1 ash at level 22 Mining to 6 ash at 97 Mining
It is now possible to fill Gricoller's can using regular water sources as opposed to only being able to fill it by paying Farmer Gricoller 20 Tithe points
Rings of forging are now available to free players and can be bought from other players. Alternatively, you can give Murky Matt in the Grand Exchange 250GP for every Ruby ring you would like to enchant

Gameblast 2019
Gameblast 2019 takes place this weekend (February 22nd-24th) and streamers from both the Old School and RuneScape are joining forces to raise money for the incredible charity Special Effect. We're sure you know all about the wonderful work Special Effect does, but if you don't you can read more here.
You can donate to United Communities of RuneScape GameBlast19 here. That's also the page to find out more info about the exciting RuneScape Gameblast eBay auctions, and on all the details on how to get involved with the RuneScape activities.
If you want to go that extra mile then it's not too late to sign up yourself. GameBlast is the perfect way to have fun AND raise money to level the playing field for people with physical disabilities. It's an event that genuinely changes lives, and we're extremely proud of the massive contribution our community has made in the past.

In Other News
The PvP rota is switching over to
Period B
. On the east of the Atlantic, host the Standard PvP world (W25, UK) and the F2P PvP world (W71, UK). On the west of the Atlantic, host the Bounty Hunter world (W19, USA) and the High Risk PvP world (W37, USA).
The Protect Item Prayer icon in PvP worlds has been reverted to its previous icon
The behaviour of the Altars in the POH Achievement Gallery was changed
Some of the wording for the requirements of Mourning's Ends Part I was changed
The message received when cracking eggs into an empty bowl was added to the game filter
Players are no longer able to plant Box traps near the ladder to the Ourania altar and items dropped in that area will also not appear to other players
Some text was added to the Corsair Curse quest journal to explain where Captain Tock's ship is
The Ferocious gloves have been added to the Attack and Defence skill guides
It is no longer possible to cast Alchemy on Steel key rings
A missing hyphen has been added to Ak-haranu's Exotic Shop
Opening the Brimstone chest will now give a loot broadcast in the chatbox to say what has been received
A typo that appeared when a Potato cactus was diseased was fixed
An outfit for an upcoming event has been added to the Costume Room in players' POHs
The Molch infiltrator no longer interferes with players trying to use magical attacks or chinchompas on the lizardman shamans outside Molch
The yew trees at the southern side of Melzar's Maze have been restored to their previous layout
A NPC appears on Veos' ship when it's moored in Port Sarim to tell players where to find the corsairs

Discuss this update on our official forums, the community-led 2007Scape Reddit, or the community-led OSRS Discord in the #gameupdate channel.
Mods Acorn, Archie, Ash, Bruno, Curse, Ed, Gambit, Gee, Ghost, Kieren, Lenny, Lottie, Mat K, Maz, Roq, Ry, Sween, Weath, West & Wolf
The Old School Team