Dive into your very own aquarium in today's player-polled Construction and Fishing update.
Pack it to the gills with fish from all over Gielinor and kit out its two floors with a huge variety of accessories, décor and nautical knick-knacks.
Introduce a prawnbroker and unlock perks aplenty: including baitless fishing; great white shark to catch, cook and keep as pets; and the ability to cook sushi: high-level food with additional restorative properties.
Read on for more information!
---
How to start
Requirements
You must be a RuneScape member
63 Construction
20 Fishing is required to catch fish for the aquarium
Construction
At 63 Construction, head to your player-owned house and click on a ground-floor door to build your aquarium. It spans two levels: a dry room on the surface, and the aquarium itself beneath. Note that this update brings a +1 increase to the maximum rooms available at any given level.
The surface room is traditional POH fare, containing hotspots that can be filled with decorative items, and some important functional ones. This is also where you'll place the prawnbroker, who unlocks reward perks and controls various aquarium-related settings, and a diving suit, which unlocks resource harvesting options in the aquarium below.
Crucially, it includes the bathysphere, which allows you to add fish to the aquarium, and to head down yourself.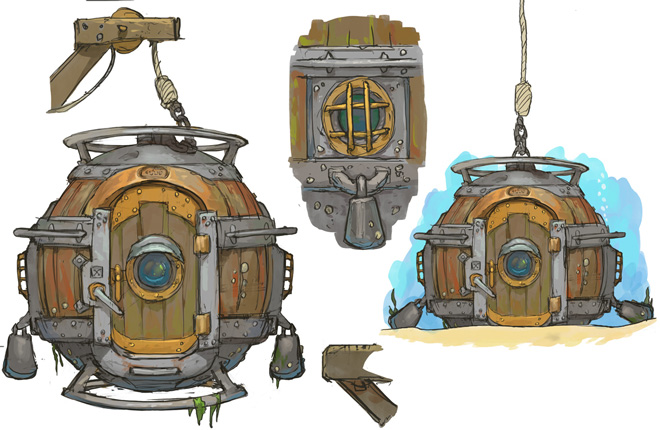 The aquarium itself is a whole different kettle of fish: instead of hotspots, it's a grid-based area where you can freely place the various available items. These include:
Harvesting nodes, yielding seaweed, kelp, pearls and other gems, planks – even elite clue scrolls – on a regular basis.
Large, decorative items which grant passive boosts to catch chance at fishing areas around the world.
Smaller, purely cosmetic decorations, such as cannons, coral, anchors and stone heads.
Plugs, which – when you've collected all the available fish for the aquarium – allow you to reset it. Meant for the most dedicated among you, this prestige option means starting again, but grants you decorative plug locations the first and second times.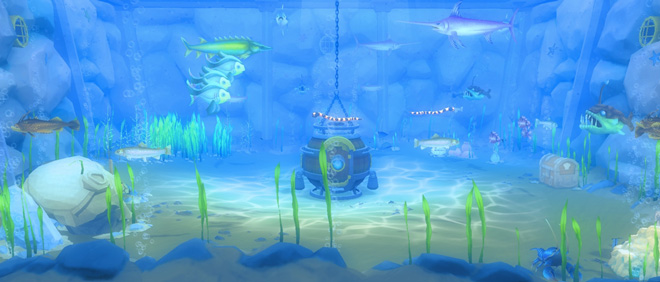 Fishing
From 20 Fishing, you will occasionally find a golden fish egg while fishing around the world. Using a golden fish egg on the bathysphere will introduce a fish of the type you were catching to the aquarium:
Trout
Salmon
Tuna
Rainbow fish
Lobster
Leaping trout
Swordfish
Lava eel
Leaping salmon
Monkfish
Leaping sturgeon
Shark
Cavefish
Rocktail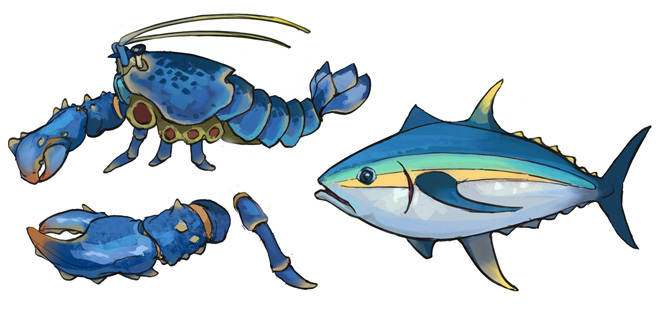 You will always receive the fish that you were catching when you found the egg, and you can only collect each fish once – unless you reset your aquarium with a plug.
---
Prawn Rewards
As you fish, you will occasionally receive prawn balls or prawn crackers, which can be opened for some fantastically fishy rewards. Prawn balls are opened solo, while prawn crackers are opened with a friend for a reward each.
Opening one grants you a reward from a special drop table, which includes prawn coins (consumables which temporarily increase your chance to fish up golden fish eggs), decorations for your aquarium, and – rarely – golden fish eggs for random fish that you don't own, including any for which you don't meet the Fishing requirements.
Once you've got a prawnbroker in your surface room, you can start acquiring prawn perks. You'll get one of these each time you get a golden fish egg, and can get more as you acquire prawn balls or prawn crackers.
Each prawn perk unlocks a benefit or reward on the prawn perks progression tree, which can be viewed by speaking to the prawnbroker.
These include more frequent prawn balls and crackers, the ability to fish without bait, the ability to cook sushi, and a whole lot more.
The great white shark is a new addition to RuneScape's marine wildlife. Once its prawn perk is unlocked, it can be caught at any shark fishing spot at level 80 Fishing; is available for your aquarium and as a floating, surface-world pet; and can be used in new sushi cooking recipes.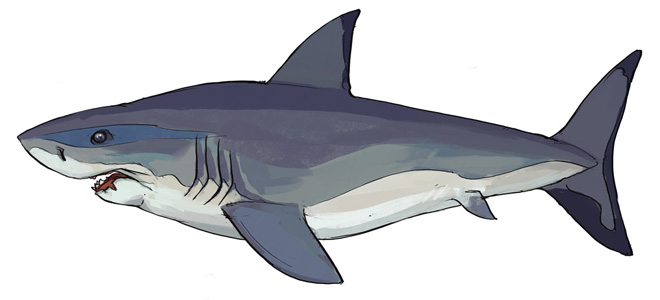 Note that – should you reset your aquarium with a plug - your prawn perk unlocks will not be reset, including your great white shark.
---
Have Fun!
There's fathoms of fishy fun to be had as you build and fill your aquarium. Enjoy, and let us know your thoughts over on the forums!
The RuneScape 'Guardians' Team
---
Solomon's Store – Vitality Suit
Get your hands on the all-new Vitality Suit – in stock now at Solomon's Store!
This eye-catching new override outfit is designed to visually represent your health. As you lose life points, the luminous stripes on the suit will change from their original colour – your choice of green or blue - to a moody red.
Pick up the Vitality Suit now! If you need more RuneCoins, you can redeem Bonds in-game, or purchase more via the website.
The free item for members is currently the Cute Bunny emote. Get it now, in Solomon's Store!
---
In Other News
You can now enable timestamps for chat messages, based on your local time zone – a RuneLabs idea developed by the Ninja Team. This feature can be toggled using the Interface Settings window.
Fancy earning some extra RuneCoins or Keys? Try out SuperRewards – our new offer provider. Just click 'Earn' in Solomon's or Treasure Hunter to find out more.
Read the patch notes for other updates released today.