Mod Osborne is here to tell you all about the exciting, sea-faring month ahead, as the Eastern Lands content really begins to kick into gear.
While you are checking out the behind the scenes video, be sure to get over to Sam's stall near the cooking guild, west of Varrock, for this year's 4th July event. The celebrations start on Saturday 2nd July at 00:00 UTC and run until Tuesday 5th July at 23:59 UTC. There will be loads of Cooking XP and some festive items up for grabs – don't miss out!
---
Pack your bags, salty sea dogs, as you're going to the Eastern Lands!
Yep, it's THAT month: an entirely new island chain in the Arc region, full of slayer dragons, top-tier resources and something new we're trying out: billions of islands to explore and claim. Find one you like, stick a flag in it, and it's yours forever.
The ENTIRETY of July has an Eastern Lands theme, and that starts with our first update: The Invasion of Port Sarim.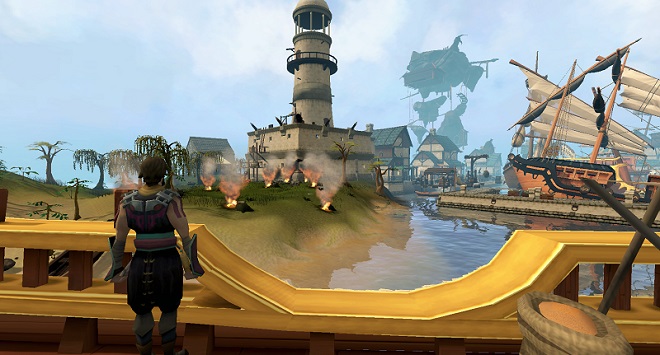 Port Sarim Invasion
This is an attack that's been building since May's Meg Cases, when you uncovered a plot to pilfer people and take them to the Eastern Lands.
On the 11th of July, these kidnappers will steal a ship off the coast of Port Sarim and send volleys of cannonballs into the town. No pirate, monk or seagull will be safe!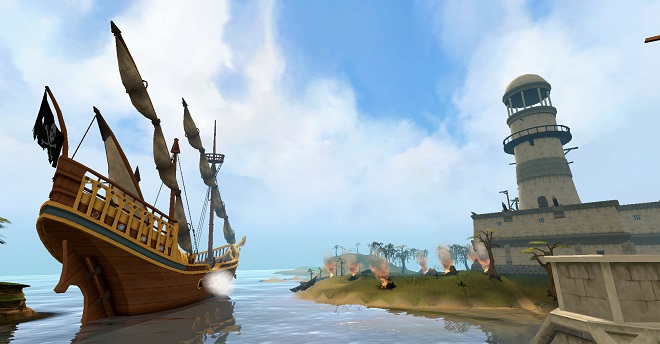 Defend the town in an event similar to Invasion of Falador. Fire, fight and fortify to be rewarded with XP plus swathes of cosmetic rewards, like this oar override.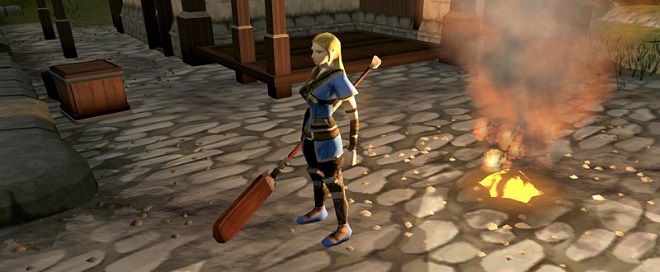 The two-week event will be free-to-play and without any level requirements, so there's every reason to get your whiskers wet. As you've probably noted from these lovely shots, the Invasion brings a graphical rework of Port Sarim. Getting a boat to Entrana has never been so sexy.
Gather a Crew | Miniquest
All of this is leading up to an epic voyage east, and there's no way to do that without a good crew. Pull together a rag-tag band to accompany you on your journey, and earn a unique emote while you're at it.
Build a Ship | Community Event
Next up, it's time to build a ship to the Eastern Lands, and take the fight to the kidnappers. This is a community event in the same vein as The Lost Sword of Raddallin and the God Wars Encampment.
Gain XP in different skills and boost them with golden tools that you gain from Treasure Hunter.
Note that participation in the Build a Ship event is not a requirement for travelling to the Arc
Explore the Arc Region
Now, the way is clear. It's time to go to the Eastern Lands, and I have the pleasure of announcing that it is coming on the 25th of July.
What excites me most about the Eastern Lands is that this was an update decided by you. You came up with the idea on Runelabs, you voted for it in a Player Power Poll, and you contributed hundreds of ideas. Now, YOU get to explore your creation.
And that's the focus of the Arc region: exploration. Explore billions of possible uncharted islands and find one for you. See what treasure chests, skilling resources or combat encounters are on that island and make a decision: do you want to keep this island forever?
If you do, you can stick a flag in it and its yours. If you don't, then you can move on to the next one.
You will also get to explore three larger islands - not random, but stuffed with things to do.
Waiko is the trade hub and offers some brand new skilling locations. Whale's Maw is a new Hunter and Fishing training area, while Aminishi is a grand temple dedicated to spirit dragons: a slayer monster with a shady secret.
You'll also get four miniquests that will bring an end to the kidnappers that started this all.
Any RuneScape member can make the journey to the Eastern Lands, so make sure you pay a visit.
Chartering a ship to the Uncharted Isles requires resources, however, and to get resources, you will need level 90 in Fishing, Hunter, Slayer or Woodcutting. Make sure you have one of these if you want to claim your island.
This July is just the beginning, as we will travel further into the Eastern Lands in October, with Chapter Two of the Arc.
In Other News
We should note a few more treats this month. On the 25th of July, the Invention Bonus XP amnesty lifts. What does that mean? Well, you will then be able to use quest XP, lamps, stars, Tears of Guthix and many more things in Invention.
Vic the Trader Returns | Flower Outfits
Vic the Trader will be coming back in July, along with the opportunity to trade any unwanted bonus XP for skilling outfits, starfire gear, slayer masks and more.
Meanwhile flower outfits will be kicking off a new fae collection, and you can expect recolourable costumes and a unique teleport.
Solomon's Store | Weekly Deals – up to 60% off this weekend!

Be sure to head over to Solomon's Store for this week's weekly deals including up to 60% off things like the Crystal Impling Resting animation and Blade Wings.
Reminder - Design a Christmas Jumper Competition
You have one week left to submit a Christmas jumper design for the chance of winning the fantastic prize of having it actually made!
All the info you need is in the forum thread, so get your creative juices and flowing and show us what you got!
---
That's it! I'm sure you can see that we're planning to stuff so much into the month that, if July was a boat, it would definitely sink.
Mod Osborne
What is a Behind the Scenes article?
Behind the Scenes is a sneak peek at the planned game updates that we hope to launch in the coming month.
This, however, is only a plan - not a promise - that a particular update will be released in a particular way or at a particular time. To get you the highest quality updates as quickly as possible, we usually keep on tweaking and testing right up until the moment before release, so sometimes things change or take a bit longer than expected. We aren't afraid to change our plan if necessary, as we will never launch an update before it is ready.