Rush to the aid of RuneScape's founders in a brand new free-to-play quest to save Gielinor one cabbage at a time. You're in for a wild ride in an adventure that has been co-designed by the Gower brothers themselves!
Also, prepare for the upcoming release of the new boss Telos with a pre-release event that lets you unlock a key to his door, right now.
Also, check out the patch notes below for a full list of this week's fixes and improvements.
---
Gower Quest
Gower Quest is free to play.
Requirements:
34 Quest Points
Where to start
Speak to the Gower brothers at their farm, just south of the Varrock lodestone.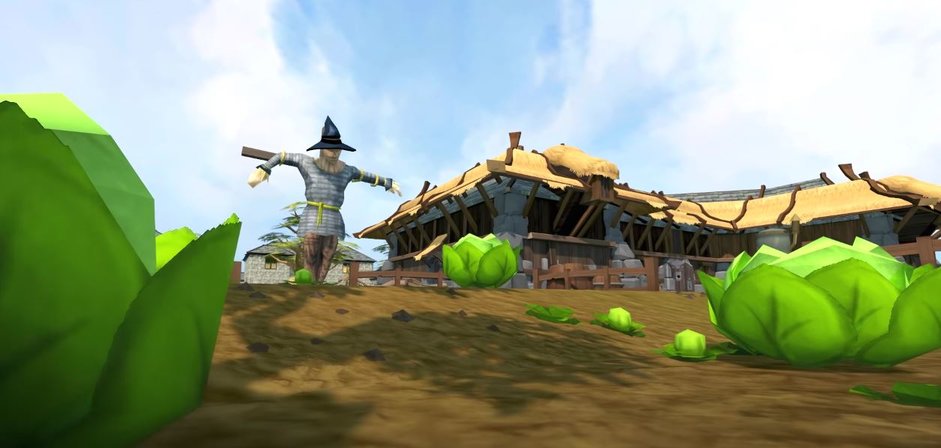 Gower Quest is steeped in the spirit of RuneScape and our 15-year anniversary, so you probably won't be surprised to hear that, this time, something strange is happening to Gielinor's cabbages.
Andrew, Paul and Ian could really do with a brave adventurer to come and find out what exactly is going on.
Get plenty more than your five-a-day and earn some neat rewards as you join your fellow 'Scapers on a bizarre and wondrous journey.
Rewards & Post Quest
When you make it out the other side you'll pick up a quest point and some coins, along with a whole host of unique rewards including (but not limited to) the fabulous cabbagemancer outfit and staff, a pet called Crispy (yeah, it's a cabbage) and an amazing retro login animation that resembles the well-known RuneScape login screen.
There are more things to discover but we'll leave that up to you!
Talk to the Gower brothers post quest to get an XP lamp based on the levels of your skills. A different brother will help you based on your levels, but chat to all three anyway because they're lovely.
Enjoy!
---
Telos Pre-Release Event - Get Ready Now!
Something stirs deep in the Heart of Gielinor.
Head to God Wars Dungeon 2 and speak to Soothsayer Sybil in the entrance hub. Collect 4 key fragments by defeating each General once more. Combine the fragments to create the key for a mysterious door.
This door will appear when Telos goes live in game. This is the perfect chance to get a head start on your peers and prepare an immediate assault on the new boss!
---
Patch Notes
For a full list of the latest fixes and features, check out the patch notes forum thread.
---
This week's live streams
Each week we livestream Q&As, in-game events and more. Watch our streams and find a full streaming schedule on Twitch. Check the YouTube channel for videos of streams you may have missed, including last week's first look at our plans for the Mining and Smithing rework.
This week, it's all about the solo boss. So – we hear you say – Telos more…
Tuesday, June 21st | 16:00 Game Time | Telos Q&A
We hope you're excited - Telos is coming to RuneScape really soon. Here's your first chance to see this new boss, live in-game!
Join us and see The Watch showing off some of the mechanics and rewards whilst answering all of your questions about RuneScape's toughest solo-boss challenge!
Ask your questions on the forums, Reddit, or by using #RSQA on Twitter!
Friday, June 24th| 20:00 Game Time | GWD2 mass and Update Preview with Mod Shauny
Fancy a sneak-peek of some of next week's Patch Notes? Tune into Mod Shauny's Friday stream. To celebrate the release of Telos, he'll also be hosting a GWD2 mass – don't miss it!
Sunday, June 26th | 18:00 Game Time | PvM with Mod Lee!
Mod Lee will be hosting more Community PvM goodness, live on Twitch.
---
In Other News
Advert Removal
External adverts have now been removed from the free-to-play game.
Summer Sweepstake – WIN a Gaming Laptop or life-sized Dragon Claws
You're running out of time to enter our sweepstake for some fantastic physical prizes. Hurry over to the news post for more info and even to pick up some bonus entries while you still can!
JMod Snapchat takeover – Mod Dolan – Thursday!
Fancy an inside look into one of our NXT teams? Mod Dolan is your man! Check out a day in his life (and maybe get some sneaky teasers) at 'runescapegame' on Snapchat, and share your favourite screenshots using #JModSnapchatTakeover on Twitter and Instagram!
Player Art on Flickr
Here's something to inspire you this week – we've uploaded 18 months' worth of Player Gallery entries, as well as some other awesome artwork we've seen from players, to a new Flickr account. Check it out and share your favourites from the amazingly talented RuneScape creative community.
The RuneScape Team