To get to the Eastern Lands when they launch on 25th July, we're going to need a bigger boat!
Join your RuneScape friends and use different skills each day to construct a ship, all while unlocking fantastic rewards, including an XP-boosting, item-dropping backpack!
Extra Tools to take part in the event are available from Treasure Hunter for a limited time - read on for all the details!
Note this is an optional event that gives great rewards for participation. Unlike the permanently in-game miniquest to gather a crew, this is not a requirement for accessing the Eastern Lands.
---
This event will run from July 14th at 00:00 UTC until 18th July at 23:59 UTC. All prizes must be claimed from Seasinger Umi (or the chest next to her) by 27th July at 23:59 UTC.
How do I take part?
Log in each day and receive 100 Tools. Click on the Tools in your inventory to warp to the boat-building area in Port Sarim. Join your fellow RuneScapers and use different skills each day to construct a boat and make supplies for the journey to the Eastern Lands.
Skilling uses up your Tools and earns you XP and progress points (both personal and community). The higher the progress bars are when the event ends, the more mystery boxes and better rewards you will have unlocked. All rewards will be claimable from Seasinger Umi in the boat-building area until the 27th.
The crème de la crème of the rewards on offer is surely the wearable skilling backpack: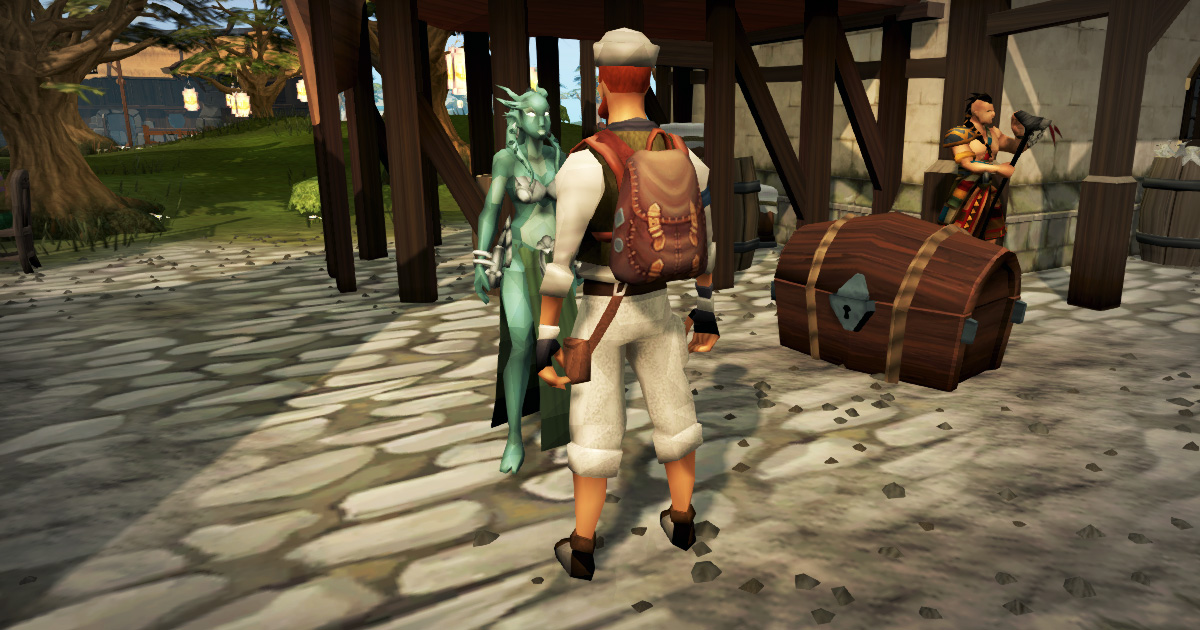 Skilling Backpack
The backpack is worn in your back slot and has a number of charges. Each time you use a charge you will get around 10 minutes of a flat XP boost to your skilling. Additionally, once per charge, it will drop a fantastic item like proteans or silverhawk feathers. Once you have unlocked the backpack, the more personal and community progress is made throughout the event, the more powerful its XP boost will become (up to +5% XP) and the more charges you will have for it (up to 50).
When all your charges have run out the backpack becomes a fantastic cosmetic item- as well as a cosmetic override, at the first upgrade level.
How do I get more Tools?
Extra Tools are available via Treasure Hunter by using your keys between July 14th at 00:00 UTC and 18th July at 23:59 UTC.
There will also be bundles of special golden tools in Treasure Hunter too – like regular tools, each lasts for 5 actions before being used up but provides 25x more XP and 25x more community progress!
More regular Tools can also be purchased for Loyalty Points from Seasinger Umi in the event area.
Ironmen can earn the backpack as a back slot cosmetic item (if unlocked) but will not benefit from any of its effects. They also cannot trade Loyalty Points with Umi for extra Tools.
Port Sarim Invasion Tokens
As an added bonus for taking part in the boat building during the Port Sarim Invasion, reward Tokens will also be a random drop from Skilling in the boat building area. For more information on how to spend these Tokens on unique Port Sarim Invasion rewards, see the news post.
---
Have fun this week helping your friends and earning rewards!
The RuneScape Team
---
What is Treasure Hunter?
Treasure Hunter is playable from within RuneScape, allowing players to use Keys to claim in-game items as prizes. These range from useful resources to rare weapons and exclusive gear.
Playing Treasure Hunter is simple - click the treasure chest icon that pops up when you log in. If you've not played before, just follow the on-screen guide.
Everyone gets at least one Key per day, and RuneScape members get two. You can earn more Keys while playing the game, or stock up by redeeming Bonds.
If you'd like more, you can also buy Keys on the website, or by clicking 'Buy Keys' within the Treasure Hunter interface in-game.