Though the weather outside is frightful, there's loads to do in RuneScape this December: Winter Weekends, a sleighload of Christmas content, an elf-tastic Task Set, Dominion Tower improvements - plus the return of the Premier Club.
Read on for Behind the Scenes December! Ho ho ho!
---
Tirannwn Task Set
The first thing I'd like to present to you this month is the new Tirannwn Task Set, focused around Prifddinas, Isafdar Forest, the Underground Pass, the Poison Wastes, the Temple of Light and the Death Altar.
There are 54 Tasks in all, covering a wide range of skills - mostly suggested by you on the forums, Reddit and Twitter!
The big reward is the Tirannwn quiver - a brand-new ammo slot item that's useful for all combat styles. There's also a new mushroom patch, improvements for your crystal bow and shield, and the top four rewards chosen by you in our recent poll: teleports, increased damage vs dark beasts, Hunter improvements and trap immunity.
---
Dominion Tower - New Bosses & Rumble Mode
We've also been busy updating the Dominion Tower, expanding its lofty halls to include a raft of quest bosses released over the past few years: including Grimsson and Hreidmar, Vanstrom, and the lean green spinning machine himself, Yelps!
Rumble mode is an all-new feature, allowing groups of up to five players to make their way to the roof of the tower and battle bands of boss monsters, using special new power ups and earning more dominion factor to spend on the tower's updated rewards.
And what rewards they are! There are now three different types of dreadnip to use, an extreme dominion medallion, updated XP rewards and new titles to earn.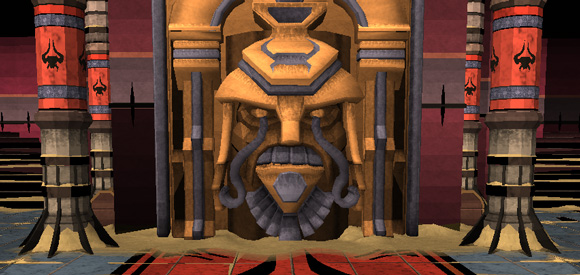 ---
Premier Club
As most of you know, for the past few years we've given you the chance to join our Premier Club, a fantastic way to save big bucks on your membership and gain some tasty goodies at the same time!
This year we've really gone big with those unique gifts. Gold members get 12 months of membership, a Dwarven Instinct aura to find hidden loot chests, some fantastic new lava wings, a lava hawk pet, access to VIP worlds, chat and forum badges and so much more!
Keep an eye out for news on the exclusive Premier Club to find out about all the other exciting things I haven't mentioned here. It's an offer you can't refuse!
---
Winter Weekends
All members will get access to the special Festive Aura again this year, which gives double XP for half an hour every day.
In addition, over the whole of December we've lined up some special Winter Weekends to help out with all your training needs. Each has a special theme, starting with a skiller weekend.
The skiller weekend gives all sorts of training bonuses, such as additional rewards for the Artisans' Workshop and Runespan, and increased chances for enriched wisps in divination.
The minigame weekend includes more voyages every day for Ports, plus double rewards for Castle Wars and Pest Control.
The dungeoneering weekend gives additional XP for all your adventures in Daemonheim, and reduced costs in the shop.
Finally, the boss and slayer weekend gives double drops on a wide range of bosses and increased slayer XP!
---
Christmas
We're kicking off Christmas early, with three festive updates to RuneScape coming throughout December!
Getting involved with the Christmas content will earn you festive cheer, which can be spent on some ice-cool cosmetic overrides: a full snowman outfit and ice sickle - which was recommended to me at RuneFest!
Week 1
Firstly, you'll be helping out Santa with his Christmas deliveries, taking presents to all the good inhabitants of RuneScape. You'll also earn cracker paper, which you can use to help build a giant cracker in the Lumbridge crater! Once assembled, legions of you will have to gather together to help pull the cracker, with all sorts of lovely goodies inside, including a new festive emote. Don't worry if you miss out on the first cracker pull - there will be plenty of crackers exploding all through Christmas.
There's chaos at the Christmas tree in Varrock square, too, where tinsel snakes have escaped! Help to round them up by collecting them into a lovely tinsel train that follows you around the city! But watch out for other players, who can lead your tinsel train astray.
Week 2
The second update this Christmas is a new boss: Snowverload! Face his huge array of frosty attacks and watch him turn RuneScape into a land of ice and snow.
Move Snowverload to the Lumbridge crater to finally take him down. There's more Christmas cheer on offer to those that do.
Week 3
In the third update the Queen of Snow will arrive and offer a short miniquest to melt some snow elementals. For helping the Queen out, players can earn a fantastical device: a snowboard!
When you've got your bronze snowboard you can hit the ramp to attempt to pull off a trick display. If you perform tricks and land in one piece, you'll level up your board – making it easier to obtain more trick energy as you work towards the rune snowboard.
Aside from earning Agility XP as you go, members can max out a rune snowboard to have it evolve into some cool looking custom skins.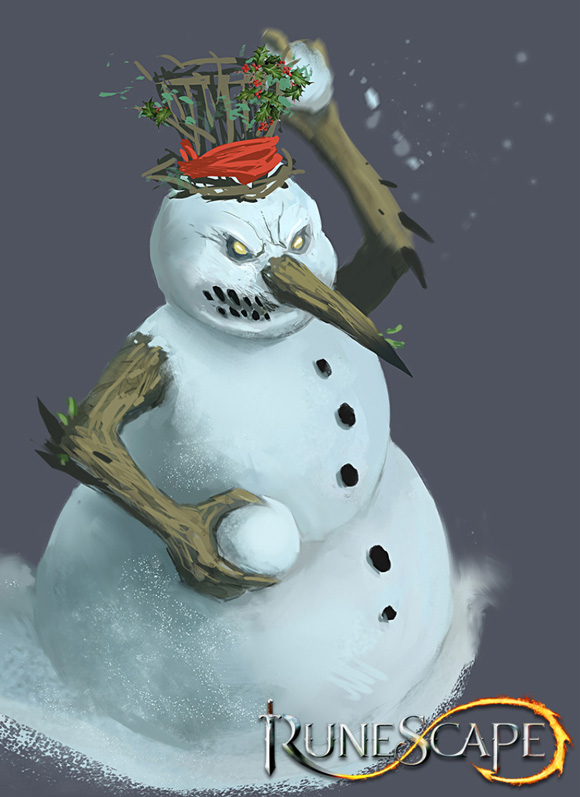 ---
Treasure Hunter & Solomon's Store
Treasure Hunter's bringing you some special Christmas tradeable rares - look out for those over the festive period!
There'll be stocking fillers aplenty from Solomon too - including the much-requested Barrows retro armour overrides.
---
Have Fun!
This is Mod Mark, wishing you all a very merry Christmas and a happy new year. See you Christmas Eve in a special new Jagex Christmas video for a bonus laugh this holiday.
Wooters out!
Mod Mark
RuneScape Design Director
---
What is Behind the Scenes?
Behind the Scenes is a sneak peek at the planned game updates that we hope to launch in the coming month.
This, however, is only a plan - not a promise - that a particular update will be released in a particular way or at a particular time. To get you the highest quality updates as quickly as possible, we usually keep on tweaking and testing right up until the moment before release, so sometimes things change or take a bit longer than expected. We aren't afraid to change our plan if necessary, as we will never launch an update before it is ready.