Open up Treasure Hunter this week and get your hands on the new locks and links. Between 00:00 game time on the 10th May through to 23:59 on 14th May, win Locks for XP and Links for Bonus XP and figure out the best way to spend them!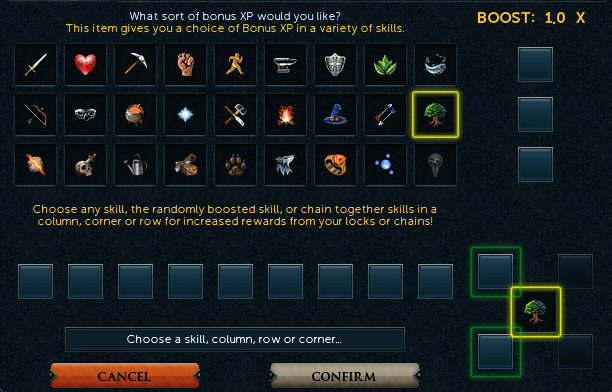 Redeem your new items, and select your chosen skill as normal, or choose a row or column to chain your XP. Chaining skills means that all skills highlighted within the box will be granted XP or Bonus XP – check your boost at the top right-hand of the interface! This indicates how much the normal XP amount is multiplied.
Each time you go to redeem a lock or link you'll see one skill highlighted in yellow. This skill will reward a boosted amount of XP, so make sure to include it in your selection as often as possible! You can also click on the boxes at the bottom right to select 4 skills around that random highlighted skill for a hefty chunk of XP.
Got all that? Try it out in-game now and enjoy!
---
What is Treasure Hunter?
Treasure Hunter is playable from within RuneScape, allowing players to use Keys to claim in-game items as prizes. These range from useful resources to rare weapons and exclusive gear.
Playing Treasure Hunter is simple - click the treasure chest icon that pops up when you log in. If you've not played before, just follow the on-screen guide.
Everyone gets at least one Key per day, and RuneScape members get two. You can earn more Keys while playing the game, or stock up by redeeming Bonds.
If you'd like more, you can also buy Keys on the website, or by clicking 'Buy Keys' within the Treasure Hunter interface in-game.