Clan Improvements
This week focuses on a multitude of features and improvements that clans have been asking for, in summary here's are the highlights:
Clan Broadcasts - Achievement broadcasts are now available for Clans! You'll be able to customise what type of broadcasts are sent to your clan and if you wish, decide if Clan Guests can also celebrate in the achievements of your clan!

Clan Broadcasts in action!
Clan Avatar Rework - This update will allow you to summon your very own personal Clan Avatar, no longer will your clan be limited to three Avatars! You can now activate your weekly buff at your Avatar Control Stone located near your Avatar Habitat, once activated you can choose between a base XP boost of 3% which can increase up to an additional 3% XP if your Fealty is rank 1, 2 or 3 OR a Skill Plot Bonus which increases the clan resources gained from that Skill Plot by 50%, whichever buff you choose lasts a week and can be switched out and/or renewed at any time (Note: you do not need an Avatar out to benefit from either of these bonuses), however if you wish you'll be able summon the Avatar as a pet via the Follower Pets tab if your buff is active.
Clan Chat Muting - Instead of just straight up kicking a clan member from your clan as punishment you can now apply a chat mute to them via Clan Settings, any clan member who has been muted will have an icon next to their name in the Clan Settings interface.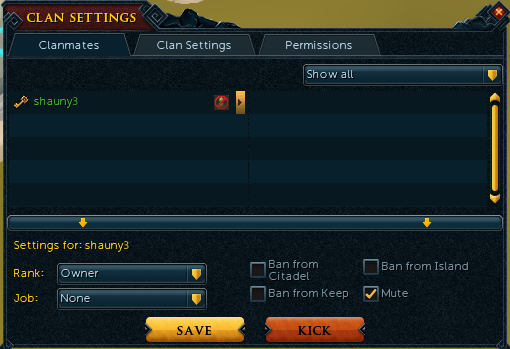 The Clan Settings interface showing a member who's been muted
Clan Login Message - A clan login message has also been added! Accessible to Deputy Owner+ via right clicking the 'I' icon in Clan Chat, this allows you to write up a custom message to display to clan members if they've been logged out for more than 6 hours when they next login (Clan members who don't want to see the login message can toggle it off via chat settings).

Preview of the Clan Login message.
Other Clan goodies - The patch notes will go in full detail on all of the clan changes (there are a lot!), but there are also noticeboard improvements, clan chat optimisations, a clan log and much more!
The Beach
The Beach has returned! All of your favourite attractions from last year are back, with an additional hole in the wall activity that allows you to pose to your heart's content! There are new rewards with the beach coming back, these can be awarded from skilling in the beach or by purchasing them with RuneCoins, some of these are showcased below.
Goebie Beach Pet - Even the Goebies have to enjoy the beach! This pet can be overridden and is never without his towel, parasol and walking stick!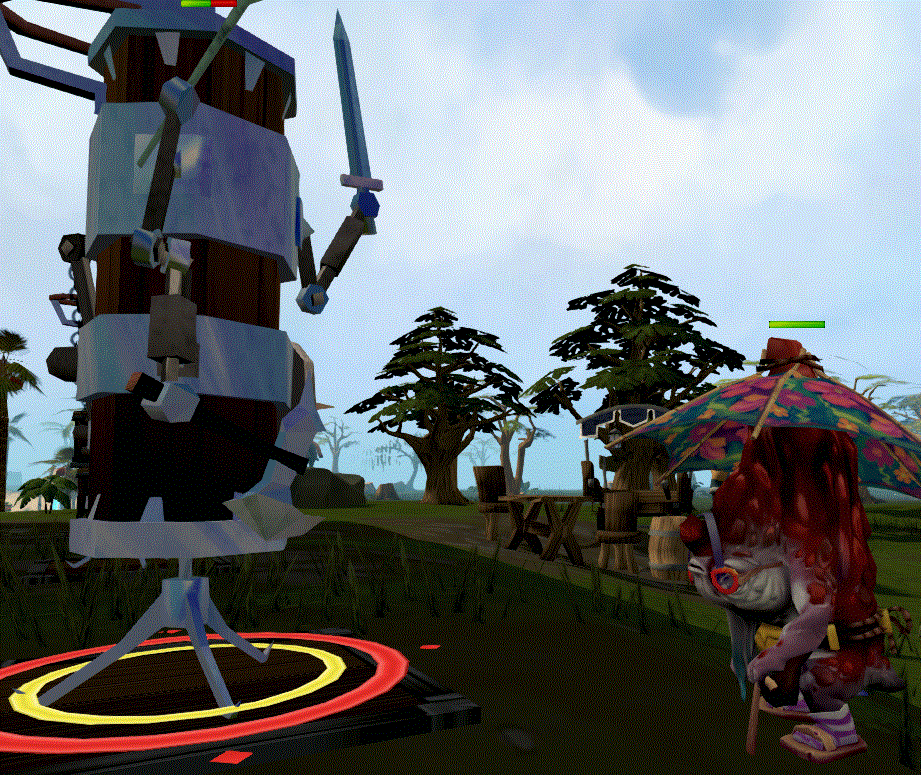 The infamous Goebie towel whip.
Goebie Backpack - If you have a desire to wear a backpack modelled around a Goebie this is your chance to do so!
Banana Boat - The Banana boat is terrorbird inspired, you can use it to race in the Terrorbird races, or just use it to run around because why not.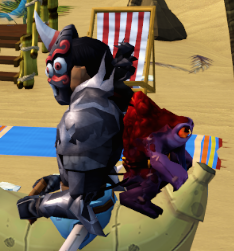 The Banana Boat mount & Goebie Backpack as demonstrated by Mod Shogun
These are just some of the rewards from the Beach this year so head in-game and make sure to check them out! We have an additional pet, as well as rest and walk animations for you to earn!
We all know it's not a good beachparty without Happy hours so we've got you covered! In all worlds there will be happy hours this year, if it's a happy hour you will receive an additional 10% at all the skilling locations on the beach. This year there will be happy hours daily at 01:00, 09:00, 14:00, 16:30 & 21:00 gametime!
Additionally, the weather forecast suggest that there will be a heatwave every weekend till Monday the 27th of August. Each heatwave will last from 12:00 gametime on Friday till 12:00 gametime on Monday. During a heatwave you will be able to keep training your skills regardless of the thermometer.
As an additional note Reyna will have exclusive sandy clue scrolls to give out, she gives one out each day, if you happen to miss a day don't fear she'll keep on to it for you meaning you'll never miss out!
The Beach event will finish after the game update on Monday August 27th.
Patch notes
Alongside all of the clan changes we have some significant changes for Solak, including a significant change to Erethdor's Grimoire and a new item obtainable from Lost Grove creatures.
Erethdor's Grimoire is now a pocket slot item.
Erethdor's Grimoire now increases critical hit chance by 12% and increases the damage cap up to 15,000.
This now acts as the same as a godbook, requiring pages (Torn grimoire page) to recharge it. Each page will recharge it by 45 minutes
Torn grimoire pages are now dropped from Solak.
The Lost grove creatures creatures now drop an Ancient elven ritual shard, which works the same way as the Grimoire previously worked (restores 37% of your total prayer points over 30 seconds, with a 5 minute cooldown). The drop rate is increased whilst on a Lost grove creature slayer assignment.
Only 2 roots will spawn on phase 1 of the Solak fight, in group mode.
Each Blightbound crossbow has a 25% chance of saving a bakriminal bolt when their effect activates.
To read the huge list of changes in today's update, click here.
Summer Weekends | Clue Scrolls | 3rd - 6th August
Get your Globetrotter's outfit ready, the Clue Scroll weekend is coming this week!
1 free reroll for clue rewards per day.
Improved chance to get clue scrolls from drops and pickpocketing.
Gilly Willikers will give you a free clue scroll per day (starting at noon), the type is dependent on total level
37-1,400 total levels: easy
1,401-2,000 total levels: medium
2,001-2,500 total levels: hard
2,501+ total levels: elite
Each clue scroll completed will reward a Summer Gift Box containing refreshing treats and has a chance of containing one of the following items:
Slayer VIP tickets
Silverhawk down
Tight springs
Charm
Experience lamps and stars

Easy clues reward a gift box (easy), medium and hard clues a gift box (hard), elite clues a gift box (elite) and master clues a gift box (master)
NOTE: Ironmen are excluded from all bonuses in bold.
To read everything about the Summer Weekends in full detail, click here.
Twitch Prime
As Summer is hitting hard and finding a fresh spot is now a matter of survival, we've teamed up with Twitch Prime to offer you the perfect opportunity: free membership and exclusive loot!
Until 6th September, Twitch Prime members can redeem a fully packed "Umbral pack" with a 1-month FREE RuneScape membership and all these items:
Exclusive Umbral Flame Blade cosmetic weapon override
Exclusive Umbral Armour cosmetic armour overrides
Exclusive Umbral Crassian companion pet
2 Umbral Chests (guaranteed super-rare prize)
15 Treasure Hunter Keys
200 RuneCoins
This limited-time offer can be redeemed by new RuneScape players as well as existing members (i.e. the free month stacks up at the end of your recurring membership if you already have one).
What are you waiting for? Hit that twitch.tv/prime link and claim your free loot. And don't forget that every new Twitch Prime membership comes with a 30-day free trial.
One of the perks of Twitch Prime is also a free subscription to a Twitch streamer every month. So, why not support one of our brilliant content creators? Check who's live now and show your support for them. You can find all the details on how to subscribe to a Twitch channel here.
LootScape
Do you watch our live streams? It's a great opportunity to grab a LootScape Loot Chest and get yourself some awesome in-game goodies by watching our live streams every week.
Just connect your RuneScape account to your Twitch account and tune into one of our RuneScape live streams to get some free stuff.
And as we're ending July, Tuesday's stream will be your last chance to grab a free Clue Scrolls! You'll receive an additional Clue Scroll based on your level, with a small chance to upgrade any Elite Scroll received to a Master Scroll.
For August, we've got something great in store for you… something Elite. You'll receive one random Elite skilling outfit piece! If the odds are not in your favour and give you an already owned one, it'll be switched for a random drop of either a gp bag or bonus item. Oh, and Ironmen will receive the Deep Sea Fishing emote!
Exciting isn't it?! So don't wait up, connect your RS account to your Twitch account and find out more about it here. Once that's done, have fun and watch the stream for a guaranteed drop!
Live Streams this Week
Each week, we host developers QAs, exclusive in-game first looks and more. And it's all live on our Twitch channel, join us!
Missed a stream? Don't worry, we keep them all on our YouTube channel. So be sure to Subscribe to it!
Tuesday, July 31st – 16:00 UTC (Game Time) – SGS Carnival Community Stream
Join our JMods on the sofas for a review of the outfit designs submitted for Solomon's General Store Carnival Competition that made it through the first selection stage. We will judge these entries on our very own "RuneScape's Got Talent" and will ask for your feedback directly in the Twitch Chat!
Watch live on Twitch – be sure not to miss it!
LootScape will be enabled, a Clue Scroll based on your level will be a guaranteed drop.
Friday, August 3rd – 16:00 UTC (Game Time) – Patch Notes Teasers
Join Mod Shauny for the Patch Notes Teasers, a stream where he covers the main update for next week – The Master Skillcape Perks – and shows some of the new content you can look forward to next Monday!
Watch live on Twitch – be sure not to miss it!
LootScape will be enabled, a random unowned Elite skilling outfit piece will be a guaranteed drop.
Sunday, August 5th – 18:00 UTC (Game Time) – PvM with Mod Lee
Join our resident PvM expert with another mass this Sunday, live on Twitch!
LootScape will be enabled, a random unowned Elite skilling outfit piece will be a guaranteed drop.
---
The RuneScape Team