We're really pleased that so many of you are enjoying the Mining & Smithing Rework. The number of you smashing rocks and lashing metal continues to climb, and we're hugely appreciative of all the feedback we've received.
So this week we thought we'd veer away from hitting things and instead... actually no, that's a massive lie. This week we're about hitting even more things with some highly anticipated quality of life updates for Combat!
Combat Week
To give you a small teaser, here's just some of what you can expect in this update:
- The damage modifiers from damage enhancing scrimshaws, Berseker auras and the Metamorphosis ability are now calculated earlier. This means that bosses phase correctly when they reach their HP threshold and mechanics that rely on damage to progress (such as Telos' tendrils or Vorago's pushback phases (Phase 5 - Normal Mode, Phase 10/11 - Hard Mode)) will now take the additional damage from the modifiers into the equation.
- Performing abilities whilst moving with revolution enabled will now correctly play attack animations.
- An issue causing AoE spells, such as the burst and barrage ancient magicks, to not award adrenaline correctly has been fixed.
- Should the Mutated Dazing Shot ability or Salt the Wound miss on your enemy, the timer for Puncture will now still extend.
- We now permit a worn slot to be added to an action bar slot, allowing you to use that slot's options even when switching items.
You can read the full patch notes here!
Valkyrie's Return!
Hati, Skoll & Fenrir are back! In a revamp of the yearly event you've come to expect, assist Eir in summoning her Valkyrie companions!
Old powers are stirring in Gielinor. Fenrir, Hati and Skoll have returned to roam the land once more and the fallen heroes of Valhalla grow restless. Eir believes the End of Things is coming sooner than expected and that itís time for the Valkyries to reunite and prepare for the battles ahead.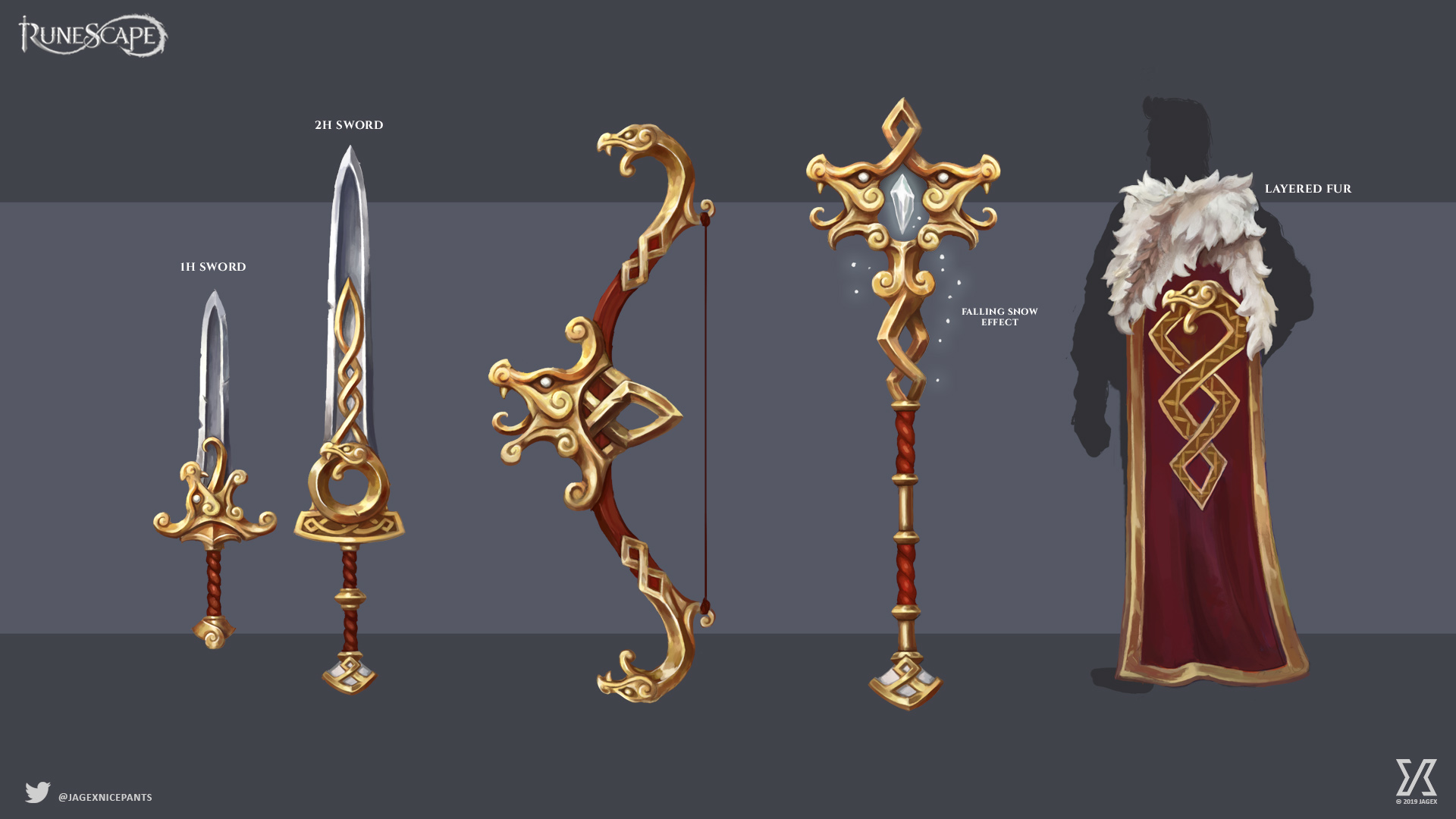 Gather Valkyrie feathers through skilling, combat, daily challenges and defeating the winter wolves and return them to Eir to help her summon her companions in exchange for legendary rewards such as a Tiny Valkyrie Bobblehead, or a bunch of Jormungand weapons plus an additional cape!
Runecoins can be spent to directly buy the currency. Additionally there is no limit on the amount of currency a player can earn a day!
This event will run until Monday the 11th of Feburary.
Vic the Trader
Vic the Trader has returned once more! You can find him south of the Burthorpe Lodestone, you can turn in any bonus XP you may not want to Vic and get credits in return, these credits can then be used to buy various things from his shop so make sure to check it out!
18th Birthday Competitions
Over the course of January we will be giving away lots of very special prizes to celebrate our adventurous 18 years with you all. Here's what to expect:
Forums: Celebrate 18 years of Gielinorian adventures by winning a very special trip to the Jagex offices. Discover where Gielinor was born, and how we make it better every day. Meet the JMods and live a truly unique moment you'll never forget! Ends January 31st.
Discord: Post your stories and screens (achievements, fails, funny moments, gorgeous screenshots etc) on the "#18th-birthday-competition" channel for a chance to win signed goodies. Ends January 27th.
And last but not least, throughout January we'd love you to share your favourite RS screens with the #RuneScape18Years hashtag on Facebook, Twitter and Instagram Ė or via competitions@jagex.com Ė for a chance to win a unique hand-painted 3D-printed figurine of Hans, the first ever NPC to see the light of day in RuneScape. Ends January 31st.
Premier Club 2019
Don't forget that this yearís Premier Club is now available, representing the best-value yearly RuneScape membership package you can get!
Perks include the stat-boosting Premier Club Artefact, free daily keys, Premier Club Reward Tokens and, on the highest level Gold tier, loads of extras such as access to the Premier Club Vault, VIP Premier World, VIP Premier forum, badges for forum/chat and a monthly prize draw. Gold members also get the new Valkyrie outfit complete with wings and an assortment of weapons!
Throughout all the duration of Premier Club, weíre also offering you the chance to win a Chillblast Gaming PC and 6 months of RuneScape membership. All you have to do is follow the links below and fill in the competition form. Itís as simple as that!
RS Winter Sweepstake - WIN a Chillblast Gaming PC + 6 Month Membership
LootScape
If youíve been watching our livestreams, you must know that itís a great opportunity to grab some awesome in-game prizes. Each and every stream watched in January will give you a guaranteed random drop from one of the following: Prismatic small fallen star, Prismatic medium fallen star, Prismatic small lamp, Prismatic medium lamp, Spirit Ruby, Spirit Diamond, Advanced Pulse Core, Spring, Silverhawk down, Medium DG Token Box, Small DG Token Box, Uncut Dragonstone, Large Cash Bag, Medium Cash Bag or Small Cash Bag.
Exciting isnít it?! So donít wait up - connect your RS account to your Twitch account and find out morehere. Once thatís done, have fun and watch our streams during the day for a guaranteed drop.
Live streams this week
Each week, we host developer Q&As, exclusive in-game first looks and more. And itís all live on our Twitch channel, join us! Missed a stream? Donít worry, we keep them all on our YouTube channel. Be sure to Subscribe and be the first to know.
Tuesday, January 22nd Ė 17:00 UTC (Game Time) Ė Dev Q&A
Youíve got questions? We have answers! Youíve been requesting more opportunities to exchange with us on current projects, or address all kinds of questions that could arise during your adventures in Gielinor. Well, nowís the time: join us for a full hour of Q&A on the sofas! We will also be calling for questions on Facebook, Twitter and Discord, keep an eye out.
LootScape will be enabled (see all details above).
Sunday, January 27th Ė 19:00 UTC (Game Time) Ė PvM with Mod Lee
Our resident PvM expert Mod Lee knows no fear and heís ready to take you all on another round of boss mass this Sunday. From Vorago to the Kalphite King, the Corporeal Beast and the Angel of Death, if youíve got a set to complete, an achievement to unlock, or simply want to hang out with friends and slay some, this is the place and time!
LootScape will be enabled (see all details above).
Pink skirts Events
Of course, adventures continue in Gielinor even when we're too busy (PKing) creating the adventures of tomorrow. Our PMods are here to welcome you in a range of PvM Boss Masses, Events and Q&As each week. Check out all the community events organised by the Pink Skirts on their official schedule here
---
The RuneScape team