If you thought the dig site workers have taken a long time to start sailing off to The Land Out of Time, spare a thought for the poor JMods who've been working on Comp Cape for literal millennia. Well, sort of. Plus, we'll reveal how you can get your mitts on the Woodcutting elite outfit and some rather stylish looking Elf Ears.
Comp Cape
Thanks to your feedback we've been able to make some significant changes to the comp cape redesign. Here's the latest info:
How the new Comp Cape will work
From now on, every significant content update will add at least one new Comp Cape requirement and at least one new trim requirement. The only reasons we won't add new requirements are:
if the content update is so small that there isn't really anything to create requirements from (e.g. Ninja fixes)
if the nature of the update doesn't lend itself to requirements (e.g. limited time events)
if there is a strong reason why new requirements shouldn't be added (e.g. the impact on the economy would be too large, the game would be disrupted in some way, it would create too high a dependency on luck)
The Comp requirement will be something which requires you to participate in content enough to understand it. Essentially, the Comp Cape should represent a player who has played everything. A comped player is a player you can ask about any update, and they'll be able to tell you about it. 'Sing for the lady', 'Uncorrupted Ore', 'The Lost Toys', and 'I'm Forever Washing Shadows' are good examples of comp requirements. They require you to play enough of the content to understand it.
In contrast, the Trim requirement will be something which requires you to have completed content, to whatever extent is possible. When you see someone with Trim, you should see someone who has completed everything. That player knows the game inside and out. If there's something to do, they've done it. 'Complete Trekky', 'Ivan is Flailing', and 'Memorialised More Than Once' are good examples of trim requirements. They require the player to really go above and beyond and exhaust the update, doing everything they can.
The one exception to trim are things which we consider so difficult or time consuming that they don't belong even on trim. These requirements either have such a high skill requirement that the vast majority of players couldn't ever accomplish them, or involve such a long and mindless grind that we don't want to push players to complete them. Telos 4K is an example of something which is too difficult, while 200M XP in a skill is an example of an accomplishment which is too much of a grind. We may still create achievements this hard or this grindy, but those achievements wouldn't be part of trim.
Passive Benefits
Although the comp cape still exists as a physical object, all the benefits of wearing it have been transformed into passive benefits.
The following benefits which currently are inherited by the comp cape from other capes, will be decoupled from the comp cape and become accessible in game through other means. As specified above, these will become permanent effects, toggleable, or activate-able depending on the benefit.
From the max cape/99 skillcapes
Max Guild teleport
The ability to add 3 skillcape perks to your 'cape slot'
From the Ardougne cloak 4
Kandarin monastery teleport
Manor farm teleport
Summoning restore (once per day)
All task rewards (from Ardougne tasks) that require the cape to be worn
From Ava's alerter
The arrow retrieval effect
From the bonesack (e)
Skeletal horror teleport
From Jerrod's cape
Various thieving bonuses and effects
From the spirit cape
20% less summoning special energy when using summoning scrolls
The only benefit not included here from the current comp cape is the fire/kiln cape effect which allows for bonus damage when fighting Ice Strykewyrms as we'd like to return this to being a cape-exclusive bonus.
Changes to Achievements
The following achievements have been removed from the comp cape and trim comp requirements:
Reaper Crew
How Many Games
The following achievements have been added to comp cape:
Bean there, Done that
The following achievements have been added to trim comp:
Salty
Sandy
E-I-E-I-O
An updated version of Work on Your Artisan
These achievements will have a 1 month grace period, which means you have 1 month to complete them before losing access to your cape. We have the ability to apply grace periods to other achievements if we feel like we need to, but we don't expect this to be the norm.
Reaper
Some bosses from the reaper requirements are extremely challenging to complete due to their difficulty and their forced group interactions. Therefore, we've removed the Reaper requirements from the comp cape.
To make up for removing these requirements from the cape, some of the comp cape stats are now a passive bonus from earning the 'Reaper Crew' achievement.
The comp cape stats have been lowered to match the max cape stats. The difference between these stats has now been added as a passive effect unlocked by completing the 'Reaper Crew' achievement, although a few have been tweaked slightly for balancing reasons.
The added stats for completing the 'Reaper Crew' are:
+200 HP
+20 Armour
+2 Prayer
+12 Melee Strength
+12 Ranged Strength
+12 Magic Strength
Additionally, the music tracks that are locked behind boss encounters will now unlock upon starting the fight. Enjoy the tunes!
Comp cape cosmetics
We're adding Comp and Trim cosmetic overrides. If you have already purchased Comp or Trim from the Varrock museum, you'll get these on login. However if you have not, you'll need to complete the Comp and Trim achievements, making them available to purchase.
Profound Halo Poll
Some of you might have seen the halo concept art that was released last week. One of these cosmetic items will be awarded to players who have completed the 'How Many Games?' achievement.
We know that the initial halo design wasn't well-received, so we've gone back to the drawing board. Here's the concept art: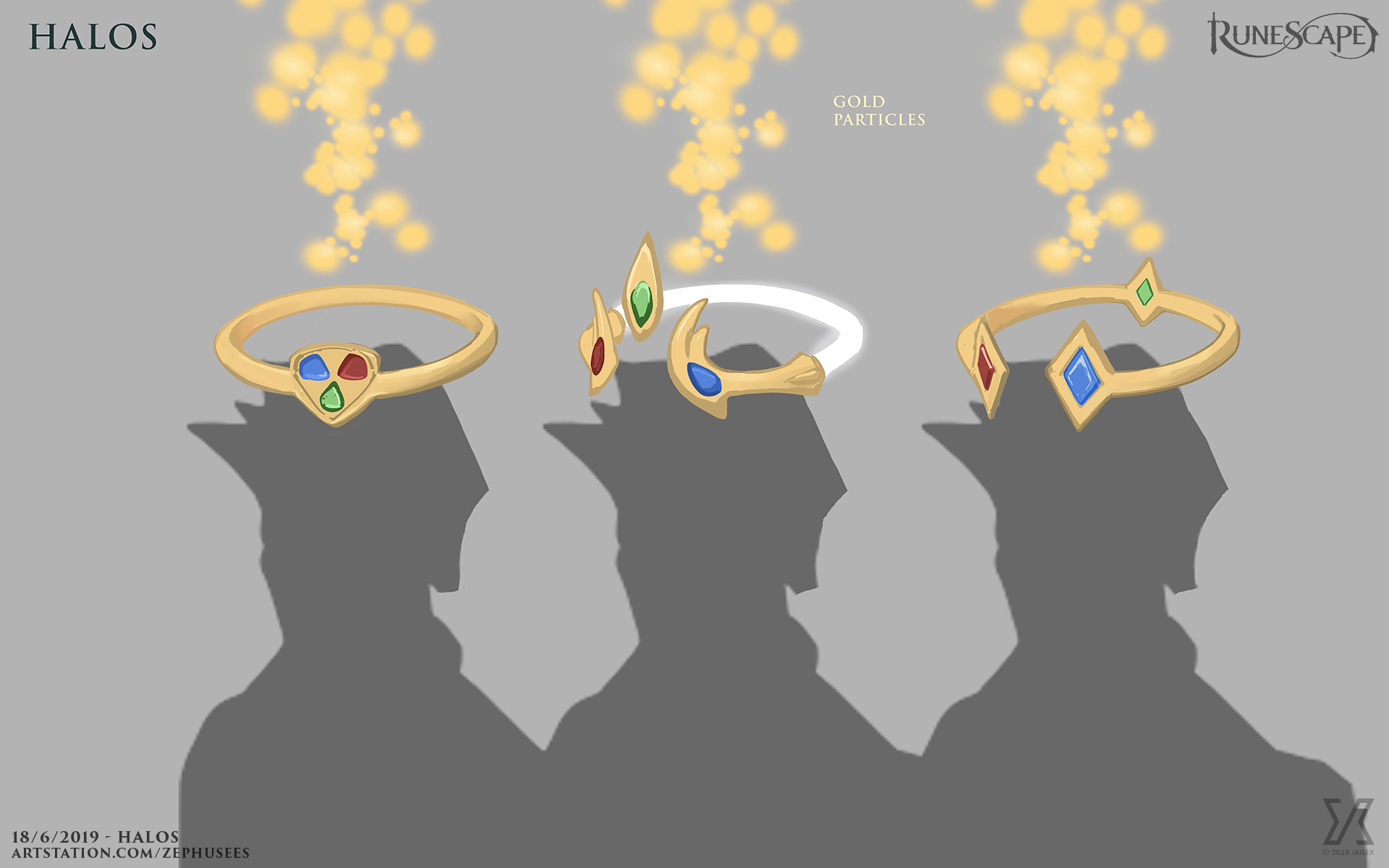 The halo won't be in-game for a while, but we're taking this time to create something that's worth playing all that Castle Wars for. With this in mind, We have now put out a poll among the players who already have the achievement.
Elite Woodcutting outfit
Yes, you read that right: the elite Woodcutting outfit will finally be made available in-game!
You'll be able to gather Woodcutting fragments during all Woodcutting activities from level 70.
The Sawmill Minigame and Overgrown Idols will have an increased chance of dropping fragments compared to other activities. You'll gain even more fragments for participating in the Woodcutting skill events during Breaking the Storm.
Elf Ears
The Makeover Mage has been working hard to bring you this exclusive collection of Elf Ears, complete with four different designs. Which one is your favourite?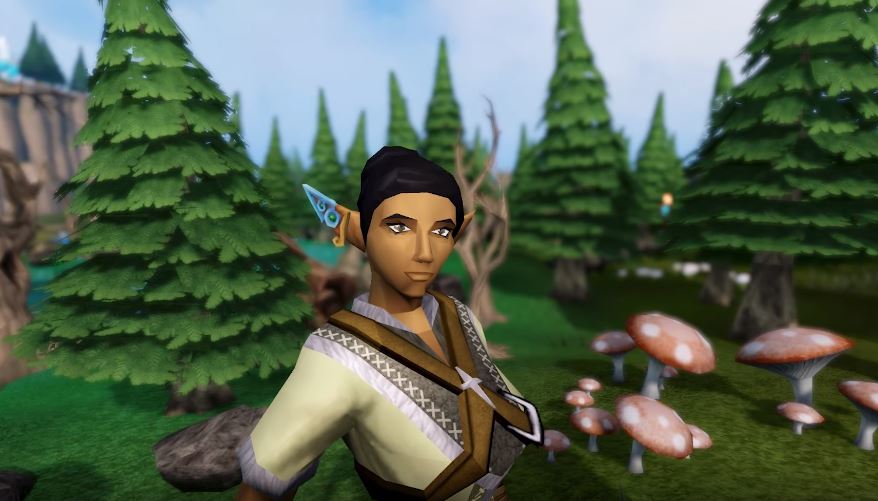 You'll be able to buy the Elf Ears pack in Solomon's General Store from June 24th.
RuneFest 2019
RuneFest 2019 is now set for October 4th & 5th, and tickets are on sale! Grab your tickets and guarantee your entry to the world's best RuneScape celebration. Get your tickets now!
This year, everyone gets everything with one ticket, with The Golden Gnome Awards and RuneFest both included. For tips and suggestions on everything from travel to accommodation, you can also join our dedicated Discord channel, head to the official RuneFest forum or the community-owned Facebook Group.
We will be revealing this year's theme and details as we get closer to RuneFest 2019. So keep an eye on our website and socials!
The Land Out of Time
The Land Out of Time has lots of new adventures to offer and mysteries to unearth. Last week, we revealed fearsome new Slayer creatures (with activities that go along) and a challenging new island-wide Agility Course. Tomorrow, we will start revealing some secrets lurking deep within the Lore of Anachronia. If you just can't wait for it, subscribe to our newsletter and you'll get the info a day early!
Still craving for more exclusive info? Head to our "World Out of Time" website! You'll find exclusive info about the new story line launched with Desperate Times – that extends to the Land Out of Time – as well as never-seen-before concept art, and even more surprises to be revealed as we get closer to the launch of our Summer update!
Summer Special
Summer Special is back! Get ready to hop in Gielinor and enjoy the longer Summer days thanks to the return of our Summer Special 3-for-2 Months Membership offer. As well as getting 3 months' membership for the price of 2, you also receive the amazing Dragonkin Imperial Set!
You want more free stuff? Sure thing, we've got two words for you: "Summer Sweepstakes". Yes, we can sense the excitement in all those of you who know what we're talking about. But for the two in the back that are never following anything:
WIN a Chillblast Desktop PC + GT Omega Racing chair + 1 Month RuneScape Membership
What are you waiting for? Click the link above and hop in!
Merch Store
There's still time for you to grab some of the new merch added last week official RuneScape Store. Hurry if you don't want to miss out on the Map of Gielinor Deskmat (up for pre-order) and Mousemat!
LootScape
Our live streams are always a great opportunity to grab some awesome in-game prizes. And we've done one particularly hefty update of the LootScape for you! We've added a bonanza package for your Player-Owned Farm, courtesy of Granny Potterington. In addition, we thought it would be time to bring back some player-favourite goodies: the skilling outfit piece, the Loots Cape and Nature's Balance (main-hand sword override).
This month, each and every RuneScape stream watched will give you a random drop from one of the following:
Guaranteed:
Between 10-100 Player-Owned Farm Beans
A name re-roller or trait re-roller
A random animal for their farm
Guaranteed drop from Basic Drop Table (see below)
View counter goes up on Orb
Chance based:
A random skilling outfit piece (if unowned)
Either Nature's Balance or Loots Cape (if unowned)
Basic Drop Table: Prismatic small fallen star, Prismatic medium fallen star, Prismatic small lamp, Prismatic medium lamp, Spirit Ruby, Spirit Diamond, Advanced Pulse Core, Spring, Silverhawk down, Medium DG Token Box, Small DG Token Box, Uncut Dragonstone, Large Cash Bag, Medium Cash Bag or Small Cash Bag.
Exciting isn't it?! So don't wait up - connect your RS account to your Twitch account and find out more here. Once that's done, have fun and watch our streams during the day for a guaranteed drop.
Live streams this week
Each week, we host developer Q&As, exclusive in-game first looks and more. And it's all live on our Twitch channel, join us! Missed a stream? Don't worry, we keep them all on our YouTube channel. Be sure to Subscribe to be the first to know.
Tuesday, June 25th – 16:00 UTC (Game Time) – Content Showcase: Land Out of Time (Lore, Art , Audio)
As the Varrock Dig Site is running full steam ahead to Break the Storm and sail off to the Land Out of Time, it's now time to host a special feature stream! You know about Big Game Hunter – a new innovative method to train your Hunter skill – you also know about Slayer activities and the island-wide Agility course. Well first we've got more to unveil about all that, but other surprises too!
Wait… is that the Audio team setting up in the studio?
LootScape will be enabled (see all details above).
Sunday, June 30th – 16:00 UTC (Game Time) – Breaking the Storm with Mod Lee
Our resident PvM expert Mod Lee is letting Vorago, the Kalphite King and Nex rest for this week… why is that? Because it's ALL hands on deck to build a seaworthy vessel that'll take us all to the Land Out of Time!! Join Mod Lee at the Dig Site this Sunday for a once-in-a-lifetime "Breaking the Storm" skilling event. If you want help from an expert to train your Farming, your Woodcutting, Smithing, Construction, Divination or any other skill featured in the two-weeks event, NOW's the time!
LootScape will be enabled (see all details above).
Pink skirts Events
Of course, adventures continue in Gielinor even when we're too busy (PKing) creating the adventures of tomorrow. Our PMods are here to welcome you in a range of PvM Boss Masses, Events and Q&As each week. Check out all the community events organised by the Pink Skirts on their official schedule here.
---
The RuneScape Team