Hero Pass is a brand new part of the core RuneScape experience, designed to make the game even more rewarding whenever - and however - you choose to play. Hero Pass builds on lessons of the past to bring a new integrated gameplay experience that fits into your regular play, with more unique cosmetic rewards and earnable buffs that add flavour to the gameplay.
In this always-on reward system, you'll gain cosmetics and items simply by playing the game! Everything you do earns you Hero Points to progress your Hero Pass, but you can also complete Missions to boost your Hero Point returns. Every three months, we'll refresh the Hero Pass offerings with brand new content for all players - and additional Premier rewards all at no extra cost for our active Premier Membership subscribers.
Our first Hero Pass, Underworld, comes packed with 54 total cosmetic items that can be earned by all players and 94 total cosmetics for Premier Members - from new armour styles to pets, ability overrides to awesome variant looks for your Necromancy conjures.
Let's dive into what Hero Pass is all about, and give you your first look at what to expect when it launches on September 4th.
Why Hero Pass?
Many games today do a great job at providing rewards for simply being an active participant of the game - and most importantly, they do it in a way that feels organic to how players actually play. With RuneScape's prior attempts in this space, we haven't achieved the bar set by other Battle Pass systems - so we wanted to go back to the drawing board and introduce something much more complementary to the game that's integrated with its core experience.
So what is the ultimate goal of Hero Pass? Well, we always want to encourage and reward your choice to spend time in Gielinor - now, Hero Pass will be the primary way we give back even more for your time. For our design goals, we had three core pillars:
Deepen the RuneScape experience with a new reward system that fits into natural play.
Ensure rewards are earnable for the majority of players, and invest more in designing unique rewards that are worth the player's time.
Encourage players to engage and catch-up with recently released content.
While Hero Pass is an entirely new design and experience, it does still build on the lessons learned from Yak Track, which was a limited-time event style pass system that involved gameplay tasks.
When we introduced Yak Track, we described it as a premium event that offered an alternative way to get additional premium cosmetics outside of Treasure Hunter. Because Yak Track was intrinsically designed as a premium event first, but also needed to fill the role of a compelling Pass gameplay experience, the result was a system that was often in conflict with itself.
Hero Pass has been designed with a much clearer primary goal from the get go - what we call 'engagement'. This means we're primarily measuring Hero Pass success on exactly how players engage with the system - how it helps encourage players to return regularly or find more value in playing a single session just that little bit longer than they would have without it. However, we also don't want to drive more 'Dailyscape' pressure. Hero Pass has been designed to balance rewarding our most active players with accommodating those of you who play more sporadically.
Given some shared DNA with Yak Track's 'Pass' design, we've naturally taken on board a lot of your feedback around Yak Track pain points to make sure Hero Pass is a quality experience. This includes:
Designing Missions for consistency so they don't become increasingly grindy as you progress, which sometimes turned the Yak Track experience into a chore at later levels (and in turn encouraged Skips).
Making sure Missions feel integrated into your day-to-day experience, encourage you to focus on the latest content releases and don't create a significant distracting commitment from other goals you have for the game.
Ensuring Hero Pass has an ample run-time to complete through gameplay, is more rewarding for non completionists, and is always-on, to reduce time pressure.
Gameplay Experience
Hero Pass rewards you whenever you play, always-on and with rewards that refresh every three months. You'll be constantly earning Hero Points with any activity you do in-game, and Hero Points level up your Hero Pass. For even bigger boosts of Hero Pass Points, there are also three different sets of Missions on offer, each with their own Hero Points rewards for completion.
Daily Missions
Every day that you log in to RuneScape, you'll have a Daily Mission to complete, with three tiers of potential rewards. Each tier of the mission takes a little longer to complete each time, but also returns bigger Hero Point bonuses.

These missions simply require you to play RuneScape and gain Hero Points as you play. You can progress through these faster by training the skill tied to the Mission too.
Each Daily Mission also awards a Lamp (Small, Medium and Large based on Tier) to use towards a skill of your choice!
Weekly Missions
Each week you'll also receive two types of Weekly Missions that award bigger Hero Point returns for completion.
The first is the Weekly Basic Mission, which you can simply complete by earning Hero Points through play - just like Daily Missions. These missions reset every week, so they must be completed during the week they are awarded.
The second type is the Weekly General Mission. These General Missions have more specific requirements to complete - such as cutting a certain number of logs or earning Marks of War - but remain available until the end of the current Hero Pass. If the content mission doesn't fit your focus that week, save it for a later one!
Weekly General Missions are also added to your Hero Pass every week without needing to log in - so if you return to RuneScape a month into a Hero Pass season, or go on holiday for a few weeks, you'll have any you missed waiting to be completed for extra Hero Points!
Special Missions
Special Missions are how you'll be rewarded for getting involved in the latest content coming to RuneScape. These Missions will often be themed to areas we've updated or added to in the game, giving you more for your time spent discovering these new content releases.
At launch, our first Hero Pass will have a host of Necromancy and Fort Forinthry themed missions focused on our past few months of activity. If you've been keeping up to date with all the latest content in RuneScape, expect plenty of these to instantly unlock once Hero Pass releases.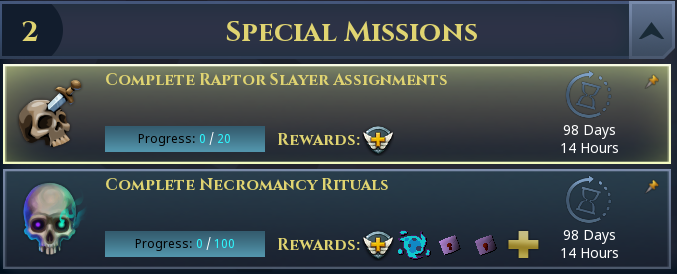 Keeping Missions Fun
In Yak Track, there were some common feedback points around how the Task System fit into your general play. Tasks often pushed you into experiences that didn't fit your personal goals, and with scaling based on level, could be overwhelmingly long at points.
With Hero Pass, missions goals are consistent for all levels and Daily Missions allow you to approach them much more in your own way. They are designed to take well under an hour for all three tiers of rewards, making them more fulfilling to complete without disrupting your day to day play.
Progress is singular for Daily Missions too, so if you've been playing without focusing on a Mission and want to push to complete it, focusing in on the Mission's skill bonus will be additive to the progress you've already made.
With Weekly Missions, Special Missions and general play all providing progress, you won't need to Dailyscape to make good progress in Hero Pass. And while the bonus progress skills or objectives required to complete Daily and Weekly Missions are assigned randomly, you can use Vis Wax to re-roll Daily missions into a particular Skill, to optimise your Mission progress in synergy with what you're already doing.
Reward Systems
With the goal to make RuneScape more rewarding, we've completely rethought how a Pass system should work for us.
The Hero Pass levelling system offers a more consistent experience from day one, with Hero Pass requirements per level that never increase between Level 1-99, then 100-120. By splitting the experience into two levelling brackets, we're looking to get more unlocks to more players with every new Hero Pass release - without compromising on rewards for more dedicated players to chase too.
None of that matters if the content isn't killer, though, so we've made some big investments in this area to really make Hero Pass customisation rewards feel special.
Not only will you find more unique looks in Hero Pass compared to Yak Tracks of yore, but we're making more unique customisation spaces to give you even more power in fulfilling your Fashionscape fantasies. And there's more of it than ever, with Hero Pass: Underworld delivering 54 total cosmetics to earn for all players, and a whopping 94 total cosmetics in Premier Hero Pass - marking a huge step up from our most cosmetic-rich Yak Track ever with a total of 36 earnable cosmetics for Premier Members.
Additionally, we're also offering a range of buffs to add a unique gameplay flavour to each Hero Pass.
Core Levels (1-99)
These are the base levels of the Hero Pass experience, with each level requiring 1,000 Hero Points.
This is where the vast majority of cosmetics will be earnable, and our goal is that even a moderately active player can hit the heights of Level 99 for one of the best cosmetic rewards in the Pass - along with a 10 level jump start on the next Hero Pass.
In our first Hero Pass, here's just some of the awesome cosmetic content you can earn as you level: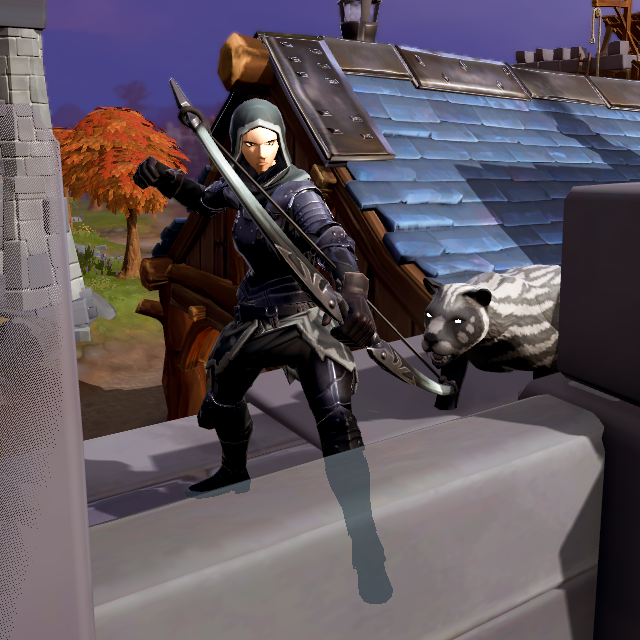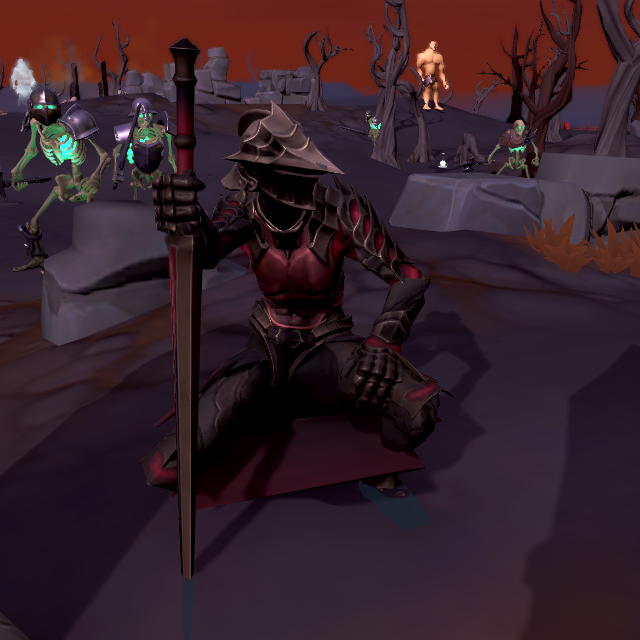 Heroic Levels (100 - 120)
These are the advanced levels of the Hero Pass experience, with each level requiring 3,000 Hero Points.
For our active players, this is how we're making sure to reward you for your regular play - while also ensuring that most cosmetics aren't behind a time commitment out of reach from a more moderately active player.
In these Tiers, you'll earn some of our best cosmetics along with additional emblems (more on those in a second) and buffs to reward your dedicated play.
In our first Hero Pass, here's some of the Heroic cosmetics you can earn: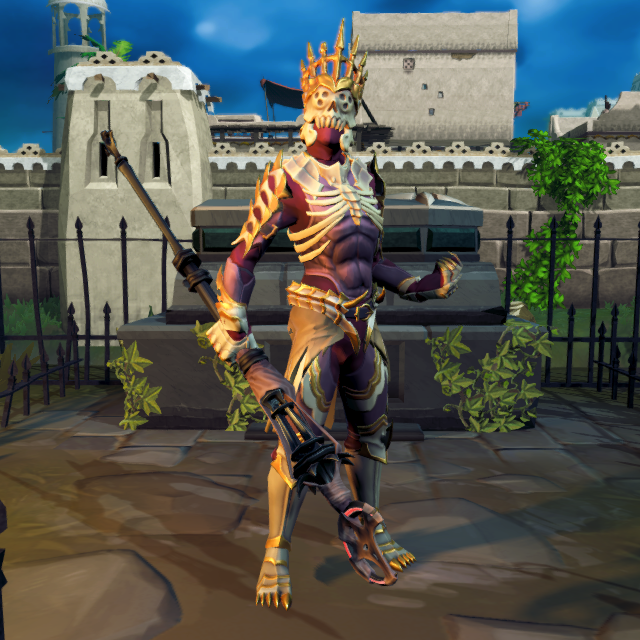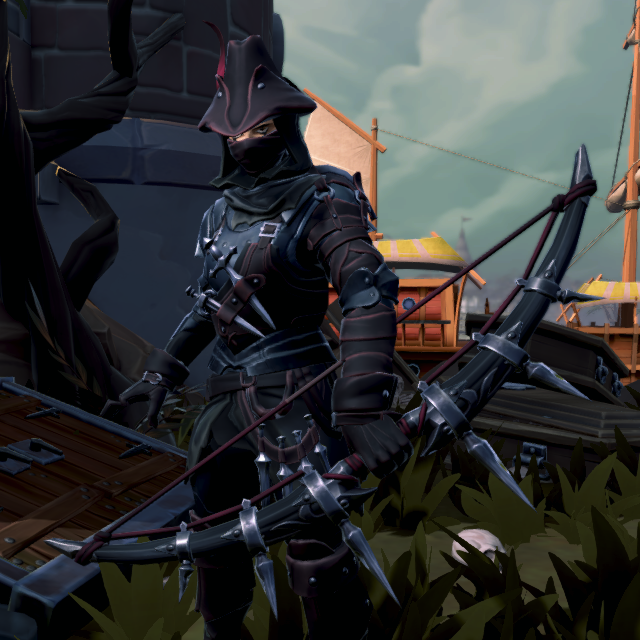 Hero Pass Store
As you level, you'll earn Emblems themed to the current Hero Pass to spend in the unique Store for that Hero Pass.
The Store gives you access to additional customization items outside the Hero Pass levels, which you can pick up in the order you prefer. This is our space to give you additional rewards that you have the power to prioritize as you level, which is especially important for players with less time. We'll also use this space to provide access to past Yak Track cosmetics - and in the future, potentially select Hero Pass cosmetics of the past too.
We're also using the Hero Pass store to provide a new pursuit after you've completed 120 Hero Pass levels - as we fully expect some of our most active players will complete it with plenty of time to spare! This pursuit item will be a special cosmetic outfit, unlocked by spending enough Emblems on other rewards in the Hero Pass Store, counted cumulatively. This means you'll get to experience even more content in the process of hunting it down.
The total Emblem cost requires more than you'll get in 120 Levels, so once you hit 120, you'll need to keep earning extra Emblems through uncapped levelling - which remains at 3,000 Hero Points per level, just like the other Heroic levels.
If you forget to use your Hero Pass Emblems before the Hero Pass refreshes, you can speak to a NPC to access the store of the previous Hero Pass.
Here's a look at the some of the items in our first Hero Pass Store: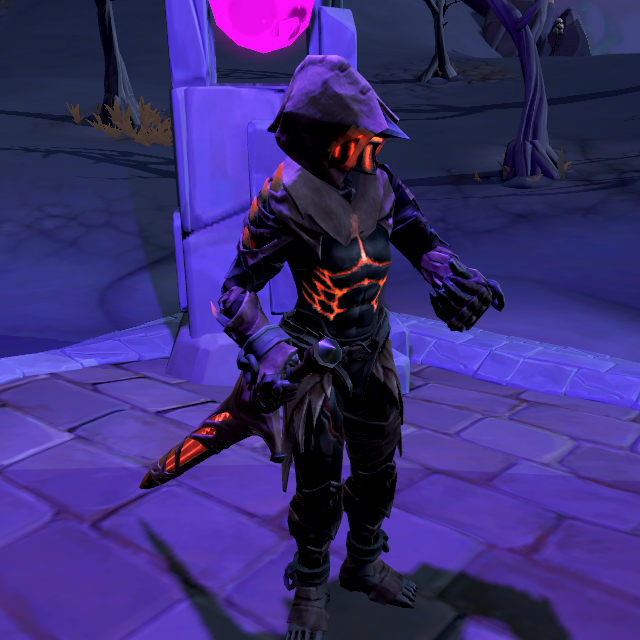 Integrated Into Your Play
Hero Pass is always alongside you in RuneScape, so every action you take progresses the Hero Pass. You can open the Hero Pass interface at any time to check out your Missions and Hero Pass progress. If you've been power levelling, you can quickly hit Claim All to grab everything you've unlocked so far.
While we've talked about many of the ways Hero Pass integrates into your play through skilling and Missions, what you earn also plays a part, with two new types of gameplay rewards being introduced in Hero Pass.
Buffs
There are two types of Buffs in Hero Pass - XP Buffs and Content Buffs.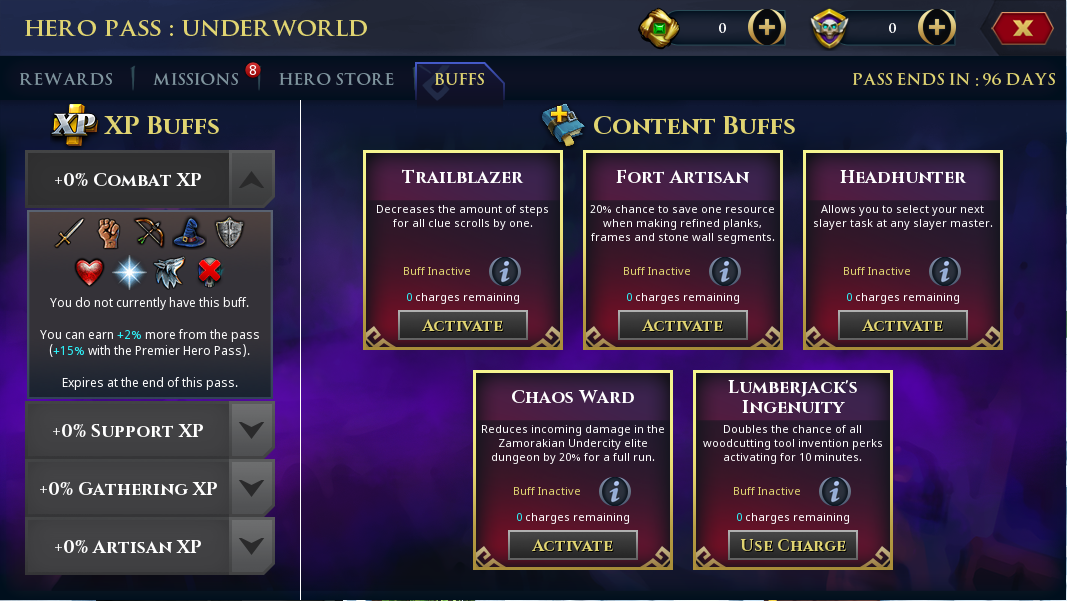 Content Buffs are how we're introducing a seasonal gameplay flavour to every Hero Pass, and they're available to all players. As you progress, you'll earn access to Content Buffs that provide certain gameplay benefits*, themed mostly around the latest content releases to enhance your play. These buffs can be toggled on and off at your discretion. For example, in our first Hero Pass, you can earn a buff that gives you a double activation chance on your Woodcutting Perks - perfect for those nights spent chasing Imcando Axe pieces in Woodcutters' Grove.
Each buff has a certain number of charges, usually consumed when the effect takes place or when manually activated for limited runtime buffs (like 10 minutes for the buff mentioned above). You'll earn charges by progressing through the Hero Pass levels, with more charges available as Premier rewards.
Following the reaction to our buffs in the Golden Cape Hunt, we're excited to bring seasonal buffs that add a unique flavour to your RuneScape play every 3 months. All content buffs will be accessible for both Free and Premier Pass owners, as long as you have the charges to use them!
You'll also get access to XP buffs, grouped by Support, Combat, Gathering and Artisan. These buffs are unlocked as you progress, capping at 15% per skill grouping.
*Just like with the Golden Security Buff from the Golden Cape Hunt, any buffs we introduce that could benefit bossing will disable entries into Kill Times and Leaderboards to keep the integrity of those stats intact.
Hero Pass Satchels
Hero Pass Satchels are another reward you'll earn that are packed with gameplay-focused goodies.
These satchels offer random rewards from a drop table, featuring items like Gifts of the Reaper, Sealed Clue Scrolls, Slayer VIP coupons, Ports resources, Starved Ancient Effigies, Dungeoneering Tokens, Goebie Burial Charms and more. This is all part of ensuring Hero Pass adds to your play and gets you more useful items for that next goal you've set!
Free & Premier Rewards
Hero Pass will contain Free Rewards and Premier Rewards that can be unlocked as you level up.
All players get free access to over 50 Cosmetics to unlock - a massive increase from prior Yak Track offerings - along with seasonal gameplay buffs and Hero Pass Crates. Yes, this includes Free to Play, though Hero Pass Crates may contain rewards only available to active Members.
Premier Hero Pass is free with Premier Membership. Hero Pass is designed to add even more value to your 12 Month Premier Membership and we're excited to introduce a higher-value permanent feature of the game for our long term subscribers - especially now that all 12 Month Subscriptions have Premier benefits!
If you aren't a Premier Member, you can upgrade to Premier Hero Pass for 3 Bonds. Premier Membership prices will remain the same.
As a final note for Ironman players - we've got you covered. If you are playing on an Ironman, any non-Ironman applicable rewards will be replaced with Oddments instead.
Yak Track Reward Conversion
As we move away from Yak Track, we also have taken steps to ensure key features of Yak Track you may have earned or paid for will be applied to our first Hero Pass.
When you log in to play Hero Pass: Underworld from September 4th, you can expect the following:
Players who earned the Yak Track Progress Booster in the Forinthry Frontier Yak Track will be awarded 10 levels in Hero Pass
Any bought or earned Yak-Skips will be awarded as Hero Pass levels automatically, applied as a ratio of 1 Skip : 1 Level.
Challenge Skip tokens will be automatically converted to Hero Points, used to progress Hero Pass levels, at a ratio of 1 Token : 125 Hero Points
Future of Daily Challenges
Daily Challenges have been a common topic among the community, with opinions split on the positives (extra XP and additional Keys) versus negatives (pressure to Dailyscape for min-maxing, significant XP gains earnable in minutes with little trade off).
From a design perspective, we want to put the emphasis on earning more rewards through playing the game on your terms - with Hero Pass as the bastion of this - and less on systems that push you to log in every day.
Simply put, Daily Challenges were adding extra pressure to log in and play daily through a combination of significant XP hits and free Treasure Hunter Keys - which in turn could provide more XP, increasing pressure further. This is a system we've considered revamping for some time and, with Hero Pass, we can now sunset Daily Challenges as they exist and replace the value to you with a healthier, less pressured reward system.
By having Weekly Missions, Special Missions and Hero Pass Points earnable whenever you play, you can now get more rewards for your time whenever best suits you. Whether you log in every day to make the most of Daily Missions, or simply a couple of times a week for an extended period, now all of it counts for progress towards Hero Pass unlocks.
That said, while Hero Pass Daily Missions' early designs omitted both Keys and XP rewards, we have decided to maintain some level of XP return with Lamps tied to Daily Mission tier completions. While we think it would be healthiest to remove these entirely when it comes to Dailyscape pressure, we do recognise this is a valued part of Daily Challenges that we shouldn't remove without further feedback. We'll be keen to hear your thoughts in the weeks ahead.*
Beyond Daily Mission Lamps, the only XP benefits for Hero Pass are passive buffs that - once unlocked - provide benefits for the entirety of the current Hero Pass. These XP buffs will be smaller than prior Yak Tracks and, with Hero Pass's 3 month season run-time, you'll have more time to earn and use them than before too.
With all this said, we do understand some of you will be sad to see Daily Challenges leave the game in their current form. We hope you'll be up for giving Hero Pass a try, checking out this new approach, and letting us know what you think after you've had hands-on experience.
"For those of you wondering what happens to Daily Challenge streak rewards, look out for some of these rewards in the Hero Satchels!
A First Step Forward
On the subject of hands-on experience, adding a new core part to the RuneScape experience is a massive endeavor. We've invested a lot of time and energy into bringing something meaningful to the game that we hope you'll love.
We fully expect this first iteration of Hero Pass is going to teach us a lot. We'll be watching how you engage with Hero Pass - and listening to how you feel about the experience - every step of the way. With something new, there's always the chance for needed improvements.
Whatever the result, we'll be listening to what you have to say and work with your feedback to guide us on getting the gameplay experience of Hero Pass into a really great spot over the coming iterations of Hero Pass.
So that's Hero Pass! We're excited to get its first iteration - Underworld - into your hands next Monday, September 4th. For now, we'll leave you with a final look at some of the rewards to expect in Hero Pass Underworld - and look out for our full reveal of Hero Pass Underworld this Saturday, September 2nd.
Hero Pass: Underworld Sneak Peek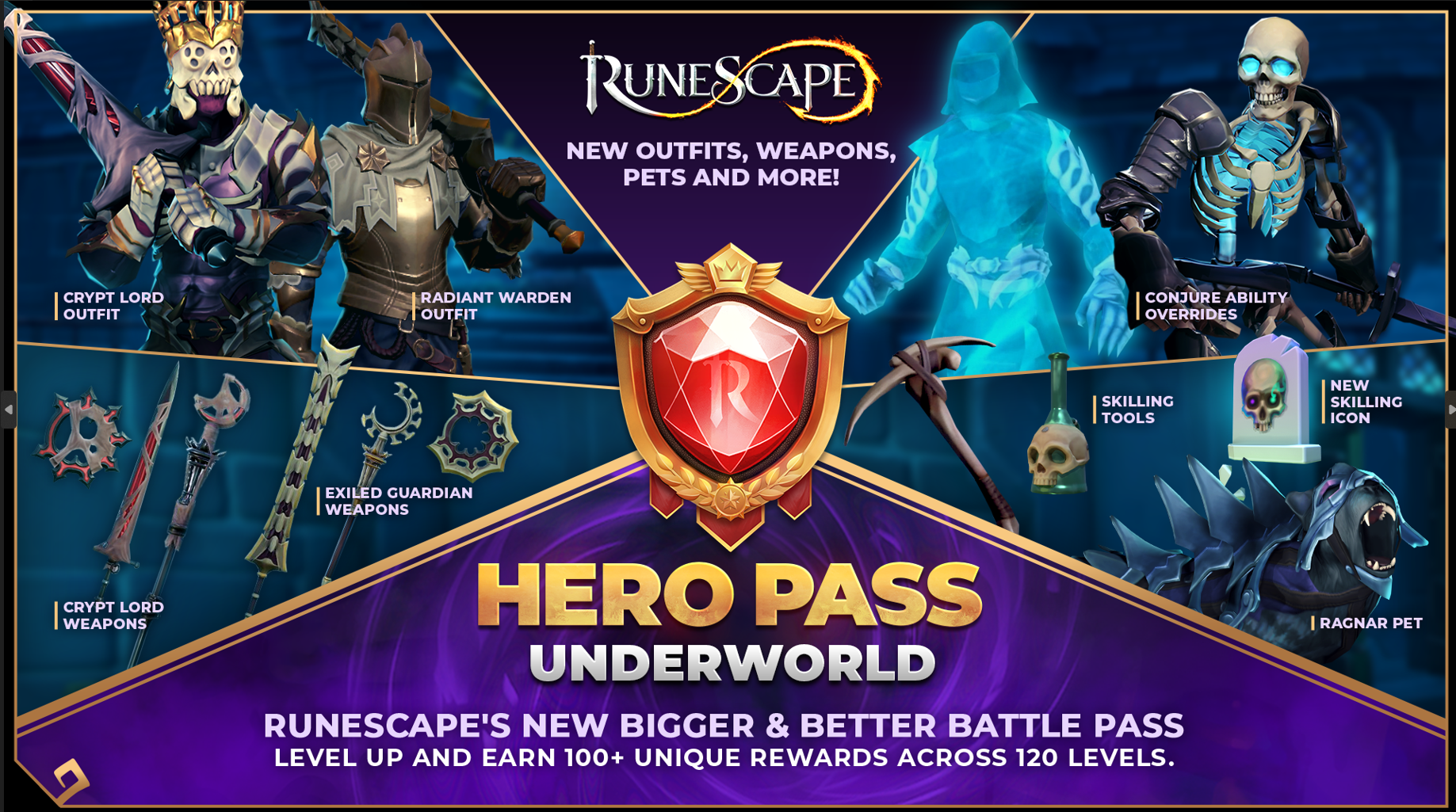 ---
- The RuneScape Team