A legendary Fremennik hero-turned-god comes home in style in Hero's Welcome: RuneScape's latest quest!
Head over to Lumbridge Crater, too, and join in the Summer Beach Party.
---
How to Start Hero's Welcome
Head to Rellekka and speak to the people arguing by the pier.
Requirements
You must be a RuneScape member
Lunar Diplomacy
Tai Bwo Wannai Trio
60 Divination
67 Mining
62 Slayer
67 Smithing
All of Otto Godblessed's barbarian training complete
A combat level of at least 100 is recommended
In Hero's Welcome, you'll meet the mighty V – well known to those of you who've finished While Guthix Sleeps - as he returns to his people.
You'll embark on a series of dangerous raids on Dragonkin lairs, and uncover some of their darkest secrets. Be ready for combat, as there'll be plenty of fierce foes to fight, but you'll need brains as well as brawn to succeed.
Rewards
Prevail and you'll earn hearty helpings of XP, better yields when runecrafting, and access to new areas containing bane ore and adamant dragons. There's also a repeatable boss fight, which can drop new throwing weapons and a tradeable level 75 cape.
---
Summer Beach Party
The Summer Beach Party is in full swing, making Lumbridge Crater the place to be until the end of August!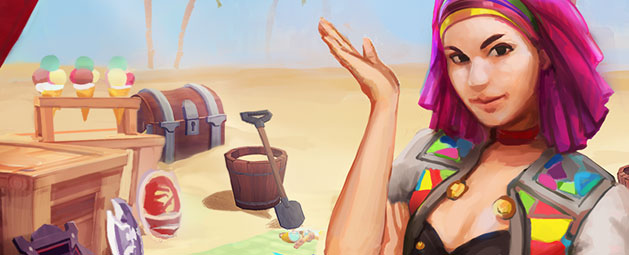 Activities
Head to the beach party and take a look around. It's the ideal place to relax with your friends, take part in your favourite D&Ds via the portal hub, and enjoy some sun-soaked activities – plus pick up some unique rewards.
Fight Clawdia: At 45 past every hour, killer crustacean Clawdia will spawn at the crater in the middle of the beach party. Her damage scales to your life points, so everyone can dive in and help drive her back.
Build sandcastles: Follow the clues given to you by the nearby visitors and build the right castles for Construction XP.
Fish at the rock pools: Cast a line, kick back and get some Fishing XP while you're at it. Drop off the fish at the barbecues for extra XP.
Bust out the barbecue: Hit the barbecue stands and earn Cooking XP.
Pick coconuts: Gather coconuts from the palm trees for Farming XP, then deposit them at the coconut shy for extra XP.
Try the coconut shy: Test your skill at the coconut shy and earn Ranged XP.
More activities are coming over the next few weeks. Keep an eye on the news!
Every 15 minutes one of the XP-giving activities will be spotlighted, and it will yield +10% XP. Note that Ironman players earn 50% less XP for participating in beach activities.
You can keep earning XP until your temperature gauge fills up completely, although this can be reset up to three times a day by consuming ice creams.
Rewards
First up, there are a number of handy items that you can earn by fighting Clawdia and participating in other beach activities:
Ice cream: This tradeable item resets a full temperature gauge to 0. You can use up to three per day.
Anti-sun potion: Also tradeable, this item gives a +5% boost to any XP earned on the beach – that includes beach activities and any other training done there. The effect lasts for 24 hours (real time, not time spent logged in).
Cocktails: These come in four fruity flavours, each boosting XP gain in a different group of skills – combat, artisan, gathering and support. By drinking more of the same type, you can stack the XP boost up to 10%. The effect lasts for 30 minutes of logged-in time.
You can get these items from fighting Clawdia, from participating in the various beach activities, and by handing in a beach party ticket from the recent Summer Raffle.
There's also a rare chance to get a tradeable token that can be redeemed for one of several new beach items. These include cosmetic weapons and headgear, emotes and more:
Bunting whip
Stick of rock
Throwing starfish
Snorkel
Bucket head
Clawdia hat
Dragon ring
Buried in Sand resting animation
Surfboard emote
Beach ball
Throwing disc
There'll be new additions to the available items over the coming weeks – we'll let you know in the news.
Note that the tokens will automatically become untradeable at the end of this year.
These items can also be purchased from the vendors around the beach for RuneCoins, as can challenge gems, dwarven challenge barrels, party packs and masterwork music boxes.
Finally, there's a bunch of secret rewards available for fulfilling certain conditions on the beach. Have fun discovering them!
---
Seasonal Hiscore Reruns
There'll be one-off reruns of old Seasonal Hiscores, held weekly from 1st July. Here's when you can compete to unlock some of RuneScape's most sought-after titles:
1st July: Clue scrolls | the Puzzle Hunter
8th July: Red imp kills | Slayer of Imps
15th July: Life points healed | Piggy
22nd July: Stealing Creation reward points | Master of Clay
29th July: Slayer Tower kills | , Scion of Viggora
5th August: Chronicle Fragments offered | Chroniclator
12th August: Fun weapon damage to K'ril | Slapsaroth
19th August: Dominion Tower: Endurance mode | Ruler of the Tower
26th August: Wilderness PvP kills | Scourge of the Wild
2nd September: Herbs grown | the Gardener
9th September: Solo complexity 6 dungeons | the Delver
16th September: Solo Zilyana kills | Zilyana's Bane
7th October: Deaths | The Late
14th October: Undead kills | Undertaker
---
Live Streams this Week
Each week we stream developer Q&As, in-game events and more. Watch our streams and find a full streaming schedule over on our Twitch channel.
Check our YouTube channel, too, for recap videos of streams you may have missed – including last week's Raids teaser!
Developer Q&A - Invention Special | 16:00 UTC, Tuesday 30th June
Mods Osborne, Moltare, Ollo, Timbo and James will be on the sofa this week to answer all your questions about our new elite skill: Invention! You can find out more about it in Mod Timbo's Dev Blog.
Ask your questions on the forums, on Reddit, or on Twitter using the hashtag #RSDevQA.
Beach Party Happy Hour | 20:00 UTC, Tuesday 30th June
Summer is here, and it's time to bust out the beachwear! The Lumbridge Crater Beach is hitting Happy Hour with Mods JD and Jon, and you'll be getting XP buffs and increased drop rates for the whole hour on all the stalls!
Join us for flip-flops, frolics, sun and sand, and get a tasty XP boost in the bargain!
---
Enjoy!
Make good on those mead hall boasts in the new quest, then kick back and relax on the beach. Summer's well and truly here, so have fun and give us your feedback over on the forums.
The RuneScape Team
---
In Other News
Visit the Summer Beach Party this weekend to find Sam and his Fourth of July shop and balloon drops.
You can now click '+' in the Bank interface to purchase bank boosters, and 'Buy' in the Wardrobe interface to purchase cosmetics.
Read the patch notes for other updates released today.
---
Previews