Unlock a host of fantastic new devices in a big tech tree update for Invention. Complete Invention tasks and discover new Dwarven turrets, sneaky Goblin hunting traps and so much more. Also, check out the fantastic griffin outfit in Solomon's Store, continuing a mini-season of animal-inspired gear.
---
Goblin and Dwarven Tech Tree Update
RuneScape members only.
Requirements
Both tech trees unlock at level 40 Invention. You will then need to talk to Drorkar to align yourself to Dwarven tech or speak to Oldak to align yourself to Goblin. Alignment provides faster progress, but you can still unlock the devices of the other tech tree.
Progress down the revitalised Dwarven and Goblin tech trees by completing tasks via new notice boards that have sprung up in the Invention Guild, Keldagrim Palace furnace room and Oldak's lab in Dorgesh-Kaan.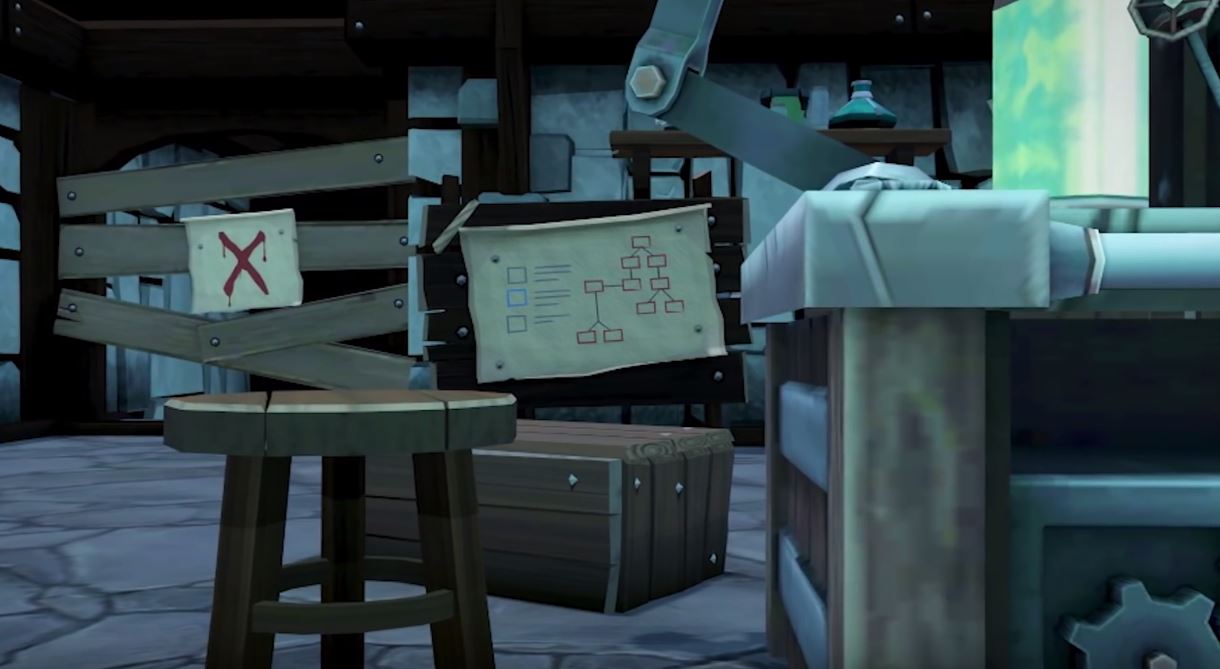 Completing a task will reward you with either Dwarven or Goblin currency which you can spend to progress through the tiers of the tech trees, unlocking fantastic new blueprints for devices as you go.
Tasks can be accepted via the Invention noticeboards. You can have 5 active at any one time. New tasks generate every 12 hours and typically include things like handing in components and parts or building basic items and gizmos.
There is no longer a 20 level penalty when unlocking devices on the tech tree that you are not aligned to. However, alignment to a particular tech-tree will now provide 50% more currency when completing its relevant tasks e.g. if you align to Goblin tech (because you're sick and twisted) then completing Goblin tasks will earn you 50% more Goblin currency and boost your progress.
Hand in your completed tasks and earned currency at the noticeboards to take the next steps in Dwarven and Goblin technology!
Please note - discovering all of the tech tree blueprints will be a requirement for the standard completionist cape from Monday 30th May.
New Device Previews
A host of exciting and useful new devices awaits you. Here are just a few from each tree:
Dwarven
Calorie Bomb
Store fish in this device then blow yourself up with it for a large instantaneous area-of-effect hit of lifepoints for anything caught in the helpful chaos.
Kinetic Cyclone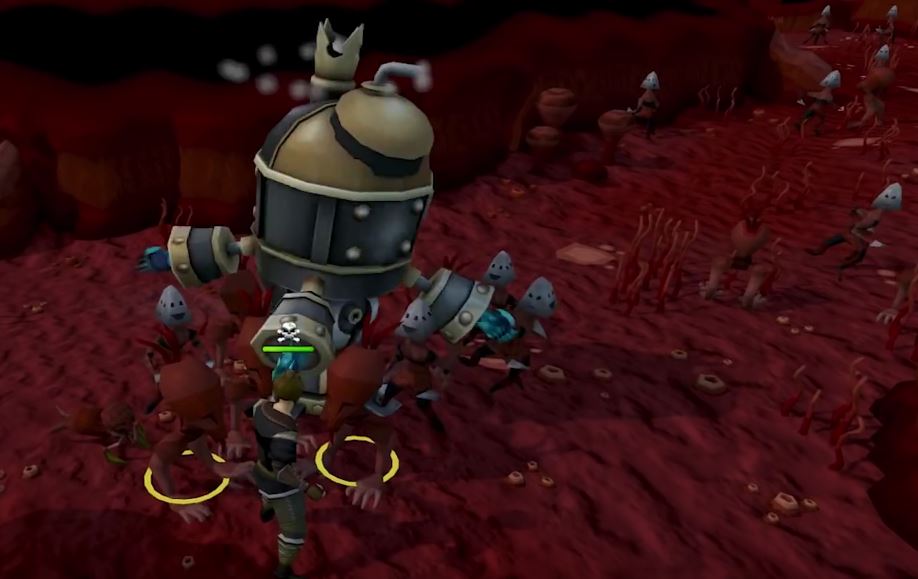 A tottering, bludgeoning, short-range variant of the Dwarf multicannon. Deploy this beast and watch it batter your foes at close range.
Goblin
B.A.N.K Stander
An arcane device that charges when deployed in a bank area or near most bank chests. At 100% it explodes and gives you [Find out for yourself! - Ed]
Electrified Trap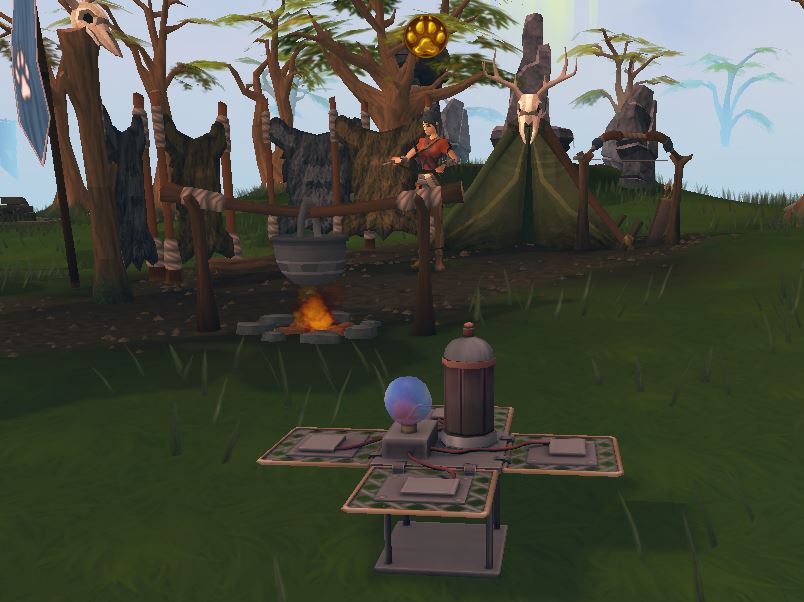 Zap your prey with this special high-catch-rate invention for training the Hunting skill – it's not subtle, but it works.
It's up to you now - get out there and pursuing these exciting lines of Invention. Inspired? Let us know what you think in the forums!
The RuneScape Team
---
Patch Notes | NXT Update
For full patch notes of this update, including the most recent NXT changes, see the forum thread.
---
Solomon's General Store | Griffin Outfit
Kit up this week and earn your wings with the fearsome griffin outfit in Solomon's Store. Get out there and ruffle up some feathers!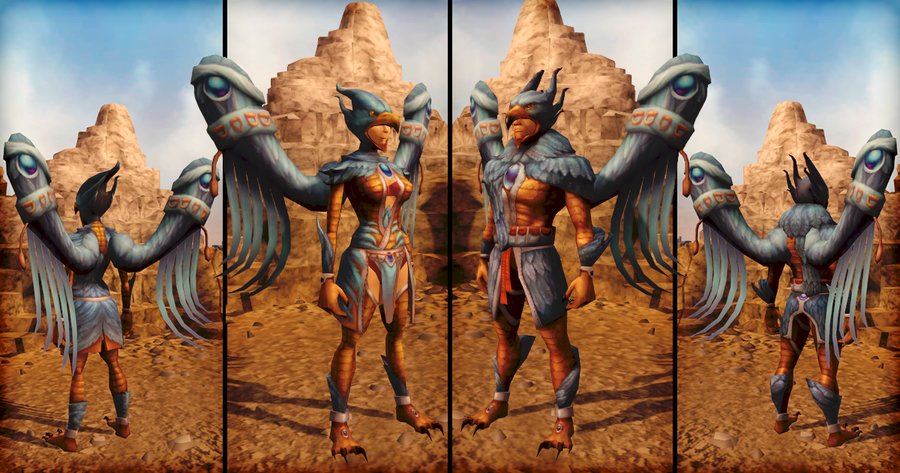 ---
This week's live streams
Each week we stream developer Q&As, in-game events and more. You can watch and find a streaming schedule on our Twitch channel. Check the YouTube channel, for videos you may have missed.
This week, we've got info on the latest instalment in Sliske's Countdown for you, with a first look at to Kindred Spirits - the new Barrows quest. Mod Shauny will also you be showing off the all-new Invention Tech Trees and their respective machines!
Tuesday, May 17th| 16:00 Game Time | Dev Q&A - Kindred Spirits (Barrows Quest) & Void Outpost Rework Sneak-Peek
The next instalment of Sliske's Countdown is upon us, and boy do things get dark from here.
Find out more about Kindred Spirits, the Barrows Quest, in this week's Developer Q&A - as well as a tasty look at a new Void Outpost Rework. Don't miss it!
Post your questions on the forums, Reddit, or by using #RSDevQA on Twitter!
Tuesday, May 17th| 20:00 Game Time |Invention Tech Trees 101 with Mod Shauny
Invention Tech Trees are live for you to get stuck into. If you don't know where to start, tune into Mod Shauny's stream for a look at all the new devices.
Sunday, May 22nd | 19:00 Game Time | PvM with Mod Lee
Mod Lee will be hosting some Community PvM goodnesss, live on Twitch!
JMod Snapchat takeover – Mod Rory – Thursday 19th May
Mod Rory takes over the RuneScape Snapchat account this week! Find out what goes on in our Web Team, and check out a day in his life! Follow us at 'runescapegame' on Snapchat, and share your favourite screenshots using #JModSnapchatTakeover on Twitter and Instagram!
---
In Other News
NXT Screenshot Competition winners
Last month, we asked you to showcase the wonders of the amazing new game client, NXT, with your best screenshot, GIF, or video. We had over 2,000 entries, and the standard was amazingly high. Well done to everyone who entered - it was incredibly hard to choose a winner.
However, the winner of the life-sized Crystal Halberd and three-month membership was Sydney, and his amazing view of Castle Drakan. Stunning!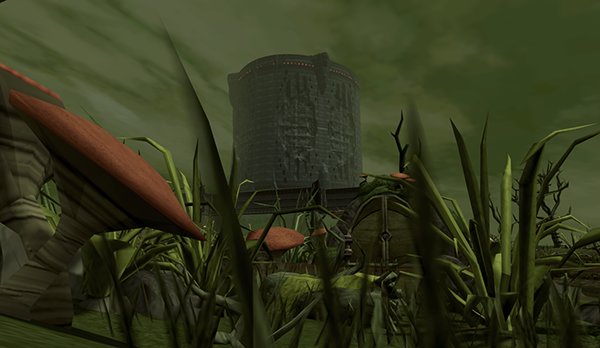 Congratulations to Entropy, Ken_Ly75, and Dento, our runners-up, who each receive one month's membership as a prize. Check out our favourite entries in a special gallery where you can even download them as awesome wallpapers! As Dento's entry was a video, you can watch it on Youtube.
Well done again to everyone who entered –we thoroughly enjoyed looking through all of your amazing entries!