Today is indeed the day! There's nothing more exciting than getting a brand new area of Gielinor to explore, and today's arrival of The Land Out of Time FINALLY allows us to deliver something we've wanted to introduce for ages - dinosaurs! Loads and loads of dinosaurs! Unfortunately these are not the cuddly "oh look at that cheeky chap, quick, let me take a selfie" type, but are instead the "oh my look at the size of the thing, wait, is it looking at me and licking its lips?" type. So take a deep breath and get ready for a perilous journey...
THE LAND OUT OF TIME
Before we start, if you've not yet played the Desperate Times quest then might we suggest that either you do so, or alternatively catch up with the story here. There is much interest in a mysterious island that dragonkin scientist Kerapac has escaped to, taking with him an elder artefact of tremendous power. If you're to survive your journey there - and profit from its many rare treasures - you're going to have to up your game and learn a whole new way of hunting. To get to The Land Out of Time either board the boat at the Digsite or talk to Royal Messengers hanging around the lodestones. The Land Out of Time is only accessible for RuneScape members.
Big Game Hunter
Hunter is evolving. The Land Out of Time brings a new training method for the Hunter skill that spans Hunter level 75-96 and Slayer level 55-76. It all focuses around nine sizeable and quite grumpy dinosaurs who are simply too big and too hungry to confront outright. So if you want to tame the beasts, you'll need to collect resources and set treacherous traps. Stay out of sight and always think one move ahead and, who knows, perhaps the dinos will eat someone else for dinner?
The intention of the developers was to look at some of the more varied mechanics you'd normally see in boss fights and introduce them into non-boss encounters. Slaying these devilish dinos will not only reward you with hulking chunks of XP but also boss drop quality loot. Skinning your catches will allow you to harvest resources used to craft new gear, including level 75 ranged armour - perfect for training Invention - and the maul, which is a hexhunter equivalent for melee.
Remember that alongside this new content we're also revamping the entire Hunter skill, and making the Hunter outfit earnable in-game. You can read more about the changes in the patch notes here.
Agility
We wanted players to have a better reason to level their Agility, and to have a more enjoyable time while they do so! So for The Land Out of Time we've introduced an island-spanning Agility Course. It's an excellent way to get around the island, and also offers you some rewards for doing so.
The Agility Course encircles the entire island. Not only is this the quickest way of getting around and seeing the sites, but it's also built for convenience. You can hop on and off at several point, and you can travel in either direction. Completing the entire course will take around seven minutes, but there are also plenty of smaller segments scattered throughout.
Taking advantage of the Agility Course of course offers new loot, including new ability codex pages that can unlock two charges for two new abilities – Double Surge and Double Escape.
To access the first section of the Agility Course you'll need Agility level 30, but for the full course you'll need to be level 85.
Slayer
We're very aware that ever since Slayer was upped to 120, there's been a need to some more high-level monsters to make the most of it. So good news - The Land Out of Time will add EIGHT brand new Slayers creatures spanning level 90-114. Joining the dinosaurs are some interesting new plant-based foes, and being plants of course means that skilled farmers out there will have the opportunity to grow their own. That's right - you can grow your own Slayer mobs to fight!
There's also a new task type that gives you more freedom than ever before. For example, whereas previously a Slayer Master may have told you that you need to fight celestial dragons, now your task will simply be to fight dragons. This gives you loads more flexibility to fight whatever dragon you want and at a location that may suit you better. You may even choose to tackle a dragon boss!
Speaking of Slayer Masters - there's a brand new one. Laniakea is dark, twisted and mysterious, and we've even heard that she regularly drinks poisons to build her resistances. While she does little in the way of fighting these days, she continues to crave greater strength. It is the lure of undiscovered power that has drawn her to the island. She'll also have a range of more conventional tasks to offer similar to Morvran's, but with a high-level focus. Players will need level 90 Slayer and level 120 Combat to access her.
Base Camp
After a long day trying not to get eaten you're understandably going to want to put your feet up. For that reason it seems like a good idea to establish a Base Camp. As glamorous as this ancient temple may once have been, however, it's fair to say that it could do with a bit of spit and polish.
Players will have the chance to maintain and upgrade it in much the same way as they would a port or farm. Once up and running, there will be the opportunity to construct and upgrade seven different buildings. Doing so will offer perks that will not only help you out on the island (damage buff, anyone?) but also help you across the whole of Gielinor.
Totems
While skulking the jungles of The Land Out of Time you'll likely find mysterious fragments. Don't hurl them into the bushes, however - keep hold of them and you'll be able to build Totems.
These new monuments will offer game-wide benefits and effects themed around time saving. For example, one reduces all aura cooldowns by 15%. There are seven different Totems to be built, and you can have up to three active at any one time. If you want to carry on enjoying the perks you'll need to maintain your Totems, but you'll get a sprinkling of Divination XP for your efforts.
Herby Werby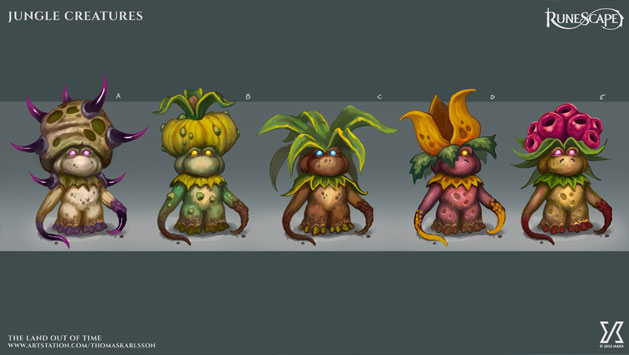 On top of everything else there's also a new activity offering Herblore XP that the developers have chosen to call Herby Werby. A homage to underappreciated 2002 Eidos PS2 classic Herdy Gerdy? Who's to say?
Herby Werby can be completed once a week and offers assorted rewards such as a herb bag which stores grimy herbs.
So many more beautiful things to see
There are plenty of nooks, crannies and secrets to discover across The Land Out of Time, and among them you'll find two new overgrown idols for woodcutting, some mining sites, additional traditional hunter spots and fishing locations.
Let's chat!
A lot of time and love has gone into this update, and many of the team will be in-game, on Discord and on social media over the next few days. We are so excited to hear what you think, so do reach out!
Behind the scenes
Eager to find out how we gave life to the island of Anachronia? Discover what ideas our teams went through before setting the astonishingly beautiful scenery you'll explore? Or maybe you want to have a closer look at the beasts you'll meet on the island, and the Ranged Outfit you can craft from them? Then head to our "World Out of Time" website, it now features exclusive concept art from the production stages of our big Summer update!
And if that's not enough to quench your thirst, we will host an Art Showcase live stream really soon – where our art teams will take you through the whole design process of environments, characters and creatures of Anachronia!
ACCOUNT SECURITY
It's never not a good time to fully secure your account, so to celebrate those who have taken the time to do so, we're giving everyone with an active Bank Pin and Authenticator an additional key from July 8th to July 14th!
You can apply Authenticator to your account here, and you can add a Bank Pin in-game by speaking to any Banker in-game.
DOUBLE XP WEEKEND
There's never a better time to be a member than Double XP Weekend, and we're delighted to confirm there's one on the way this month. The fun will run from July 26th to July 29th. While non-members can still enjoy a 20% XP boosts, members can take full advantage of doubled XP rates across the whole game and The Land Out of Time, with just a handful of restrictions – click here for details on those.
And if you're not currently a member (or even if you are) we have yet more good news…
SUMMER SPECIAL
You have until August 4th to grab 3 months of RuneScape membership for the price of 2, guaranteeing your ticket to The Land Out of Time in the process! This stacks with any existing membership you already have. As well as full access to an exciting summer of content, buyers will also get a brand-new outfit for their troubles – the Dragonkin armour! Head over here to claim your cut-price membership!
You want more free stuff? Sure thing, we've got two words for you: "Summer Sweepstakes". Yes, we can sense the excitement in all those of you who know what we're talking about. But for the two in the back that are never following anything:
WIN a Chillblast Desktop PC + GT Omega Racing chair + 1 Month RuneScape Membership
What are you waiting for? Click the link above and hop in!
GAMES MEDIA ARRIVE ON ANACHRONIA
As we arrive in Anachronia today, spare a thought for the many brave souls (well, some of the games press) who have already succumbed to the might of The Land Out of Time's merciless monsters! You can hear about their experiences travelling about the island and trapping dinos on a number of sites, including PCGamesN, MMORPG, and LadBible! Plus, don't forget that the latest issue of PC Gamer (#333) also includes a sneak peak of the update AND includes a new dinosaur pet for readers in the UK!
COMPETITION 1 - ANACHRONIA EXPLORERS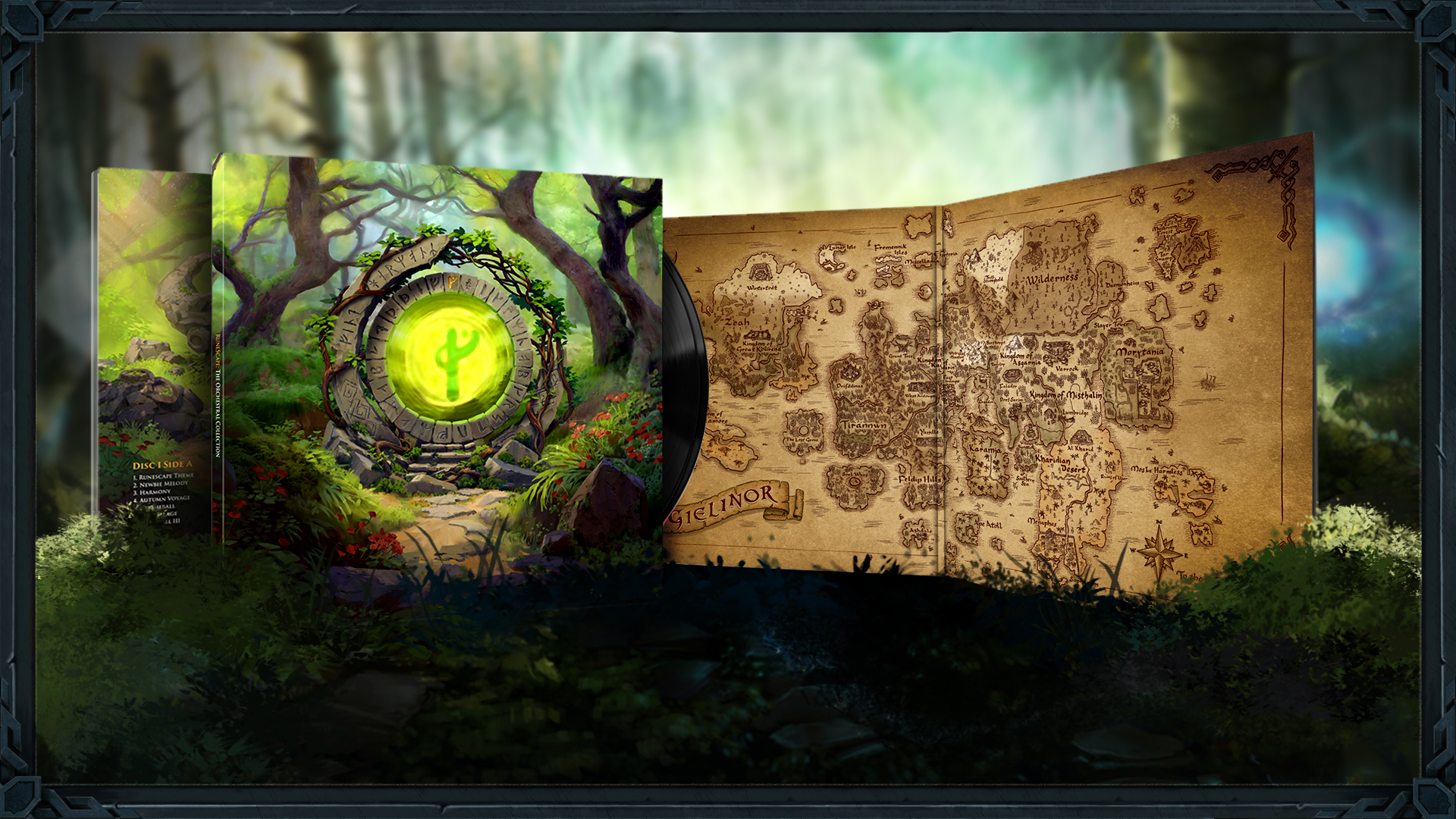 To celebrate the release of The Land Out of Time, we have 10 spare 'RuneScape: The Orchestral Collection Soundtrack Vinyls' to give away - all signed by some of your favourite JMods of course! To be in with a chance of winning this awesome soundtrack, all you need to do is visit The Land Out of Time and build the Anachronia lodestone on the island and you will automatically be entered into the prize draw. It's that simple!
This competition will be running until the August 1st, so from today until then anyone who meets the criteria is in with a chance of winning.
NOTE: All winners will be contacted by their in-game Inbox Message Centre - so be sure to read your messages to ensure you don't miss out!
COMPETITION 2 - PLAYER GALLERY
You really thought we would open the doors on a whole new chunk of Gielinor without giving you all the opportunity to express your artistic side?! Come on, it's been quite a long time since we haven't done these. And to be honest we miss it! Most of you know the drill by now but let's roll it once again if you don't know what a Player Gallery is about.
What is it? The Player Gallery is one of our favourite ways to celebrate our love for the amazing content our community puts out there. The idea is simple: create a piece of art featuring fresh in-game content that appeared in Gielinor, and you can get rewarded for it with amazing prizes!
What can you win?
1st place - 1 Month RS Membership, the RS Official Soundtrack Vinyl, and a Map of Gielinor Deskmat
2nd to 5th place - 1 Bond & RS Goodies
Honorary Mentions - RS Goodies
How to enter?
Simple, just let your inner muse talk and create a piece of art related to the Land Out of Time. Painting, drawing, music recording, 3D printed figurine, 10-feet tall mural... it can be anything as long as it can be called "art"!
Then, you will need to submit your piece of art. You can do so by either sharing it on our social channels – Facebook, Twitter, Instagram, Discord, Reddit (don't forget to tag us with #RuneScapeScreenies so we can find it) – or by email (competitions@jagex.com).
You can submit your entries starting NOW, and have until Sunday 28th July 2019, 23:59 UK Time. We will then sort the entries, vote and announce the winners on Monday August 5th with the game update news post.
COMPETITION 3 - EMAIL
Surprise! Yes, one competition is clearly not enough to celebrate the release of the Land Out of Time, and we thought we would give some love to all our newsletter subscribers. Keep a close eye on your inbox because we will send an email that includes an exclusive "email subs only" competition to grab a Map of Gielinor deskmat!
How to enter? Well it couldn't be simpler: just make sure that you've subscribed to our communication updates (check your account) before Wednesday 10th, 23:59 UK time, and wait for the email we'll send starting Friday!
This is one of the exclusive perks our newsletter subscribers can start to enjoy, there will be many more coming in the next weeks (#spoilers).
COMPETITION 4 - FORUM CONSEQUENCES
Have you ever played a game of consequences? Well, we decided to run a small forum competition offering some sweet rewards based off the idea! The story is based off the idea of 'Exploration' in The Land out of Time themed so be sure to check it out. For more info and to enter click here.
RUNEFEST 2019
We're now on the road to RuneFest 2019 (4th & 5th October), be sure to grab your tickets and get ready to meet your favourite JMods!
We will start revealing more information on The Golden Gnome Awards and this year's RuneFest theme pretty soon, so keep an eye on our channels.
And if you're in need of tips and suggestions on everything from travel to accommodation, you can also join our dedicated Discord channel, head to the official RuneFest forum or the community-owned Facebook Group.
We will be revealing this year's theme and details as we get closer to RuneFest 2019. So keep an eye on our website and socials!
NEW FACEBOOK COMPANION
We're happy to announce that our Facebook fans can now enjoy a whole new RuneScape experience: the RS Companion! Whether you want to prepare for the Land Out of Time with some quick info, explore helpful Guides displayed in the Grand Library, never miss future announcements around RS Mobile or RuneFest 2019, grab exclusive Membership offers (even free stuff!) or need Support, the RuneScape Companion has your back!
Talk with the RuneScape Companion
The RuneScape Companion is still young and we want to make it the best experience possible with your help! Don't hesitate to share your feedback on Facebook and other channels.
UPDATED LOOTSCAPE!
Our live streams are always a great opportunity to grab some awesome in-game prizes. And as our first adventurers set foot on Land Out of Time (or as we call it "LOoT"), we thought you'd like an update of the LootScape. Ok, roll the drums and behold… our LOoTScape!
This month, each and every RuneScape stream watched will give you a random drop from one of the following:
Guaranteed:
1 - 2 hunter marks
250 resources in a random Base Camp resource
Guaranteed drop from Basic Drop Table (see below)
View counter goes up on Orb
Chance based:
A random skilling outfit piece (if unowned)
Either Nature's Balance or Loots Cape (if unowned)
Basic Drop Table: Prismatic small fallen star, Prismatic medium fallen star, Prismatic small lamp, Prismatic medium lamp, Spirit Ruby, Spirit Diamond, Advanced Pulse Core, Spring, Silverhawk down, Medium DG Token Box, Small DG Token Box, Uncut Dragonstone, Large Cash Bag, Medium Cash Bag or Small Cash Bag.
Exciting isn't it?! So don't wait up - connect your RS account to your Twitch account and find out more here. Once that's done, have fun and watch our streams during the day for a guaranteed drop.
LIVE STREAMS THIS WEEK
Each week, we host developer Q&As, exclusive in-game first looks and more. And it's all live on our Twitch channel, join us! Missed a stream? Don't worry, we keep them all on our YouTube channel. Be sure to Subscribe to be the first to know.
Tuesday, July 9th – 16:00 UTC (Game Time) – Month Ahead
The first expedition has finally set sail to Anachronia, we've packed our bags and joined the journey to a whole new area of Gielinor! This week, we're mixing up things with our usual live stream. We will of course present all the upcoming content you can expect this July. But we'll also hop on the PCs to take a short stroll in the Land Out of Time, you know, join the party. Will we succeed in the new Big Game Hunter activity of just end up in the belly of a behemoth?
LootScape will be enabled (see all details above).
Sunday, July 14th – 16:00 UTC (Game Time) – PvM with Mod Lee
Our resident PvM expert Mod Lee knows no fear and he's ready to take you all on another round of boss mass. From Vorago to the Kalphite King, the Corporeal Beast, the Angel of Death, if you've got a set to complete, an achievement to unlock, or simply want to hang out with friends and slay some, this is the place and time!
LootScape will be enabled (see all details above).
PINK SKIRTS EVENTS
Of course, adventures continue in Gielinor even when we're too busy (PKing) creating the adventures of tomorrow. Our PMods are here to welcome you in a range of PvM Boss Masses, Events and Q&As each week. Check out all the community events organised by the Pink Skirts on their official schedule here.
---
The RuneScape Team