Most of us are currently fixated on the mysteries awaiting us in The Land Out of Time, but in the meantime there's plenty happening in mainland Gielinor. June brings with it the anticipated Comp Cape Rework, while those who prefer to fight rather than pose will want to check out the Weapon Diversity Beta. Also on the way is the perfect opportunity to grab discounted membership with Summer Special. Plus, if we're sailing off to a new land in July then we're probably going to need a boat to get us there, right?
Comp Cape Rework
As RuneScape has grown, the issue of the comp cape has only got more complicated, and we've had lots of conversations with you all about how it needs to evolve to suit the modern game. Ultimately, we want the path to obtaining and maintaining comp to be much more enjoyable and satisfying, while also allowing for new achievements and requirements to grow around it.
We also wanted to address the problem of coupling best-in-slot stats with completionism when, in reality, that is not something all players are interested in.
So, what changes are we making in June? Utility benefits that are currently tied to the cape, such as teleports, will be changed to permanent unlocks on the player. And yes, that means that the stat benefits formerly tied to the comp cape will now be available to anyone who gains the Reaper achievements!
Another example is removing the 'How Many Games?' Castle Wars achievement as a trimmed comp cape requirement. This achievement is a huge time sink, and is wildly out of line with the cape's other requirements – and that's despite previous nerfs.
For a complete list of the benefits that will be decoupled from the comp cape and become accessible in game through other means, click here.
Weapon Diversity Beta
Gracefully besting an opponent with a sword should feel differently to sneakily shanking them with a dagger, right? For some time, we've been keen on the idea of making melee, magic and ranged weapons in RuneScape feel different from one another, with unique effects for each weapon category. So that's exactly what we are doing, and you'll be able to try it out for yourself now.
Why a beta? As combat is such a core part of the RuneScape experience, we want to take the necessary time to gather all your feedback and ensure that any changes are positive for everybody.
The beta itself will offer the opportunity to play around with the 16 different weapon diversity effects currently in development. Nothing is set in stone and we'll be monitoring and responding to feedback – and rolling out changes – as we go along. The beta will run for a month, throughout which players will have access to not only their own loot but also specially made high-tier weapons of those weapon types that don't currently exist. The 16 weapons you will be able to test in the beta are:
Dagger
Spear
Scimitar
2h Sword
Mace
Maul
Shortbow
Shieldbow
1h Crossbow
2h Crossbow
Throwing knives
Throwing axes
Air spells
Fire spells
Water spells
Earth spells
To give you a small taste, the Water spells effect leaves a water globule on the ground after a killing blow. When travelled over it then heals the player and is consumed. The Dagger, meanwhile, will have a chance of dealing an extra auto attack at the same time as every hit. Whilst dual-wielding, this applies to both main-hand and off-hand if there are daggers, meaning that it is possible to hit and then hit with both daggers at the same time.
Breaking the Storm
If we're to set sail for the newly discovered island of Anachronia, then we're going to need a boat to get there! Join other members of the RuneScape community at the visually overhauled Dig Site to prepare Gielinor's adventurers for a bold new adventure.
From day one, this two-week event offers the chance to train Construction, Woodcutting and Farming, and as the boat progresses we'll be adding more skills! There will be currency with which you can buy unique cosmetics and an XP boost each day, with additional XP boosting items available for 45 RuneCoins – these will offer 2x XP for 30 minutes while helping out with the build. And why not have a quick chat with Mr Mordaut for a cheeky extra task?
And as a thanks for playing your part, contributors can look forward to claiming a pet Mini Mr Mordaut, a Varrock Agents outfit and a Planting Flag rest animation, as well as the title of 'Stormbreaker'.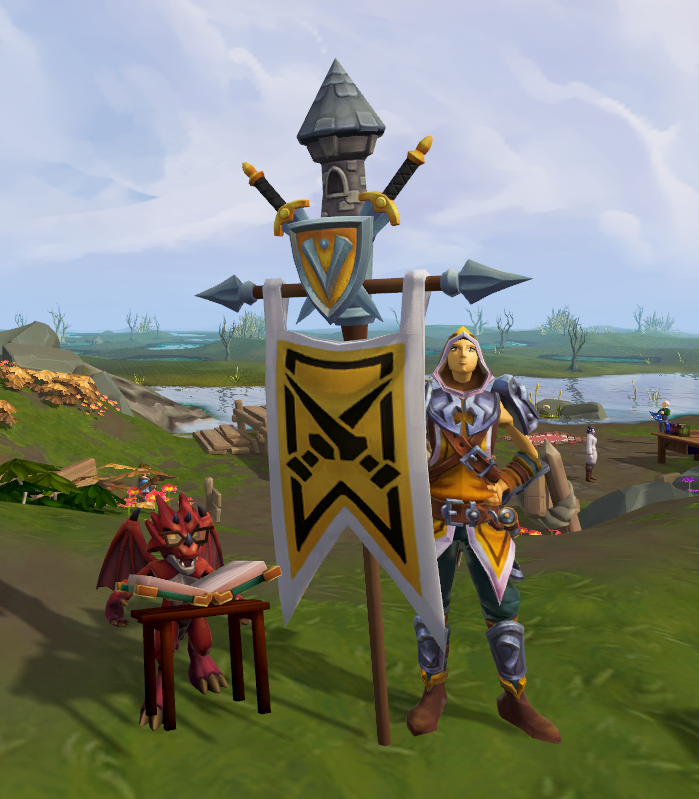 Breaking the Storm arrives on Monday June 24th.
Summer Special
The sun is finally out (albeit never more than momentarily in the UK) so that must mean it's time for the Summer Special membership offer! What better reason could there be to get involved with The Land Out of Time and Weapon Diversity?
From June 10th until August 4th players can grab 3 months of RuneScape membership for the price of 2! This stacks with any existing membership you already have, too. As well as full access to an exciting summer of content, buyers will also get a brand-new outfit for their troubles – the Dragonkin armour!
Elf Ears
Oi, over ear! Elf ears have been frequently requested by players over the years, and we're pleased to announce that we in fact have FIVE different types heading to Solomon's General Store on June 24th. All ears will come in a single pack.
Unlike other ears we've offered before, the elf ears look realistic and should fulfil all your roleplaying requirements!
RuneFest 2019
Tickets for RuneFest 2019 are officially on sale ! The event itself kicks off on the evening of October 4th and runs through October 5th. Once again, we're heading to The Farnborough International Exhibition & Conference Centre, just outside London in the UK.
For tips and suggestions on everything from travel to accommodation, you can also join our dedicated Discord channel, head to the official RuneFest forum or the community-owned Facebook Group.
For now make sure you save the date to make sure you're part of the world's greatest RuneScape fan gathering. We can't wait to see you there!
The Land Out of Time
And lest you forget, Gielinor's big new explorable island, The Land Out of Time, arrives in July! Throughout June you can look forward to videos and livestreams that delve deeper into the adventures that await.
We can't wait for you to explore this vast new continent, taking on ancient beasts in Big Game Hunter, navigating the island-wide agility course, building a base camp and confronting a wide range of new slayer creatures.
But rest assured – we won't be revealing everything, and you'll still feel like a pioneer striding forth into a brave new world. Hold onto your butts!
Until next time.
---
The RuneScape Team