Prepare for your adventurer to look better than ever as we embark on an exciting journey to boost your avatar's appearance - this is the Player Avatar Refresh project.
Today, we want to examine it from head to toe, and if you already caught our stream in January, you'll be excited to see the changes we've already made based on your feedback!
Want to see the full stream? Watch Mod Iroh and Mod Stead give us a deep-dive tour of the project in the video above - then read on to see the latest news!
What is the Player Avatar Refresh Project?
This is a major character art job that will introduce greater graphical fidelity to the player avatar and allow us to build the foundations of a longer-term vision for player characters.
Why We're Doing This Now
We've invested in bringing RuneScape up to modern standards - not only to make the game richer for all of you living in it today, but also to make it more attractive for new adventurers taking their first steps into Gielinor.
Player avatars represent one of the first things you see, forming the first (and longest) bond you create in-game. Whether you are a new player or a 20-year veteran, your avatar is hugely important and deserves a visual quality that matches their place as the hero of your adventures!
Our Focus
So what is 'graphical fidelity'? Simply put, it means clearer, more detailed meshes and more logical designs.
Although we have much larger ideas for where we can take player avatars in the future, for now we need to deliver something tangible. So our focus is on refreshing the current character creator, bringing it up to an amazing new standard BUT while using only the technology available in the RuneScape engine today. This technical framework provides a few extra challenges, but ultimately it'll let us roll this project out much faster than a full rework.
And then, of course, there's you, the people behind the adventurers! Player feedback has been at the heart of this project from the very beginning (as early as a 2018 research session) and we'll be keeping this player-driven ethos on the road to release.
The End Goal
So, when the Player Avatar Refresh goes live, what does that mean for you?
Not to get all soppy, but we want you to feel like this upgrade has reinforced that 'magic connection' between you and your avatar, and in a way that feels as though the spirit of the character you've created has been retained.
To put a finer point on it, we'll be delivering:
Refreshed Masculine and Feminine base avatars
16 Masculine and Feminine outfits
62 hairstyles
18 Facial Hair Styles
Once the project goes live, all future cosmetics will be based on this new look. But don't panic! You'll still be able to use all the cosmetics you've collected so far at their original fidelity.
Project Update: January 2021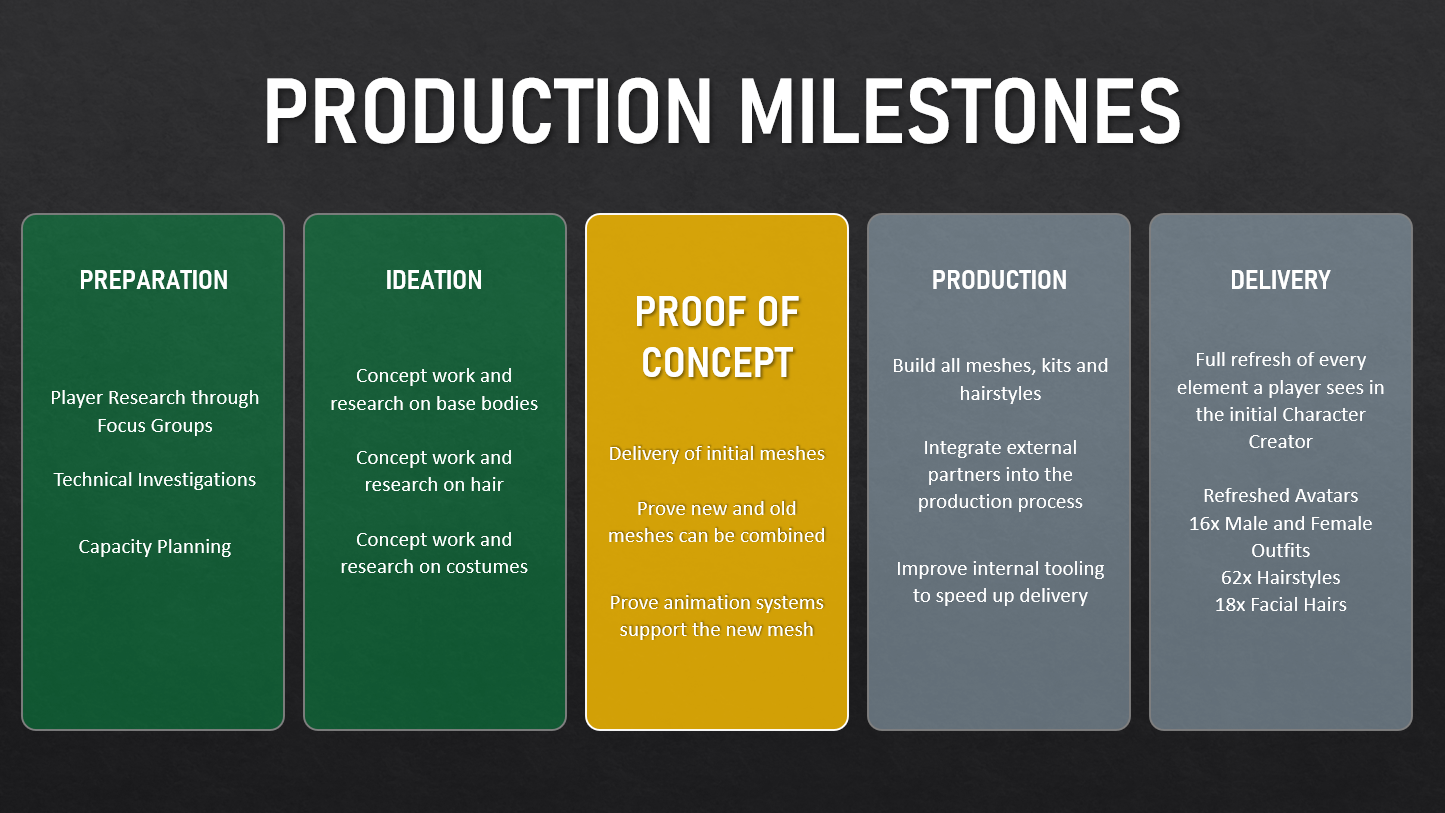 Right now we're at the closing stages of what we call 'Proof of Concept'. After sketching our ideas out in 2D, identifying our technical challenges, scoping out the required time investment and many, many rounds of internal feedback, this stage is all about building a baseline. We're implementing the initial meshes (the visual framework and textures that make up your avatar), testing compatibility between original fidelity assets and the refreshed ones, and checking that everything works with existing animations.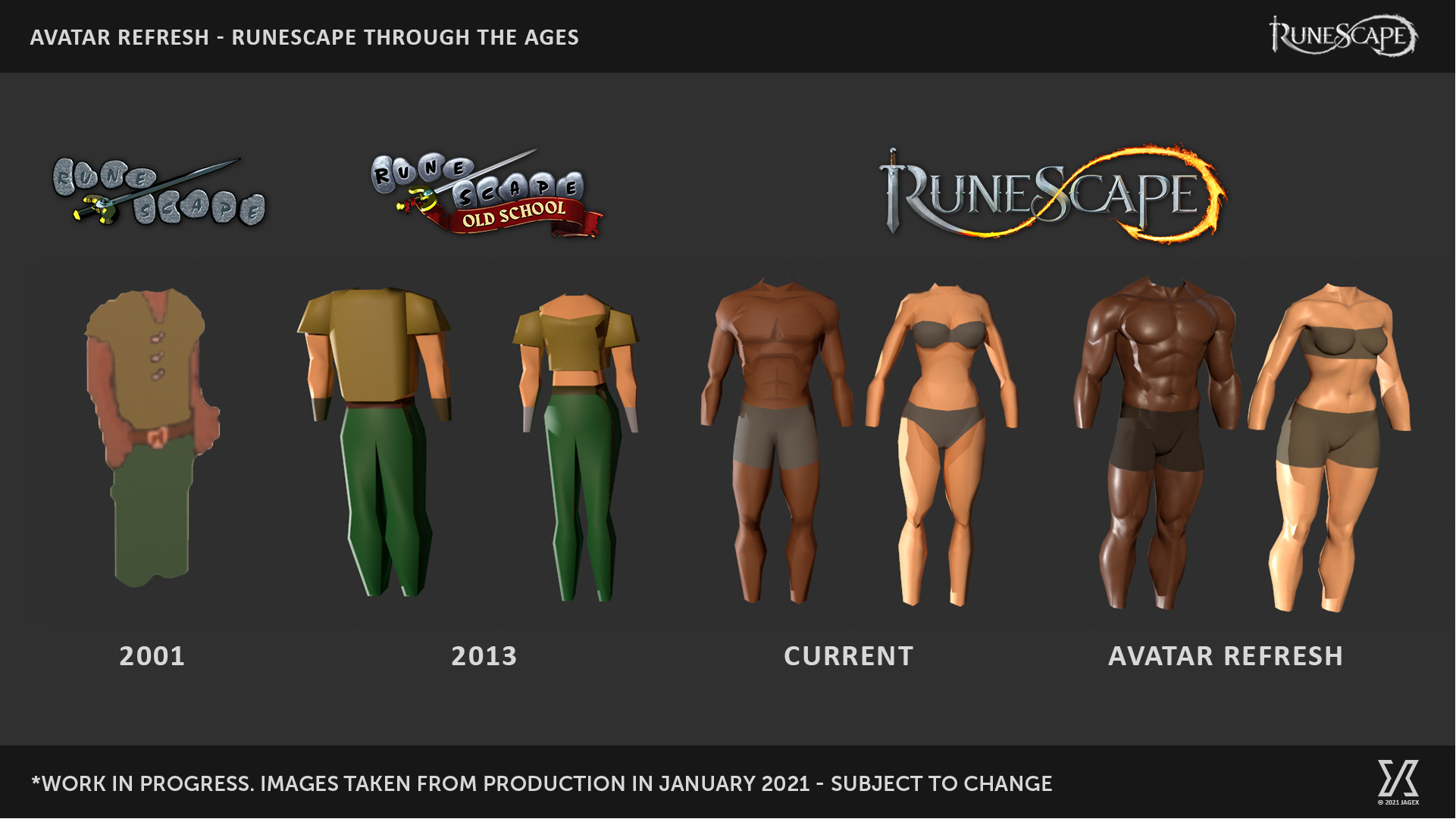 Work In Progress: January 2021
This is our progress as of the end of January, shown in our development software Z Brush. This is at a higher fidelity level than what you'll see in-game, but it's still a massive leap in model smoothness, accuracy and detail.
We've already made further changes to these models since January following your feedback, and we'll be showing you that soon.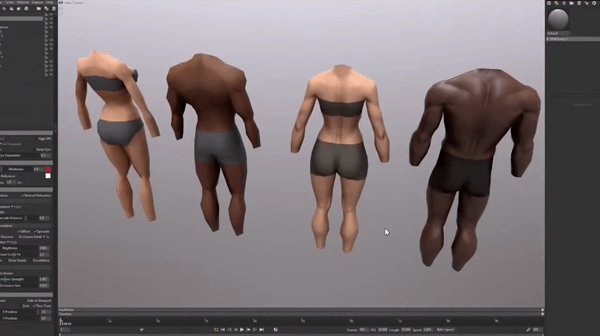 Work In Progress: January 2021
One of the benefits of this rework is that we can add more detail under a variety of lighting styles. As we roll the light source across the scene, you can see how much more naturally the light plays on the skin, catching under contours and really adding a feeling of presence to the model.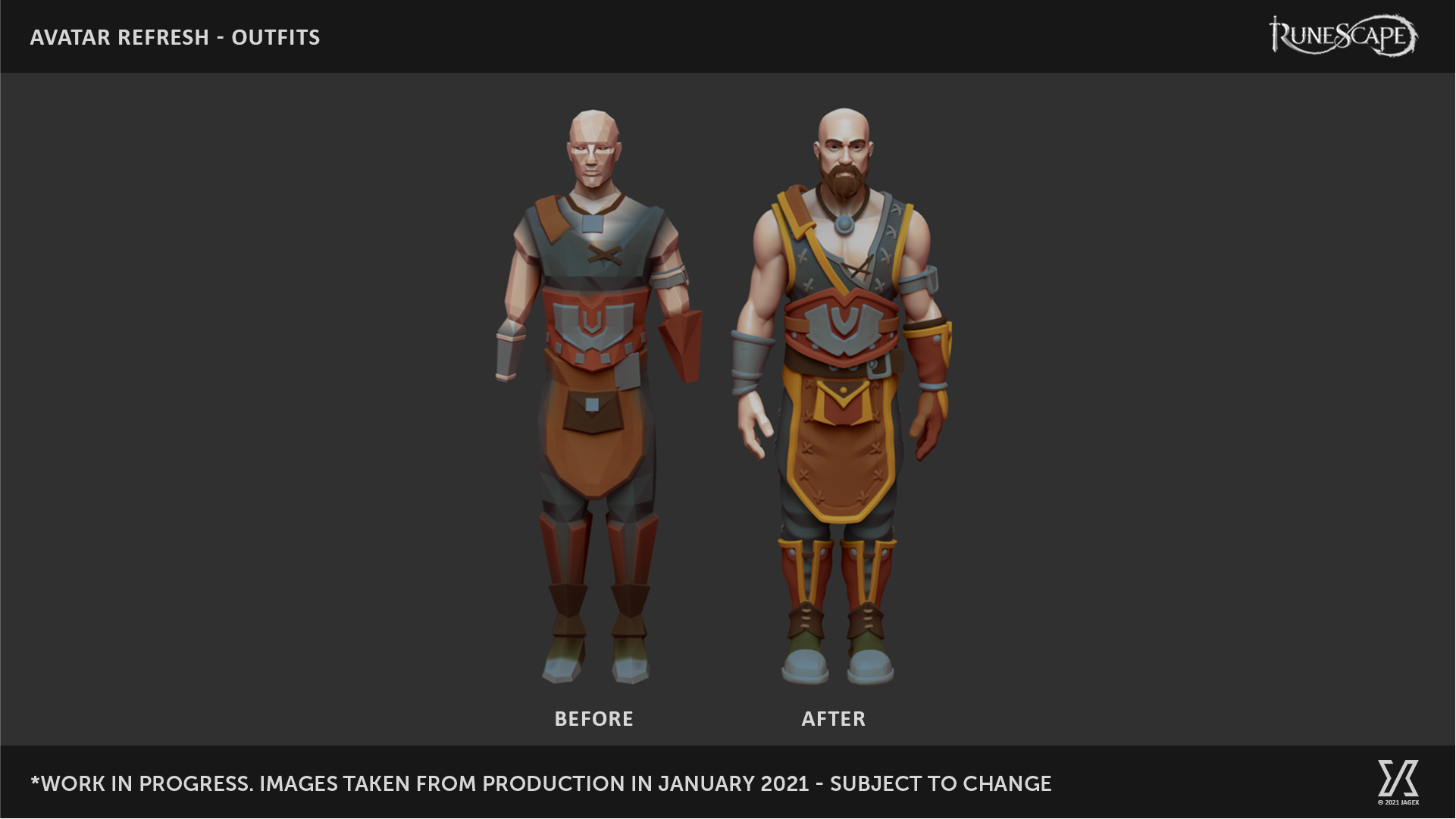 Work In Progress: January 2021
Part of the project is about updating the initial outfit choices available at the start of the game, upping the quality but respecting the spirit of the original design. This is how the Blacksmith Outfit has changed from its current look to the refresh. While a lot of the original look is retained, we're adding details that ground the outfit into the world. Why assume your trousers are held up by magic when we could simply add a belt?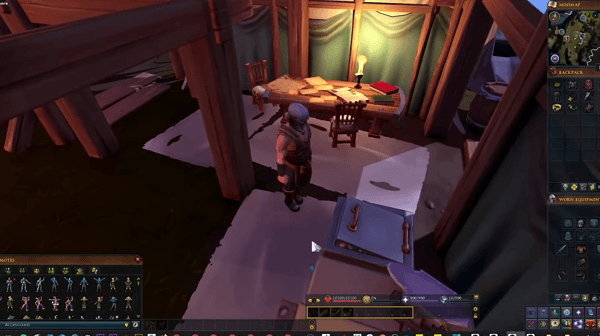 Work In Progress: January 2021
In this scene, we're moving the refreshed Blacksmith Outfit between light sources. This is where you can really see that idea of grounding and detail coming together - the light plays realistically off the materials and rolls accurately across the body. This attention to detail really strengthen the connection between the player and the various environments they travel through.
To see more, check out the Stream VOD embedded at the top of this article.
Your Feedback
Since our live stream project update in January, our team have been hard at work taking your feedback on board, and here are just some of the changes we're making:
Masculine body shape changes, including reducing the width of the shoulders
Feminine body type improvements
Better balancing of hand size with the overall model by delivering new tech improvements
We'd like to thank everyone who tuned in and shared their opinion. The positive comments have been amazing, and the Character Art team are even more fired up than before! Yes, Mod Iroh can be even more enthusiastic. We'll show you these changes and more in our next project update stream, which is coincidentally just around the corner!
The Next Project Update
We'll be back with another Player Avatar Refresh stream on February 23rd at 17:00 Game Time. We'll run you through all the changes we've made based on your feedback, plus take a look at:
Our proposed final avatars for both masculine and feminine body type
Our final Masculine and Feminine Blacksmith Outfits
Progress on hairstyles
Progress on other outfits
We can't wait to show you our latest progress as we pass through the proof of concept phase and into the exciting world of full production. If you missed out on the first stream, be sure to tune in for this one and share your thoughts with us!
Until then, keep 'scaping!
---
The RuneScape Team