Most of us can appreciate the allure of a life tending the land. All that fresh air, the beautiful countryside, cute farm animals, those obscenely early mornings… actually, that bit doesn't sound so great. Come to think of it, farming seems like an awful lot of hard work. Proper tiring. Perhaps it would help if there were others around to lend a hand?
And there are! This week we're pleased to introduce Farmhands into Player Owned Farms.
FARMHANDS
Think of a farmhand as a helper whose sole interest is to make your farming life that bit easier. They will handle some of the farm tasks without guidance, and up to three can be allocated to each pen.
Farmhands can be managed from a new tab on the paddock/animal check interface.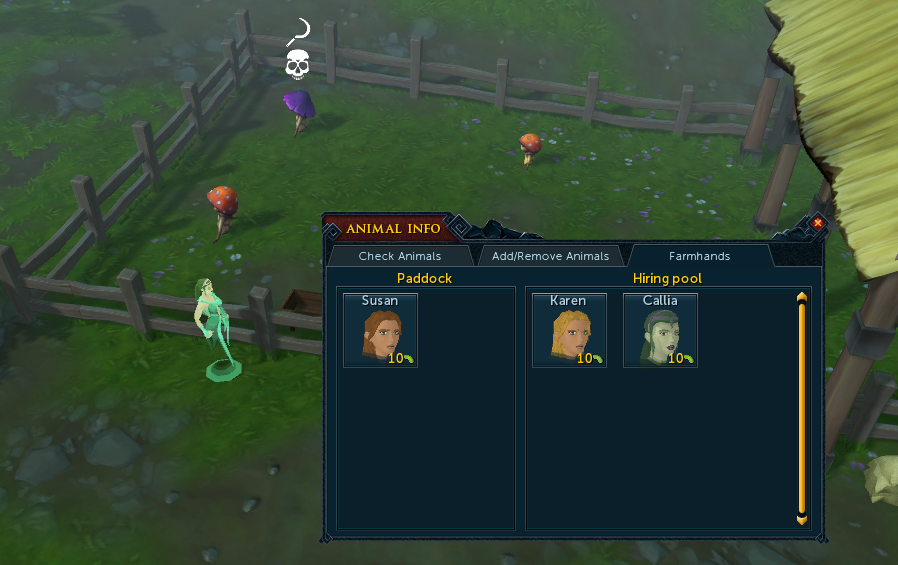 There are three different types of farmhand available:
Babysitter Farmhands
Babysitters can stop your baby farm animals growing past their adolescent age. If there's a farmhand and you haven't paid, the fee will be taken from your money pouch and the slot will be marked as 'paid'. From that point on, an animal will not progress beyond adolescence unless it or the pen's last remaining babysitter is removed.
If you are trying to swap babysitters, place the new one in before removing the old one. This way the fees for existing animals will not be cleared. There are specific babysitters for small, medium and large/generic pens, the fee is 2 beans per use for the small pens, 5 beans per use for the medium pens and 10 beans per use for large/generic pens. A maximum of two of each type can be hired.
Collector Farmhands
Once a pen is full, collectors will gather any further animals that are born. Collectors can hold up to 30 animals from up to 3 species – a total of 90 unchecked animals.
After a collector is hired, be sure to talk to her to ensure she begins work. A fee will be taken every time an animal is collected. To claim the animals for yourself, or to check her stock, simply talk to her.
Collectors can currently only be allocated to breeding pens.
Trapper Farmhands
Trappers will, for a fee, collect a random unchecked animal from the wild and deposit them in one of your pens. They will potentially collect any non-shiny animal in the game, with the exception of Araxyte Spiders. Others, such as Royal Dragons, have an incredibly low chance of being collected.
You can find the trapper standing by the house. He's not cheap, though, charging 100 beans per hunt.
Storm Barn
Players are also now able to buy the deeds to build a new barn under the farm, which can be used to store checked animals. The barn comes with 15 slots, although this can be extended to 30.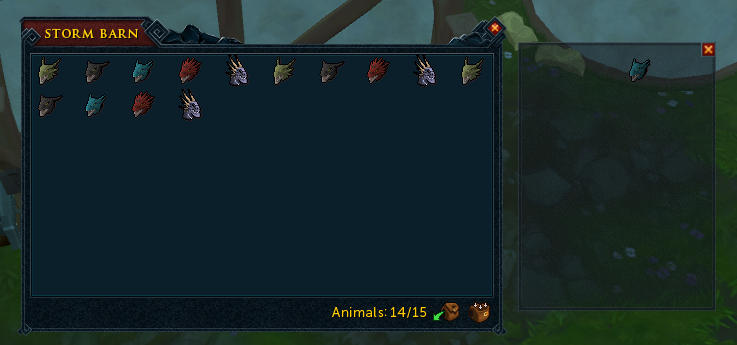 Baby Shakes
Overflowing with unwanted animals? Baby Shakes will now take any unwanted animals from your Player Owned Farm off your hands. Players will receive 10% of an animal's base adolescent bean value, regardless of its growth stage, breed or traits. There is no limit on the number of sales.
Patch Notes
Alongside the Patch Notes, there are also some great quality of life changes to Player Owned Farms.
Granny Potterington now sells the ability to unlock farm animal indicators to help determine whether something is diseased or has produce to gather.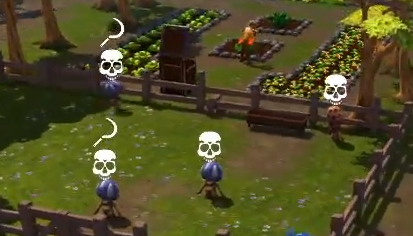 The title 'Old Mc' is now awarded for completing the Player Owned Farm breeding log.
A 'Don't ask me again' option has been added to the warning for removing unharvested animals from Player Owned Farm.
To read more about all the QOL changes to Player Owned Farm, and other content, click here.
GOLD PREMIER CLUB
Following its continued popularity, we have decided to extend the availability of the Gold Premier Club membership package. For more information on our best value membership offer, head over to this page!
TWITCH PRIME
Love is in the air this Valentine's Day, and we intend to prove our devotion to Twitch Prime members by offering the most precious of gifts – the Twitch Prime Valentines Pack!
Starting tomorrow (Tuesday February 5th), Twitch Prime users who link their RuneScape account will get 14 days of free membership to both RuneScape and Old School, plus:
The exclusive Amara Outfit
The exclusive Chinchompa Plushie
2 Umbral Chests (guaranteed super-rare prizes)
15 Treasure Hunter Keys
40 Hearts of Ice
200 RuneCoins
LootScape
Our live streams are always a great opportunity to grab some awesome in-game prizes. Each and every stream watched in January will give you a guaranteed random drop from one of the following: Prismatic small fallen star, Prismatic medium fallen star, Prismatic small lamp, Prismatic medium lamp, Spirit Ruby, Spirit Diamond, Advanced Pulse Core, Spring, Silverhawk down, Medium DG Token Box, Small DG Token Box, Uncut Dragonstone, Large Cash Bag, Medium Cash Bag or Small Cash Bag.
Exciting isn't it?! So don't wait up - connect your RS account to your Twitch account and find out more here. Once that's done, have fun and watch our streams during the day for a guaranteed drop.
Live streams this week
Each week, we host developer Q&As, exclusive in-game first looks and more. And it's all live on our Twitch channel, join us! Missed a stream? Don't worry, we keep them all on our YouTube channel. Be sure to Subscribe to be the first to know.
Tuesday, February 5th – 17:00 UTC (Game Time) – February Month Ahead
Let's dive into February with a first look at all the content we've unveiled and the ones to expect: Player-Owned Farm updates, Chef's Assistant, Double XP, Elite Dungeons 3 and more!
LootScape will be enabled (see all details above).
Sunday, February 10th – 19:00 UTC (Game Time) – PvM with Mod Lee
Our resident PvM expert Mod Lee knows no fear and he's ready to take you all on another round of boss mass this Sunday. From Vorago to the Kalphite King, the Corporeal Beast, the Angel of Death, if you've got a set to complete, an achievement to unlock, or simply want to hang out with friends and slay some, this is the place and time!
LootScape will be enabled (see all details above).
Pink skirts Events
Of course, adventures continue in Gielinor even when we're too busy (PKing) creating the adventures of tomorrow. Our PMods are here to welcome you in a range of PvM Boss Masses, Events and Q&As each week. Check out all the community events organised by the Pink Skirts on their official schedule here
---
The RuneScape Team