This is it, the moment we've been waiting for all year is almost here: it's the week of RuneFest!! We've packed the fossils and rallied the dinos. Mr.Mordaut and the very best scientists from the Varrock Museum have shown us the way and everything is almost ready to welcome you all on October 4th. We can almost smell the sea breeze and hear the roars of dinosaurs that'll come alive in the mind-blowing reproduction of The Land Out of Time!
Now's the time to prepare your RuneFest – whether you'll be joining us at Farnborough Int'l or following the festivities on stream.
Follow RuneFest at home
This year, we will be expanding our live streaming setup to not one but two streams running in parallel, allowing you to follow every session from both the Studio & Panel Stages! Don't worry, if multi-viewing isn't your strong suit, we will be recording everything and sharing VODs the week after RuneFest. But for the day, here's the important info:
Friday 4th, 20:15 (UK Time) - Golden Gnome Awards – Follow on the RuneFest and RuneScape Twitch channels [LootScape enabled]
Saturday 5th, 10:00 (UK Time) - Main Studio (incl. Keynotes) – Follow on the RuneFest Twitch channel [LootScape enabled]
Saturday 5th, 12:00 (UK Time) - Panels – Follow on the RuneScape Twitch channel. [LootScape enabled]
For the exact content and start/end times for each sessions, we invite you to check the full RuneFest schedule below.
Not that much of a Twitch enthusiast? Well good news: whether you want to know everything that's happening at RuneFest or just want to hear the big reveals, it'll also be on our socials:
RuneFest Twitter: Live from the GGAs, news from the show floor, highlights of activities, reactions from players, backstage exclusives and keynotes live tweet.
Opening times & Schedule
FRIDAY 4TH OCTOBER (18:00-23:30*) - THE GOLDEN GNOME AWARDS
RuneFest 2019 will kick off on Friday 4th October from 6pm with the biggest night of the year!
The Golden Gnome Awards are back, and this time they're bigger and better than ever before! Join us for an evening of glitz and glamour while we recognize the talent and enthusiasm of our community members, content creators, and streamers.
There'll be plenty of entertainment throughout the evening, but don't worry! You'll have lots of time to catch up with your friends and fellow players, too. And of course, there will be some very special surprises on the night. Food and drink will be available. Black tie optional.
SATURDAY 5th OCTOBER (10:00 – 00:00*) - RUNEFEST 2019
Okay, we're a bit biased – but this year's RuneFest is shaping up to be totally epic. We're adding new activities, new entertainment, and all the biggest announcements from both the RuneScape and Old School teams.
You can look forward to panel sessions with your favourite J-Mods and content creators, the return of the achievement party, and goodie bags filled with unique loot. Food and drink will be available onsite throughout the event, and as the day comes to a close we'll also be hosting a massive after-party for all our guests. We're packing in plenty of surprises this year, and we can't wait to see you there!
Here's what the final schedule looks like:
| Time | Panel | Description |
| --- | --- | --- |
| 10:30 - 11:00 | Time to Set Sail! | Join us as we set sail to shores old and new, and take an in-depth look at Fossil Island and the Land Out of Time. |
| 11:00 - 11:45 | The Great Gielinorian Cook-off | Watch our star bakers compete to produce a three-course RuneScape meal from scratch in 45 minutes. Doable? Not really. Entertaining? Definitely. |
| 12:00 - 12:45 | The Cosplay Show & Cosplay Golden Gnome Awards | After the cosplay parade at 11:30, join us live as the best cosplayers in the RuneScape and Old School Communities compete for their chance to take home a Golden Gnome Award. Log into your RuneFest App to cast your vote in the 'Best Cosplay' category! |
| 13:00 - 13:45 | Lore Q&A | It's back, and this year, it's lore-ier than ever! Join Mod Raven and co for an intensive session covering everything you could possibly want to know about the Lore of RuneScape. It's gonna be - wait for it - loresome. |
| 14:00 - 14:45 | Old School Creators Q&A | Join some Old School RuneScape content creators on-stage as they answer all your burning questions, from life as a content creator to their favourite pizza topping. |
| 15:00 - 15:45 | Mythbusters | Mod Osborne and Mod John C are here to reveal the truth behind some of the biggest (and funniest) misconceptions from the community. Got a myth you'd like us to bust? Post it in the official forum thread! |
| 16:00 - 16:45 | Ron Plays Games | Everyone's favourite gameshow host and sheep enthusiast takes to the stage to bring you an hour of unadulterated, (possibly) family-friendly quiz show fun. |
| 17:00 - 17:45 | RuneScape Keynote | The big one. Join us to find out what you can expect from the next 12 months in RuneScape! |
| 18:15 - 19:00 | Old School RuneScape Keynote | The other big one. Join us to find out all the biggest updates coming to Old School next year! |
After the main stage sessions have finished, entertainment will be available throughout the evening. Party hats at the ready, everyone!
| Time | Panel | Description |
| --- | --- | --- |
| 12:00 - 12:45 | Another Slice of W.I.K.I | Ever wondered how our fantastic wiki editors corral info from across our games and collate it into one, awesome resource? Wonder no more! We'll discuss new and hidden features, how to harness the wiki's trove of data for your creative use, and briefly talk about why editing the wiki is so valuable. |
| 13:00 - 13:45 | Bringing a Creature to Life! | Join our art team as they take you on an adventure to find out how they breathe life into the creatures and peoples of Gielinor. |
| 14:00 - 14:45 | The Making of Old School RuneScape Mobile | How do you port a 17 year old game to a whole new platform? Join us on a retrospective tour of Old School Mobile, as we reminisce about the successes, thrills, and spills along the way. |
| 15:00 - 15:45 | So, you want to be a streamer? | Join some of our up-and-coming content creators as they answer all your burning questions about the subtle art of streaming. |
| 16:00 - 16:45 | RuneScape Annual Survey Results | Find out the results of the RuneScape Annual Survey and see how the community's answers will be used to shape the future of the game. |
| 17:00 - 17:45 | A Day in the life of a J-Mod | What's it really like to work for Jagex? In this panel, you'll have the opportunity to ask J-Mods from all across the company about their roles. |
| 18:00 - 18:45 | RS Reveal Q&A | The RuneScape Keynote will be full of surprises - like the [REDACTED], [REDACTED] and that amazing [REDACTED]! This panel is your chance to get your immediate questions answered. |
And "that's not even its final form!!" There will be tons of other activities to expect on Saturday - some of them fully themed for The Land Out of Time, others... well... more about what we're about to announce. But let's not spoil the surprise, you'll get to discover that when the doors open on Saturday 10:00 (UK Time), so be ready!
*Opening times are based on the UK timezone and subject to change. Please keep an eye on our social channels for any changes.
RuneFest App
This year we're bringing back the RuneFest App. This official free mobile app offers all the essential info for your day at RuneFest: schedules, maps, live voting, access to exclusive merch, and more! Download the RuneFest App.
Tickets Available
Everyone gets everything with one ticket. The Golden Gnome Awards and RuneFest itself are both included in everyone's ticket.
Don't wait, get your RuneFest tickets!
Here's a list of some of the things you'll get to enjoy if you join us on the day:
Celebrate your love of RuneScape with your friends, favourite J-Mods and Content Creators
Discover unique in-game environments brought to life and take part in special activities (yes, Skill Chips is back!)
Experience a full day of live events on the Main stage (Great Gielinorian Cook-off, Cosplay Show, Data Stream, Creators Q&A, Keynotes and more)
Go beyond the games with J-Mods and Content Creators in behind-the-scenes panel talks
Be part of the excitement as we reveal the future of RuneScape, and play some of this content in WORLD PREMIERE hands-on!
Receive unique RuneFest items (physical and in-game!)
RuneFest Merch
Coming to RuneFest this year will also give you an exclusive access to the official RF merch – which includes Limited Edition lines from Angels Scapes, exclusive tees (Zamorak, Vorkath, Catherby Fishing, etc), posters, new enamel mugs, and more! You can get a first look at the full list of RuneFest 2019 merch on the RF App, and prepare your wish list so you can be among the first to pick them up at RuneFest! Download the RuneFest App.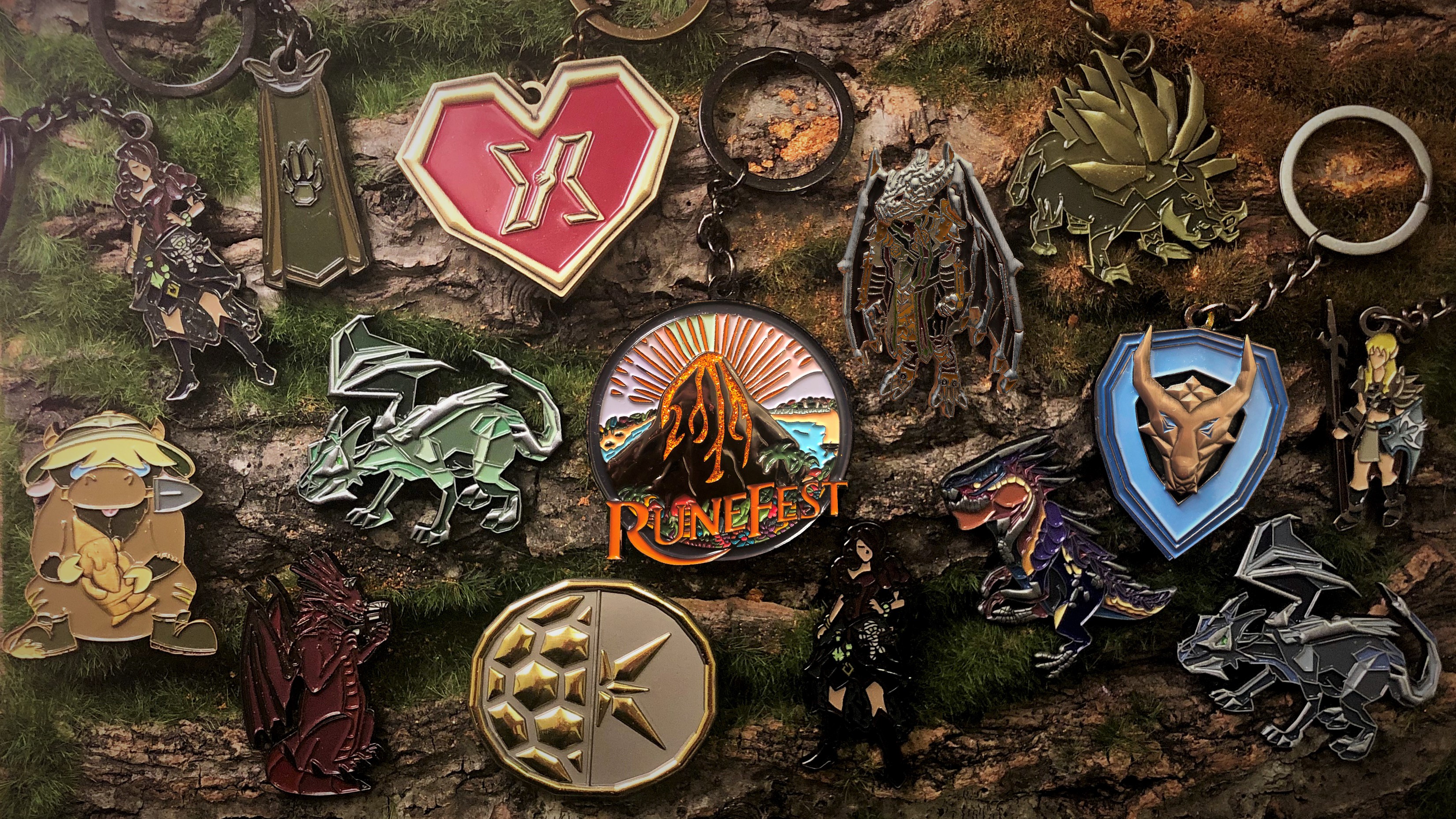 Can't make it to RuneFest? Whilst the exclusive lines will only be available there (and in this case it'd be best to ask a mate to pick these up for you), we will open pre-orders for non-exclusive lines on our official merch store during RuneFest. So keep an eye out!
Got another question?
If you're looking for more information, check out the Eventbrite FAQ.
If the information you're looking for isn't listed here, we invite you to directly contact us – either on our Twitter account (@RuneFest) or via email (support@runefest.com).
This year's RuneFest is set to be the biggest and best one yet - and we can't wait to see you there!
---
The RuneScape Team