This week in RuneScape, we're going absolutely loony for the Lunar Spellbook, playing with Penguins and setting out on a Yak Track! Read on for all the details…
Kerapac Track - 17.45 BST, 21/09/20: We are aware of an issue impacting some users that can cause a crash when opening the latest Yak Track event. The team are investigating the situation and aim to implement a fix as soon as possible tomorrow.
We don't know what the Ninjas have been learning in that Dojo of theirs, but this week they've been slinging spells as well as shuriken! Let's take a look at their work on the Lunar Spellbook.
Ninja Strike 11: Lunar Spellbook
To kick things off, the Ninjas have worked with the Moon Clan's finest mages to create four new Lunar Spells. If you've already got the Lunar Spellbook unlocked, these will be available to you as soon as you get the required Magic levels.
New Spell: Sift Soil
This nifty sifting spell will allow to you screen soil accrued during your archaeological adventures without trudging back to the Archaeology Guild to use the Screening Station.
This spell requires level 91 Magic, 10 Water Runes, 5 Earth Runes and 1 Astral Rune to cast.
New Spell: Trap Telekinesis
Aren't you tired of nearly putting your back out bending down to pick up traps every five seconds? Well, we've got just the spell for you! Trap Telekinesis will allow you to reset your Hunter traps without you even having to move.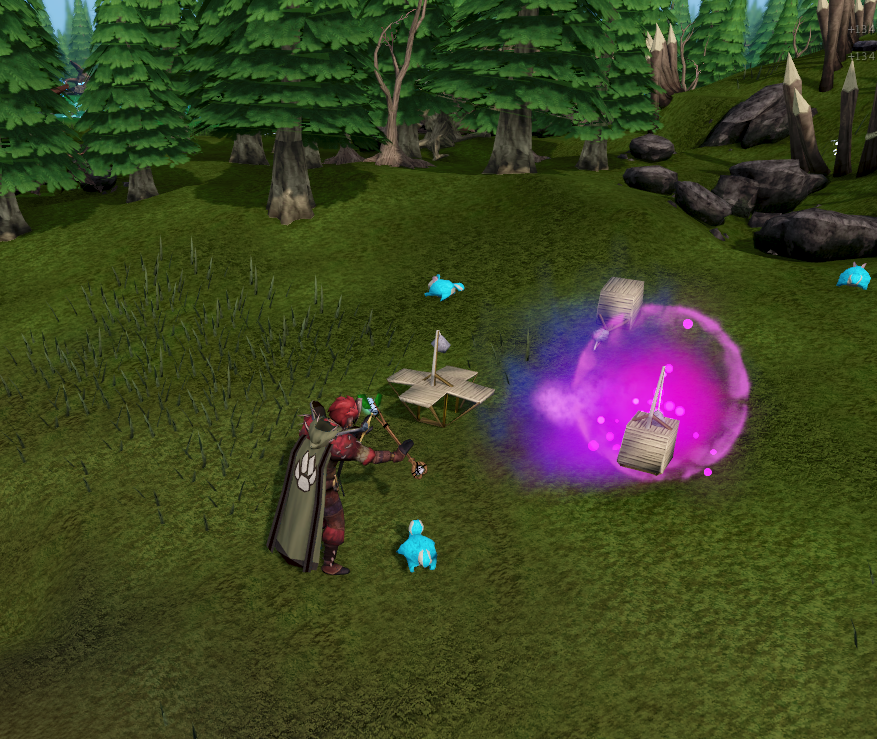 This spell requires level 97 Magic, 5 Air Runes, 1 Law Rune and 2 Astral Runes to cast.
New Spell: Fire Urns
This spell does exactly what it says on the tin - it lets you fire decorated and infernal urns without the need for a pottery oven. After that just pop in your runes and your urns are good to go!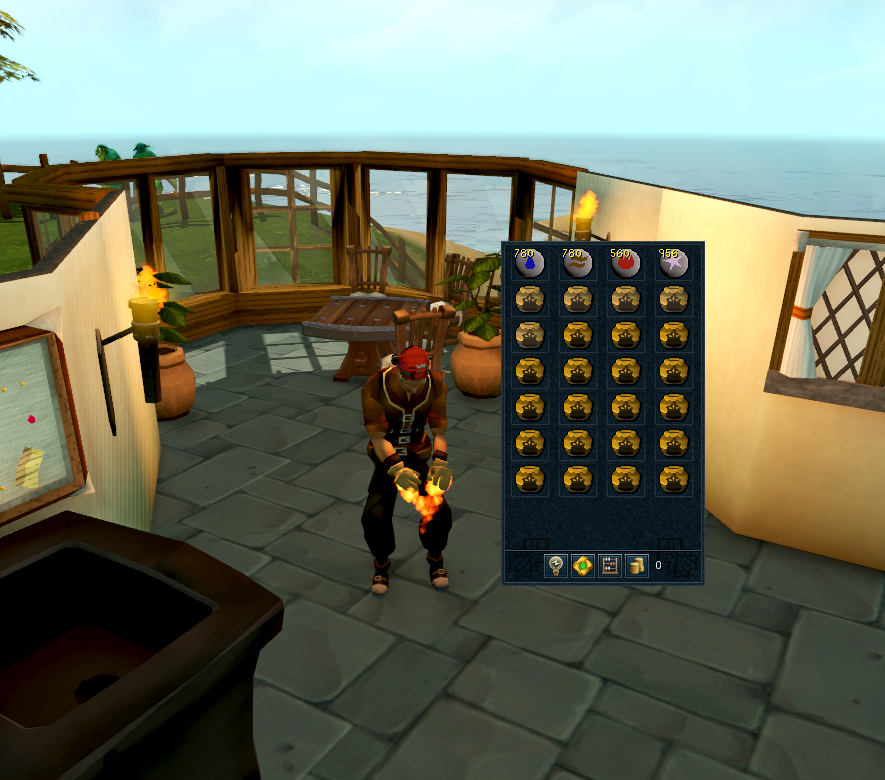 This spell requires 82 Magic, 5 Water Runes, 5 Earth Runes, 10 Fire Runes and 1 Astral Rune to cast.
New Spell: Telekinetic Grind
No, it's not a skate trick. This gnarly spell will let you grind anything you could grind with a pestle and mortar using nothing but your MIND! It works on up to 60 items at once. Aside from being a great icebreaker at parties, this spell will also help you train Herblore.
This spell requires 85 Magic, 2 Astral Runes and 1 Law Rune to cast.
New: Lunar Teletabs
Those of you who own a lectern for your Player Owned House will now also be able to craft teleport tablets for all the Lunar Teleport spells. Happy travels!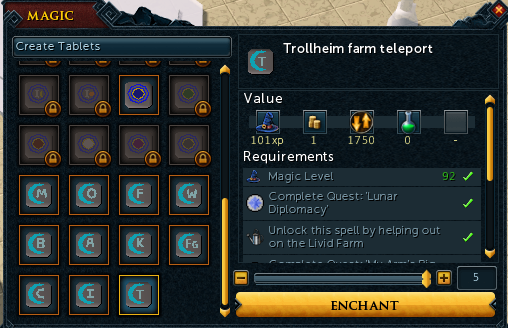 Now on to the main bulk of this week's update: improving the older spells!
Remote Farm
The Remote Farm interface has been completely overhauled to be more usable, readable, and user friendly.
As you can see, patches are now separated by category for easier navigation, and some of them indicate the compass direction they face in. Rather excitingly, the interface now includes the Tuai Leit berry patches, as well as the Money Tree patch.
You'll also notice that different patch states are now colour-coded, so you can tell at a glance which of your veggies are in need of some Plant Cure.
Keen farmers will be especially overjoyed to find that they are now able to cast the Fertile Soil spell via this same interface, leaving them with more time to get on with weeding and whatnot.
Finally, those speedy Ninjas have deftly cut down on the amount of time it takes to actually open the interface after casting the spell.
Well, those are the highlights! For a full list of this strike's tweaks and changes, be sure to check out the Patch Notes tab. See you there!
Make Leather
Make Leather will now tan all hides of the same type in your backpack at once, without having to cast the spell multiple times. Accordingly, you'll notice that this spell no longer uses the Make-x system.
Tune Banite Ore
Now you can cast this spell on banite rocks to mine monster-specific ore directly from the rock! To do so, you'll need an item related to the type of bane ore you're after, either in your backpack or mounted on the wall of your Player Owned House. This spell will be applied to every banite rock in the area for precisely two minutes. The appropriate runes will be consumed each time you mine an ore. Boosts and buffs such as those associated with Signs of the Porter or Juju Potions will work.
Of course, should you prefer to do things the old-fashioned way, the spell still retains its original function.
Superglass Make
The grammar might be dodgy but Superglass Make is now more useful than ever, granting you the mystical ability to turn crystal-flecked sandstone and red sandstone into crystal and robust glass at the click of a button, provided that you've completed 'As a First Resort'.
You'll also notice that the previous spell icon has been replaced with something a bit more illustrative, and the tooltip now specifies that the spell has a chance to create extra pieces of molten glass.
Lastly, we've removed the movement/action delay that occurred after casting Superglass Make, which should make getting on with things a bit easier!
Kerapac Track
Yak Track is back and this time it's brimming with DRAGONKIN! Venture onto a brand new track featuring dragonkin-themed cosmetic rewards to earn and, for the first time ever, Lore Tasks!
Never played Yak Track before? No worries! Here's the rundown:
From today until November 2nd, when you log in you'll be presented with a list of tasks. For each one you complete, you'll advance a step on the Yak Track and earn yourself a prize!
Although the prizes on the free Yak Track are obtainable by everyone, if you purchase a Premier Pass you can unlock even better rewards, including your very own Mechanayak friend! If you're not ready to commit up front, you're free to wait until you've got into the swing of things, because the Premier Pass unlocks all the rewards from every tier you've passed so far.
To get started with the Kerapac Track, make your way to Burthorpe where you'll see the Mechanayak waiting for you. Have a word with him and he'll set you off on your journey!
Lore Tasks
Since this Yak Track is so entwined with the Elder Gods Storyline, we thought you might enjoy completing some tasks that will bring you closer to the lore. When you complete these tasks, you won't just get a sweet item for your collection – you'll also get to learn more about characters like Hannibus, Thok and Charos.
And don't worry – if you find yourself unable to complete these tasks before the Kerapac Track closes on November 2nd, you'll still be able to revisit all the lore tasks after the fact, without missing out on any of the juicy details.
Now, shall we take a look at those rewards?
Rewards
The Kerapac Track is jam-packed with rewards inspired by the dragonkin and the Elder Gods storyline. Here's a sneak preview of just a few of them.
Mechanayak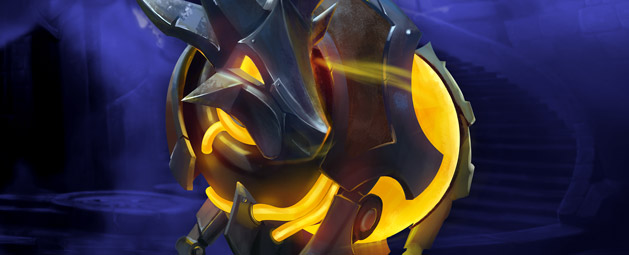 Tired of fuzzy yaks moulting all over your stuff? Then the Mechanayak is the guy for you! You'll get to take him home at Tier 50 of the Premium Track.
Thok Hand-Me-Downs
Starting from Tier 6, you can receive Thok's Hand-Me-Down weapons and armour parts. Can you collect the full set?
Stasis Armour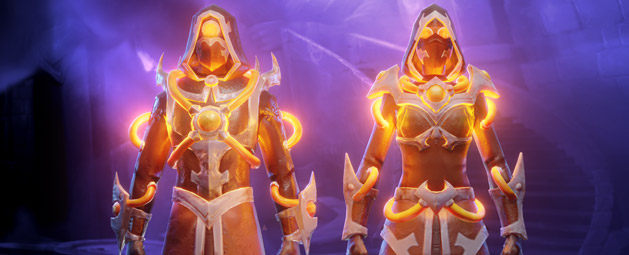 This awesome dragonkin-inspired armour unlocks at Tier 50 of the Premium Track. Do you have what it takes to claim it for yourself?
Thok's War Bunny
At Tier 10 of the Premium Track, you'll unlock this adorably tough lil' guy. Lock up your carrots!
Commander Scampers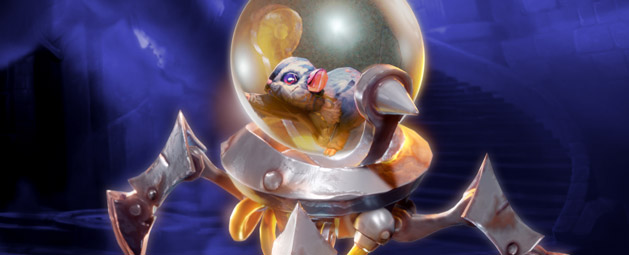 Commander Scampers was one of Kerapac's most devious experiments, but he's promised us he'll be on his best behaviour from here on out. This cute but by no means cuddly fella can be yours at Tier 40 of the Premium Track!
Click and drag to rotate the model! Additionally you can scroll to zoom!
Yak Track Attack
We know you love watching your favourite streamers play through the Yak Tracks, and so this time around we've decided to spice things up!
From now until November 2nd you can tune in on Twitch to watch our crack team of content creators race to complete the Kerapac Track. When they reach specific milestones, they'll be rewarded with Bonds, plus all the other awesome rewards from the Track itself to give to their viewers!
Tune in to the following streamers to get involved:
RS Guy
Maikeru
RS_Rav
ScardyGinge
Zilandra
Oh, and did we mention? The top streamer at the end of the race wins the chance to take home their very own real-life Mechanayak!
The Kerapac Track closes for visitors on November 2nd, 2020. Why not log in now and see which prizes you'd like to aim for?
10th Annual Golden Gnome Awards: Finalists Announced!
Last Friday we announced the finalists for almost every category of the 10th Annual Golden Gnome Awards!
If you missed the livestream, you can relive the magic right here. Remember, the Best Costume and Best Cosplay Prop finalists will be announced soon.
Now all that's left is for you to head to this page this page and vote for the winners. Choose your favourites in each category, and they might just take home a Golden Gnome!
Prime Gaming
We'd like to apologise for a few issues we encountered during last week's Prime Gaming launch. They've now been resolved, and there's still plenty of time left to claim your seven days of free RuneScape membership.
To do so, simply follow the instructions on this page - see you in Gielinor!
The Ninjas have been up to some new tricks this week, with a host of changes to the Lunar Spellbook.
Ninja Strike 11
New Spells and Features
The Following new spells have been added to the Lunar Spellbook:
Sift Soil: Screens all of the targeted type of archaeological soil from the backpack and Soil Box (no Screening Station required).
Fire Urns: Fire urns without a pottery oven. Can be cast on Decorated or Infernal urns to turn them to a 'no rune' state.
Trap Telekinesis: Collects from and re-lays a specific triggered box trap, electrified trap, tortle trap, or marasamaw trap.
Telekinetic Grind: Grinds up to 60 of a targeted item that could normally be ground by a pestle and mortar.
Players can now create teleport tablets for the Lunar Teleport spells.
The tablets are tradeable but can only be made and used after meeting the requirements to cast the original spells.
The North Ardougne, South Falador and Catherby spells have had their descriptions updated.
The Trollheim Teleport spell has been renamed to Trollheim Farm Teleport.
Existing Spells
The Remote Farm interface has received a new lick of paint to make the interface more useable, readable and user friendly.
Patches are now separated by category.
Different patch states now have more colour coding.
Players can now cast the Fertile Soil spell through this interface, which will consume the appropriate runes and award XP.
Certain patches are now labelled to show which direction they face.
Reduced the delay between casting the spell and opening the interface.
The Tuai Leit berry patches and Money Tree patch have been added to the interface.
Tune Banite Ore can now be cast on banite rocks to mine monster-specific ore directly from the rock.
To do so, you will need the appropriate item in your backpack or on the wall of your Player Owned House.
Runes are consumed and Magic XP is given once an ore is gained.
This spell remains active for 2 minutes and will apply to all banite rocks.
Various boosts and buffs also apply to these ores, including banite stone Spirits, Signs of the Porter and Juju Potions.
The original functionality of this spell remains.
'Make Leather' will now tan all hides of the same type in your backpack at once, and no longer uses the Make-x system.
'Superglass Make' will now turn crystal-flecked sandstone and red sandstone into crystal and robust glass respectively.
This requires completion of the 'As a First Resort' quest.
A new UI icon has been created for this spell.
The tooltip now states this spell has a chance to create extra molten glass.
Removed the movement/action delay after casting this spell.
'Stat Restore Potion Share' and 'Boost Potion Share' have been combined into one spell – 'Potion Share'.
This spell now works with most tradeable potions aside from those with negative effects, such as Aggression Potions, Saradomin And Zamorak Brews, and Powerbursts, due to their cooldowns.
'Spiritualise Food' has been renamed to 'Spiritual Healing' and no longer requires a piece of food to cast.
This spell can now extend familiar timers beyond the initial max time.
Fixed an issue where the interface did not update to show that a familiars lifepoints were healed.
'Magic Imbue' will now provide a Buff Bar icon which shows the remaining duration of the spell.
The Trollheim Teleport spells now state that they require the completion of 'My Arm's Big Adventure'.
General
The description of various spells have been adjusted to reflect today's changes.
Lunar spells that have yet to be unlocked will now appear un-highlighted and let the player know how to unlock them.
Replaced various instances of the word 'Inventory' with 'backpack' in Lunar Spell descriptions and info/error messages.
1 dose to 5 dose Juju Flasks and Combination Potions that weren't previously tradeable have been made tradeable player-to-player.
This only applies to Juju or Combination Potions which were already tradeable at 6 doses.
Other
You will now be given an example effigy during the Effigy Incubator tutorial so that it is less confusing when it is taken away.
An issue that caused Effigy pets to show incorrect colours when textures were turned off has been resolved.
Ironman accounts that have been invited to become a player moderator will now correctly show their respective ironman icons in broadcasts.
It's all go in this week's Community Tab! We're hunting down penguins, diving off rooftops, and whipping up some Gielinorian cuisine. Let's take a look.
Livestreams
J-Mod Livestreams
Wednesday September 23rd | 16:00 Game Time | J-Mod Penguin Hide & Seek!
Join Mod Poerkie on an epic quest to find Mods Niku and Kari, who are disguised as penguins and hiding somewhere in-game! If you're particularly sharp-eyed, you might even get the chance to win an adoption pack for the gentoo penguins at Edinburgh Zoo. For more details on that, check last week's newspost!
Thursday September 24th | 16:00 Game Time | RuneScape Special Announcement
Hey, what's this about? Anyone?
Hm. It seems like we've got a mysterious announcement on our hands. You'll just have to tune in to the livestream to find out more…
Featured Streamer
Our featured streamer this week is CasualTBag, who'll be gearing up for a real variety stream this Tuesday, September 22nd at 06:30 Game Time. There'll be group masses, fashionscape, dice of death, a treasure hunt and even a bit of hide and seek! If you're lucky you might just take away a few gold pieces…
Catch all the action on CasualTBag's Twitch channel!
Creative Corner
The Pre-First Age of RuneScape (A Short Film)<
TheBookOfRS impressed us all this week with this fantastic short film about the events prior to the First Age. What was the universe like before Guthix landed on Gielinor? Now's your chance to find out! We highly recommend giving it a listen while you're chilling out with some Yak Track tasks.
'Nothing Is True, Everything Is Permitted'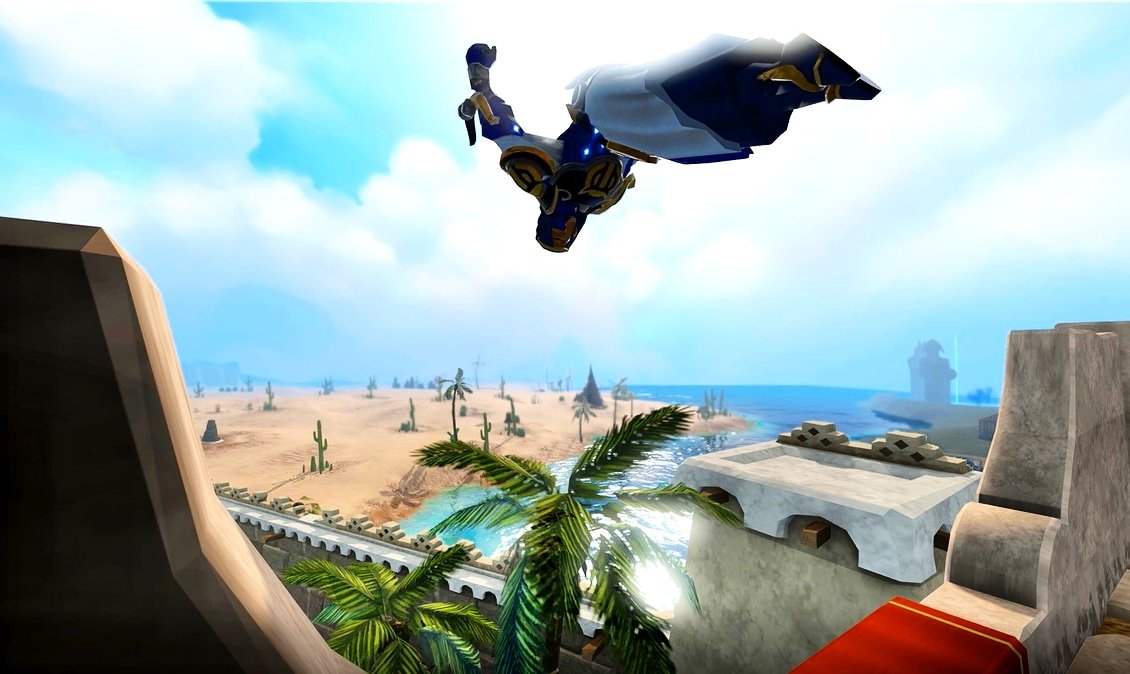 [EAGLE NOISES INTENSIFY]
Toees' had to be pretty agile to grab this action shot, but it all paid off, because we think it's fantastic! Now, if you'll excuse us, we have a haystack to dive into.
Mod JD's Challenge: The Cook's Assistant
During last month's Pub Quiz, Mod JD challenged all-star chef The Cooks Assistant to whip up some Gielinorian grub using a very specific shopping list. We're happy to announce that he met the challenge with great gusto, and created something truly tasty! Watch the video to see the results for yourself:
Community Corner
Featured Forum Thread
This week's Featured Forum Thread is a place where Clan Leaders can hang out together and talk everything, um, Clan Leadership. If that's you, why not fill out the application and make some new friends? And if it's not you, maybe now's the time to grab a few mates and start the Clan you've always dreamed of…
Visit the Clan Leader Forum Access thread today!
Pink Skirts Event
Speaking of friends, our friends the Pink Skirts are at it again this week with a Commander Zilyana Hardmode Boss Mass! Meet leaders M e r c y and Dung Titan in the Saradomin God Wars Dungeon Area on World 35 this Saturday, September 26th, at 13:00 Game Time to get in on the action.
For more information, add Dung Titan to your Friends' Chat or check out the full details here.
---
- The RuneScape Team