Well well well, what have we here? A fresh new newspost format, combining News, Patch Notes, and Community Notices all in one place! To switch between sections, just click the relevant tabs.
Like it? Hate it? Either way, you can leave your feedback on the new format – and any other item in this week's update – using the 'Discuss' button at the bottom of this page.
Ninja Strike 8 – Recon PAG
The Ninja Team has been busy getting to work the findings of the first ever Player Advocacy Group.
But what is a Player Advocacy Group you ask? Simply put, it's an initiative that brings another added layer of player voice into Runescape's development.
PAGs offer the chance for our team to work extremely closely with a group of player experts embedded in the development process for a limited time, harnessing their expertise to inform designs or decisions. Every PAG has a player Champion leading it and a public Charter that outlines the particular focus area for the group. The Champion's role is to keep the playerbase informed and ensure the team has the right dynamics to effectively represent the full spectrum of player voices.
Working together this unstoppable team of players and Ninjas has improved clue scrolls, vanished familiars and even taken a break to reset some adrenaline cooldowns. But before all that, let's learn some more about their mysterious allies, the Player Advocacy Group.
Meet the Player Advocacy Group
Player Advocacy Groups are our way of ensuring that your voices are heard by the various development teams here at Jagex. Typically, they'll focus on particular areas of the game, and we'll look for expert players in that field to form the team.
We decided that our first-ever PAG should work alongside the Ninjas to identify challenges all across the game – so we needed players that knew everything about the world of RuneScape. Here they are again, in case you've forgotten:
The RS Guy (PAG Champion)
Clan leader, top 1000 ranked Hardcore Ironman, two-times Golden Gnome Award winner in the Best Streamer category… The RS Guy has many accolades, and the latest one is 'Head of the first-ever RuneScape PAG'.
Night Eyes
An 11-Year RuneScape Veteran, Night Eyes is the owner of the Rockman Discord, which focuses on learning the Vorago boss fight. A multi-world record holder (0.6 seconds trio Astellarn, 58 seconds trio Ambassador), Night Eyes' knowledge of the combat system is among the best in the game.
Shadofox / Shadokat
If you've used a calculator on the RuneScape Wiki, then you're already familiar with Shadofox's work. His knowledge of the Invention skill is second to none, and his Wiki contributions are read by thousands of players every single day.
MrDumbledore
With over 9,000 Clue Scrolls completed, this 15-year RuneScape veteran served as the resident clue expert on the PAG team. MrDumbledore holds the record for fastest un-boosted Elite Clue solve (1:17) and is the owner of the biggest Treasure Trails clan in Runescape, the Clue Chasers.
Lars deLux
An achievement hunter from the very beginning, Lars obtained the Max and Completionist Capes in 2011 and acquired Trimmed in 2014.
Lars holds a leadership position in both the Achievement Help and EDTeams communities. Having achieved max RuneScore on several occasions, Lars has completed almost every achievement in the game and brought a wealth of knowledge to the team.
Rrman
Rrman is one of the oldest and most respected Ironmen in the game. He made his account on the very same day Ironman mode launched and has been near the top of the pack ever since. He had a top 50 ranked Hardcore Ironman until January 2016 and was the 24th Ironman to achieve the Trimmed Completionist Cape. Presently, he is in the top 100 on the Ironman HiScores, and in the top 5 for RuneScore.
Lwut
When it comes to Skilling and Achievements, Lwut knows his stuff. A 13-year RuneScape veteran, he has achieved the Final Boss and Master of All titles, as well as the Trimmed Completionist Cape and Master Quest Cape. He has completed every skill in the game to 200million experience and is rank 93 on the overall hiscores.
Hoobs and Wh
Hoobs and Wh are co-owners of the incredible PvM Encyclopedia, a community with over 14,000 members that strives to provide up to date, accessible PvM information to all players. These two are expert PvMers and provided critical insight into that aspect of the game.
Interested in the PAG process? Have a read through the introductory Player Advocacy Group blog.
Now that your memory's been refreshed, let's take a look at how the Ninja Team dealt with the first major challenge the PAG presented:
More Meerkat Scrolls
Fetch Casket scrolls are an invaluable item for clue hunters, but they're not readily available. This update sought to change that by providing a new source of scrolls: meerkat pouches. From now on, one meerkat pouch can be exchanged for ten Fetch Casket scrolls at any Summoning obelisk. Simples!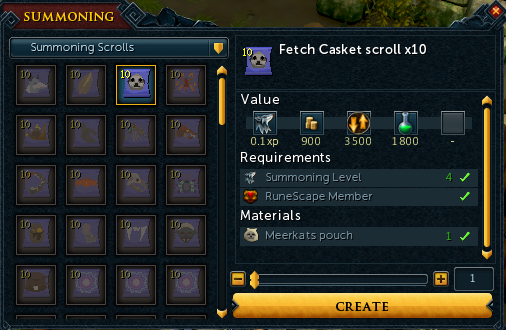 Warpriest Armour Drop Rate
Players who participated in the first two World Events were rewarded with an increased drop rate for Warpriest Armour set pieces. Unfortunately, this meant that players who weren't able to take part are now at a disadvantage.
So from now on, Warpriest Armour will drop at the same boosted rate for everybody.
Hidden Familiars
Previously, summoned familiars would have to be dismissed in certain areas of the game. In practice, this meant that players would have to re-summon their familiars quite often, costing them time and resources.
We've already introduced an update where familiars and pets will hide themselves upon entering Lumbridge Market, without having to be dismissed. After this week, five more restricted areas will have this functionality. In the Falador Party Room and the Runespan, you'll still be able to see your familiars, but they'll disappear for everyone else.
Adrenaline Cooldown Reset
Isn't it annoying to have to wait for your Adrenaline cooldown to tick over in the middle of a battle? Well, not anymore, because from now on you'll be able to unlock the ability to reset your cooldown from War's Retreat.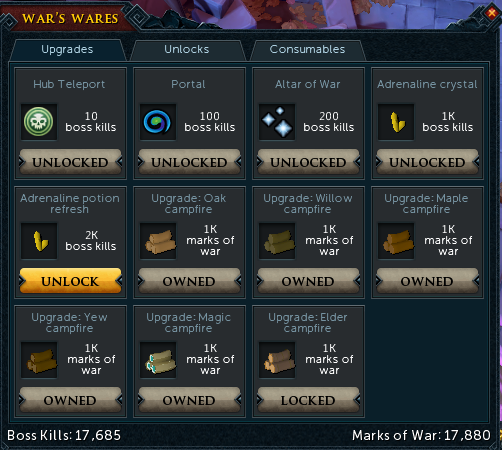 And More!
Of course, there's more to come from the PAG yet, and the Ninjas are not the sort to sit idly around – they hunger for adventure and are always seeking out the next challenge.
So you won't have to wait long to see their next move – there's a special surprise update waiting for you all at the end of 'Desperate Measures', which goes live on July 27th.
Until then, why not submit your own challenges for the Ninjas? You can find their Dojo here.
Strike Notes
As always, the Ninjas have gone above and beyond the boundaries of the PAG challenges, and have made the following changes to relevant areas of the game:
Pets and Familiars
Familiars and pets can now be brought into the lobby of the Mage Training Arena, the Dorgesh-Kaan Agility course, the Hefin Agility course, the Falador Party Room, and the Runespan.
In the Falador Party Room and the Runespan, the pet or familiar will only be visible to the player.
Adrenaline
The Powerburst of Overkill is no longer a powerburst, but an 'Adrenaline Renewal' potion.
A powerburst vial is no longer required to create this potion, but all other ingredients and recipe improvements remain.
The Adrenaline Renewal potion can also be turned into six-dose flasks.
From now on, drinking an Adrenaline potion will only trigger the Adrenaline cooldown, not the Powerburst cooldown.
You can now unlock the ability to clear your Adrenaline Cooldowns from War's Retreat.
The Adrenaline Cooldown is reset once the player uses any of the adrenaline crystals next to the portals in War's Retreat.
This will work even if you're already at 100% Adrenaline.
This unlock is purchased from War's Wares and requires 2,000 boss kills.
Clues
The Globetrotter Shorts will now 'Signal Uri' instead of performing an emote, which will speed up clues where players are in combat.
The item description, shop description, and options have been changed to reflect this.
Meerkat pouches can now be converted into Fetch Casket scrolls at a Summoning obelisk.
This requires level 4 Summoning, and will create 10 scrolls per pouch.
General
All players will now receive the boosted Warpriest Armour drop rate buff previously granted from the first two World Events.
The Max Guild garden portals now have a 'do not ask me again' option when tuning them to a new location.
The 'Grace Period' tab in the Achievements interface now has separate categories for Completionist, Trimmed Completionist, and Master Quest Capes.
Hardcore Ironman Changes
Upon a final death with no remaining lives, Hardcore Ironman accounts will automatically be downgraded to Ironman accounts, rather than being permanently locked. This will happen regardless of whether the account owns additional life items, such as the Jar of Divine Light.
Twitch Prime
You've got less than 48 hours to grab your free Premium Currency Pack!
As of Tuesday July 14th, you'll be able to claim four free Umbral Chests when you link your account with Twitch Prime. Every single one contains a guaranteed super-rare prize or better.
Follow the instructions here to link your RuneScape and Twitch Prime accounts. Don't miss out!
Welcome to the Patch Notes tab! Along with this week's Ninja Strike, we've got changes and fixes to the Duel Arena scoreboard, Hardcore Ironman accounts, and various tutorials. Let's have a look!
Improvements
As mentioned in the previous tab, Hardcore Ironman accounts will automatically be downgraded to Ironman accounts upon death. This will happen regardless of whether the account owns additional life items, such as the Jar of Divine Light.
The game will now recognise that your pet is summoned when you change its tier.
The Accept button in the Pets Customisation panel will now update the pet's appearance instantly.
Updated numerous log in error messages to reference the game client rather than a web page.
Telos' lesser anima bomb attack will no longer continue to damage players at the start of Phase 5.
The message informing you of an empty Charge Pack will now only appear if the player uses an augmented pickaxe with no Invention charges.
Updated the warning message for uncharged augmented items that do not use the Universal Charge Pack.
You will now receive a golden Castle Wars ticket during the Wanted! Quest, which can be added to your currency pouch.
The 'Polishing' perk can now upgrade sea salt to alaea sea salt.
Removed a trigger for the quick-chat tutorial on mobile.
It is now possible to access the Wise Old Man's Archaeology Collection even while he's gallivanting about in various quests.
All scrimshaw buffs now list the effects.
Auras that reset daily or weekly will no longer be affected by the Totem of Auras.
Fixes
Hotfix: Using Costume-skipping tickets while doing Master clues with the globetrotter shorts will no longer consume extra tickets.
'Destroy' and 'Assault' Strength skills now use their correct animations while following up the 'Greater Barge' Attack skill.
Make-x interfaces now correctly navigate to the highest craftable tier of item in the corresponding skill.
Daily challenges that have been generated while on a free-to-play world will now give the correct XP if they are completed on a members' world.
Players who have left Tutorial Island can no longer have the Tutorial Island path active.
Fixed an issue that blocked keyboard inputs if the player closed the Bug Report system by opening a Bank.
The Duel Arena scoreboard will no longer display errors when players have long account names and high combat levels.
The bronze off-hand battleaxe will no longer stretch while using the rope during 'Stolen Hearts'.
Harvesting a single Farming patch will no longer produce the message "The patch bomb has no effect on produce in this state."
You will no longer automatically open a reward casket after digging it up during an Elite Treasure Trail in the Lumbridge Swamp.
The 'Wushanko: The Arc' achievement no longer requires the following for completion:
Arc - Ancient Eastern Tortle Portals
Arc – Flippers
Arc – Rewards
Arc - Upgrading All of the Waiko
Arc - Unlocking More Waiko
The Edit Crew button in Player Owned Ports can no longer be used while the ship is on a voyage.
The message "You don't have enough Inventory space to do that" will no longer appear while making flatpacks that take two planks.
The Player Owned Farm Breeding Rabbits tutorial can now actually be completed.
The Auto Setup option will now appear in the Lobby before starting the game.
Fixed an issue which caused the first and second Recommended Challenges to switch links.
The Achievement subcategory is now displayed correctly.
Fixed an issue where it was impossible to use the War's Retreat teleport at 60 Combat or above on members' worlds.
Fixed an issue where the Treasure Hunter window would not load correctly in a small sized game window.
Using the Dungeon Home Teleport will no longer silence the music.
Fixed an issue where the red dragons in Elite Dungeons 2 were able to attack through barriers under certain circumstances.
Fixed an issue which prevented a cutscene in 'Desperate Times' from ending.
Fixed an issue which prevented subtitles from being displayed in the first cutscene of 'Desperate Times'.
Welcome to the Community tab! Here's where we'll highlight all the hip-and-happening stuff going on in the RuneScape community this week. From livestreams, to forum threads, to Instagram filters - this section's got it all!
J-Mod Livestreams
Tuesday July 14th | 16.00 Game Time | Quest Drawing with Mod NicePants
Take a peek behind the curtain with Mod NicePants, who'll be drawing some scenes from our newest quest, Desperate Measures. No spoilers please!
Thursday July 16th | 16.00 Game Time | Stutorial #8 with Mod Stu & Mod Poerkie
They're back at it again! Join Mods Stu and Poerkie on a nostalgic tour through RuneScape's various tutorials, complete with heartwarming tales of development cycles gone by.
Featured Streamer
This week's featured streamer is Tonix, who is hosting a very special birthday stream! Grab some confetti and join in the fun on Friday July 17th at 15:00 Game Time.
Catch all the action on their channel!
RuneScape on TikTok
Watch out Gen Z – RuneScape is coming to TikTok! We've got a hefty bank of memes to show off, so if you too are 'down with the kids' then you'd better beat feet to our profile and sling us a follow, daddy-o.
Instagram AR Filters
You're too old for TikTok too, huh? Not a problem, because we've also brought out two new AR filters for our Instagram fans. Don your favourite colour Party Hat or transform into the Wise Old Man. The choice is yours!
Forum Spotlight
This week Mod Kari needs YOU to help select the Forum Spotlights of the Future!
Add your favourite recent threads to this discussion and you might just see them in a future newspost.
Video of the Week
Hello, new section! In 'Video of the Week', we'll be spotlighting our favourite video from… well, the week. You get the gist.
This week we're throwing back to this hilarious, yet informative video from RSCC Interviews, who asks: "Does Telos at 4k Enrage do 40x the damage of 0%?"
Let's go send this channel some love!
Pink Skirts Event
This week's Pink Skirts Event is Minigame Sunday, where Umami, Ideal Gamer, and the Norge clan will be leading the foray into Stealing Creation. If you're ready to get your hands dirty, then join them in the Gamers' Grotto on World 45 this Sunday July 19th from 18:00 to 19:00 Game Time.
For more information, add Doctor Brian to your Friends' Chat, or check out the full details here.
---
- The RuneScape Team