Love is in the air this week with the introduction of a permanent Valentine's Day-themed quest featuring the dashing duo, Caelyn and Annette! In other news, the Ninjas have been teleporting all over the place, there's some new Prime Gaming goodies for you to scoop up, and there's an adorable new social competition in the Community tab. Onwards!
Ninja Strike 19: Fairy Rings
Watch out, enemies of smooth gameplay - the Ninjas have pulled off back-to-back strikes! This week they've turned their attention to Fairy Rings and other forms of teleportation.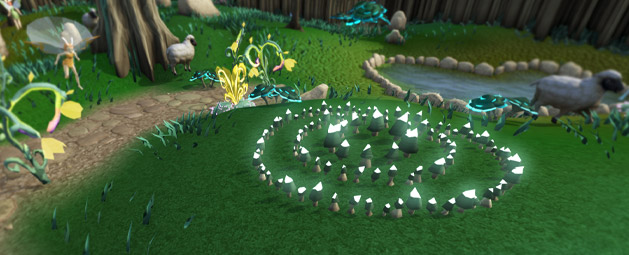 First up, they've updated the Fairy Ring interface so that it's quicker and smoother to use. You'll notice that there's more favourites listed, to help you find your top destinations quickly, and there's all kinds of new ways to sort your Travel Log. You'll also see that the letters on the mushrooms are now the correct way up, even when rotated - which should make it a lot easier to select the location you want!
On that note, take a look below the mushrooms. From today's update, you'll see the name of your destination here (provided you've already used the network to travel there at least once).
There's also a host of other teleportation improvements for things like the Big Book O' Piracy, the Enchanted Lyre, and more! To see everything the Ninjas have been up to this week, be sure to check out the Patch Notes tab.
New Quest: Heartstealer
Er, nobody tell Annette, but it looks like Caelyn's gone and forgotten to get her an anniversary gift! Luckily, our favourite thief has a plan - she needs you to help her infiltrate a fancy gala at the Varrock Museum and, ahem, 'appropriate' a massive heart-shaped ruby from right under everyone's noses. What could go wrong?
And like all lovely things, Heartstealer isn't just for Valentine's Day - this quest will be available to play forever, all throughout the year.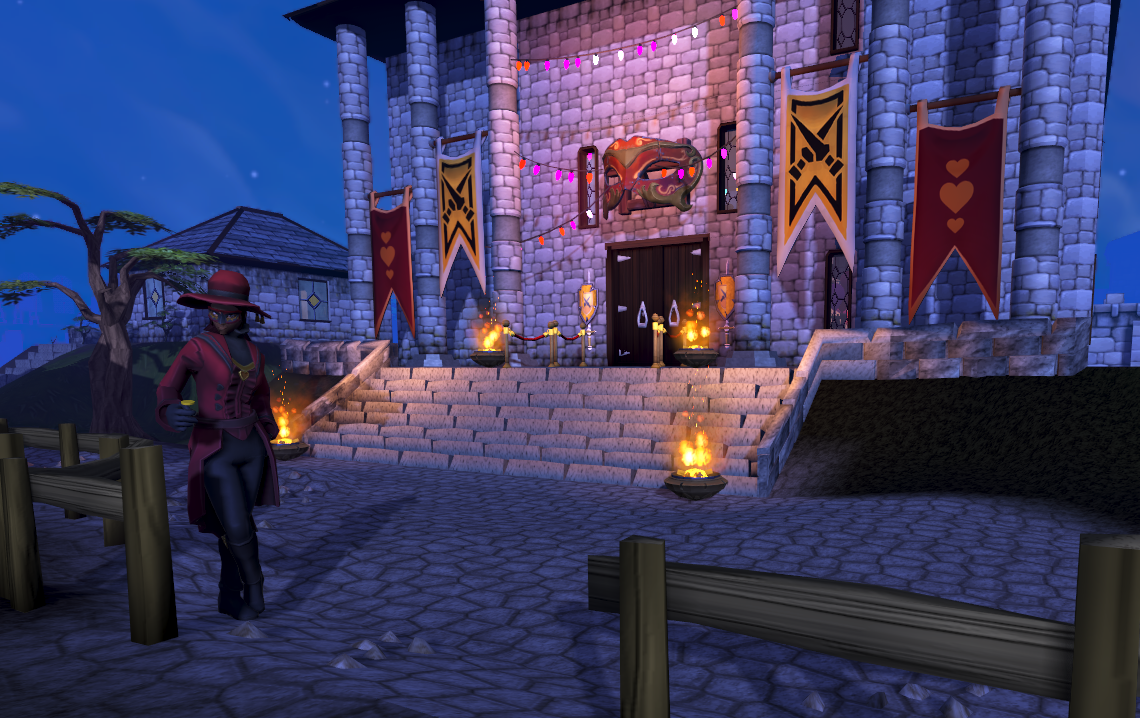 Getting Started
Speak to Caelyn upstairs in the warehouse building north of the Edgeville bank.
Requirements
This quest is free-to-play. There are no prerequisites - you can hop right in!
Rewards include the 'Heartstealer' title and a set of stylish new duds that are perfect for your phantom thief shenanigans.
If you have at least level 20 Thieving you'll also be able to claim a Thieving XP lamp from Caelyn after the quest.
Double XP LIVE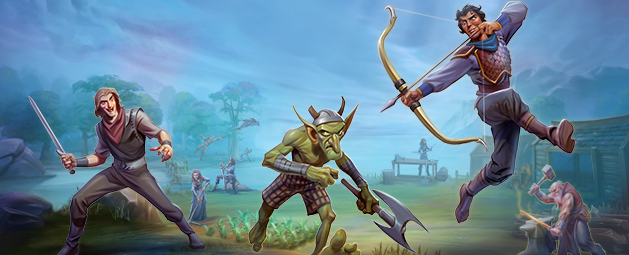 Don't forget, Double XP LIVE is coming on February 19th! For 10 days, you'll have 48 hours of Double XP time to spend however you wish, whether that's getting your hands dirty with Archaeology, becoming a master Slayer, or mixing it up with some Herblore. It's all up to you!
Be sure to check out the Double XP LIVE page for all the details.
Prime Gaming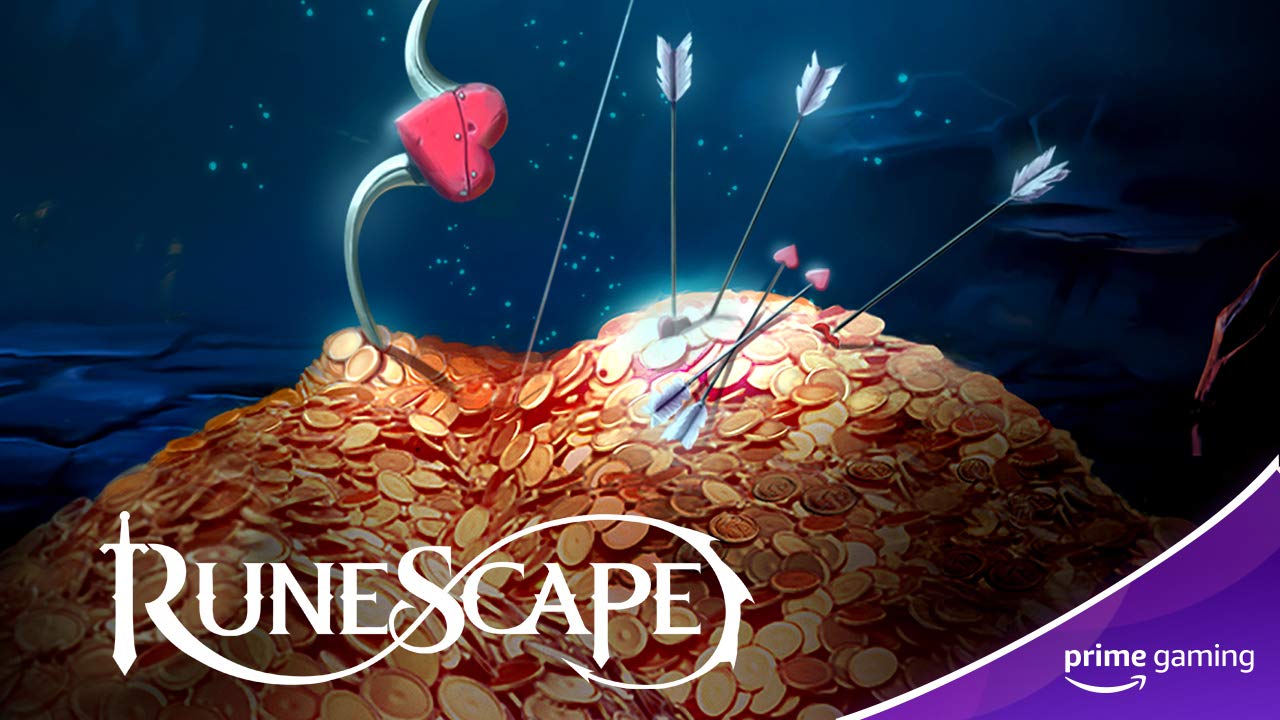 Have you picked up this month's Prime Gaming drop yet? You can get yourself a Currency Pack containing 200 RuneCoins and 35 Keys, plus the Bow, Sword and Staff D'Amour cosmetic overrides. Lovely!
To claim your rewards, follow the instructions on this page.
Ninja Strike Notes
Fairy Rings
The Fairy Rings interface has been updated with new graphics, a smoother experience and a quicker dialling of codes.

The letters on mushrooms will now stay upright while the mushrooms rotate, for better readability.

Dialling codes now display the location underneath, provided it has already been discovered.
Players can now better sort the codes in the Travel Log.

Alphabetically by code.
Numerically by favourited codes, with the rest alphabetical by code.
Alphabetically by location.

Favourited codes now have an assigned number and players can now favourite two more locations.

The numbers are not shown on mobile.

The interface now displays how many codes you have discovered.
Big Book O' Piracy
The Big Book o' Piracy has new charge caps. These are:

10 charges on completion of the Pieces of Hate quest.
20 charges as a reward from the hard Morytania Achievements.
60 charges as a reward from the elite Morytania Achievements.

Drinking Braindeath Rum with the book in your backpack, or using the rum on the book will charge it to its maximum charge cap.
Enchanted Lyre
The Enchanted Lyre can now have a maximum of 60 charges, upped from the previous 6.
The charge obtained per fish has also been increased:

Bass and sharks give 20 charges.
Manta rays give 30 charges.
Sea turtles give 40 charges.

Remotely charging the Enchanted Lyre with the Fremennik Sea Boots now gives 10, 20, and 30 charges for the fish above.
Completing the easy Fremennik Achievements will cause fish to give an extra 20 charges.
Lyres can now be charged at any point rather than only at 0 charges.
You can now change the teleport destination from an option on the Lyre itself, instead of having to visit Olaf the Bard.
The 'Check Teleport' option now shows the amount of charges remaining alongside the chosen teleport location.
A new option has been added to the Strange Altar to automatically use any relevant items to charge Lyres in the player's Backpack.
Morytania Legs
The Morytania Legs have new charge caps for the Slime Pit teleport. These are:

5 charges as a reward from the medium Morytania Achievements
10 charges as a reward from the hard Morytania Achievements.
20 charges as a reward from the elite Morytania Achievements.

The charges remaining are now shown as a tooltip.
The number of charges remaining will also appear as a message when using the Legs to teleport.
Sceptre of the Gods
The Sceptre of the Gods has new charge caps. These are:

10 charges on the base item.
20 charges as a reward from the medium Desert Achievements.
60 charges as a reward from the hard Desert Achievements.

The sceptre can now be charged at any point rather than only at 0 charges.
With the above change, the charge value of Pyramid Plunder items has been adjusted:

Jewelled diamond items give 10 charges.
Jewelled gold items give 6 charges.
Gold items give 1 charge.
Stone items give 0.5 charges each, so two are required for 1 charge.

Charges will never be wasted when recharging, and jewelled diamond items can still be used on the sceptre at any point.
The sceptre will now give a warning when you're low on charges.
Various messaging surrounding the Sceptre has been changed to info-boxes for better visibility.
Removed hyphens on various options for the Mummy NPC in Pyramid Plunder and the Sceptre.
Varrock Armour
The teleport to Bork's Lair is now unlimited.
A 'Do not ask again' option has been added for any teleports after the first on any given day.
Ninja'versary
Fixes
(Hotfix) Fixed a bug where the Yanille Pet Shop incubator would not give players a god bird pet if they already owned one, no matter what kind.
A sneaky set of deadly weapons from the Tortle Combat miniquest somehow made their way to the Grand Exchange. The Ninjas have now removed this listing and are pointing fingers at their pet chinchompa for this incident.
Rabbits that have only just become adults can now be fed dense honeycomb for the Tortle Combat miniquest.
Quest Achievements
Improvements
The quest system is no longer dependent on the old Achievement system. If you are currently tracking a quest or a removed path, invalid IDs will be cleared from the Activity Tracker the next time you log in.
Quest Achievements and paths consisting of quests have been temporarily removed from Achievement Paths. They will be restored when the path system can be rewritten to work with the new Achievement system.
For more information on these changes, read Mod Stu's Reddit post.
Other
Improvements
The Vault of Shadows miniquest difficulty has changed from novice to experienced.
Elen in Prifddinas has finally achieved 99 Archaeology and now has her Max Cape back.
Max no longer thinks he doesn't have 99 Archaeology.
Texture sizes around The Ranch Out of Time have been reduced to help with crashing issues.
Descriptions for the Coronets of Spring, Summer, Autumn and Winter have been updated.
Tooltips for Dwarven tools now show which mode they are currently in.
Players on the Tutorial path will no longer receive certain in-game message notifications.
Fixes
(Hotfixed)Ironman players can no longer convert any of the weapons bought from the Oddments Store above Tier 1 stats. Any higher-tiered variants will be automatically converted back To Tier 1.
The Support Cape will now show the right-click options for the Dungeoneering and Slayer perks when the player has logged out and back in again.
The first hit of the 'Destroy' ability will no longer be delayed after converting it to a damage-over-time (such as by using the 'Mutated Barge' ability).
Solak should no longer randomly choose new targets during the encounter.
Player movement will no longer be delayed when trying to move during a channelled combat ability.
Crafting a Prayer Renewal potion will no longer claim you've made a Summoning Renewal.
The track 'Yakamaru II' will now unlock correctly.
Fixed an issue with the 'Previous teleport' on the Infinity Ethereal Outfit's set bonus.
Completing Desert Set Tasks now correctly triggers a broadcast.
NPC enemies will no longer show incorrect values when using the Monster Examine spell.
We have removed an issue where Beasts of Burden were displaying duplicate 'Take BoB' options.
Other Changes
The Yak Track noticeboards have been removed from the game world.
Squiggles has escaped 🐇
J-Mod Livestreams
9th February | 17:00 Game Time | Heartstealer Let's Play
Join an intrepid team of J-Mods as they play through the Heartstealer Quest live - and who knows, they might just give out some Love Letters along the way!
Creative Corner
Awesome Art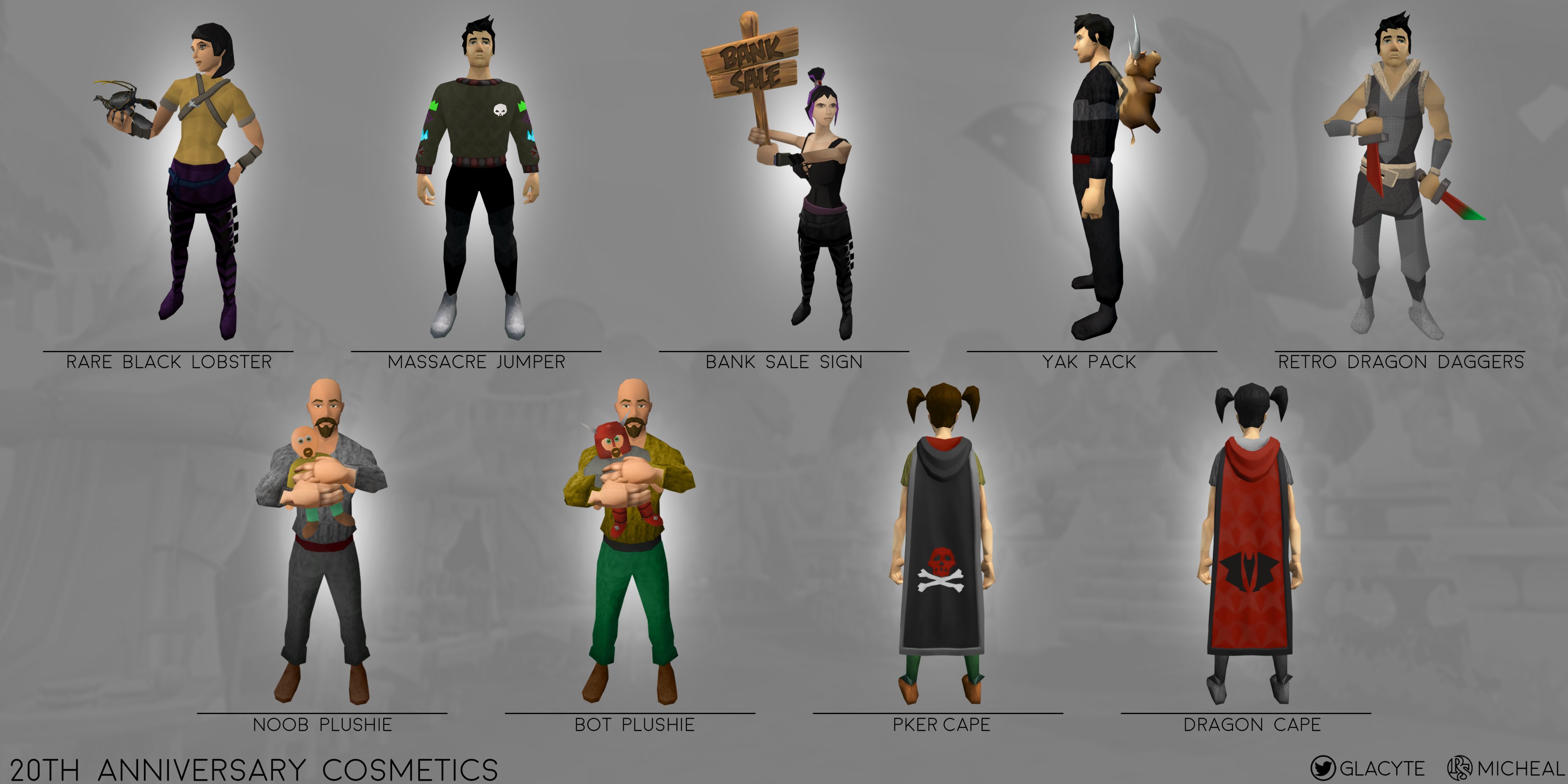 This week's featured artwork is from Glacyte, who's taken some of the most iconic parts of the game and turned them into cosmetic items! Which of these would you wear? We're rather partial to those cuddly plushies.
Scaper's Screenshots
By Johnna
By ... oh Lily | @liefje.rs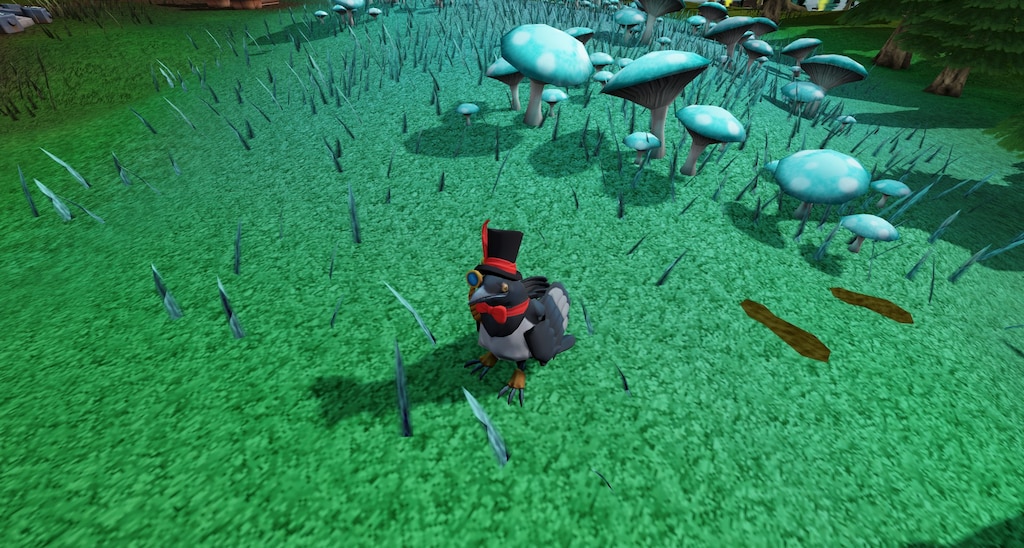 By [Real 7] Aus
Social
In the spirit of Valentine's Day we're showing some love to the ones who stick by our side through thick and thin. We're talking, of course, about our pets!
Whether our fuzzy, scaly, and downright weird companions are in-game or out, it's time to show the world how much you love 'em!
Use the #RuneScapePets hashtag to share in-game screenshots or real-life photos of your pets on socials. Bonus points if they're RuneScape themed! We'll select five furry friends as the winners, and they'll take home a big pile of juicy bones. Er, Bonds. That's the one!
TikTok
Birthdays are a time to get nostalgic - but they're also a time to embrace the new! That's why we've released the most iconic rune tunes from the past 20 years on TikTok, for you to create all the 60-second Sea Shanty memes your heart desires.
To use our sounds, just create your video, click 'Sounds' and search 'RuneScape' to see what we've got to offer.
We can't wait to see the new memes you lot come up with - and if you'd rather watch us, give us a follow for some super-fun behind the scenes content over the coming months.
Community Corner
Pink Skirts Event
This week the Pink Skirts are taking on the Exiled Kalphite Queen! Lead by your fearless leaders, M e r c y and Dung Titan, you'll be duking it out this Saturday, February 13th, from 13:00 - 14:00 Game Time at the Exiled Kalphite Lair on World 35.
Can't make it? No problem! Take a look at the rest of this week's Pink Skirts events here.
Community Shout-Out
Shout out to InstaScape, the home of the RuneScape Instagram community! This is where budding in-game photographers share their screenshots, plan events, share tips and tricks, and just hang out!
You can join the Discord using this link - happy snapping!
---
The RuneScape Team