This week you'll get the chance to play the newest miniquest in our 20th Anniversary series! In other news, it's your last chance to polish off those remaining Yak Track tasks, and we've got all the usual screenshots, livestreams, and community events for you to peruse. So let's dive right in - after all, there's no time like the present...
RS20 Miniquest Series | Once Upon A Time: Fortunes
Our 20th Anniversary miniquest series has seen you attend the party of a lifetime and take a trip back in time to save RuneScape's future - now it's time to put a stop to Relomia's mischief, in Once Upon a Time: Fortunes!
In this third instalment you'll need to recall three iconic quests from the 6th Age. Here's how to get started:
Start
Speak to Closure in their office.
Requirements
Once Upon a Time: Foreshadowing
Once Upon a Time: Flashback
Recommended
Missing, Presumed Death
Dishonour Among Thieves
Death of Chivalry
Upon completion, you'll be rewarded with a Medium XP Lamp and a cosmetic weapon override.
---
Yak Track: Yak to the Light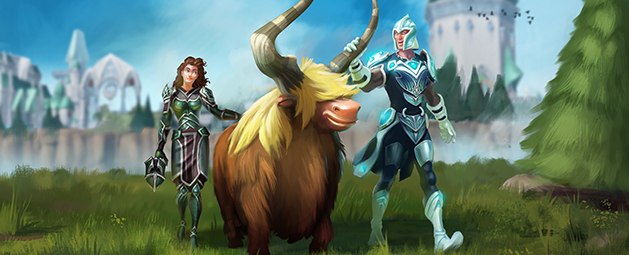 Yak to the Light ends this Sunday July 11th. You've got just under a week to wrap up those last few tasks and grab yourself those shiny Seren-themed cosmetics!
For more information, check out this newspost.
City of Senntisten
Improvements
Smoke Cloud has been added to Borrowed Power.
Fixes
Smoke cloud was over-performing for non-magic users. The debuff now has 40% effectiveness for non-Magic style damage:


Ranged/Melee:


Critical hit cap 112% -> 104.8%
Critical strike damage 15% -> 6%

Trimmed Masterwork Armour's bleed set effect will no longer be reduced by the Animate Dead spell.

Hotfixed

- Fixed an issue that would prevent players from picking up the Blood Ward after killing the blood warden in City of Senntisten.
---
Mobile
Improvements
Improved the Wiki button on the Chat Message panel to help stop users from accidentally sending their Wiki search to a chat channel.
Added the 'Online Status' filter.
Moved the chat badge options into 'Chat Customisation', accessed via Gameplay settings.
Prevented the Action Bar swap feature from interfering with the user's revolution setup on the mobile client.
Increased the size of text on 2D cutscenes. It will now also scale with screen size.
Fixes
Fixed an issue with the Common Chat settings window when using the back/close button.
Players can now reliably report offensive chat on mobile.
Fixed an issue where the Burthorpe Prayer Path was difficult to complete if activated with zero Prayer Points.
Fixed an issue with one of Mami Rimba's dialogue lines at the Player Owned Farm.
Fixed an issue which caused some mobile users to log in with a blank ribbon.
Fixed an issue with Chat boxes on mobile that could cause players to be kicked from the game.
Fixed an issue where set FPS was increased by 5 on mobile devices.
Added the 'Buy Keys' button and the 'Out of Keys' button prompts back onto the Treasure Hunter interface on iOS.
---
Legendary Pet Overrides
Fixes
Entering a Player Owned House with a Legendary Pet will no longer revert any visual overrides.

Hotfixed

- Players can no longer override Legendary Pets with other Legendary Pets.
---
Tutorial
Fixes
The Mayor of Davendale's voiceover now matches the text displayed when approaching the gates.
The text displayed during the Smithing tutorial on the Burthorpe Path is now clearer about what to do next.
---
Dark Mage Hats
Added Black and Blue Dark Mage Hats and matching Hoods.
---
Engine Changes
(Added to game 30/06/21)
Improvements
Improved graphics performance on mobile phones.
Reduced minimum supported iOS version to 13.
Reduced client freezes and stuttering in busy areas.
Improved the consistency of the auto-setup feature on mobile when selecting 'Balanced' graphical settings.
Fixes
Water reflections no longer render at 'low' quality on mobile.
Adjusted tap offset handling for iOS devices.
Fixed some rare crashes on iOS devices.
You are now able to toggle depth of field even when draw distance settings are below 'high'.
Fixed an issue with graphics setting detection on startup which could result in enabling depth of field on 'low' draw distance.
Fixed a mobile client freeze that would occur after the player interacted with the Warforge! caves.
Fixed a mobile client freeze that would occur during the escape part of the Desperate Measures quest.
Fixed a shadow issue on Qualcomm devices.
---
Other
Improvements
The magical poison effect of Emerald Bolts has been adjusted:

No longer poisons target
Now applies a single poison hit on activation
Now deals 2-4% weapon damage
Damage now scales with poison modifiers
Effect will now activate as expected

Improved messaging when attempting to perform an erroneous action with a familiar's special attack.
Fixes
The 'Date of Birth Required' interface is now presented properly and will no longer prevent players from logging out.
Wizard Myrtle will no longer appear without a chathead when discussing Curse of the Black Stone with her at Mudskipper Point.
The 'Challenge Maria' achievement will no longer unlock every time you speak to her.
Slayer Masters are now able to assign banshee tasks to players wearing the Mask of Mourning.
Various locations now remember chosen skybox overrides and will return to it when leaving the area.
Rings and amulets will no longer be mistaken for combat auras when attempting to travel to Entrana.
It is no longer possible to smuggle the Slayer Master Cape's effect across multiple Slayer tasks.
Fixed an issue with the users custom ribbon layout being removed after a world hop or a re-login, which resulted in the custom ribbon appearing blank.
The trading tutorial will no longer get stuck when attempting to buy items with a full Backpack.
Fixed an issue where certain familiars' special attacks couldn't be used via the Action Bar.
Upgrading from Silver to Gold Premier Club membership through the Marketplace will now give you the correct in-game benefits.
The Dwarven Harvester will now only consume one charge when used with a Patch Bomb or the Farming Skillcape perk.
J-Mod Livestreams
Tuesday July 6th | 16:00 Game Time | General Q&A
The Q&A is back, and we're ready to answer your questions! Got a RuneScape-related query? Then swing on by and get all the answers from the J-Mods themselves!
Wednesday July 7th | 16:00 Game Time | JvM: God Wars Dungeon
Our J-Mods continue to climb the ranks to PvM mastery this month as they take on the original God Wars Dungeon!
---
Creative Corner
Awesome Art
We're playing Where's World Guardian this week, thanks to Siroquois' action-packed City of Senntisten artwork! You'll find quite a few familiar faces here, including Killerfishy with her player gallery-winning Rex Matriarch and Prezleek struggling with some barrels. How many others can you spot?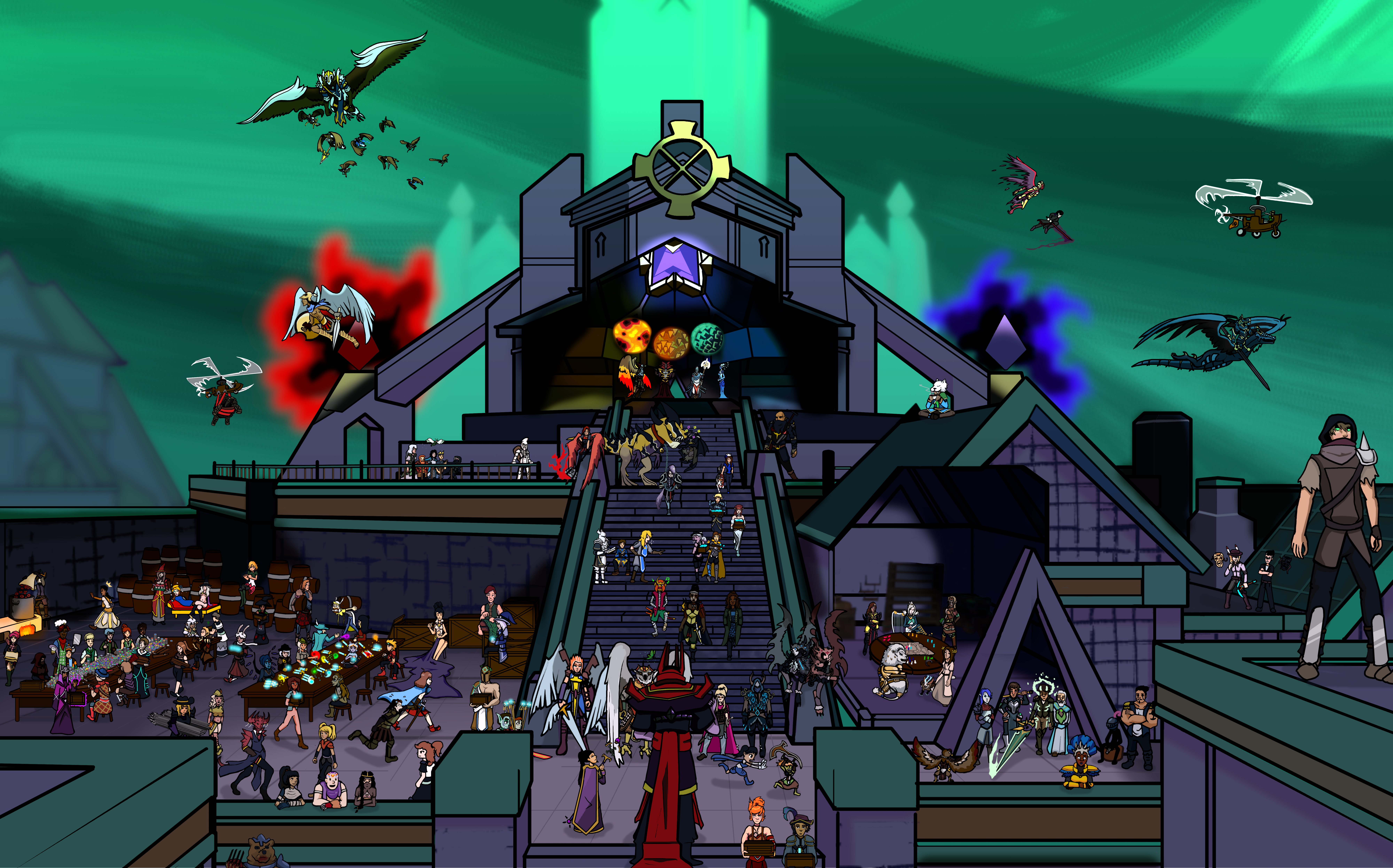 Scapers' Screenshots
Last week creators Lily and Elej held a Japanese garden party-style event for their communities. The outfits and the colours were just too good not to feature here!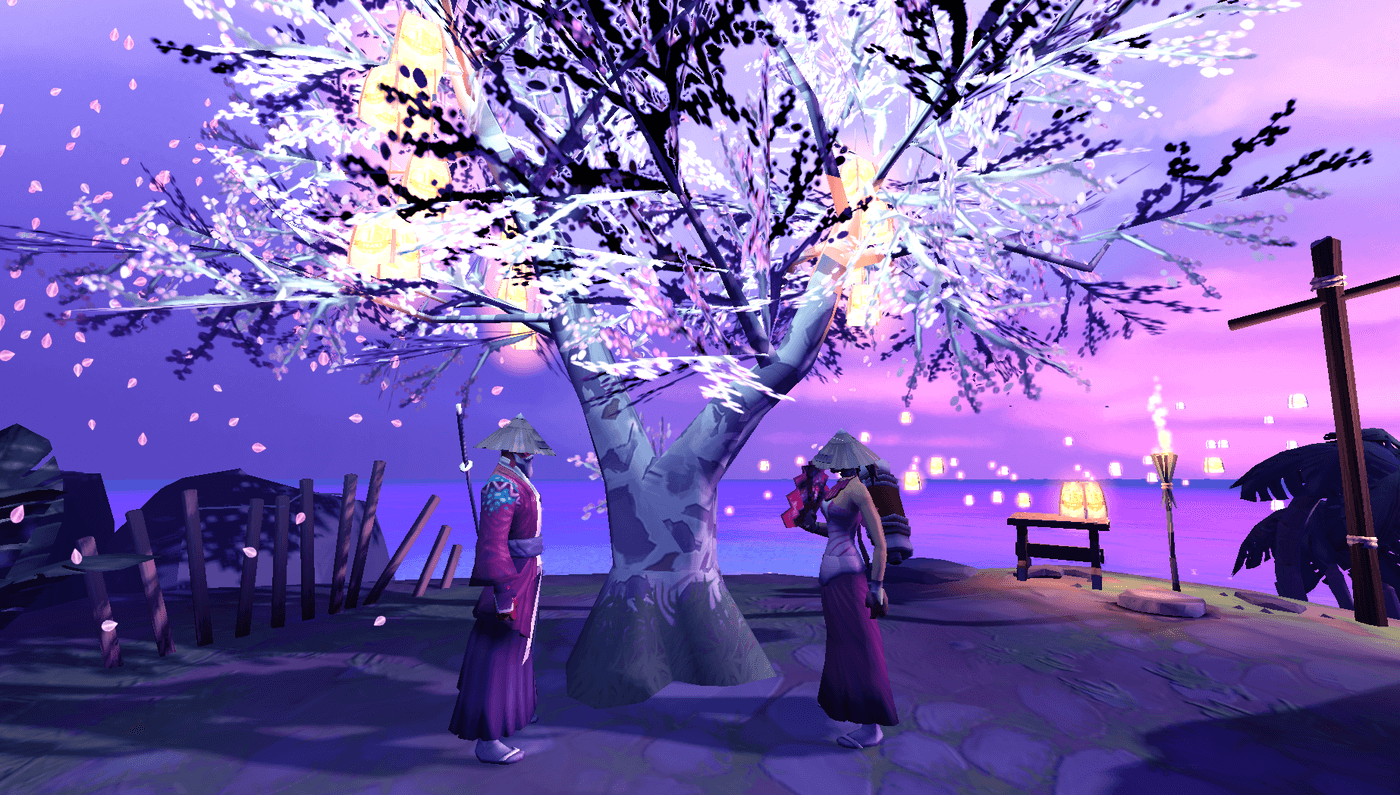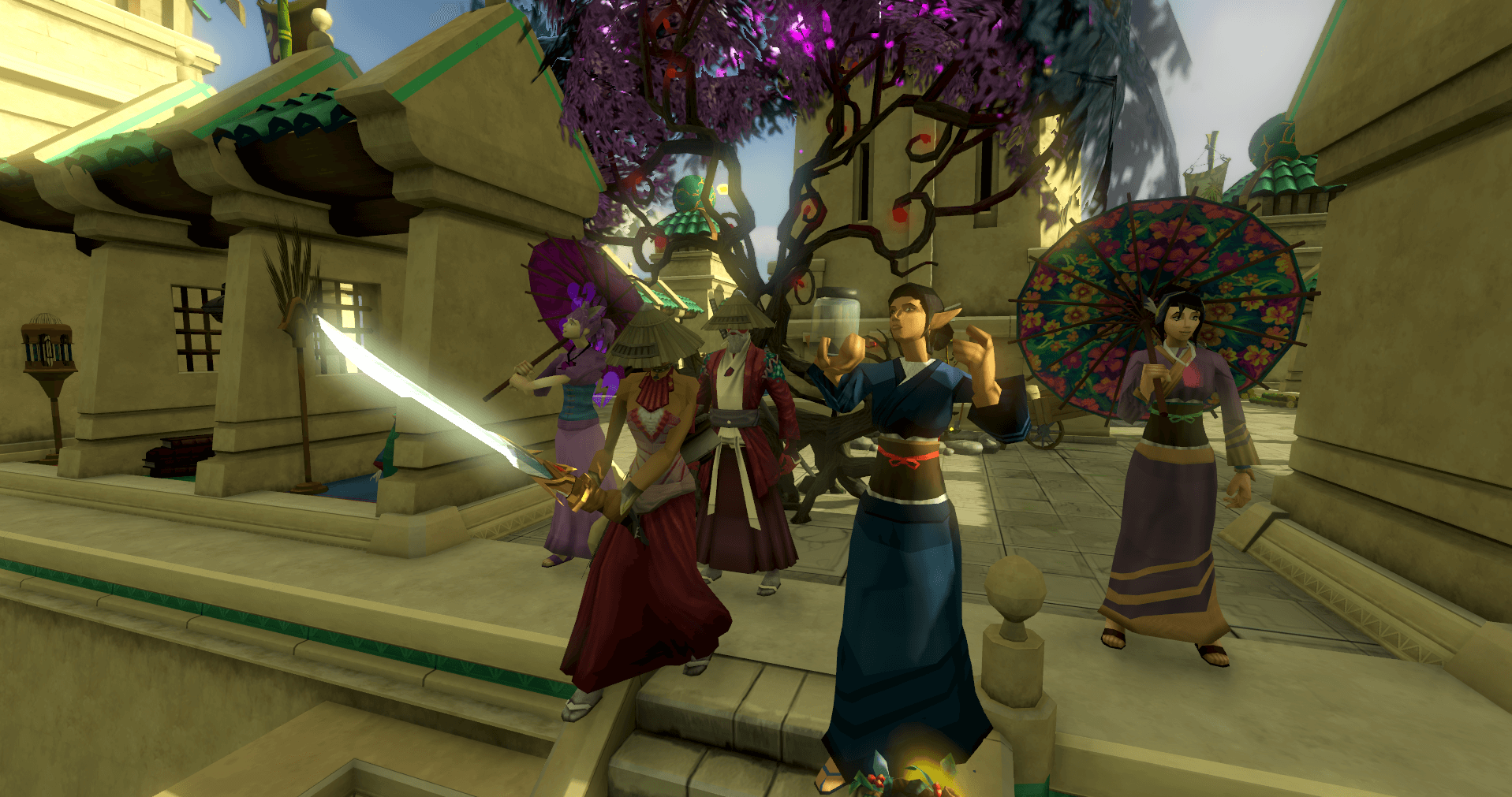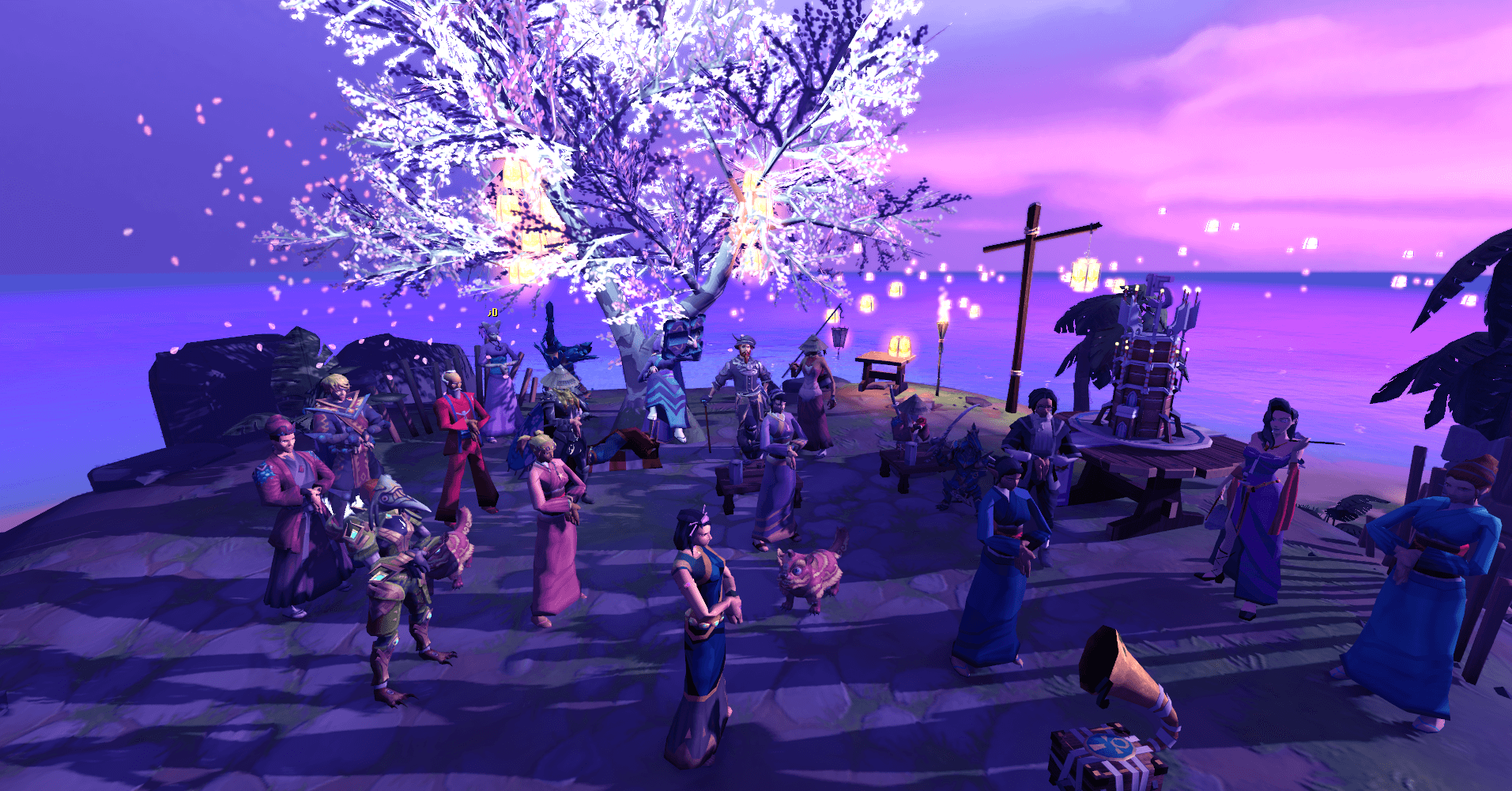 ---
Community Corner
Pink Skirts Event
In this week's Pink Skirts Event you'll be Stealing Creation with Lady Spyra, Jen, and Fast SC. Head to the Stealing Creation lobby on World 99 this Sunday July 11th, from 21:00-22:00 Game Time to join in the fun!
To see what else the Pink Skirts are up to, check out their page.
Community Shout-Out
Need a little TLC, a listening ear, or just some good company? Then make your way to SupportScape, a community full of good eggs looking to help.
---
- The RuneScape Team