This week in RuneScape, there's a brand new Yak Track to embark upon and the Ninjas have turned their attention to low-level Slayer!
Yak Track: Yak to Basics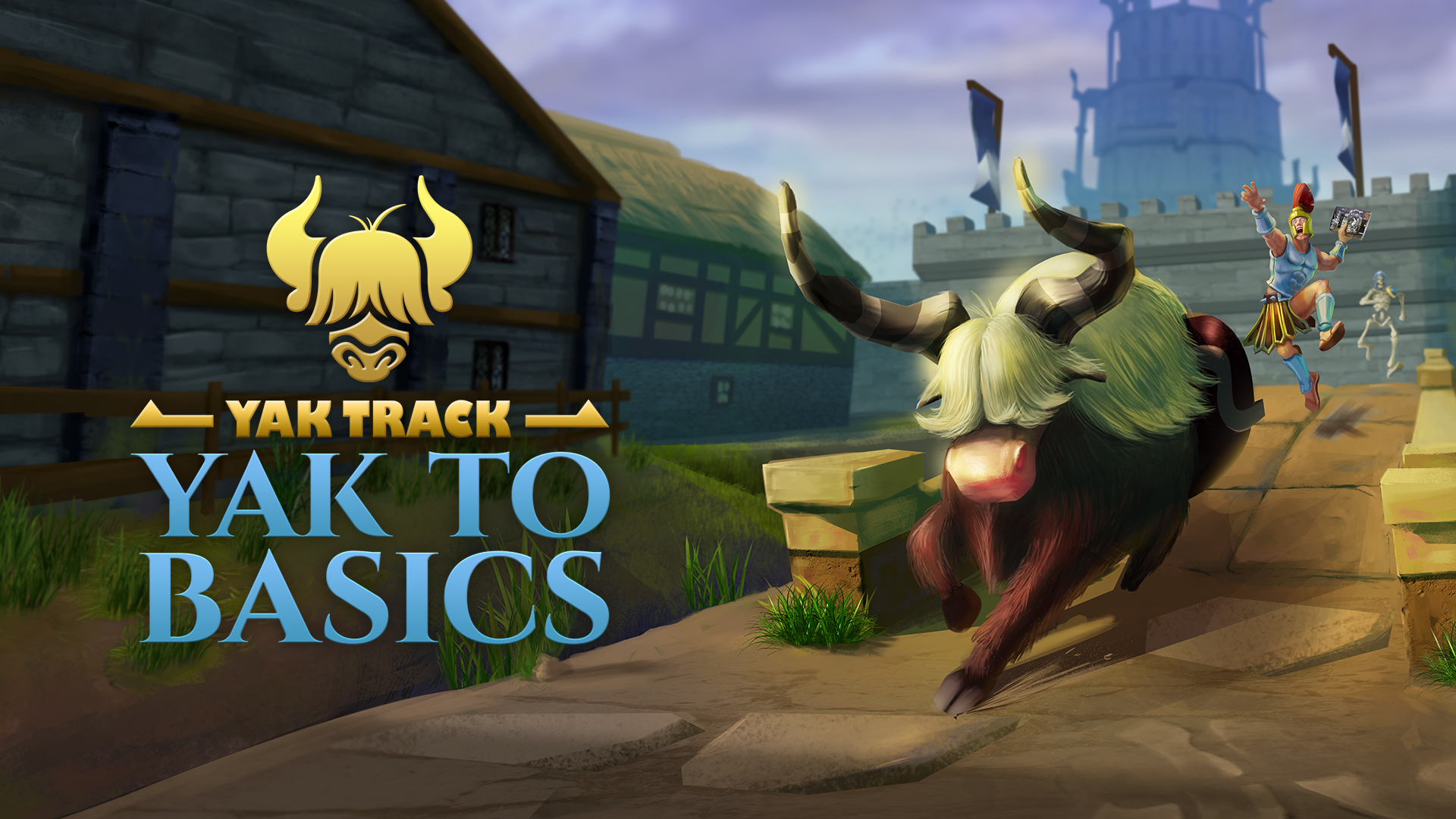 Ahh, remember those humble days when you first stepped into the world of Gielinor? Baking cakes... murdering hapless goblins en masse... desperately trying to avoid the dark wizards outside Varrock... good times, right? Makes me wish we could go back to basics - or is that 'Yak to Basics'?
Yes, a new Yak Track is here for our 20th Anniversary Celebrations, and it's filled with goodies celebrating the very best of RuneScape's early days.
We're sure you're all aware of how Yak Track works by now, but just in case, here's a reminder: you'll speak to Tim and Crunchy in Burthorpe, who need your help to check off a few odd jobs. For each task you complete, you'll receive a reward! You'll choose between two tasks at each tier, and if you don't fancy either of them you can use a Task Skip token to, well, skip it.
In addition, you'll notice that there are two tracks to follow. Everyone can play the Free Track, which is filled with exciting rewards like Pinchy, the questionably adorable giant scorpion pet, who you'll meet at Tier 30.
Click and drag to rotate the model! Additionally you can scroll to zoom!
However, there are even cooler rewards on the Premium Track, which contains such delights as the Tower Archmage Outfit at Tier 35.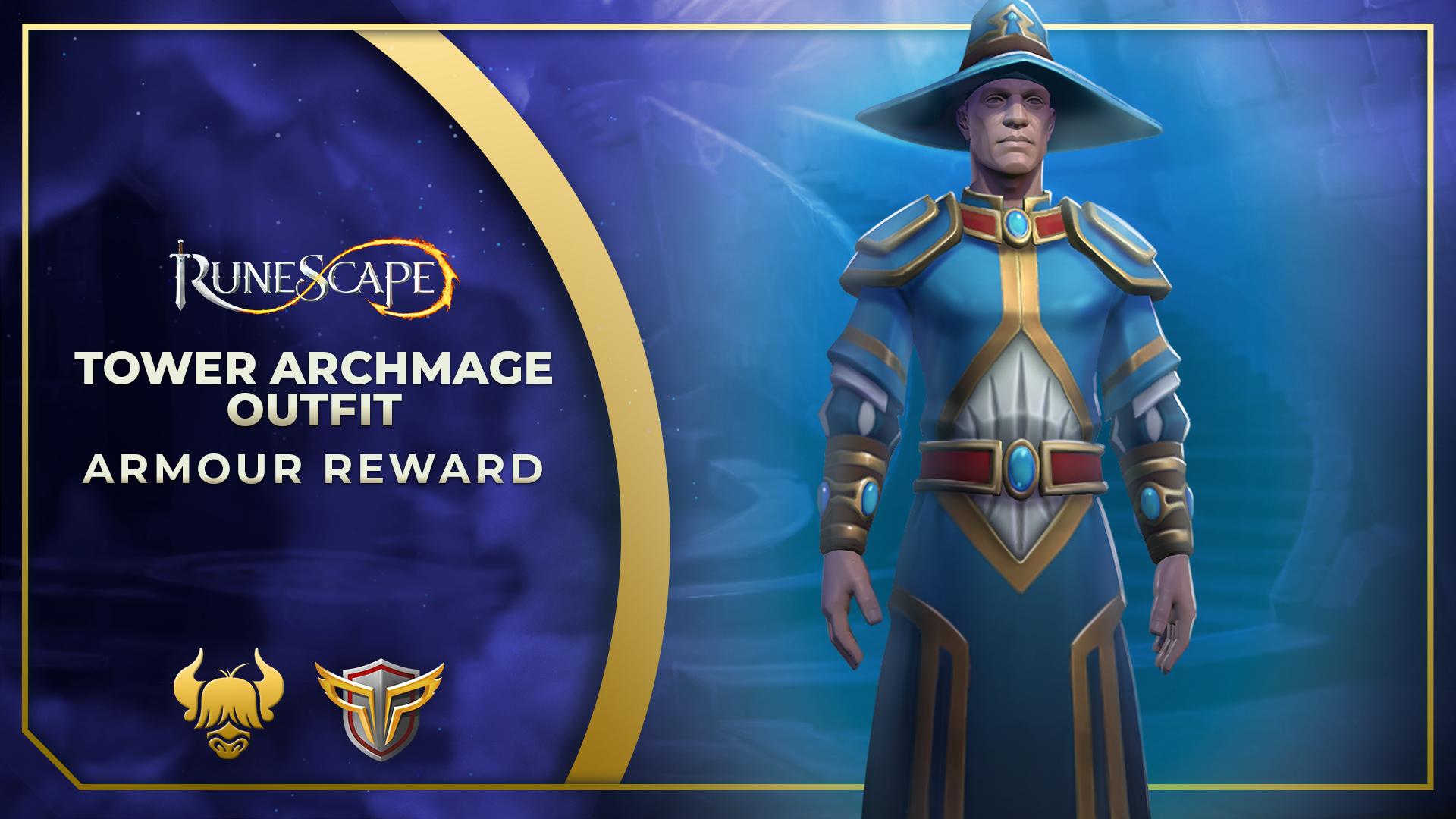 Make it all the way to Tier 50 on the Premium Track, and you'll get your very own Crunchy pet and a Tim Costume to match! Now that's what we call iconic.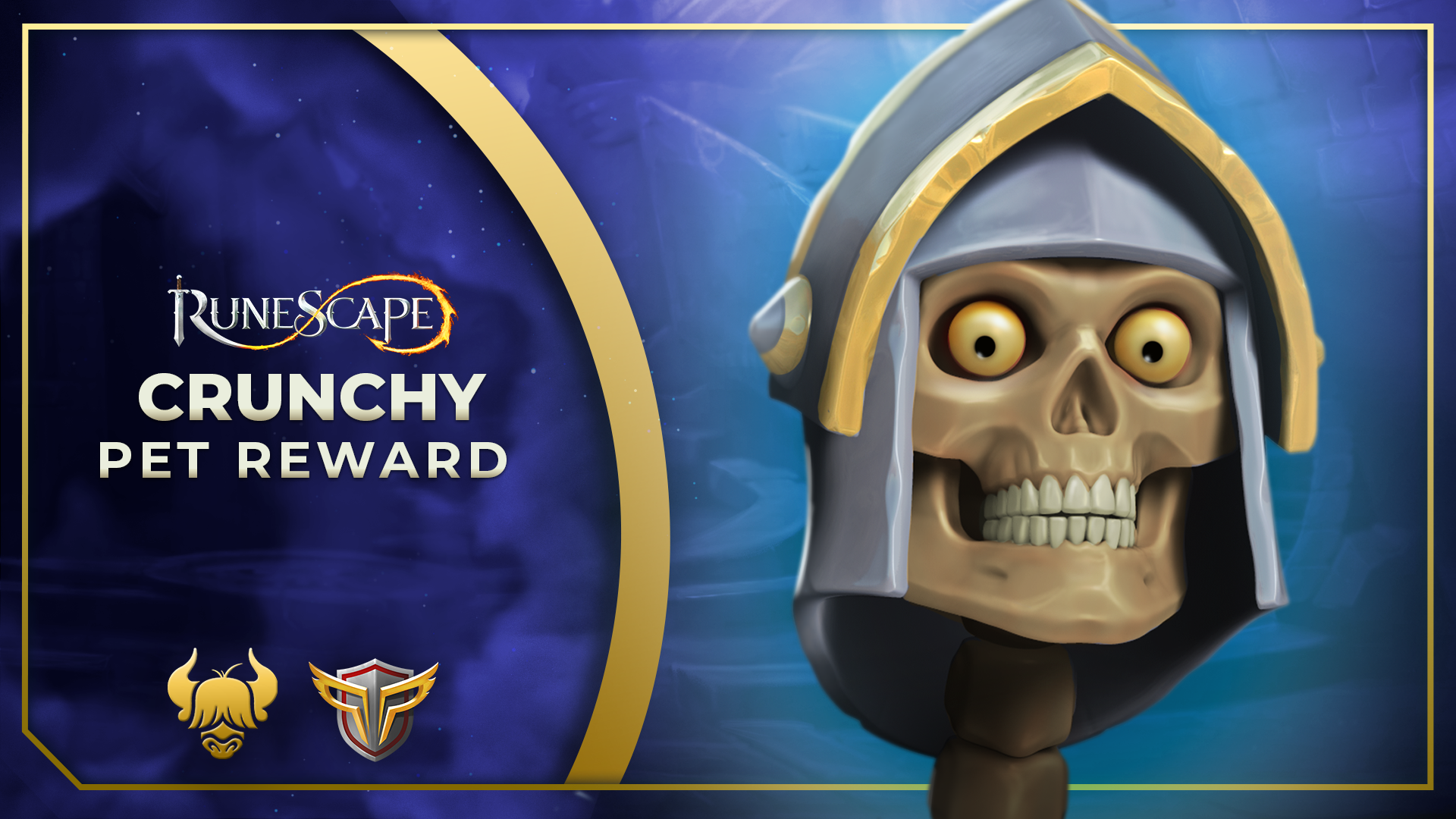 Premier Club members will get free access to the Premium Track for the duration of their remaining membership - but if you missed the boat on that one, don't panic! You can still grab a Premier Pass for 2 Bonds and hop on board.
Oh, and before we forget - there's a new task this time around! You can now be asked to gain Hunter XP, which will let you use Big Game Hunter to progress alongside more traditional methods. It works a bit like the Archaeology and revamped Construction tasks!
We've also introduced 'Gain XP' tasks for Slayer and Dungeoneering.
We can't wait to see you all swanning about in your nostalgic gear - so go on, get yourselves to Burthorpe and start checking off those tasks!
Ninja Strike 20: Slayer for Dummies!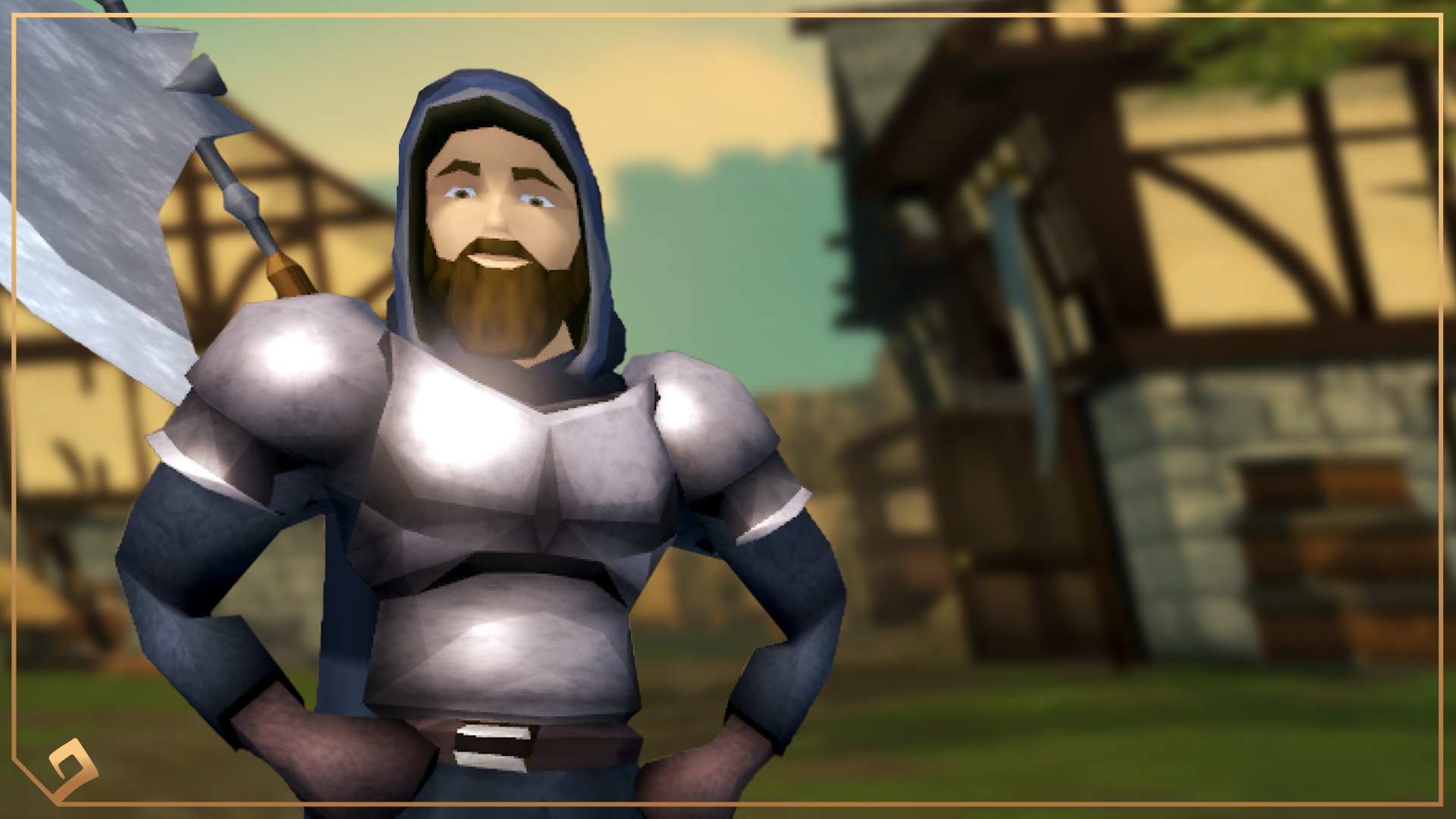 Ka-pow! The Ninjas are back again this week and this time they're stalking one of RuneScape's most iconic skills: Slayer!
Now, we all love a task or two before teatime, but as per your suggestions, it's clear that certain aspects of Slayer could be improved - and this week, they have been! Let's have a look:
Slayer Masters
First up, there's a new Slayer master in town! You can find Jacquelyn, who's just passed her formal Slayer master certification, in Lumbridge. You may recognise Jacquelyn from her former gig as the Slayer skill tutor - and rest assured, she's more than qualified to hand out tasks around the Lumbridge area. No longer will low-level slayers have to traipse all over Gielinor to complete their tasks - they'll be right on their Slayer master's doorstep.
In other Slayer master news, Mazchna and Vannaka have switched places in the pecking order, so that newer players don't have to navigate the swamps of Morytania before they get their slay on.
To reflect this change, Vannaka will now assign tasks to players of level 30 combat and above, and Mazchna will work with players of level 50 combat and above. Their task lists have changed to accommodate their new level bandings.
Vannaka's also finally moved out of the Edgeville Dungeon, and has now taken up residence in the ruins just south of the Edgeville Bank. Oh, and Mandrith has joined him as his new roomie! Hey, you would not believe how high the rent is since they rebuilt this place.
Lastly, Turael and Spria have agreed to make things easier for new players by only assigning them tasks in the Burthorpe and Taverley area. Watch out, Squiggles.
Oh, and all Slayer masters will now point you in the direction of someone more appropriate for your level if they're unable to give you a task.
Low Level Slayer Tasks
We've made various changes to low level Slayer tasks to make them feel a bit more enjoyable. First up, we've moved in a group of black bears next to the Body Altar west of Gunnarsgrunn (also known as the Barbarian Village).
Secondly, a group of crocodiles to the east of Sophanem have had their HP cut in half to bring them in line with their combat level.
Monster Fixes
Monsters are tricky beasts, and a fair few were not behaving as anticipated. But not to worry - the Ninjas have sorted them out. Moss and fire giants are once again using melee to attack and are weak to fire and water spells, respectively.
Improved Teletab Creation
The Ninjas have had a tinker with the higher tier lecterns, and creating Teleport tablets is now one server cycle faster for each tier of lectern. And you won't forget, because the Examine text has been updated to reflect this change.
Kingdom Reward Interface
Those of you who've been managing Miscellania will be pleased to see that it now uses the standard Reward interface, from which you can bank, take, or abandon items as you see fit.
But that's not all! Check out the Patch Notes to see everything the Ninjas have been up to this time.
Known Issues
Client Crashes
We are aware of a handful of issues impacting client stability and we're working hard to address as soon as possible.
Today's Game Update includes a potential fix for the recently reported black screen / loading screen issues. Please do let us know if you were experiencing this and if it has been resolved now.
Over the coming week the team are working on releasing further hotfixes to address client stability, with a focus on addressing the most commonly experienced crashes first. Thank you for your patience - we'll provide more information as soon as we can.
Graphical Settings Menu
This update includes a UI bug where by changing the advanced graphical settings of any feature can inadvertently change the settings of the feature before it in the list (ie. changing the settings for Lighting Detail will actually change the settings of the Water Detail). We're working to resolve this with a fix as soon as we can.
Ninja Strike 20
Slayer Improvements
Mazchna and Vannaka have switched places in the pecking order.

Vannaka will now assign tasks to players of level 30 combat and above.
Mazchna will now assign tasks to players of level 50 combat and above.
Their task lists have been changed to accommodate their new level bandings.
Vannaka has moved out of the Edgeville Dungeon to the ruins just south of the Edgeville bank.

Mandrith has also joined him there, migrating from the Edgeville bank.

Slayer masters will now recommend the next best Slayer master to go to if you don't meet their combat or Slayer level requirements.
Jacquelyn Manslaughter, formerly of the Burthorpe & Taverley area, has moved to Lumbridge to begin training new players as a full-fledged Slayer master. Her assignments can all be completed in the Lumbridge area.
Turael and Spria now only assign Slayer tasks for creatures that can be found in the Burthorpe and Taverley area, to ease new players into the skill.
Slayer Quality of Life Improvements
Moss giants now attack with melee and are weak to fire spells.
Fire giants now attack with melee and are weak to water spells.
More black bears have awoken from hibernation near the Body Altar.
Crocodiles east of Sophanem have had their HP halved. Hope they don't get too snappy about it.
Other
Abyssal demons will no longer teleport the player around sporadically while in manual combat mode.
The Vengeance Group spell can now be used even when no one will benefit from it, to make it consistent with the other Vengeance spells.
The Managing Miscellania Reward interface has been brought in line with the standard Reward interface found across the game.
Higher tier lecterns in the Player Owned House's study now increase the speed at which spell tablets are created.
After some feedback, the Ninjas have given the Saradomin, Zamorak, and Guthix god bird pets some Agility lessons. These follower pets will now follow behind the player at a faster speed.
Visual
Fixes
Clan Chat colours have been fixed.
Fixed an issue that was causing the Draw Distance option in the Graphics Settings to appear twice.
Fixed some issues with the Settings overlay panel on the log in screen.
Fixed an issue with the Steam client that could cause the log in UI to go missing.
NPCs are no longer clipping through environment pieces during a cutscene in Azzanadra's Quest.
Character Creation
Fixes
Fixed an issue with the 'Randomize' button not functioning on the facial hair section.
Fixed an issue with the Graphics Options when running the auto-setup from the Character Creation screen.
Other
Improvements
Reduced CPU overhead when idling in the lobby.
Fixes
Info boxes should now consistently appear above the Examine target with no offset.
Fixed an issue on Steam which caused the Log In interface to disappear after logging out of the client.
Fixed an issue with the notification dots for unread messages in the lobby.
Fixed an error that could occur when adding memories to the Blank Observation during Azzanadra's Quest.
Players are once again able to reach the Praetorium war table in the Kharid-et digsite.
Fixed an issue that was preventing the correct total number of Bonds owned by the user to be displayed.
Azzanadra no longer appears at the world gate after completing Azzanadra's Quest.
J-Mod Livestreams
March 2nd | 17:00 Game Time | PvM Content Reveal
Hello hello, what's all this then? It's your first look at a brand new piece of PvM content! We'd love to tell you more, but that would spoil the surprise - so tune in tomorrow, and get those swords sharpened.
Social
We've wrapped up our #RuneScapePets social competition and after much ooh-ing and aww-ing we've picked the adorable winners!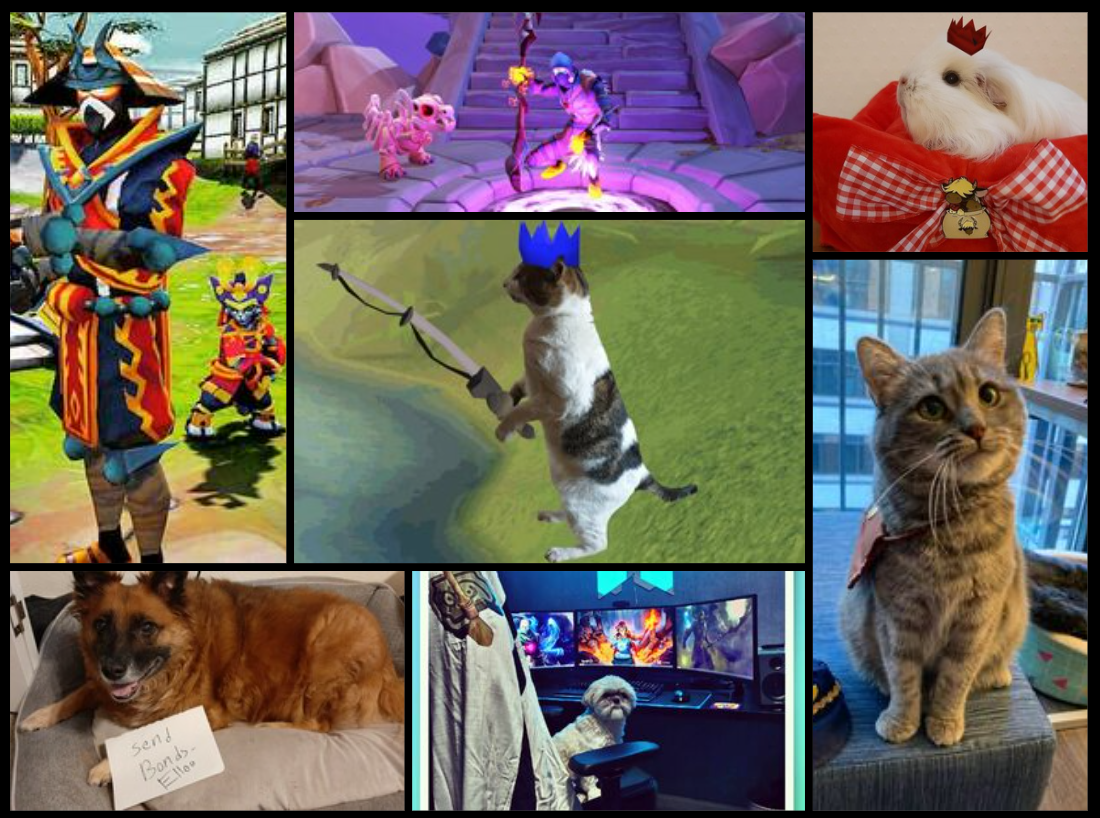 1st place is ham., who wins 5 Bonds! Congratulations!
Runners up are shadydingo, Mirkelam Belet, liefje.rs, ryun_stark, who all get a Bond each!
Lastly we have a couple of honourable mentions - Sandytater and lauren.v.b!
Thanks to all who entered!
Creative Corner
RuneTube
Want to sharpen up your PvM skills ahead of that mysterious update? Zilandra's guide to PvM is a great place to start! It's a two-parter, but you can watch in any order - and we highly recommend checking them both out!
Steam Screenshots
By Elej
By meteor
By Sir Thezleek
Community Corner
Pink Skirts Event
Hey, have you met the Mega Duck yet? No? Then you're in for a real treat this week, because the Pink Skirts are conducting a Mega Duck Hunt! Should you prove successful you could receive a rare, coveted pet - so grab your breadcrumbs and join Nanci, Nastifruit and Ascensus at the Warforge! this Saturday March 6th from 16:00 - 17:00 on World 134.
Happy quackin'!
Community Shout-Out
This week's community shout-out goes to the Official RuneScape Discord Server! This is the place to be for all things RuneScape. You can hang out with J-Mods, mingle with thousands of other players and share tips, screenshots, and more.
---
The RuneScape Team