Treasure Hunter is playing host to a vampyre-themed event this week. Unlock pieces of the vampyre hunter outfit, a weapon override, and a special amulet with up to four toothsome effects. Read on for the details!
---
From 21st April at 00:00 UTC until 25th April at 23:59 UTC*, head to Treasure Hunter and get your hands on feral vampyre fangs. They come in packs of 80, 160 and 320 and will be collected in your brand-new currency pouch. The pouch saves space in your inventory by acting as a new depository for all future Treasure Hunter currencies, so put it to good use!

You can also earn feral vampyre fangs by doing the following activities in and around Morytania:
Daily Challenges (25 fangs)
Skilling/killing in Morytania (10 fangs)
Skilling/killing outside Morytania (5 fangs)
Opening the Barrows chest (2 fangs)
Winning a red token from Temple Trekking (4 fangs)
Winning a yellow token from Temple Trekking (3 fangs)
Winning a blue token from Temple Trekking (2 fangs)
Rewards & Unlocks
Use your collected fangs to unlock pieces of the fantastically dashing vampyre hunter outfit and its accompanying stake launcher weapon override.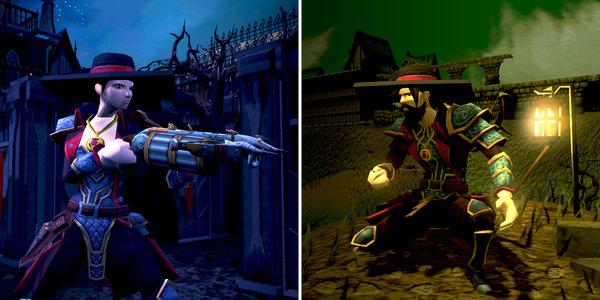 If gothing it up isn't enough, when you have completed the outfit you can use your remaining fangs to unlock a special wearable amulet that gives the following effects when you level it up by feeding it more feral vampyre fangs:
Amulet Level 1: 3% damage bonus to all vampyres (permanent effect – no charge cost)
Amulet Level 2: Double rewards from Markus's Slayer Contracts (charge cost: 1)
Amulet Level 3: Companions in Temple Trekking level up 25% faster (permanent effect – no charge cost)
Amulet Level 4: Ability to re-roll the loot in the Barrows Chest once per run. (charge cost: 2)
Note - you will be able to use fangs up until the 9th May in order to push for those amulet levels. 25 feral vampyre fangs are equal to 1 charge. Fangs are also tradeable.
Ironmen Note - Ironmen are able to unlock and wear the amulet but will not receive any of its benefits and cannot upgrade it.
Here's something to sink your teeth into while getting ready for River of Blood – enjoy!
The RuneScape Team
---
What is Treasure Hunter?
Treasure Hunter is playable from within RuneScape, allowing players to use Keys to claim in-game items as prizes. These range from useful resources to rare weapons and exclusive gear.
Playing Treasure Hunter is simple - click the treasure chest icon that pops up when you log in. If you've not played before, just follow the on-screen guide.
Everyone gets at least one Key per day, and RuneScape members get two. You can earn more Keys while playing the game, or stock up by redeeming Bonds.
If you'd like more, you can also buy Keys on the website, or by clicking 'Buy Keys' within the Treasure Hunter interface in-game.