In this week's update, the Ninjas have been getting up to mischief with fish (both of the jelly and regular variety) and Wiki functionality! Find out all about it in the Game News and Patch Notes tabs, then get yourself over to the Community Tab for a cheeky preview of Construction Contracts and some amazing player artwork.
We're going Wiki wild in this week's update with another Ninja Strike! In other news, we've got a special preview of Construction Contracts, a range of new lines in the Merch Store, and an important change to Oddments.
Ninja Strike 14: Wiki Functionality and More!
The Ninjas have hit the books this week to bring you more visible Wiki functionality, plus loads of other quality of life changes. We're also welcoming a new recruit to the Dojo - read on to meet them!
Wiki Functionality
As you know, you can type '/wiki' into the Chat Box to learn about all kinds of topics at the press of a button - but we reckon it would be nice if that functionality was even easier to access. In this week's strike, the Ninjas have added a new Wiki button to the right-hand side of the Chat Box. Just click the button (or assign a key bind), type in your search term, and away you'll go!
Of course, those of you who like to do things the old-fashioned way will still be able to use the existing '/wiki' feature.
And those of you who like to do things the really old-fashioned way can find the full RuneScape Wiki right here. Enjoy!
General QoL
We don't know who this 'General QoL' fella is, but he comes up an awful lot, so he must be one of the Ninjas' greatest foes!
This week they've undermined his nefarious deeds in the following ways:
Jellyfish Stitching
Got partially eaten Jellyfish hanging around your Backpack? That's super gross, but here's something even grosser - from today's update, you'll be able to squish them back into one big jellyfish snack with the help of either War or a fisherman in the Deep Sea Fishing Hub. Mmm... slimy!
Fish Deposits
Sticking with the maritime theme, you can now 'Deposit all' fish in the Menaphos VIP and Port area Deposit Boxes and Banks, just like you can in the Deep Sea Fishing Hub. Hopefully they've got a bag of ice in there...
...and more!
This week's Patch Notes contain all you need to know about this week's Ninja Strike. Go take a look! We'll wait!
A New Ninja?
A new Ninja! Mod Frosch has joined the fight as a Junior Content Developer. So heat up the sake and give a warm Ninja welcome, please!
Construction Contracts Preview Livestream
Join our J-Mods as they clamber over the scaffolding of Construction Contracts and lay out the blueprints of this new, exciting way to train Construction.
You can join the stream on the RuneScape Twitch channel at 17:00 Game Time on November 10th. Don't forget your hard hat!
Prime Gaming
There's a brand new drop waiting for those of you who've linked your RuneScape and Prime Gaming accounts! This month, you'll get 7 days of membership - just the thing for taking full advantage of Double XP LIVE.
Find out more on this page.
Oddments Store Item Limits
As part of our ongoing efforts to balance the game, the following Oddments Store items are now subject to a daily maximum buy cap:
Medium prismatic lamps: 30/day
Medium prismatic stars: 50/day
Pulse cores: 40/day
Cinder cores: 40/day
Small protean packs: 30/day
Keys: 30/day
The cap resets every day, after which point you'll be able to purchase these items up to the cap once more.
Golden Gnome Awards
For those of you who missed our post last week, we'd like to apologise once again for the unavoidable delay of this year's Golden Gnome Awards.
The new date for the all-dancing, all-digital ceremony is Friday, November 20th at 19:00 Game Time. We'll see you there!
Merch Store
Okay, it might not officially be winter yet - thank you, Reddit community - but that doesn't mean we can't get that Christmas spirit going! In the Official Merch Store, we've got a whole stocking full of treats!
First up, we have three new RuneScape-y designs in our popular deskmat range: the Queen Black Dragon, Nomad, and Mah.
Next up, we've got a cosy new piece of apparel: the PK Skull Varsity Jacket!

And in case you missed it, tracked shipping is now available on all Merch Store orders. Spend over £80 (that's $100 for our neighbours across the pond) and you'll get tracked shipping for free.
Check out the full range here, on the Official Merch Store.
The Ninja Team were at it again this week, striking down fiddly Wiki commands, doing weird science on a bunch of jellyfish, and frantically stuffing fish into Deposit Boxes. Shall we see what all that was about?
Ninja Strike 14
Wiki Integration
A new Wiki button has been added to the right-hand side of the Chat input box.

Click the button to activate a search, then type in the terms you'd like to look up. Simples!

This mimics the existing '/wiki' feature but makes the functionality much more visible.
On desktop, the button can be toggled on and off in the Messages and Social menu, under Chat Customisation.

Desktop users can also keybind the button in the Controls interface.

On mobile, the button is located on the left menu when in fullscreen chat mode.
The size of the Chat input box has been slightly increased on desktop to make room for the new Wiki button.
Known Issues
We are aware of an issue where the right-hand portion of the Wiki button won't register clicks if the 'Click-through Chat Boxes' setting is toggled on. We are working to rectify this.
General QoL
Tutorial Island
Improvements
The Chat window is now cleared of preliminary log-in messages when arriving in the main game from Tutorial Island.
The mobile toplevel UI is now gradually revealed as the player makes progress on Tutorial Island. Mysterious!
The text in the Minimap tutorial is now less ambiguous.
A pair of obstructive chairs have been removed from the starting area on Tutorial Island.
An overlay which cycles between the Core Camera and Interaction controls has been added to Tutorial Island, replacing the preliminary Camera pop-up which could be dismissed permanently.
As they were too frequent before, 'Achievement Complete' pop-ups no longer occur for Path Achievements. Completing an entire path (with the exception of the Tutorial Island Path) will still trigger the completion pop-up.
The RuneScape Guide has been re-named Reginald, to make it clear who you're supposed to speak to.

Likewise, the Survival Expert is now named Brynna.
Both of the above will now wave to attract your attention.

Interacting with the door near the RuneScape Guide no longer forcewalks you into conversation but will still remind you of your objective.

Interacting with the tree near the Survival Expert will do the same.

The initial camera zoom when starting Tutorial Island is now zoomed out further.
Input terminology on Tutorial Island has been updated to comply with mobile gesture compliance guidelines.
Activity Tracker instructions during the Survival Expert section of Tutorial Island are now clearer.
Woodcutting and Fishing on Tutorial Island will now immediately display an overhead message to notify the user, instead of a delayed objbox.
The Activity Tracker parent tab is now locked while on Tutorial Island.
Orthen Dig Site
Improvements
Fixes
Achievements
Improvements
Fixes
Mobile
Improvements
Gesture icons have been added to mobile interaction and camera controls popups, and the mobile controls primer.
Some text has been shortened in the 'Welcome to RuneScape Mobile!' Controls interface to address localisation issues.
Other
Improvements
Trees around Gielinor have been de-spookified.
The Draynor Manor grounds have been de-spookified as much as possible, although the spine-tingling graphical rework remains.
In this week's Community Tab, you can catch up on Construction Contracts, chill to some player-made Rune Tunes, and learn a top-secret Wiki tip!
Livestreams
J-Mod Livestreams
Tuesday November 10th | 17:00 Game Time | Construction Contracts In-Depth
You know the premise, now nail down the details! Join our J-Mods for an in-depth look at Construction Contracts. All (or at least most of) your questions will be answered!
Featured Streamer
Our featured streamer this week is Woutiiee, who'll be going live on Wednesday November 11th at 12:00 game time to polish off the last couple of gear upgrades for his Ironman. Expect Elite Dungeons, Nex: AOD, Solak, and maybe even a couple of clue scrolls.
Join the fun on Woutiiee's Twitch channel!
RuneScape Wiki Tip
Psst... wanna hear a secret?
If you press the 📣 icon on the main page of the Wiki (or just, y'know, visit this link) you'll be taken to a feed of all kinds of curated RuneScape news, including developer tweets, newspost updates and more! It's a great way to keep up with what's going on.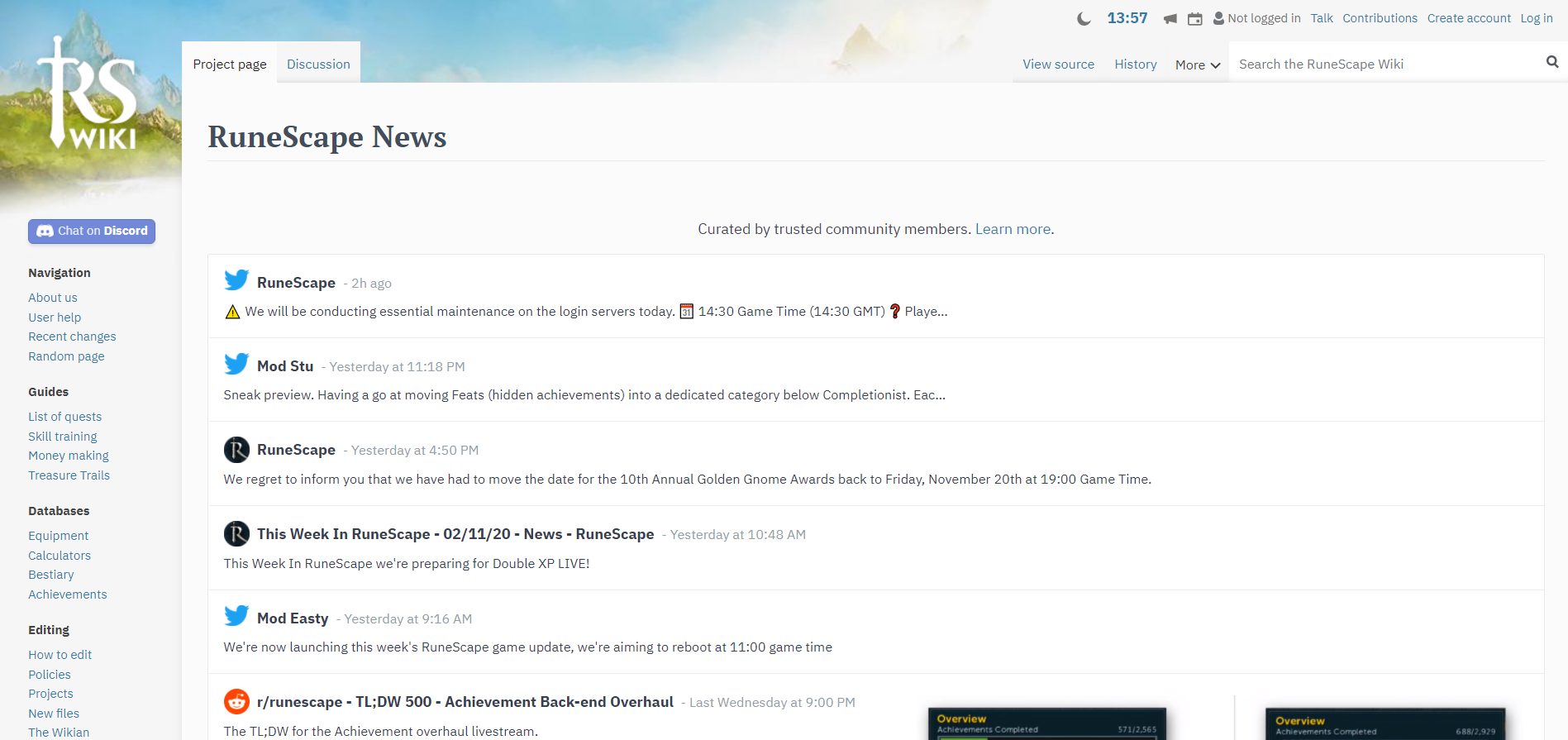 Creative Corner
Steam Screenshots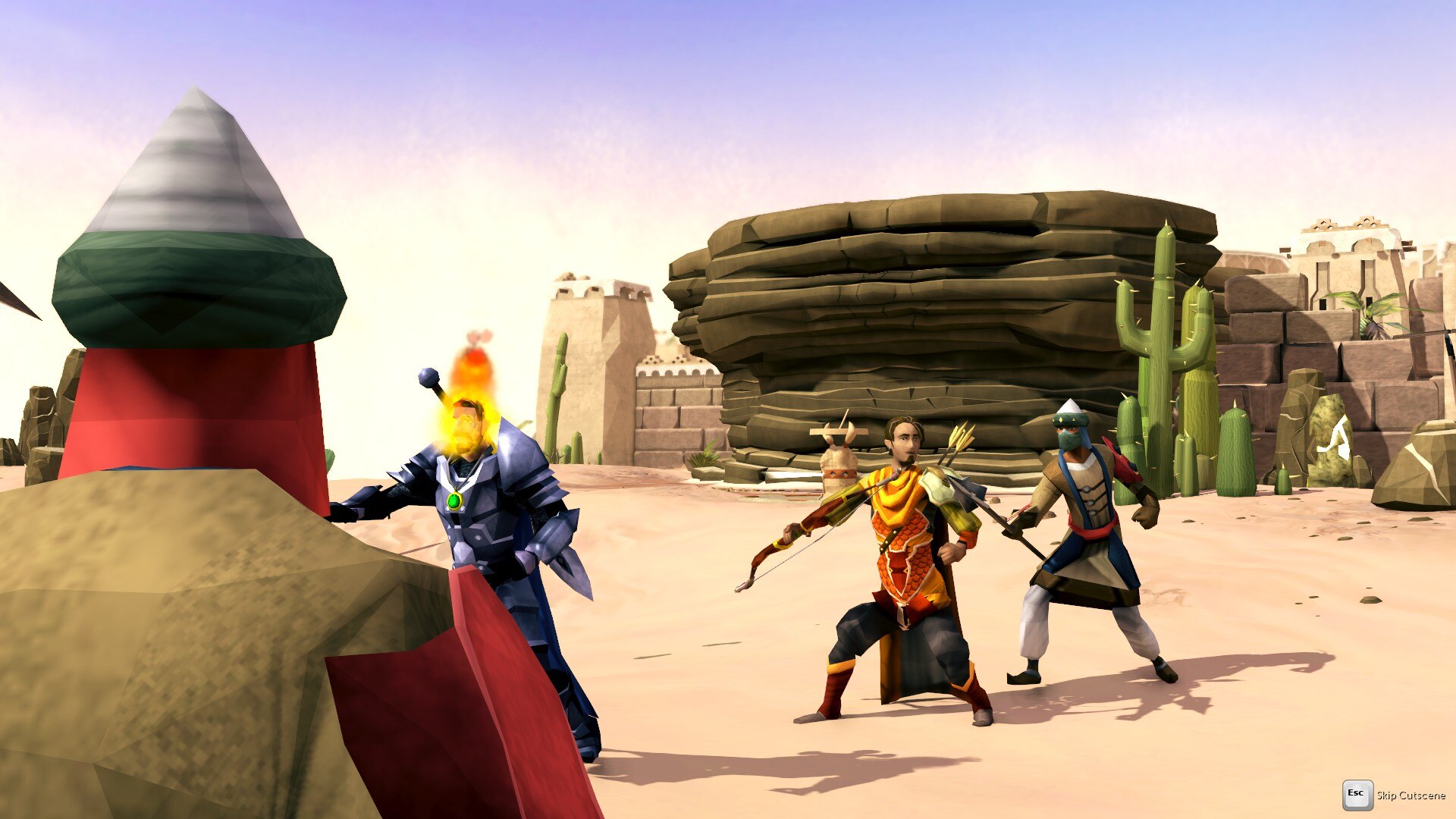 by MrZiiGGY
by Zerstörer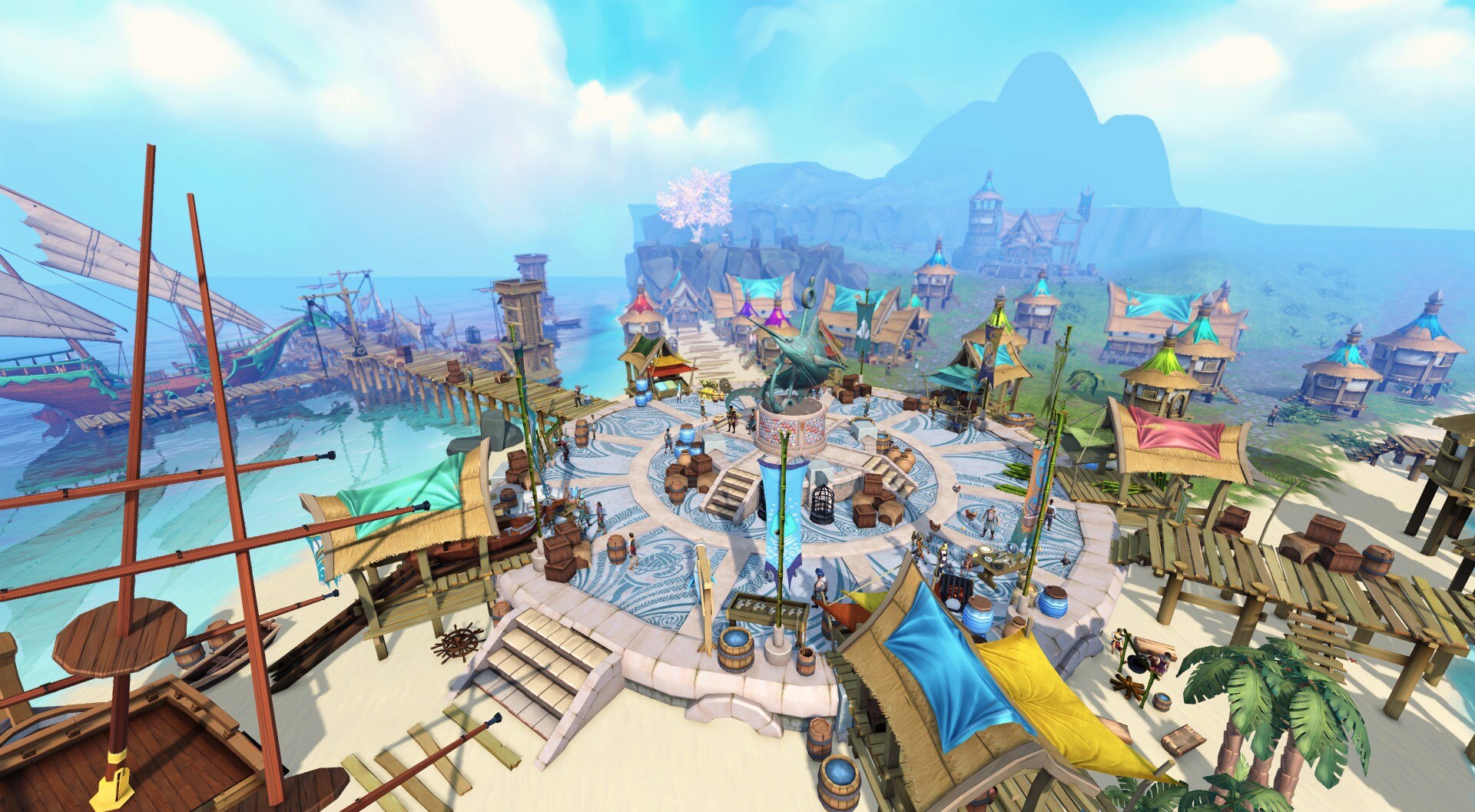 by renzooo
Awesome Art
Happy (belated) Birthday, Prezleek! You may not be celebrating with a Golden Gnome this year, but at least Mavrick882 has drawn this scrumptious looking cake. Don't suppose there's any left for us starving newspost writers, is there? No? Worth a shot.
All we've got to say about this is: WOW. WE LOVE THIS SO MUCH! Sw1tchbl4de has done an incredible job! Look at the colours! The expressions! Amazing job all 'round.
Rune Tunes
It's time to settle our nerves with this hauntingly beautiful elven-style piece by Gawkie, fittingly titled 'A Rest in Prifddinas'. We love listening to player-made tracks, so if you've got the audacity - or indeed, the Audacity - to make one, send it our way!
Community
Pink Skirts Event
For this week's Pink Skirts Event, better bring your A-game, because you're taking on the Kalphite King! Join Dj Whiggsy and Capt Obv this Tuesday, November 10th from 20:00 - 21:00 Game Time on World 68 to join in the fun!
For more details, add Dj Whiggsy to your Friends' List or check out the full list of Pink Skirts events here.
---
The RuneScape Team