NOTE: Servers should be coming back up around 10:15 game time, we're making extra safety measures this time.
This week we've got the update you've all been banking on: Bank Placeholders and Improvements are finally here. Plus: all the usual patchnotes, a reminder about One Special Day, and some new info about RuneFest.
Bank Placeholders and Improvements
When we announced Bank Placeholders and Improvements back in May, we knew that such a highly anticipated update would have to be just right. With that in mind, we went through several beta phases so we could collect feedback from as many players as possible.
Thank you for your patience, and thank you to everyone who participated in the betas: your feedback has made this update truly fantastic. Let's take a look!
First and foremost, bank placeholders are now available! Now, when you withdraw an item, you can choose to set a placeholder so that when you return it to your bank it'll stay exactly where you want it. Revolutionary!
We've also made multiple changes to presets, including the ability to toggle different inventory types without saving, and the ability to drag and drop items into your presets.
Bank tabs have become customisable: now you can add a preset name to them. Furthermore, we've increased the number of bank tabs from 9 to 15.
Item filters have been improved across the board, allowing you to sort items into categories such as 'worn equipment', 'tradeable/non-tradeable', and 'members/non-members'.
In addition, we've optimised the NXT client so that bank items will no longer vanish as you scroll through them – and, in general, using the bank should feel much smoother.
Finally, we've done a bit of decorating and introduced new theming for the bank. Stylish!
To celebrate the new and improved Bank of RuneScape, all players will receive 49 new bank spaces for free. Enjoy!
Patch Notes
Want to see what we've got squirrelled away in the vault? Click here for this week's patch notes.
RuneFest 2019
This is it, the moment we've been waiting for all year is almost here: it's the week of RuneFest!! We've packed the fossils and rallied the dinos. Mr.Mordaut and the very best scientists from the Varrock Museum have shown us the way and everything is almost ready to welcome you all this 4th & 5th October. We can almost smell the sea breeze and hear the roars of dinosaurs that'll come alive in the mind-blowing reproduction of The Land Out of Time!
Now's the time to prepare your RuneFest – whether you'll be joining us at Farnborough Int'l or following the festivities from your home.
FOLLOW RUNEFEST AT HOME
This year, we will be expanding our livestreaming setup to not one but two streams running in parallel, allowing you to follow all sessions from both the Studio & Panel Stages! Don't worry, if multi-viewing isn't your strong suit, we will be recording everything and share VODs the week following RuneFest. But for the day, here's the important info:
Friday 4th, 20:15 UK Time - Golden Gnome Awards – Follow on the RuneFest and RuneScape Twitch channels [LootScape enabled]
Saturday 5th, 10:00 UK Time - Main Studio (incl. Keynotes) – Follow on the RuneFest Twitch channel. [LootScape enabled]
Saturday 5th, 12:00 UK Time - Panels – Follow on the RuneScape Twitch channel. [LootScape enabled]
For the exact content and start/end times for each sessions, we invite you to check the full RuneFest schedule.
Not that much of a Twitch enthusiast? Well good news: whether you want to know everything that's happening at RuneFest or just want the in-game related info, it'll also be on our socials:
RuneFest Twitter: Live from the GGAs, news from the show floor, highlights of activities, reactions from players, backstage exclusives and keynotes live tweet.
Oh, and keep an eye out on our social platforms if you're craving some freebies. That's right, we'll run competitions!
OPENING TIMES & SCHEDULE
FRIDAY 4TH OCTOBER (18:00-23:30*) - THE GOLDEN GNOME AWARDS
RuneFest 2019 will kick off on Friday 4th October from 6pm with the biggest night of the year!
The Golden Gnome Awards are back, and this time they're bigger and better than ever before! Join us for an evening of glitz and glamour while we recognise the talent and enthusiasm of our community members, content creators, and streamers.
There'll be plenty of entertainment throughout the evening, but don't worry! You'll have lots of time to catch up with your friends and fellow players, too. And of course, there will be some very special surprises on the night. Food and drink will be available. Black tie optional.
SATURDAY 5th OCTOBER (10:00 – 00:00*) - RUNEFEST 2019
Okay, we're a bit biased – but this year's RuneFest is shaping up to be totally epic. We're adding new activities, new entertainment, and all the biggest announcements from both the RuneScape and Old School teams.
You can look forward to panel sessions with your favourite JMods and content creators, the return of the achievement party, and goodie bags filled with unique loot. Food and drink will be available onsite throughout the event, and as the day comes to a close we'll also be hosting a massive afterparty for all our guests. We're packing in plenty of surprises this year, and we can't wait to see you there!
You can find a detailed schedule of the Studio and Panel Stage events in this news post. What else will be on the show floor? Well, it's a surprise but we can already unveil one of them: Skill Chips! We will be sharing more detailed information – including parking and security info – in a dedicated news post later this week.
*Opening times for attendees, subject to change.
RUNEFEST APP
This year we're bringing back the RuneFest App. This official free mobile app offers all the essential info for your day at RuneFest: schedules, maps, live voting, access to exclusive merch, and more! Download the RuneFest App.
TICKETS AVAILABLE
Everyone gets everything with one ticket. The Golden Gnome Awards and RuneFest itself are both included in everyone's ticket.
Don't wait, get your RuneFest tickets!
But what's the point of being here? What can you actually get from attending RuneFest? Here's a list of some of the things you'll get to enjoy if you join us on the day:
Celebrate your love of RuneScape with your friends, favourite JMods and Content Creators
Discover unique in-game environments brought to life and take part in special activities (yes, Skill Chips is back!)
Experience a full day of live events on the Main stage (Great Gielinorian Cook-off, Cosplay Show, Data Stream, Creators Q&A, Keynotes and more)
Go beyond the games with JMods and Content Creators in behind-the-scenes panel talks
Be part of the excitement as we reveal the future of RuneScape, and play some of this content in WORLD PREMIERE hands-on!
Receive unique RuneFest items (physical and in-game!)
RUNEFEST MERCH
Coming to RuneFest this year will also give you an exclusive access to the official RF merch – which includes Limited Edition lines from Angels Scapes, exclusive tees (Zamorak, Vorkath, Catherby Fishing, etc), posters, new enamel mugs, and more! You can get a first look at the full list of RuneFest 2019 merch on the RF App, and prepare your whish list so you can be in the firsts ot pick them up at RuneFest! Download the RuneFest App.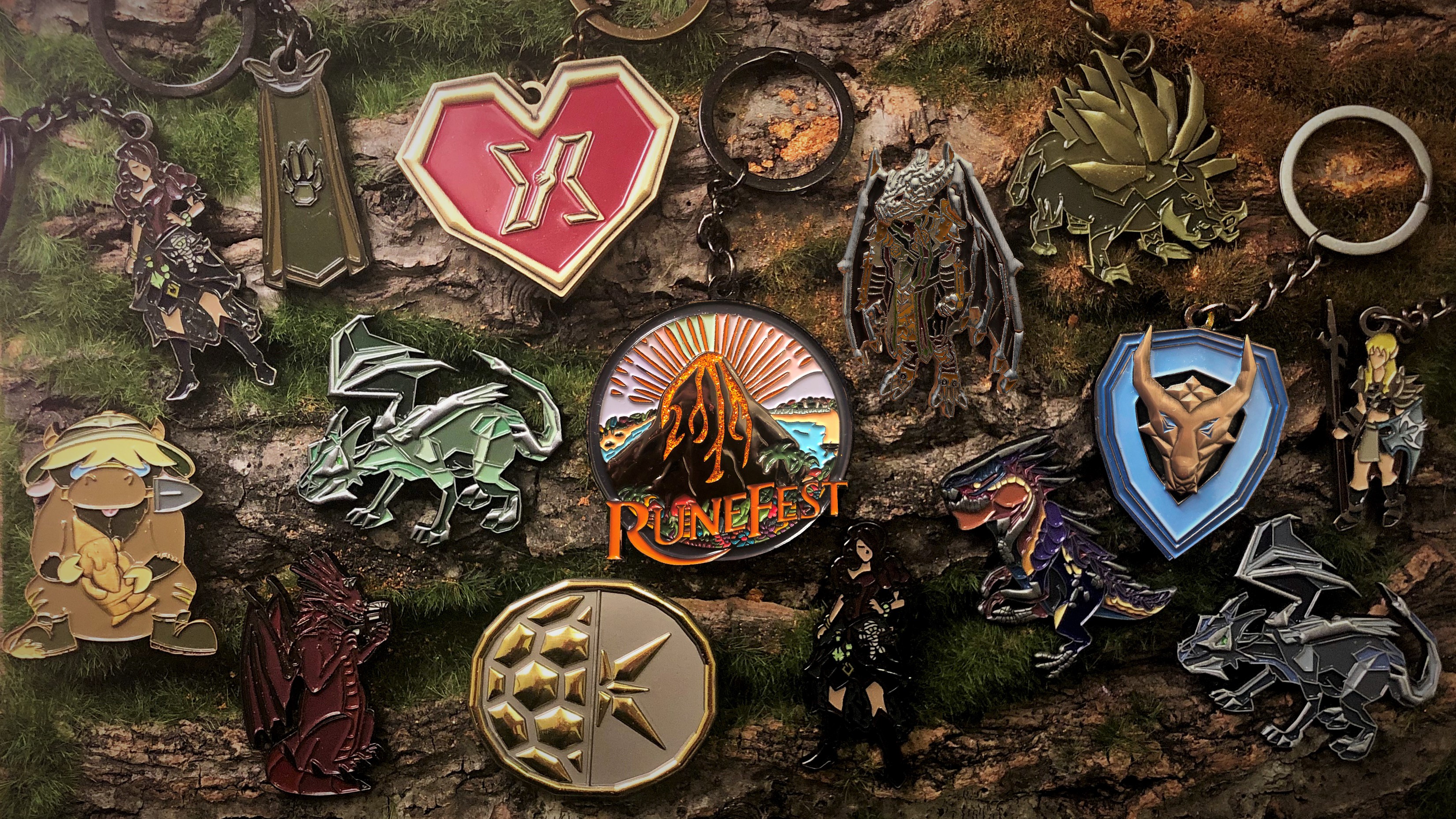 Can't make it to RuneFest? Whilst the exclusive lines will only be available there (and in this case it'd be best to ask a mate to pick these up for you), we will open pre-orders for non-exclusive lines on our official merch store during RuneFest. So keep an eye out!
I'VE GOT ANOTHER QUESTION
If you're looking for information on available parking at the venue, hotels, requirements to enter RuneFest, or any other technical request, please refer to the Eventbrite FAQ.
If the information you're looking for isn't listed here, we invite you to directly contact us – either on our Twitter account (@RuneFest) or via email (support@runefest.com).
One Special Day
Games charity Special Effect will be running its One Special Day event on October 4th. It's a time when companies across the industry join together to raise money for the charity's incredible work in using technology to help break down the barriers of disability.
RuneScape is delighted to play its part by offering two completely free One Special Day branded items for players between September 30th and October 4th. Plus, all proceeds from Solomon's General Store raised throughout the period will be donated to One Special Day!
New Twitch Prime Month
There's a WHOLE NEW Twitch Prime loot on the way, get ready!
Starting no later than this Thursday 3rd October, all Twitch Prime members will get a new chance to grab a Currency Pack (200 RuneCoins, 15 TH Keys, 40 Hearts of Ice). That's right, this one is a whole new month of freebies, so even if you've redeemed the previous loots you can get this one for free!
How to redeem your new Currency Pack? First, you will have to wait for Thursday 3rd October. Exact opening time will be given as we get closer to it, so keep an eye on our social channels to know when it's available. Then, you'll just have to click on the link below and make sure you follow all steps of the process (even if you've already redeemed a previous Twitch Prime loot).
For instructions on how to claim and redeem your loot, click here.
LootScape
Our live streams are always a great opportunity to grab some awesome in-game prizes. And as our first adventurers set foot on Land Out of Time (or as we call it "LOoT"), we thought you'd like an update of the LootScape. Ok, roll the drums and behold… our LOoTScape!
This month, each and every RuneScape stream watched will give you a random drop from one of the following:
Guaranteed:
1 - 2 hunter marks
250 resources in a random Base Camp resource
Guaranteed drop from Basic Drop Table (see below)
View counter goes up on Orb
Chance based:
A random skilling outfit piece (if unowned)
Either Nature's Balance or Loots Cape (if unowned)
Basic Drop Table: Prismatic small fallen star, Prismatic medium fallen star, Prismatic small lamp, Prismatic medium lamp, Spirit Ruby, Spirit Diamond, Advanced Pulse Core, Spring, Silverhawk down, Medium DG Token Box, Small DG Token Box, Uncut Dragonstone, Large Cash Bag, Medium Cash Bag or Small Cash Bag.
Exciting isn't it?! So don't wait up - connect your RS account to your Twitch account and find out more here. Once that's done, have fun and watch our streams during the day for a guaranteed drop.
Live streams this week
Each week, we host developer Q&As, exclusive in-game first looks and more. And it's all live on our Twitch channel, join us! Missed a stream? Don't worry, we keep them all on our YouTube channel. Be sure to Subscribe to be the first to know.
Monday, September 30th – 13:00 UTC (Game Time) – KashStack Featured Stream
This week, our featured streamer is KashStack! Join him for a day of PvMing with Telos, Vorago, Nex AoD and such!
This featured stream is also an opportunity to grab a LootScape! That's right, you can now receive in-game loot when you watch a RuneScape streamer. It works exactly the same way as our official streams, just watch KashStack's stream on (his Twitch channel) and you'll receive the LootScape the following day.
LootScape will be enabled (see all details above).
Tuesday, October 1st – 16:00 UTC (Game Time) – Road to RuneFest
With ongoing RuneFest prep and the production team working hard to make the weekend spectacular, we're cancelling today's livestream. We hope this doesn't cause too much disappointment. We look forward to catching up with you at RuneFest in person, and sharing more on the day!
LootScape will be enabled (see all details above).
Pink skirts Events
Of course, adventures continue in Gielinor even when we're too busy (PKing) creating the adventures of tomorrow. Our PMods are here to welcome you in a range of PvM Boss Masses, Events and Q&As each week. Check out all the community events organised by the Pink Skirts on their official schedule here.
---
The RuneScape Team