The team has been busy beavering away and despite all the excitement of RuneFest we've managed to slip out another big improvement before we head to Farnborough – the Slayer Collection Log!
Slayer Collection Log
For a long time now, players have been able to keep track of the drops they get from bosses: now the same is true for slayer monsters. We hope that this will give slayers old and new a fresh reason to travel the world in search of ever more exotic quarry.
The Slayer Collection Log is split between 12 areas. When you complete an area's collection, you'll earn a special title:
Asgarnia & Misthalin:

, Protector of the Peace
Daemonheim:

the Bloodrager
Kharidian Desert:

the Devourer
Feldip Hills:

the Ascended
Fremennik Province:

, the End of All Things
Kandarin:

the Well 'Ardy
Karamja:

of the Jungle
Keldagrim:

the Stout Slayer
Lost Lands:

the Harbinger of Death
Morytania:

the Scourge of the Undead
Other Worlds:

, Gielinor's Champion
Wilderness:

, Forinthry's Fury
And should you complete the whole log, you'll earn the title 'the Ultimate Slayer'.
There will be global broadcasts for the first regular player, the first Ironman, and the first Hardcore Ironman who completes the log.
For those of you who have been informally collecting already, we have good news – any pets and untradeable items that you already own will be checked off automatically upon your next login.
Patch Notes
Slayer creatures aren't the only thing we've ticked off our list this week – we've also sliced up a fair few bugs. Here are some of the highlights:
Base camp spa effects will now show the correct duration if it exceeds 60 minutes.
Pieces of the 'Mask of Dragith Nurn' can now be dropped from catacomb creatures if they were previously destroyed, allowing players that require the drops for the Master Quest Cape requirement to obtain them again.
The Base Camp upgrades will now drop more consistently.
Craving even more patch notes? Check out the full list here.
Merch
New merch is now available for pre-order in our online store! Revive the God Wars with the very first batch of Angels Scape's new series of Pins and Keyrings, featuring Commander Zilyana, General Graardor and the Saradomin Sword. We've also added two new capes keyrings in stock – Defence and Prayer!
And as we're getting closer to RuneFest, we will soon unveil a whole new range of goodies and merchandise to celebrate – including exclusive items. Don't forget to download the RuneFest App if you don't want to miss it!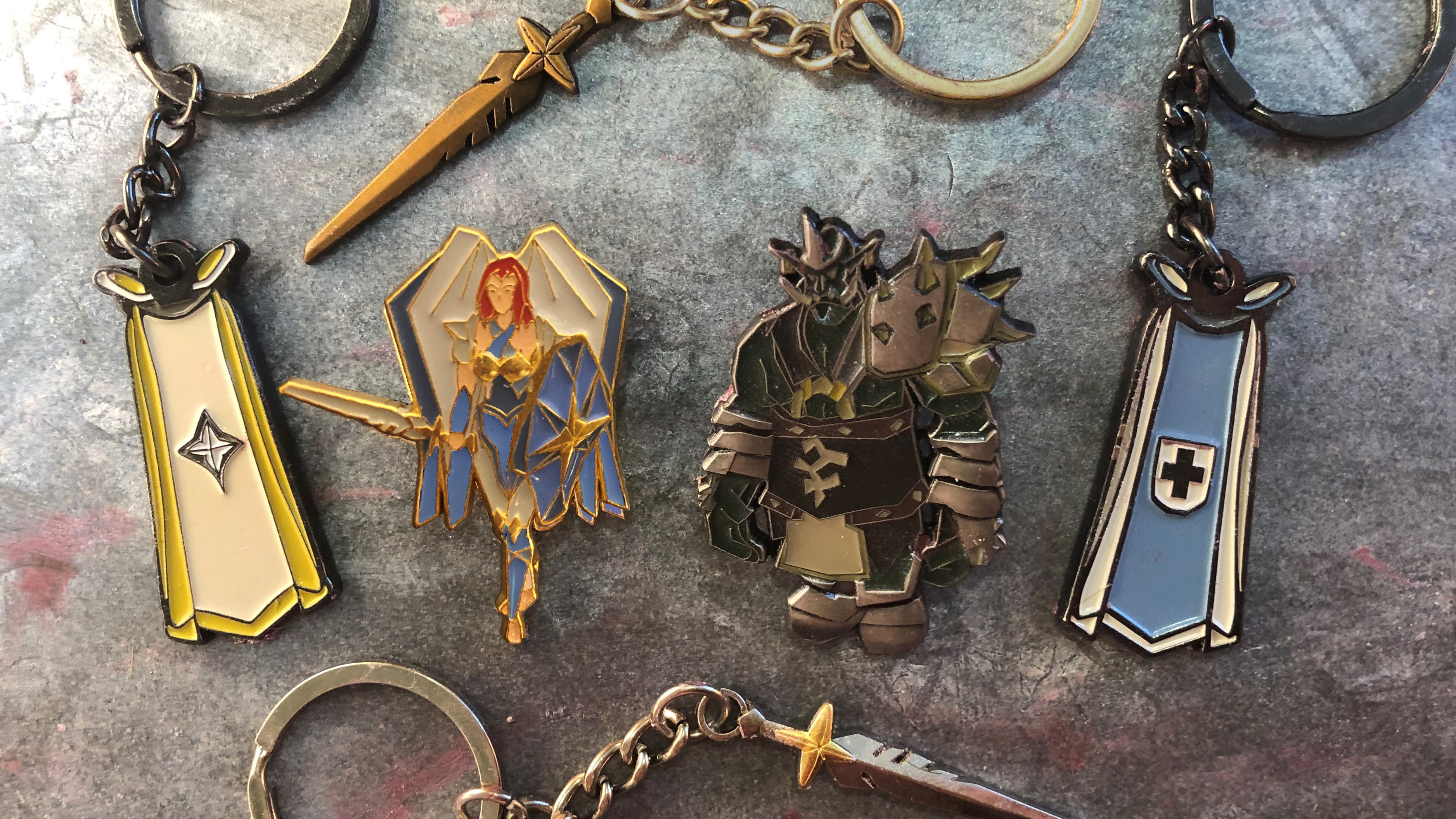 Twitch Prime
It's now your last chance to grab some exclusive loot if you're a Twitch Prime member!
If you're a Twitch Prime member you've got until this Tuesday 24th September to redeem a free Premium Currency Pack (200 RuneCoins, 15 Keys, 40 Hearts of Ice). How? Simple, follow the link below and make sure you follow all steps of the process.
For instructions on how to claim and redeem your loot, click here.
RuneFest 2019
This is not a drill! RuneFest 2019 is two weeks away (4th & 5th October) and we couldn't be more excited!! We can almost feel the sea breeze and hear the roars of dinosaurs that'll come alive in the mind-blowing reproduction of The Land Out of Time! Oh and we won't forget to bring that amazing announcement, you know the [NOPE], oh oh and the [NAAAAAH]. Gosh it's gonna be so awesome, you don't want to miss it!
SCHEDULE AND EXCLUSIVE PERKS FOR ATTENDEES
Have you seen the RuneFest 2019 schedule yet? Trust us, you're in for quite a treat! Here's a list of some of the things you'll get to enjoy if you join us on the day:
Celebrate your love of RuneScape with your friends, favourite JMods and Content Creators
Discover unique in-game environments brought to life and take part in special activities (yes, Skill Chips are back!)
Experience a full day of live events on the Main Stage (Great Gielinorian Cook-off, Cosplay Show, Data Stream, Creators Q&A, Keynotes and more)
Go beyond the games with JMods and Content Creators in behind-the-scenes panel talks
Be part of the excitement as we reveal the future of RuneScape, and play some of this content in WORLD PREMIERE hands-on!
Receive unique RuneFest items (physical and in-game!)
TICKETS AVAILABLE
Everyone gets everything with one ticket. The Golden Gnome Awards and RuneFest itself are both included in everyone's ticket.
Don't wait, get your RuneFest tickets!
INFO & TIPS
This year we're bringing back the RuneFest App – this official free mobile app offers all the essential info for your day at RuneFest: schedules, maps, live voting, access to exclusive merch, and more! Download the RuneFest App.
And if you're in need of tips and suggestions on everything from travel to accommodation, you can also join our dedicated Discord channel, head to the official RuneFest forum or the community-owned Facebook Group.
RUNEFEST APP
To help you along, we've developed the official RuneFest app, which contains all the information you could possibly need to make the most of your weekend, including:
The full Saturday schedule
A map of the venue
Live updates to the RuneFest Merch Store
A social feed
An interactive map of Gielinor for you to share your most memorable adventures
Additionally, if you are going to RuneFest and have some achievements to get, you can look forward to the Achievement Party which takes place at 20:00 BST. Get your achievement and get a certificate signed for you by Mod Mark & Shauny!
RuneFest Schedule Update
Having reviewed the schedule, we've made a couple of small changes to the line-up.
The Lore Q&A will be moving to the 1pm slot on the Main Stage, replacing the Data Stream.
At 4pm on the Panel Stage, we'll be hosting a RuneScape Annual Survey Results session, where you can see how the responses to the annual survey will help shape the future of the game.
Here's what our updated schedule looks like:
| Time | Panel | Description |
| --- | --- | --- |
| 10:30 - 11:00 | Time to Set Sail! | Join us as we set sail to shores old and new, and take an in-depth look at Fossil Island and the Land Out of Time. |
| 11:00 - 11:45 | The Great Gielinorian Cook-off | Watch our star bakers compete to produce a three-course RuneScape meal from scratch in 45 minutes. Doable? Not really. Entertaining? Definitely. |
| 12:00 - 12:45 | The Cosplay Show & Cosplay Golden Gnome Awards | After the cosplay parade at 11:30, join us live as the best cosplayers in the RuneScape and Old School Communities compete for their chance to take home a Golden Gnome Award. Log into your RuneFest App to cast your vote in the 'Best Cosplay' category! |
| 13:00 - 13:45 | Lore Q&A | It's back, and this year, it's lore-ier than ever! Join Mod Raven and co for an intensive session covering everything you could possibly want to know about the Lore of RuneScape. It's gonna be - wait for it - loresome. |
| 14:00 - 14:45 | Old School Creators Q&A | Join some Old School RuneScape content creators on-stage as they answer all your burning questions, from life as a content creator to their favourite pizza topping. |
| 15:00 - 15:45 | Mythbusters | Mod Osborne and Mod John C are here to reveal the truth behind some of the biggest (and funniest) misconceptions from the community. Got a myth you'd like us to bust? Post it in the official forum thread! |
| 16:00 - 16:45 | Ron Plays Games | Everyone's favourite gameshow host and sheep enthusiast takes to the stage to bring you an hour of unadulterated, (possibly) family-friendly quiz show fun. |
| 17:00 - 17:45 | RuneScape Keynote | The big one. Join us to find out what you can expect from the next 12 months in RuneScape! |
| 18:15 - 19:00 | Old School RuneScape Keynote | The other big one. Join us to find out all the biggest updates coming to Old School next year! |
After the main stage sessions have finished, entertainment will be available throughout the evening. Party hats at the ready, everyone!
| Time | Panel | Description |
| --- | --- | --- |
| 12:00 - 12:45 | Another Slice of W.I.K.I | Ever wondered how our fantastic wiki editors corral info from across our games and collate it into one, awesome resource? Wonder no more! We'll discuss new and hidden features, how to harness the wiki's trove of data for your creative use, and briefly talk about why editing the wiki is so valuable. |
| 13:00 - 13:45 | Bringing a Creature to Life! | Join our art team as they take you on an adventure to find out how they breathe life into the creatures and peoples of Gielinor. |
| 14:00 - 14:45 | The Making of Old School RuneScape Mobile | How do you port a 17 year old game to a whole new platform? Join us on a retrospective tour of Old School Mobile, as we reminisce about the successes, thrills, and spills along the way. |
| 15:00 - 15:45 | So, you want to be a streamer? | Join some of our up-and-coming content creators as they answer all your burning questions about the subtle art of streaming. |
| 16:00 - 16:45 | RuneScape Annual Survey Results | Find out the results of the RuneScape Annual Survey and see how the community's answers will be used to shape the future of the game. |
| 17:00 - 17:45 | A Day in the life of a J-Mod | What's it really like to work for Jagex? In this panel, you'll have the opportunity to ask J-Mods from all across the company about their roles. |
| 18:00 - 18:45 | RS Reveal Q&A | The RuneScape Keynote will be full of surprises - like the ████ █████ and that amazing ███████! This panel is your chance to get your immediate questions answered. |
Facebook Companion
The Companion is a whole new way to enjoy the RuneScape experience directly from Facebook. Whether you want to explore helpful Guides displayed in the Grand Library, never miss future announcements around RS Mobile, grab exclusive Membership offers (even free stuff!) or need Support, the Facebook Companion has your back!
And since we're getting closer to RuneFest, you can now ask the Companion to send you a notification to not miss a thing from the show – live streams and reveals included!
Talk with the RuneScape Companion
LootScape
Our live streams are always a great opportunity to grab some awesome in-game prizes. And as our first adventurers set foot on Land Out of Time (or as we call it "LOoT"), we thought you'd like an update of the LootScape. Ok, roll the drums and behold… our LOoTScape!
This month, each and every RuneScape stream watched will give you a random drop from one of the following:
Guaranteed:
1 - 2 hunter marks
250 resources in a random Base Camp resource
Guaranteed drop from Basic Drop Table (see below)
View counter goes up on Orb
1 Raffle Ticket to use at Balthazar's
Chance based:
A random skilling outfit piece (if unowned)
Either Nature's Balance or Loots Cape (if unowned)
Basic Drop Table: Prismatic small fallen star, Prismatic medium fallen star, Prismatic small lamp, Prismatic medium lamp, Spirit Ruby, Spirit Diamond, Advanced Pulse Core, Spring, Silverhawk down, Medium DG Token Box, Small DG Token Box, Uncut Dragonstone, Large Cash Bag, Medium Cash Bag or Small Cash Bag.
Exciting isn't it?! So don't wait up - connect your RS account to your Twitch account and find out more here. Once that's done, have fun and watch our streams during the day for a guaranteed drop.
Live streams this week
Each week, we host developer Q&As, exclusive in-game first looks and more. And it's all live on our Twitch channel, join us! Missed a stream? Don't worry, we keep them all on our YouTube channel. Be sure to Subscribe to be the first to know.
Tuesday, September 24th – 16:00 UTC (Game Time) – General Q&A
You've got questions? We have answers! You've been requesting more opportunities to exchange with us on current projects and address all kinds of questions that could arise during your adventures in Gielinor. Well, now's the time: join us for a full hour of Q&A on the sofas! We will also be calling for questions on Facebook, Twitter and Discord, keep an eye out.
LootScape will be enabled (see all details above).
Sunday, September 29th – 15:30 UTC (Game Time) – Maikeru Featured Stream
This week, our featured streamer is Maikeru! Join him for a whole stream dedicated to masses with non other than you lot!
This featured stream is also an opportunity to grab a LootScape! That's right, you can now receive in-game loot when you watch a RuneScape streamer. It works exactly the same way as our official streams, just watch Maikeru's stream on (his Twitch channel) and you'll receive the LootScape the following day.
LootScape will be enabled (see all details above).
Pink skirts Events
Of course, adventures continue in Gielinor even when we're too busy (PKing) creating the adventures of tomorrow. Our PMods are here to welcome you in a range of PvM Boss Masses, Events and Q&As each week. Check out all the community events organised by the Pink Skirts on their official schedule here.
---
The RuneScape Team