Dust off your vuvuzelas and waggle those banners, it's time for a bit of competition here on Gielinor! This week, the Clan Cup finally returns from its years-long slumber – are you ready to help your clan win the prize? Plus, read all about sigil removal and this week's Summer Escape!
Clan Cup - Big Game Hunter
The clan cup is back, and this time, you've got to skin it to win it. During the week of August 19th you'll be competing to see which clan are the real Big Game Hunters, and which clans are just a bunch of nimrods. Here's how it works:
Each player will have three one hour attempts to skin as many dinosaurs as they can in Big Game Hunter. These sessions can be abandoned and restarted at any time during the week. Please note that to participate, you'll need the usual requirements for Big Game Hunter: 75 Hunter and 55 Slayer.
At the end of the week, the top ten scores from your clan will be combined into a total score. The clan with the highest total score will be declared the winners, and will walk away with a selection of rewards:
1st Prize: Access to the Crystal avatar, clan stickied thread in recruitment and 12% XP boost/100% faster capping for a month!
Runners Up: Access to the Crystal avatar and 9% XP boost/75% faster capping for a month!
The following Big Game Hunter buffs will be active during the Clan Cup sessions:
You will receive one Hunter Mark for each Dinosaur skinned at the end of your session
For the duration of the Clan Cup session, multi spawn encounters will be disabled to try and keep it fair throughout
During your Clan Cup session, the Dinosaurs will never go into hiding. This means that you can dedicate a full hour to hunting
While in a Clan Cup session in a Big Game Hunter encounter, Surge, Bladed Dive, Barge, and Escape will have a cooldown of 10 seconds
In the interest of fairness, the following restrictions will also be active during Clan Cup sessions:
The Dwarven Chainaxe will be unable to give you double logs/vines while in a Clan Cup session on Big Game Hunter
The Ring of Whispers will not boost your chance to get a log/vine in Big Game Hunter
The Lumberjack Aura will not boost your chance to get a log/vine in Big Game Hunter
The Nature Sentinel outfits will not boost your chance to get a log/vine in Big Game Hunter
The Perfect Juju Woodcutting Potion will not boost your chance to get double logs/vines in Big Game Hunter
The Hunter Lodge bonuses will not work in Big Game Hunter
The Honed perk will not work in Big Game Hunter
The Prism of Salvation will not work in Big Game Hunter
To enter, all your clan needs to do is ensure that at least 10 players have completed their sessions by the time the cup ends at 23:59 UTC on Sunday, August 25th. Your scores will be recorded automatically, so all you need to do is play!
For more information, please read the official
clan cup page.
Sigil Removal
After much deliberation, we decided that sigils were more complex than they needed to be. They required upkeep, couldn't be stacked, and were in general a hassle to use. Therefore, we've reworked the sigil system to turn them into abilities which require no upkeep to maintain.
In addition, a few of the sigils have been renamed to better reflect the bonuses they provide:
Sigil of Slaying is now known as Slayer's Insight
Ferocious is now known as Kuradal's Favour
The function of these abilities have not changed.
To unlock these new abilities, you'll need to craft codices. These codices are a little bit more costly than the original sigils were to make up for the fact that you'll no longer need to pay the costs of upkeep.
As abilities, these multiple sigil effects can be added to the action bar, meaning that their effects can stack. We think this will add some exciting new combat strategies to the game, and we're looking forward to seeing how you use your new abilities! You can find the sigil abilities in the Constitution, Defence, and Magic ability books.
All existing sigils have been cleaned up from inventories and banks, and the composite materials will be refunded based on how charged the sigils were at the time of removal.
Balance changes
Because sigil effects are now abilities that do not share a cooldown, abilities that provide consistent XP gain have been rebalanced:
The cooldown of Slayer's Insight has been increased to 2 minutes
The cooldown of Aggression has been increased to 2 minutes
Summer Escape: Elite Dungeons and Dungeoneering
This week's summer escape is all about Elite Dungeons and Dungeoneering! From 00:00 on August 19th to 23:59 on August 25th, delve into adventure with the following bonuses:
Lore book drop rate doubled
25% increased Slayer experience from dungeon monsters
1 extra ancient scale or draconic energy whenever the drop is hit
1 automatic resurrection to full life points upon death per run, whether in normal or story mode
1 free death per run in Elite Dungeons.
No experience penalty upon death in Daemonheim
Double Dungeoneering tokens
While you're travelling around from dungeon to dungeon, keep an eye on those lodestones. Once every hour, certain lodestones will receive balloon drops containing Silverhawk feathers, summery snacks, and more!
Don't forget that from 12:00 on Friday to 11:59 on Monday the following boosts will also be in effect:
One free clue reroll a day
Double skill outfit fragments
Double Menaphos rep
Double thaler
Double slayer points
Half boss instance cost
Chance of mystery boxes when skilling/killing
And if that's not your thing, you'll find a variety of buffs in place on the Player Owned Farm:
10% increased chance of breeding animals
5% increased chance of shiny animals
10% happiness and health increase from feeding
Double item yield from harvested animals
10% more beans from selling animals
10% Increased drop rate of animals from combat
Honeycombs are 50% more effective when used on animals
Patch Notes
Yet again we have over 100 different changes and fixes this week! Read on to find out what they are.
Twitch Prime
We've once again partnered with Twitch to bring you some exclusive loot! Whilst active, Twitch Prime members can grab some free loot, including some exclusive outfit pieces!
You've got until Tuesday August 20th to redeem your free Umbral Pack (Umbral Waraxe, Umbral Akh, Umbral Wings). Also, from the 20th you'll be able to claim a free Currency Pack (200 RuneCoins, 15 Keys, 40 Hearts of Ice). Our social channels will let you know when the fourth Twitch Prime loot becomes active!
For instructions on how to claim and redeem your loot, click here.
RuneFest 2019
RuneFest 2019 will be a blast from the very distant past as visitors take a dangerous journey into The Land Out of Time. Expect dinosaurs! And carnivorous player-eating plants! As you're travelling around a real-life slice of the island you can look forward to hands-on time with new content, talks and meetups with the JMods, loads of panels, a dedicated LAN area, an art area for meeting the creative teams and of course some very big surprise announcements on the main stage. We're also bringing back skill chips!
If you're in need of tips and suggestions on everything from travel to accommodation, you can also join our dedicated Discord channel, head to the official RuneFest forum or the community-owned Facebook Group.
Competitions
Summer is not over yet but we can safely say you've had quite the opportunity to try your luck with all the competitions that ran in the past weeks! Today, we're focusing on the Summer Sweepstakes that ran alongside our now ended 3-for-2 Membership offer. The two winners have been picked randomly (one for each of the RS & OSRS communities) and here they are:
Congratulations to jordang90 and errandbarrow, you've both been picked as the winners of this competition – you win 1 Chillbast PC, 1 GT Omega Racing chair and 1 Month RS/OSRS Membership EACH! Both of you have been contacted, so check your emails if you haven't done so already.
Missed your chance? Well you can still try your luck with the exclusive email competitions we run every month!
Did you know that our newsletter subscribers get the chance to enter exclusive competitions? So keep a close eye on your inbox! How to enter? Well it couldn't be simpler: just make sure that you've subscribed to our communication updates (check your account), and wait for our emails!
This is one of the exclusive perks our newsletter subscribers can start to enjoy, there will be many more coming in the next weeks (#spoilers).
Facebook Companion
Our Facebook fans can now enjoy a whole new RuneScape experience: the RS Companion! Whether you want to get the best out of the Land Out of Time with some quick info, explore helpful Guides displayed in the Grand Library, never miss future announcements around RS Mobile or RuneFest 2019, grab exclusive Membership offers (even free stuff!) or need Support, the Facebook Companion has your back!
Talk with the RuneScape Companion
The RuneScape Companion is still young and we want to make it the best experience possible with your help. How? Simple, interact with it. The more you have fun (or find bugs in the matrix), the more it will learn!
LOotScape
Our live streams are always a great opportunity to grab some awesome in-game prizes. And as our first adventurers set foot on Land Out of Time (or as we call it "LOoT"), we thought you'd like an update of the LootScape. Ok, roll the drums and behold… our LOoTScape!
This month, each and every RuneScape stream watched will give you a random drop from one of the following:
Guaranteed:
1 - 2 hunter marks
250 resources in a random Base Camp resource
Guaranteed drop from Basic Drop Table (see below)
View counter goes up on Orb
Chance based:
A random skilling outfit piece (if unowned)
Either Nature's Balance or Loots Cape (if unowned)
Basic Drop Table: Prismatic small fallen star, Prismatic medium fallen star, Prismatic small lamp, Prismatic medium lamp, Spirit Ruby, Spirit Diamond, Advanced Pulse Core, Spring, Silverhawk down, Medium DG Token Box, Small DG Token Box, Uncut Dragonstone, Large Cash Bag, Medium Cash Bag or Small Cash Bag.
Exciting isn't it?! So don't wait up - connect your RS account to your Twitch account and find out more here. Once that's done, have fun and watch our streams during the day for a guaranteed drop.
Live streams this week
Each week, we host developer Q&As, exclusive in-game first looks and more. And it's all live on our Twitch channel, join us! Missed a stream? Don't worry, we keep them all on our YouTube channel. Be sure to Subscribe to be the first to know.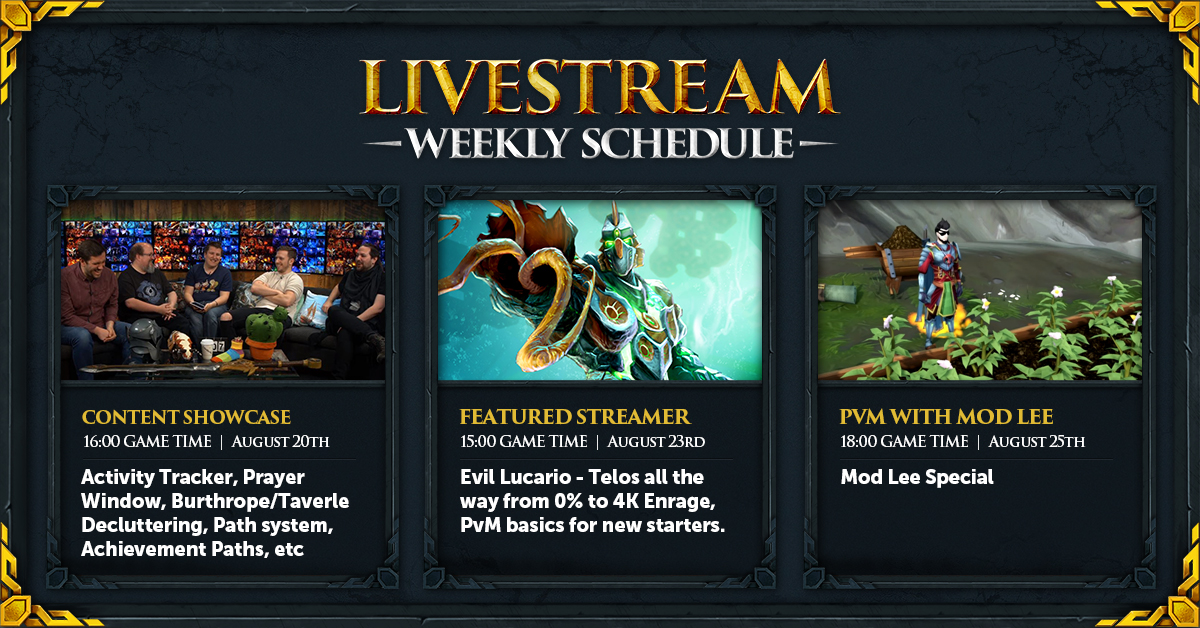 Tuesday, August 20th – 16:00 UTC (Game Time) – Content Showcase
We're shifting today's agenda to present upcoming changes that we will be adding in the coming weeks: Activity Tracker, Prayer Window, Burthorpe/Taverley Decluttering, Path System & Achievement Paths. As we will be showing these changes directly in game, we'll also give you more in-depth details of what to expect.
We'll also address the Sigil Removal and take your questions live from the Twitch chat. So be sure to join us!
LootScape will be enabled (see all details above).
Friday, August 23rd – 15:00 UTC (Game Time) – Evil Lucario Featured Stream
This week, our featured streamer is Evil Lucario! Join him for a PvM-packed stream where he'll be tickling the gills of the one and only Warden: Telos - from 0% up all the way to the challenging 4K Enrage. Newbies will also be welcomed on this high-end stream as Evil Lucario will take the time to show the basics of PvM progression and answer all your questions.
This featured stream is also an opportunity to grab a LootScape! That's right, you can now receive in-game loot when you watch a RuneScape streamer. It works exactly the same way as our official streams, just watch Evil Lucario's stream on (his Twitch channel) and you'll receive the LootScape the following day.
LootScape will be enabled (see all details above).
Sunday, August 25th – 18:00 UTC (Game Time) – PvM with Mod Lee
Our resident PvM expert Mod Lee knows no fear and he's ready to take you all on another round of boss mass. From Vorago to the Kalphite King, the Corporeal Beast, the Angel of Death, if you've got a set to complete, an achievement to unlock, or simply want to hang out with friends and slay some, this is the place and time!
LootScape will be enabled (see all details above).
Pink skirts Events
Of course, adventures continue in Gielinor even when we're too busy (PKing) creating the adventures of tomorrow. Our PMods are here to welcome you in a range of PvM Boss Masses, Events and Q&As each week. Check out all the community events organised by the Pink Skirts on their official schedule here.
---
The RuneScape Team