Mayday! Mayday! Oh wait, that was last week. Phew. Panic over. We do, however, have an alarming amount of content for you this week, including the long-awaited clan QoL changes and a reminder of the Song of Seren event this weekend.
What are you waiting for? Get reading!
Clan Quality of Life Improvements
Clans of RuneScape! Behold! The prophesied Quality of Life changes have finally arrived!
As of this week clans will be more fun than ever before, so there's no better time to jump into clan life, make friends, and slaughter your enemies. Enjoy!
Here's the full list of changes:
A special broadcast will fire to your clan every three months during your first year, and then again on your 'clanniversary' every year after that:

'Discord' and 'Invention' have been added to the list of clan keywords.
'RuneScape 2007' has been renamed to 'Old School RuneScape' in clan keywords.
When viewing a clan's Noticeboard, the title will now be the name of the clan.
Entries in the 'place' dropdown menu now default to 'abandoned mine' so that the Clan Noticeboard can be alphabetised.
The Clan Info interface has been refreshed and a clan's creation date added:

The Vexillum option has been removed from the Noticeboard edit interface.
Clan event reminder notifications have been updated to include more information about upcoming events, and an event notification message will fire when an event has been running for 30 minutes.
You are now able to view the job title of a clan member by hovering over their rank icon in Clan Chat:

The Clan Log will be updated to show the last week's visitor and capped count - for the latter to work, your clan citadel must have been rebuilt since this update.
Clans can set a total level requirement for joining their clan. If a player is invited who doesn't match the clan's requirement, they will not be able to join. If an owner invites a player, it will bypass this check.
Clan chat has also been improved:
You can now view the information of the clan you're guesting in by clicking the I button. You can also view that clan's Noticeboard and see what events they have coming up: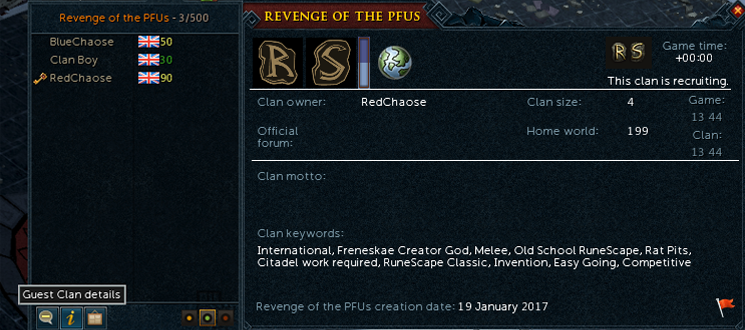 When guesting in Clan Chat you will receive notifications to let you know when their events are starting.
Clan staff can set up a 'Guest Clan PIN' that will stop uninvited guests from entering the clan. If the PIN is changed, any guests reconnecting to the clan chat will be kicked out and will have to enter the right PIN to re-join:

Clans will be able to set a total level requirement for guests to join their clan chat in Clan Settings. This is to stop new accounts being made to flame clan chats.
Song of Seren
Keen-eared adventurers will remember that this weekend the Song of Seren will be heard all over Gielinor. This is your opportunity to earn an extra 1.5x XP in every skill, so keep an ear to the ground to find out which skill set is active, and when.
Song of Seren will run from May 10th at 12:00 to May 13th at 11:59. That's a whole weekend of skilling fun!
For more information on the mechanics of the event, check out the original announcement, Or, if you're interested in the motivations behind this sudden vocal expansion, have a quiet word with Seren's emissary Endwyr, who can currently be found in Burthorpe.
Time to Seren
The Song of Seren event will be accompanied by a treasure hunter promotion similar to Time to Train but with a crucial difference: this time, the prizes on offer will be tailored to the current set of skills boosted by the Song of Seren.
The Time to Seren promo will only sync when the Song of Seren event is live. From May 9th-10th, and after midnight on May 13th, the promo will distribute the regular selection of Time to Train prizes.
Patch Notes
Praesul codex drop rate now scales to the amount of players in the fight so that smaller teams are better rewarded, up to the maximum of 7 players.
Upon entering the Combat Academy your pet/follower will now be hidden for other players, once you exit the Combat Academy your pet/follower will then reappear for other players.
Interested in the nitty-gritty stuff from this week's update? Take a peek at the patch notes to find out more.
Aura Sale
We hope you've been saving up your loyalty points, because the aura sale is here! From now until the end of the month you'll be able to grab a selection of the game's most coveted auras at a hefty discount from Solomon's General Store.
ALL tier 4 & 5 auras will have a 25% discount. Maniacal, Berserker, Reckless, and Dark Magic auras will have a 30% discount. Finally, the Vampyrism aura will have a massive 50% discount.
The aura sale will run from May 1st at 12:00 to May 31st at 11:59 – snap up these bargains while you can!
LootScape
Our live streams are always a great opportunity to grab some awesome in-game prizes. And this May, we've done one particularly hefty update of the LootScape for you! We've added a bonanza package for your Player-Owned Farm, courtesy of Granny Potterington. In addition, we thought it would be time to bring back some player-favourite goodies: the skilling outfit piece, the Loots Cape and Nature's Balance (main-hand sword override).
This May, each and every RuneScape stream watched will give you a random drop from one of the following:
Guaranteed:
Between 10-100 Player-Owned Farm Beans
A name re-roller or trait re-roller
A random animal for their farm
Guaranteed drop from Basic Drop Table (see below)
View counter goes up on Orb
Chance based:
A random skilling outfit piece (if unowned)
Either Nature's Balance or Loots Cape (if unowned)
Basic Drop Table: Prismatic small fallen star, Prismatic medium fallen star, Prismatic small lamp, Prismatic medium lamp, Spirit Ruby, Spirit Diamond, Advanced Pulse Core, Spring, Silverhawk down, Medium DG Token Box, Small DG Token Box, Uncut Dragonstone, Large Cash Bag, Medium Cash Bag or Small Cash Bag.
Exciting isn't it?! So don't wait up - connect your RS account to your Twitch account and find out more here. Once that's done, have fun and watch our streams during the day for a guaranteed drop.
Live streams this week
Each week, we host developer Q&As, exclusive in-game first looks and more. And it's all live on our Twitch channel, join us! Missed a stream? Don't worry, we keep them all on our YouTube channel. Be sure to Subscribe to be the first to know.
Tuesday, May 7th – 15:30 UTC (Game Time) – Month Ahead May with a twist
Mayday! Mayday! it's time for the May Month Ahead. We'll be answering question and talking about everything in the Month Ahead May. Along side this we will be discussing something that we've not talked about before, to find more about this tune to the stream on our twitch channel.
LootScape will be enabled (see all details above).
Saturday, May 11th – 13:00 UTC (Game Time) – The RS Guy
Wait a minute, there's a boatload of Content Creators streaming EVERY DAY on RuneScape, so why are we featuring TheRSGuy's stream? Well, here's a surprise for you. We are extending our LootScape to our amazing community! That's right, you'll have one more opportunity per week to receive in-game loot when you watch a RuneScape streamer. It works exactly the same way as our official streams, just watch theRSGuy's stream (his Twitch channel) and you'll receive the LootScape the following day!
LootScape will be enabled (see all details above).
Sunday, May 12th – 18:00 UTC (Game Time) – Skill'n'Chill with Mod Lee
Our resident PvM expert has signed a truce with bosses this Sunday as it's a special occasion: the Song of Seren weekend! Join Mod Lee on a Skill'n'Chill trip across Gielinor, it's going to be all about fun and XP. Meet up at the Lumbridge Combat Academy (W37) to start the fun!
LootScape will be enabled (see all details above).
Pink skirts Events
Of course, adventures continue in Gielinor even when we're too busy (PKing) creating the adventures of tomorrow. Our PMods are here to welcome you in a range of PvM Boss Masses, Events and Q&As each week. Check out all the community events organised by the Pink Skirts on their official schedule here
---
The RuneScape Team