Combat Pets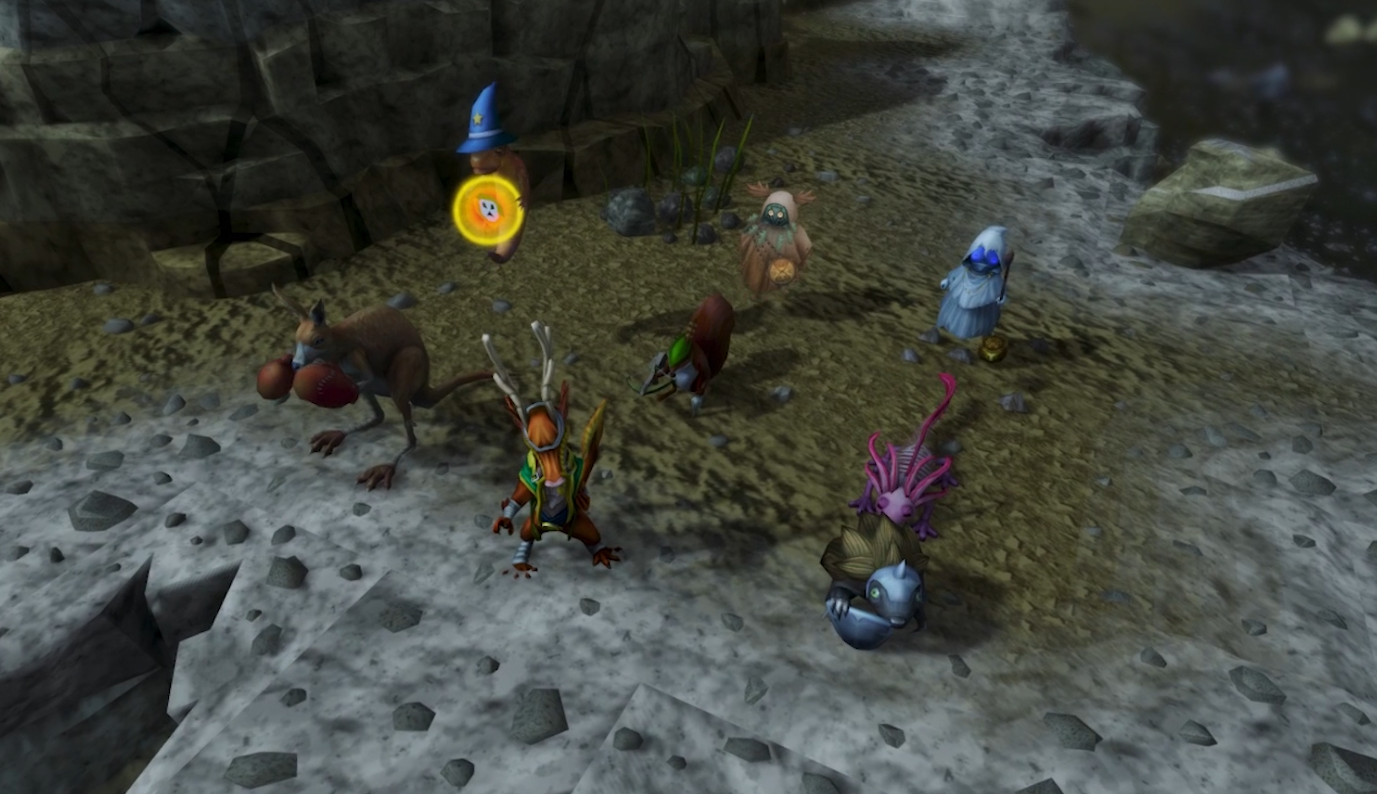 See these eight bright-eyed newcomers? They're our newest addition to Gielinor: combat pets that you can unlock by training their respective skills, all taken from (or inspired by) your designs and chosen by the community.
Name
Skill
Description
How to get it
Sifu
Attack
A blind dragon with eastern themes
Using Attack in combat
Kangali
Strength
A kangaroo with boxing gloves
Using Strength in combat
Sparky
Ranged
An injured, crossbow-wielding squirrel
Using Ranged in combat
Newton
Magic
A wizard-hatted newt holding an orb of shifting magical energies
Using Magic in combat or using non-combat magic spells
Wallace
Defence
A cowardly grenwall armed with a helmet and shield
Using Defence in combat
Morty
Constitution
A hardy axolotl with a transparent body
Using Constitution in combat
Ghostly
Prayer
A tiny but surprisingly violent ghost who likes to whack things with its thurible
Training Prayer, for example by burying bones, offering to your player owned house and wilderness altars, using the Ectofuntus, cleansing the Nexus, cremating vyres, using the Bonecrusher and cleansing Hefin crystals
Shamani
Summoning
A creature trapped within the veil between life and death
Using Summoning in combat and training Summoning, for example by creating pouches and scrolls and giving up charm drops to the Charming Imp
These pets are available to all players with the ability to train their respective skills. And, while there's no lower limit, your likelihood of rolling a combat pet will increase as your skill level increases.
Alongside this update are a bunch of new achievements (which don't count towards your RuneScore) and three new titles: 'Jack of Blades', 'Jack of all Blades' and the illustrious 'Master of All' title for anyone focused enough to earn all 27 skill-related pets. The names of the first players to win the new titles will be broadcast across all our servers.
For the purposes of bureaucracy, Crabbe the Slayer gargoyle will be joining the eight new combat pets. Please join us in giving Crabbe a warm Gielinorian welcome. *gives warm Gielinorian welcome*
The Premier Club Vault
The opportunity to secure up to twelve months' membership at our lowest possible rate (and with lots of goodies to boot) is coming around again on Friday with the launch of this year's Premier Club. Details of the exciting new package will be released on the day. In the meantime, let's take a trip down to the Premier Club Vault.
Premier Club Vault is a new D&D which gives you one minute to open as many chests as you can to win rewards - the bigger the chest, the better the prize. It can be accessed through a new portal in the Grand Exchange in Varrock.
Members can give it a try for free anytime up until November 30th, after which it will be available on a monthly basis and reserved for Premier Club Gold members. Want to game the system? Buy your Premier Club membership in November and get two goes this month!
Free Weekend
It's time to reunite the 'scape squad, because this weekend we're opening game content up to our whole community - and anyone else who may want a taste of the fun! No caps, no restrictions.
Got friends you used to skill and PvM with? Bring them back in anytime from 12pm UTC (game time) on the 24th through until 12pm UTC on the 27th and show them what they're missing.
Loot Scape!
Do you watch our live streams? If not, why not?
LootScape is an all-new way for you to get yourself some awesome in-game goodies by watching our live streams every month. Just connect your RuneScape account to your Twitch account and tune into one of our Tuesday or Friday live streams to get some free stuff!
This month, we've created an all-new LootScape Loot Chest, in which you'll have a chance to win one of loads of different prizes – the rarest of which this month is the Warborne Behemoth pet. Good luck, and may RNGesus be in your favour!
You can connect your RS account to your Twitch account and find out more about it here.
Patch Notes
You can read the full list of this week's updates on the patch notes forum thread.
Enjoy!
Gather the 'scape squad and light the beacons, for nigh is the time of awesome.
The RuneScape Team
Live Streams This Week
Each week we livestream Q&As, in-game events and more. Watch our streams and find out more information about our streams over on our Twitch channel.
Check our YouTube channel too for recap videos of streams you may have missed!
Tuesday, November 21st – 17:00 UTC (Game Time) – RuneScape Content Showcase
It's our chance to share what we're currently working on. This week, we'll be showing you some teasers of this year's Christmas Event, an update on Pieces of Hate, and more!
Find out live on Twitch and YouTube!
LootScape will be enabled for this stream.
Sunday, November 26th – 19:00 UTC (Game Time) – PvM with Mod Lee
Top up your PvM tactics with your weekly dose of monster-killing with Mod Lee!
LootScape will be enabled for this stream.