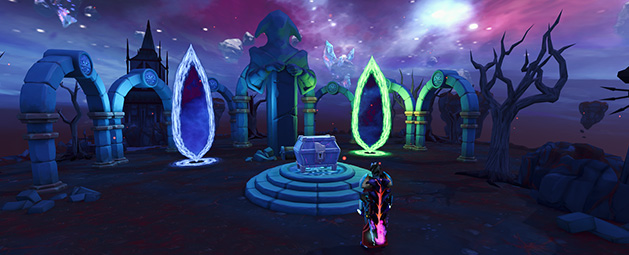 The Month Ahead – May 2017
Our video team are hard at work on a range of projects, which means that BTS is text-only this month.
Please accept our apologies for this, and read on to find out what May has in store.
---
Shattered Worlds
Shattered Worlds is our major update this month: a huge new single player combat minigame with fantastic new rewards.
Centuries of teleportation magics have created punctures in the Abyss, causing the fabric between shards and their locations to grow weaker. Twisted by the mutations and growths within the Abyss, environments, spirits and creatures from familiar places are pulled together, creating strange new worlds.

A new chivalrous order – the Abyssal Knights – have formed to defend us from this new threat in the swamps south of Lumbridge, but they need adventurers like you to take the fight into the Abyss, meeting its dangers head on. In Shattered worlds, you'll fight gallantly through these worlds, stacking up mutators as you play. Each mutator can affect the gameplay in the next world, granting you and the creatures unique effects that change the flow of the battle. It's mad, chaotic, and a whole ton of fun.
Shattered Worlds also includes weekly challenges set for various levels of player, earning you more points to spend on unique rewards.
And the gear on offer is pretty awesome, including sigils that occupy a brand-new equipment slot, giving effects like Slayer XP boosting and forcing creatures to be aggressive, which are no doubt a welcome addition to any combatant's arsenal. There are new abilities too: one for dual-wielding melee, and one for ranged - along with an update to an ability you'll already be familiar with.
There's also a new pet with 9 evolution stages, cosmetic outfits, XP, unique slayer contracts…and that's just a handful of the things on offer.
While there's no hard level requirement, we recommend adventurers have a minimum of level 40 in their chosen combat style. As you progress through the worlds, the difficulty increases, so you'll need max levels and the best gear to take on the most challenging worlds.
Shattered Worlds is really worth checking out – I look forward to seeing you splatted across the Abyss.

---
Mental Health Awareness Week
This year Jagex are partnering with three charities to raise awareness of mental health issues and help to combat the stigmas associated with them. We will be adding NPCs from each charity to the game to learn more about the challenges that people with mental health issues face, and encouraging you to get involved through in-game activities.
Collect tokens to unlock some new cosmetic items, or alternatively, buy them in the store. All proceeds from this event go straight to the charities!
---
Achievement System
Work continues the Achievement system, with phase 2 well on its way. We've been compiling all your feedback on the system and ideas for new achievements, and we're busy looking into which features we can implement to build on the foundations we added last month. It's looking great - thanks for your feedback and help so far.
---
Double XP Weekend & Time to Train
From midday on the 19th of May through to the 22nd, we will be running another Double XP Weekend for you to get everything sorted before the gates of Menaphos open on the 5th of June. Expect your favourite XP related items to be present in Treasure Hunter running up to the weekend, so make sure your logging in for your free Keys!
A shiny new website dedicated to all things Menaphos is live right now - go there, watch the trailer and sign up for even more info in the future!
---
Have fun, W00ters out!
Mod Mark
Back to top