Hello everyone,
Iím so excited to finally introduce myself as your Executive Producer on RuneScape. Iím Mod Keeper, and itís great to meet you!
First of all, let me say a big thank you to all of you for your feedback and comments, which have really helped to shape our plans. I want to push for even more open communication going forward. Itís important you know where we are headed and that you feel your voice is part of that.
What is my role?
As the EP, Iím here to steer the overall vision for RuneScape. I work with all the leaders across our various development disciplines to set a direction for the game and make sure it keeps hitting the mark!
Since I became EP late last year, Iíve been working with the team to develop a long-term vision for the game. Itís taken longer to get to this message than I originally hoped, but today I can finally share a picture of where weíre taking RuneScape next.
What do we do next?
Over the next year, we will continue crafting and building wonderful stories through content every month that serve a larger narrative. Through both feedback and player data, we know that you want to see regular content drops mixed with quality of life Ninja Updates and a steady stream of events.
On top of this, we want to follow the structured narrative approach we introduced with Elder God Wars, which will help us with with questions like; where does the story take us, how is the world of Gielinor changing, how is that playing out for new and existing players, how do rewards tie in and how can we make sure progression is both meaningful and fun?
In the coming months, I'm looking forward to revealing what that means in earnest, starting with the release of the long-awaited '5th boss'! However, I don't want to leave you hanging today. Letís take a look at the road ahead Ė not just so you can get excited for whatís coming, but also to open up more possibilities to add your feedback to our work as we go.
Here's a look at just some of the things you can expect this year from RuneScape: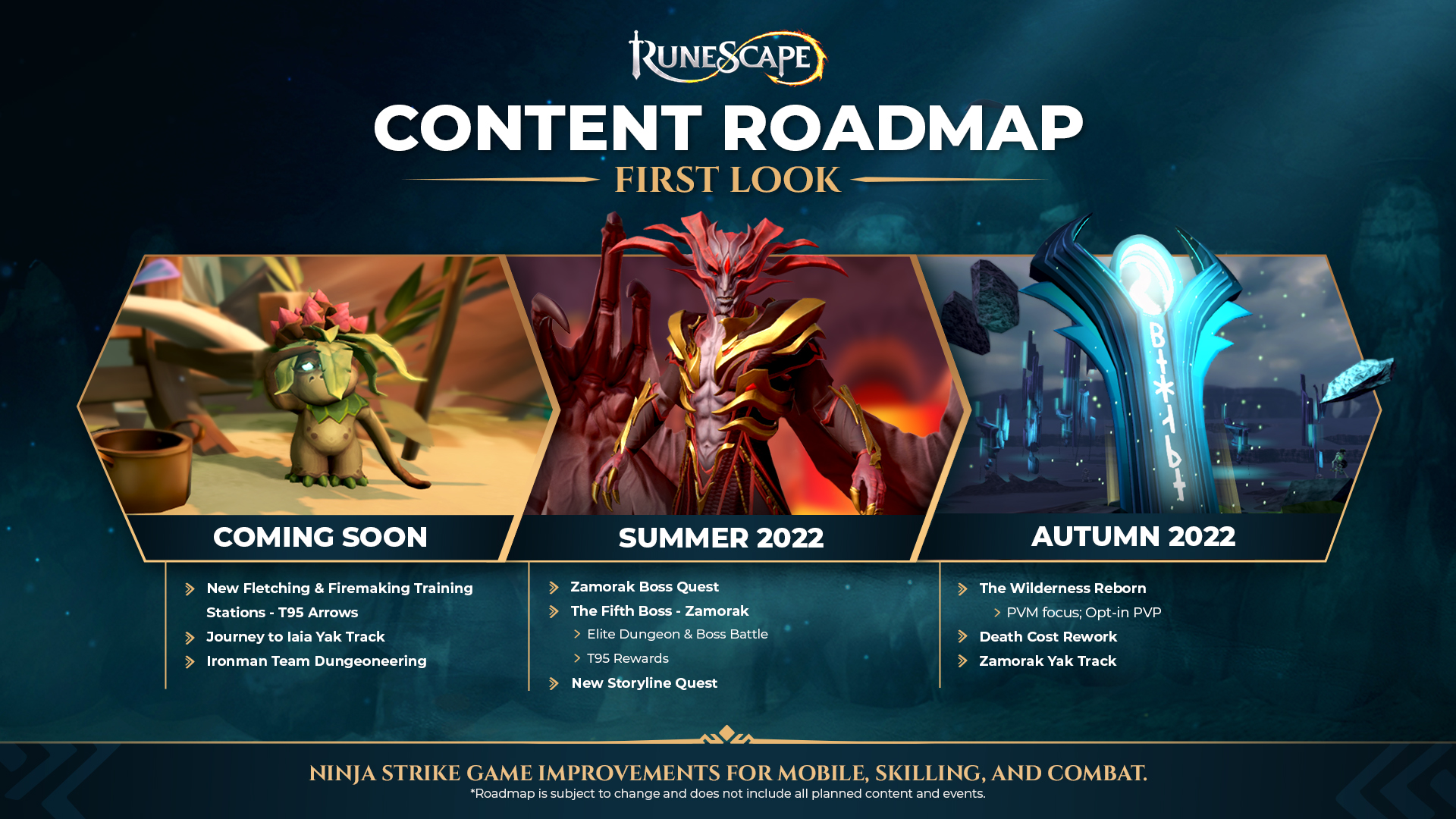 Click here to view the Roadmap fullscreen
This is far from everything in our plans, but I hope you feel it gives you a good look at some of the bigger moments to come over the next 6 months. Weíll be able to go into even more detail this summer.
What else can we look forward to?
A philosophy I really want to bring to RuneScape's development is to improve the gameís quality through working smarter. By optimising the way we develop, we can do more with monthly releases and spend more time on quality assurance.
We have already started work on several initiatives in the Ďwork smarterí category, including tool improvements, boosts to server performance, client stability, general user experience tweaks, changes to account security, services updates and running beta servers. Mod Mac shared some first information on the account security and services aspect in a previous blog Ė take a look if youíd like to find out more!
Given the scale of RuneScape, the work and effort going into running and maintaining everything is significant. While some of these changes might not be felt immediately by you as players, we have a clear direction to guide us into the next era of RuneScape - and itís all thanks to you, our community! What Iíve shared today is just the start of this journey, and I hope it really gets you excited for whatís to come - and feels like a first signal on how we'll be changing our communication over the coming year.
Stay tuned for more regular updates from me and the team. Until then, keep safe and see you in Gielinor!
---
- Mod Keeper