Hello you lovely 'Scapers,
It's time for another Development Update! For those of you who haven't seen or read one of these before, Development Updates are our way of trying to provide more transparency into what we're working on in the RuneScape team and what to expect over the coming months.
Here at the studio, more of our development focus has turned to our biggest release this year - Necromancy. After entering longevity testing last month, there's a host of developers heads down on bringing Necromancy to life (ironic), refining systems based on longevity feedback and polishing up the Skill to be ready for release later this year. We're getting closer...
While more of our development focus is being spent on Necromancy over the months ahead, we still have plenty to come in the buildup that we're excited to show you. And, speaking of Necromancy, it's about time we tell you when you'll finally get some details on it. Let's dive into our latest Development Update.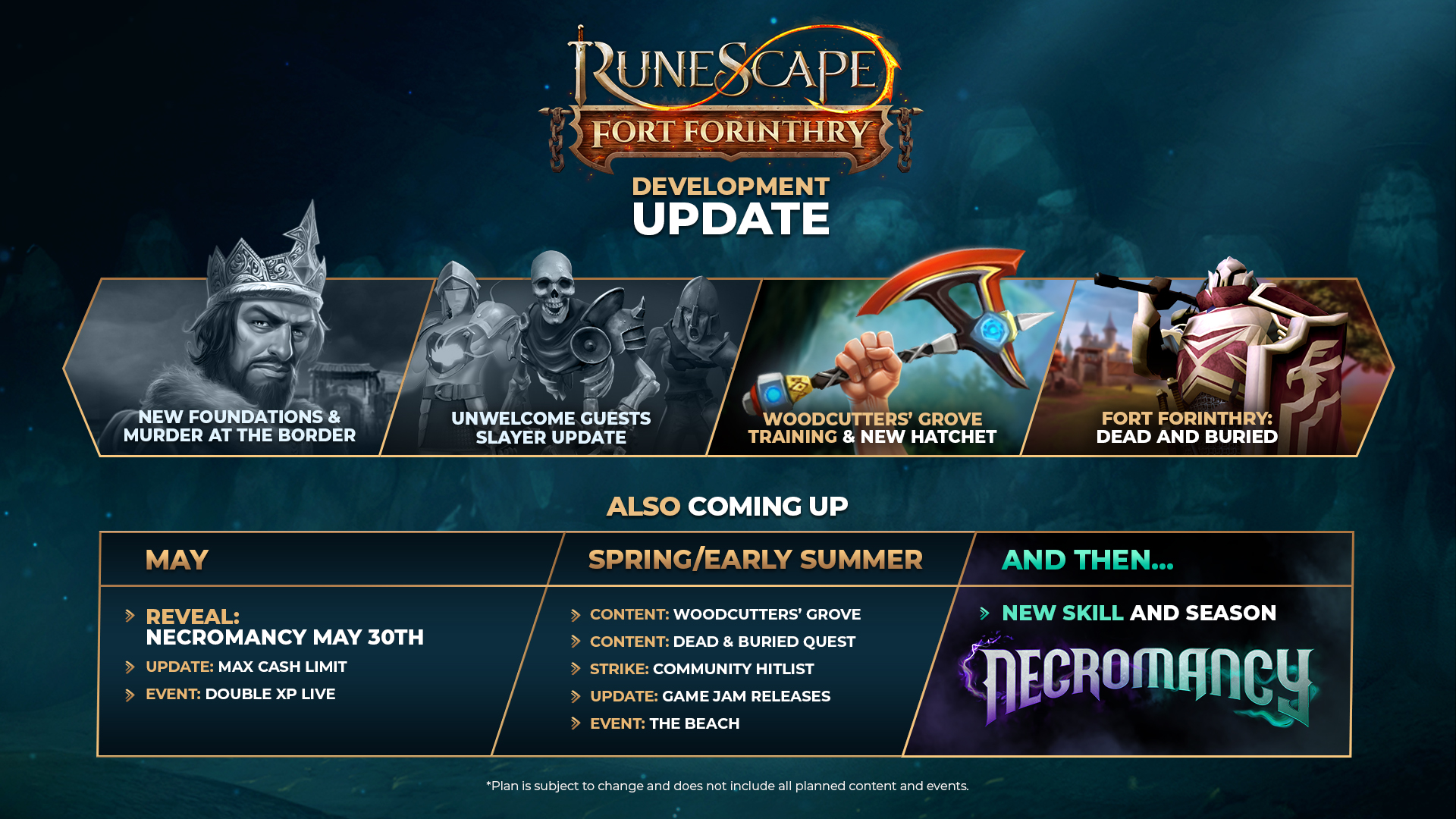 Necromancy
IT'S HAPPENING.GIF
On May 30th, we'll finally be giving you your first-ever look at Necromancy! (We had to bold this because we're still not over the fact we finally get to talk about it).
In our first look video, debuting live on YouTube, the team behind our latest Skill will unveil the core pillars of the Necromancy Skill experience alongside some first-ever gameplay. The next day, we'll be bringing together a panel of developers to join us on Twitch for a chat about what you've seen so far and answer some top questions from the reveal.
After that first look, we'll be giving you even deeper looks inside Necromancy as development of the Skill enters its closing phases. Our goal leading up to release is to give you the most detailed look at a new Skill ever - but balanced with enough secrecy to make sure the day one experience remains special.
For the eagle eyed among you, you may notice we did add one little tidbit in the Development Update - not only will you be getting a fully fledged complete new Skill later this year, but Necromancy's launch will also begin a whole new Season of content themed around Necromancy. We're really excited to build on the learnings of our Content Seasons to deliver even more Necromancy goodness beyond the release of the Skill.
Fort Forinthry
Speaking of Seasonal Content, it's been a blast watching you all living your best Duke/Duchess/Duxe life lately in Fort Forinthry. There are still two more big moments to come in the Fort Forinthry Season, with the first of the two arriving in June.
Woodcutters' Grove
Woodcutting is finally getting some love! Venture back to Fort Forinthry to establish a new Woodcutting training area, upgrade your Fort with a new Woodcutting bonus-laden building, and - in particular spicy news! - a brand new T80 Hatchet to go earn. We'll also be making some balancing improvements to the Woodcutting experience alongside the update too.
Dead And Buried
Get ready for a new Quest with even more Fort Upgrades and some storyline revelations.
While the Fort Forinthry Content Season will be coming to a close after these two Content Updates, Fort Forinthry still has stories yet untold. You won't need to have completed the Fort Forinthry Season to play Necromancy, but we do recommend starting your Fort-building adventure so you're ready for what's to come in the future!
Max Cash Limit Changes
Following our Death Cost reductions earlier this year, we're now almost ready to release the much-awaited change to enable Max Cash to go above the current limit of 2.14b!
Expect to see it this May.
Acting On Community Feedback
As a team, we've been looking to improve on how we bring more of your voice into our development - whether that's post-release or pre-release. As a first step in this direction, we recently had three major opportunities to made your voice heard, and we're going to have more updates on all three topics in the coming months.
FSOA & Animate Dead Balance Beta
Firstly, 'Scapers, you rocked this. Thank you to everyone who provided such constructive, detailed thoughts in response to the changes - the care you put into those responses sparked plenty of conversations on where to go next and some bigger topics beyond (like PvM accessibility through tanking).
With your feedback, we're looking to take a next step based on your comments while still ensuring we deliver some critical rebalancing to FSOA & Animate Dead. Building on all your great contributions, this time we want to take things one step further by letting you get hands on with these proposed changes for yourself.
On May 4th, we'll be releasing Beta Worlds where you'll be able to test out the proposed changes to FSOA & Animate Dead. All you'll need to participate is your existing RuneScape account to copy over onto the server - though you'll need to have FSOA and/or Animate Dead if you're looking to playtest the changes.
Look out for more details on the revised changes and how to take part in the TWIR next Tuesday (due to the Spring Bank Holiday in the UK).
Community Hitlist
We had thousands upon thousands of submissions to the Community Hitlist, where we asked you to tell us the biggest fixes, tweaks or changes you'd like to see come to RuneScape.
Our first Strike is taking shape, and we're working on an Newspost to let you know what to expect ahead of it's release in the coming months. We'll also let you know any common suggestions that couldn't make the cut for this first Strike, as well as anything we think needs further discussion. Expect many words!
Comp Cape - Trimmed Requirements
The Completion Cape changes guided by you are now in the game, with a further vote taking place through our in-game poll to decide any potential additions to the Trimmed Comp Cape requirements. Expect to see a follow up to the results of the vote once it's all completed.
We've been excited to work more closely with all of you on these upcoming updates and rest assured we're working on the next opportunities to get more of your feedback into our development.
Other Updates & Events
As the Fort Forinthry Season continues, we'll also have some other events and updates coming to the game! As the teeny tiny text says on the Development Update image, there are also a few things we're not quite ready to announce today also in the works - but here's what we can share today:
Game Jam improvements, including the Karamja Graphical Updates!
Double XP on May 19th - 29th
The Beach in June
More Streams!
We're being a little cheeky sneaking this one in as it's not content-focused, but we wanted to let you know we'll be returning to regular streaming in the coming weeks. Mod Doom will be taking the reins to keep the conversation flowing with you lovely lot, including some much awaited streams we've heard you wanted to see.
Deeper Discussions on Combat Topics
The return of Q&As!
We'll also have some fun streams in the midst of those juicier conversations. Probably time for Mod Doom's J-Mods vs Monsters rite of passage to begin, no?
Closing Out
It's such an exciting time to see Necromancy becoming more and more complete every Sprint Review that passes - as well as the many other updates we're excited to get into your hands. We hope this has given you a solid look at much of what we're cooking up over the next few months for Fort Forinthry and beyond!
We'll see you out there in the community, on streams and especially on May 30th when we get to share in the excitement of a brand new Skill reveal. SOON.
---
- The RuneScape Team