Mod Mark promised a surprise at the end of the Celebration of Fire event, and it's here! If you haven't already, head down to Lumbridge Crater and meet the Fallen Nihil.
From now until 23:59 UTC on 21st November, help this fiery fellow by collecting burning embers through combat and skilling activities around the world. Note that you'll get higher drop rates if you're training Firemaking (+50%) or Cooking (+20%). You can also earn embers through daily challenges.
Hand them to the nihil to unlock awesome rewards, including a red-hot new cosmetic outfit, and goodie-packed mystery boxes.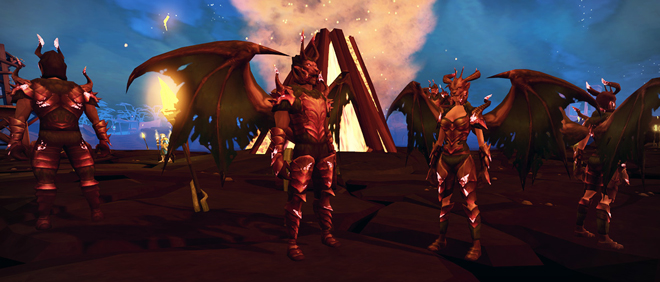 You can earn up to 1000 embers per day, so come back regularly over the two weeks to unlock the lot. If you're short on time, or just want to unlock everything quickly, there are options to speed it up using RuneCoins at the booster shop – accessible via the Seasonal Event tab on the Social interface.
Once the event is over, the nihil will hang around for a further five, allowing you to unlock rewards or exchange any excess embers you may have for mystery boxes.
Ironmen will be able to participate in the event and unlock the outfit, but won't be able to open mystery boxes, or convert excess embers into mystery boxes post-event.
Enjoy!
The RuneScape Team