The godly rumble to end them all is waiting to kick off on Freneskae. That's right - Children of Mah is here, and we can't wait for you to get your hands on it.
Elsewhere, we've got an elegant, aquatic number from Solomon's Store, and the return of the Thanksgiving turkey-catching event.
Read on to find out more!
---
Children of Mah | Grandmaster Quest
How to Start
Speak to Kharshai beneath Rellekka
Requirements
RuneScape membership
The Light Within
Dishonour among Thieves
Koschei's Troubles
Fate of the Gods
Kharshai's in a sticky situation as the quest begins, but that's only the tip of the iceberg. The Mahjarrat are dying...and there's no way they're going quietly.
Join the great and the mighty on an epic jaunt across worlds, relive one of the defining moments of Gielinor's history, and prepare to find out what will happen when Zaros and Zamorak finally meet again.
Rewards & Early Bird Bonus
Suitably epic, the rewards for Children of Mah include swathes of XP – 100k each in Agility and Divination, plus a tome that awards 100k in a skill of your choice (50k if used on Invention), which can be used three times. Complete the quest in the first two weeks, and you'll get an extra use out of this tome as an Early Bird Bonus.
You'll also get access to a new Slayer assignment (unlockable for 50 slayer points). The new enemies can drop new t85 ranged power gloves, which make the Snipe ability 25% more accurate and allow movement while it charges.
There's a pocket-slot item that – while equipped - makes enemies in the Heart of Gielinor non-aggressive, and increases your max multiplier.
On top of all that, there's a new pet, an armour override, and ancient memories in Guthixian caches.
---
Solomon's Store | Nautilus Pack
Ride the crest of fashion's wave with the Nautilus Pack, now available in Solomon's Store.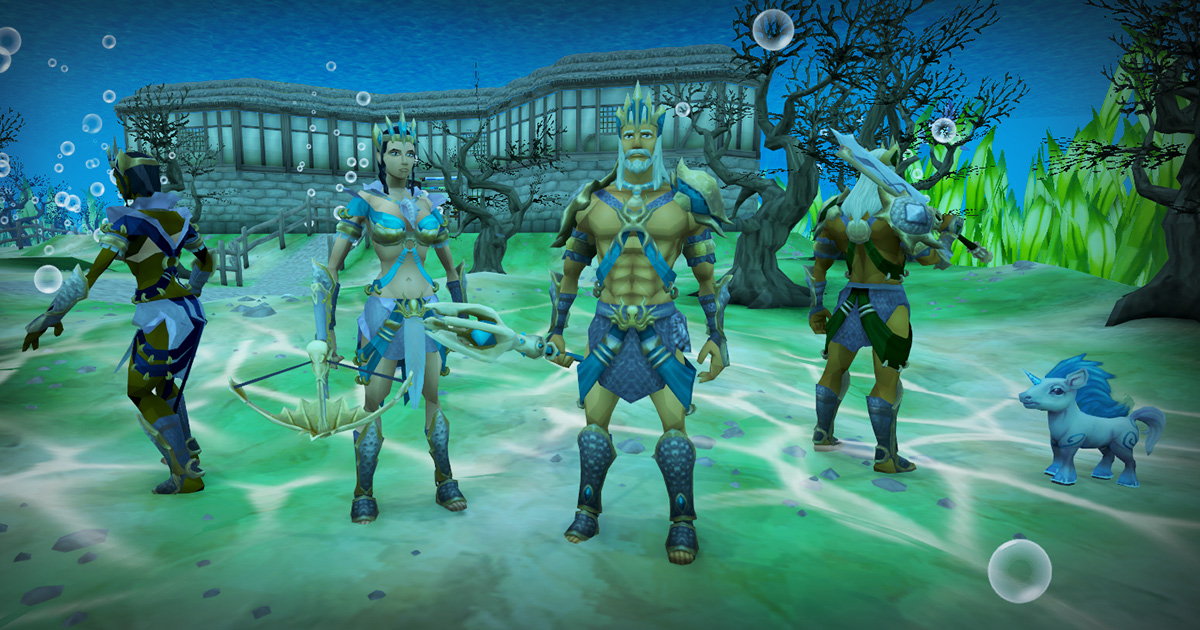 Style yourself a lord or lady of the high seas with this salt-jewelled raiment, which includes:
Full five-piece armour override
Two-handed weapon overrides: sword, crossbow and trident
Companion pet
Teleport animation
Indulge yourself in this maritime treat today. Need RuneCoins? You can redeem Bonds in game, click 'Buy RuneCoins' in Solomon's Store, or buy via the website.
---
Thanksgiving | Turkey Hide & Seek
The Thanksgiving event returns at 00:00 UTC on Thursday 24th November, running for five days.
The turkeys are loose once again, the Lumbridge Cook's brother needs your help corralling the gobbling horde. Speak to him to get a clue book and get started.
There are 25 of the errant fowl to find in total – 10 in free-to-play areas, 15 in members' areas – with a number of rewards as you round up more of the birds:
10 turkeys
Turkey transmogrification ability (by speaking to the cook's brother)
Thanksgiver title (from Thanksgiving 2014)
Herald cape turkey crest (from Thanksgiving 2011)
Give Thanks emote (from Thanksgiving 2008)
20 turkeys
Medium XP lamp
Mackers pet (from Thanksgiving 2011)
25 turkeys
Enjoy hunting them down – and look out from some unique new dialogue!
---
Enjoy!
Today an epic tale concludes, but it leads on to the final act. Look out for more information on Sliske's Endgame...coming soon!
The RuneScape Team
---
In Other News
Read the patch notes for further details of today's updates.
---
Live Streams this Week
Each week we live stream Q&As, in-game events and more. Watch our streams and find a full streaming schedule over on our Twitch channel.
Check our YouTube channel, too, for all of our previous streams, including some of the rewards you can get from Children of Mah.
We've got something a little bit special for all you Art fans this week. Read on to find out more!
Tuesday, November 22nd| 17:00 Game Time | Children of Mah Art Showcase
To celebrate Children of Mah's release, we wanted to show you a little bit about the work that's gone into a quest of this scale and scope.
So, we invited our artists to showcase a bit of what they've done to make Children of Mah a reality.
Expect concept art, environment art, modelling, animation - the works - and how we've made some of the most iconic characters from this most epic of quests.
WARNING: If you've not played through the quest by then, there will likely be spoilers.
We'll also be releasing Club pricing information - so don't miss it!
Post any questions you have for the team on the forums, on Reddit, or by using the #RSQA hashtag on Twitter.
Watch from 17:00 Game Time to find out more!
Friday, November 25th | 21:00 Game Time | Update preview with Mod Shauny
Find out what you can expect from Monday's patches and more with Mod Shauny this Friday night.
Sunday, November 27th| 20:00 Game Time | PvM with Mod Lee!
Mod Lee will be hosting some Community PvM goodness live on Twitch!