Til Death Do us Part
Tis the month of Hallowe'en, and you know what that means? Our Halloween event! Which starts today!
A mysterious energy rift has materialised outside of Death's office, and is wreaking havoc. Death has created a set of pillars which are currently holding the dark forces back, but they alone will not be enough. Half-human, half-mahjarrat army general Moia is trapped inside the rift, complicating matters somewhat. Death could do with a hand freeing her and holding back the threat from Daemonheim.
As the concern swells, so too will Death's army. Join forces with the Riders – War, Pestilence and Famine – to fend off the rift's advances. There's bigger dangers on the way before this is over.
Heroes are rewarded in RuneScape, so in return for aiding Death and his boisterous chums, players will be whisked off to a loot-packed warped chamber. Time in the chamber will be fleeting, so be quick! What's up for grabs? You'll have to find out for yourself, but do expect some new unique items you haven't seen before.
On top of this, a number of drop chances have doubled within the quest including the ectoplasmator, Ghost Hunter outfit and herb burner, while ghostly essence will have a 10% increased drop rate. Players will also be able to burn bones on bonfires.
To get started on 'Til Death Do Us Part, head over to Draynor Lodestone and keep an eye out for Death and his pillars to the north east. A new Rider will arrive each week throughout the month, bringing with them new gameplay challenges.
F2P players will be able to grab all the same rewards as members, but some of them can only be used by members. Note too that the more players who get involved, the greater the rewards for everyone!
Have you listened to our RuneScape soundtracks yet? We have partnered up with video game soundtrack specialist Laced Records to release two albums that are available to pre-order both on double deluxe vinyl and CD now – RuneScape: The Orchestral Collection and RuneScape: Original Soundtrack Classics. Both of these albums are also available digitally PLUS buying either physical version also includes a digital copy.
Pre-order here (shipping this November).
At Jagex, we are always looking to our players for help and guidance on the future of RuneScape games, both current and upcoming. We are running a survey to ask players what RuneScape means to you, and hear about other games and activities that you spend your time on.
Those who complete the survey will be entered into a prize draw to win one of fifty $50 Amazon vouchers (or your stated country's equivalent currency). On top of this, five lucky participants will also receive a huge 60x40 cm (23 ˝"x15 ľ") print map of Gielinor!
Help us guide the future of RuneScape! Follow this link to take part in the survey.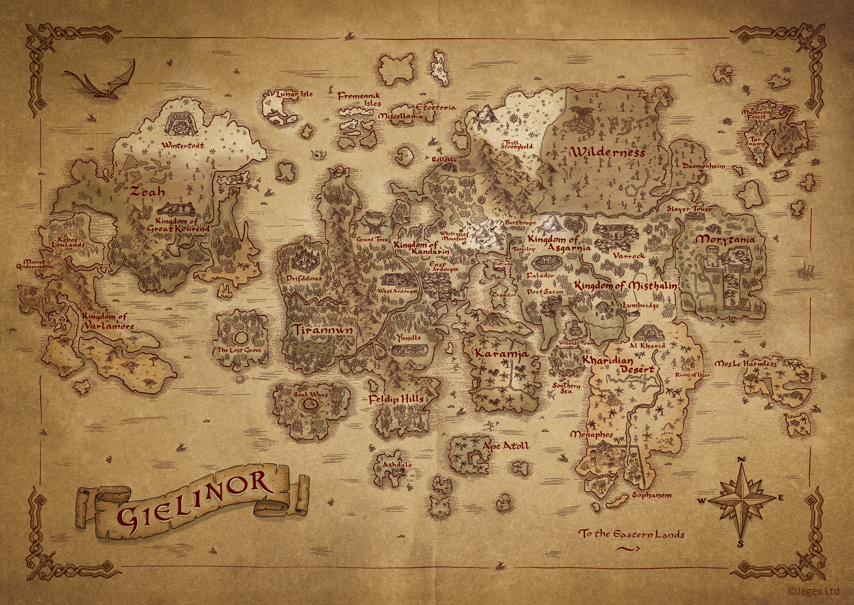 If you've been watching our livestreams, you must know that it's a great opportunity to grab some awesome in-game prizes. And since we've just revealed our new Hallowe'en Event - 'Til Death Do Us Part - you will receive an accordingly themed LootScape! Tune into one of our livestream during the day to receive this very special item:
100 Tainted Shard Charges – The Four Riders of the Apocalypse will need all the help they can get during this month-long mini world event. This is why the LootScape crate awarded to each and every one of you following one of our October streams will receive 100 extra charges on the Tainted Shard. And the easiest it is to defeat those monstrosities from Daemonheim, the more riches you'll get from the loot cave!
Exciting isn't it?! So don't wait up, connect your RS account to your Twitch account and find out more about it here. Once that's done, have fun and watch our streams during the day for a guaranteed drop!
Each week, we host developers QAs, exclusive in-game first looks and more. And it's all live on our Twitch channel, join us!
Missed a stream? Don't worry, we keep them all on our YouTube channel. So be sure to Subscribe to it!
Tuesday, October 9th – 16:00 UTC (Game Time) – RuneFest Q&A
Join us for a discussion on all the announcements made during the RuneFest Winter Reveals: the Hallowe'en Event, the Needle Skips quest, Mining & Smithing rework, RS Mobile and more.
Watch live on Twitch – be sure not to miss it!
LootScape will be enabled (see all details above).
Friday, October 12th – 15:00 UTC (Game Time) – Patch Notes Teasers
Join us for the Patch Notes Teasers – a first look at the update content and patches to expect next week!
Watch live on Twitch – be sure not to miss it!
LootScape will be enabled (see all details above).
Sunday, October 14th – 18:00 UTC (Game Time) – PvM with Mod Lee
Join our resident PvM expert Mod Lee with another mass this Sunday, live on Twitch!
LootScape will be enabled (see all details above).
Of course, adventures continue in Gielinor! If you want to follow all our announcements from our Twitch channel or networks while you're playing, well you absolutely can. Our PMods will organize a range of PvM Boss Masses, Events and Q&As throughout the week. Check out all the community events organised by the Pink Skirts on their official schedule here