Santa Claus is coming to town! Or at least he would be, if anyone could find him. That's where you come in.
Introducing this year's Christmas quest: The G-Nome Project. Remember those pieces of disassembled clockwork gnome you were gathering up in November? Now that Santa's favourite toy is back in one piece, Big-beard's decided to give him the best gift of all - the gift of life - and turn him into a real boy!
That's where things went awry. Something to do with the Queen Black Dragon and just a pinch of flawed advice. Head over to Varrock and chat to the Queen of Snow; she can fill in the details.
Long story short: Gielinor needs an adventurer. Will you save Christmas?
Minigames Winter Weekend
It's almost time for the third Winter Weekend: Minigames. Get in game between midday (game time) on the 15th until midday onthe 18th of December for the following boosts:
+1 Castle Wars gold ticket per game, regardless of win, lose or draw.
+1 medal from Fish Flingers per game.
Double commendation points from Pest Control and Conquest.
Double Bonus XP and rewards from Barbarian Assault.
Bosses killed in Dominion Tower are counted twice for the purposes of reward unlocks.
+50% Dominion Factor earned.
+50% produce points at Livid Farm (stacks with boosters).
An extra 600 daily bonus points in Cabbage Facepunch Bonanza.
100% increased Menaphos reputation from Shifting Tombs.
Double zeal from Soul Wars.
Shattered Worlds grants 50% extra anima.
Double points from Stealing Creation.
Check out the schedule for subsequent Winter Weekends throughout December and January. Skilling is up next, followed by Clue Scrolls.
On top of that, bonuses for Player-Owned Ports will be running for the entire five week duration! Expect to see:
25 voyages per day instead of 15
+ 30% extra resources or trade goods from voyages
The ability to get The Barmaid's special voyage on Saturdays and Sundays (in addition to Thursdays)
Advent Calendars
Remember, you can claim one free in-game gift every day in December from the community interface. And don't fret about missing days! As long as you log-in before the 8th of January, you'll still be able to pick up all your goodies.
There's also an Advent-ure Calendar in the forums being run by Mod PurPur and the Community Management team which rewards you for cracking puzzles and riddles! Take a look here.
Premier Club
Want exclusive content, VIP treatment and supercharged membership - all for a bargain price? Find out about Premier Club - our best membership deal of the year - on the Premier Club page!
WIN: A Razer Blade Pro this Christmas!
Christmas is a time for giving, so, we're giving you the chance to win an amazing Razer Blade Pro this December! Kick off 2018 in style by entering our competition here. Good luck!
Enjoy!
Jingle bells, jingle bells..
The RuneScape Team
Patch Notes
You can read the full list of this week's updates on the patch notes forum thread.
LootScape
What if we told you that tuning in for our live streams every month gets you in-game goodies?
Well, it does. Just connect your RuneScape account to your Twitch account and tune into one of our Tuesday, Friday or Sunday live streams to get some free stuff!
This month, you could win the amazing new (festive-themed) Cheer Hunter outfit. Good luck!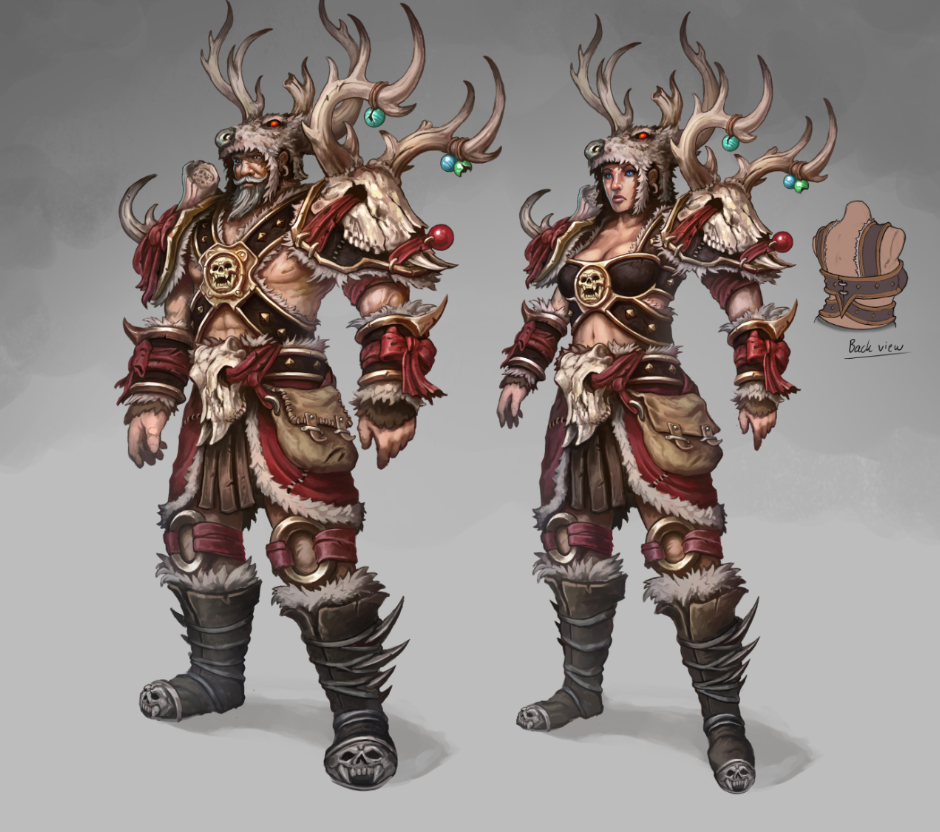 Live Streams This Week
Each week we livestream Q&As, in-game events and more. Watch our streams and find out more information about our streams over on our Twitch channel. Check our YouTube channel too for recap videos of streams you may have missed.
Tuesday, December 12th – 17:00 UTC (Game Time) – RuneScape Content Showcase: Mining and Smithing Special!
It's our turn to show you what we're working at the moment. This week, we'll be focusing on our Mining and Smithing progress. Don't miss it!
Find out live on Twitch and YouTube!
LootScape will be enabled for this stream.
Thursday, December 14th – 16:00 UTC (Game Time) – Lore Q&A
We've grabbed our resident Lorehounds on the sofas for an open Q&A. Gather your questions and join us for eggnog and the chance to explore some of Gielinor's greatest mysteries.
LootScape will be enabled for this stream.
Sunday, December 17th – 19:00 UTC (Game Time) – PvM with Mod Lee
Top up your PvM tactics with your weekly dose of monster-killing with Mod Lee!
LootScape will be enabled for this stream.