This week we're celebrating our 9th Birthday and showing off some mega-cool Leagues III medals!

9th Birthday Event
It's Old School RuneScape's 9th Birthday, and we're celebrating with a grand party in Al Kharid – but as per usual, something has gone horribly wrong…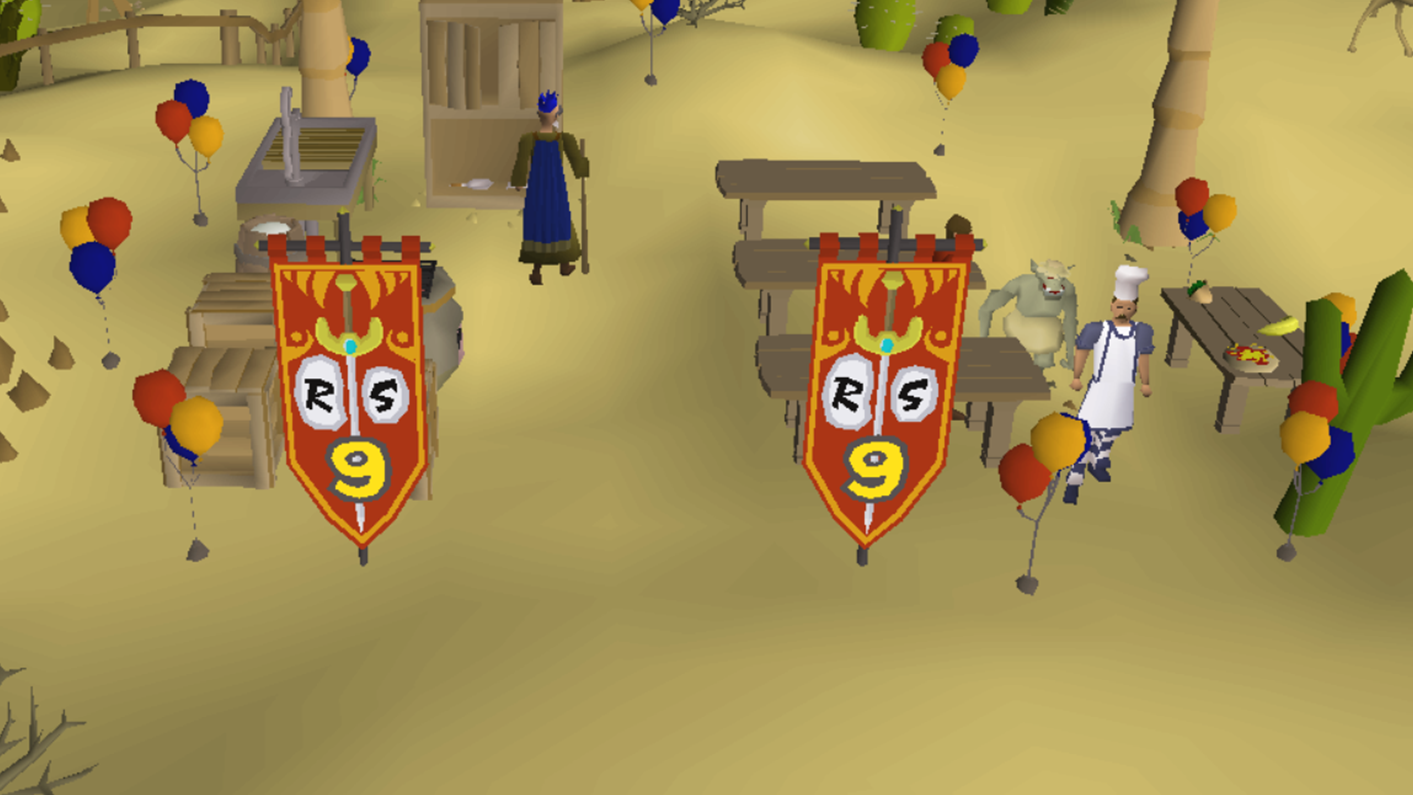 Hey, wait a second – we've just been informed that nothing has gone wrong and everyone's having a lovely time! It's a birthday miracle!
Well, since there's no monkeys to chase, cat ears to craft, or cakes to bake, you might as well kick back and enjoy the party! Why not go on a treasure hunt, join a cook-off, or partake in a spot of Fishing? Just head to Al Kharid to join the festivities.
As a reward for completing the event, you'll be rewarded with a brand-new pair of skis, perfect for coasting over the dunes of the Kharidian Desert* in style!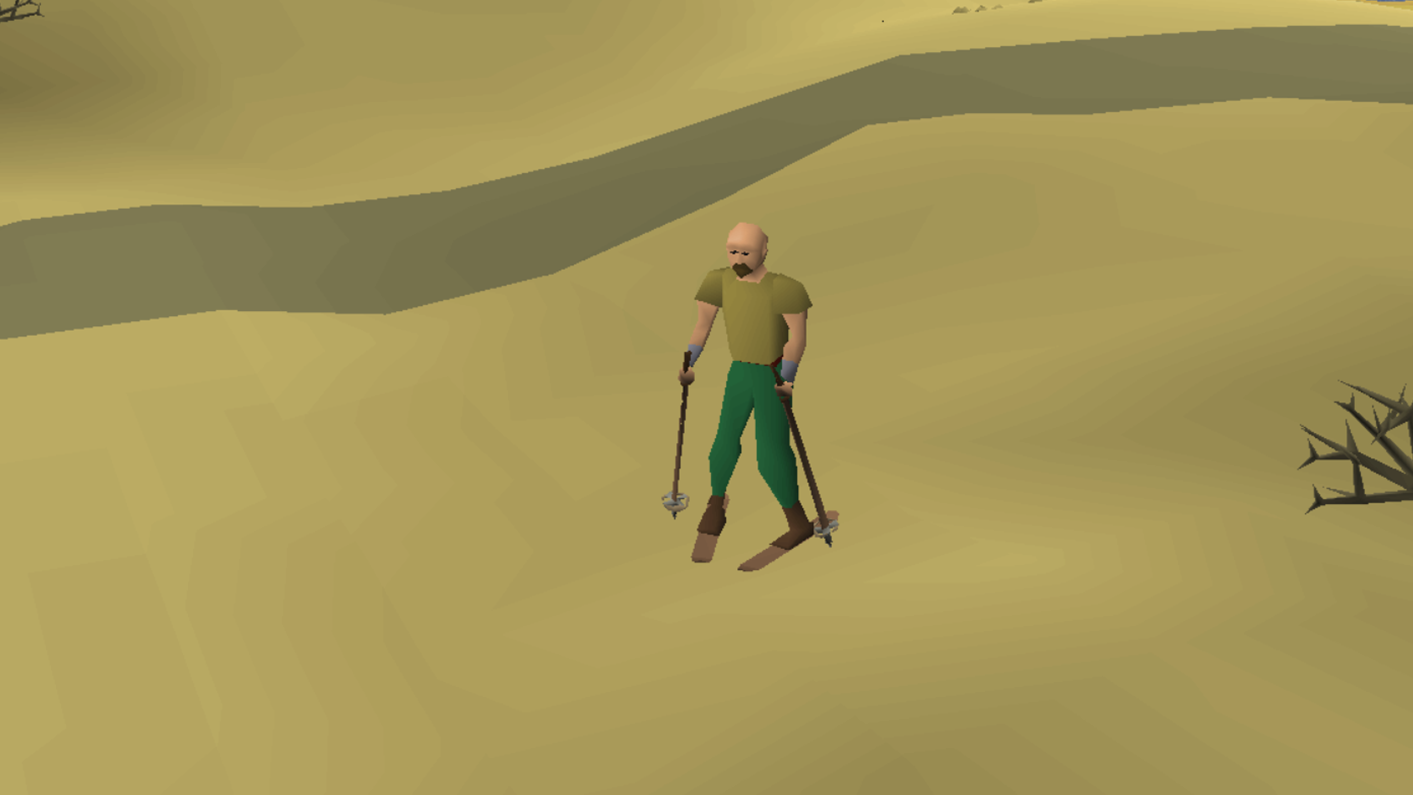 *Adventurers are warned that skis have NOT been tested in cold climates and optimal performance is not guaranteed. The Old School RuneScape Team is not liable for any injuries incurred as a result of using skis outside of the Kharidian Desert.

Leagues III: Shattered Relics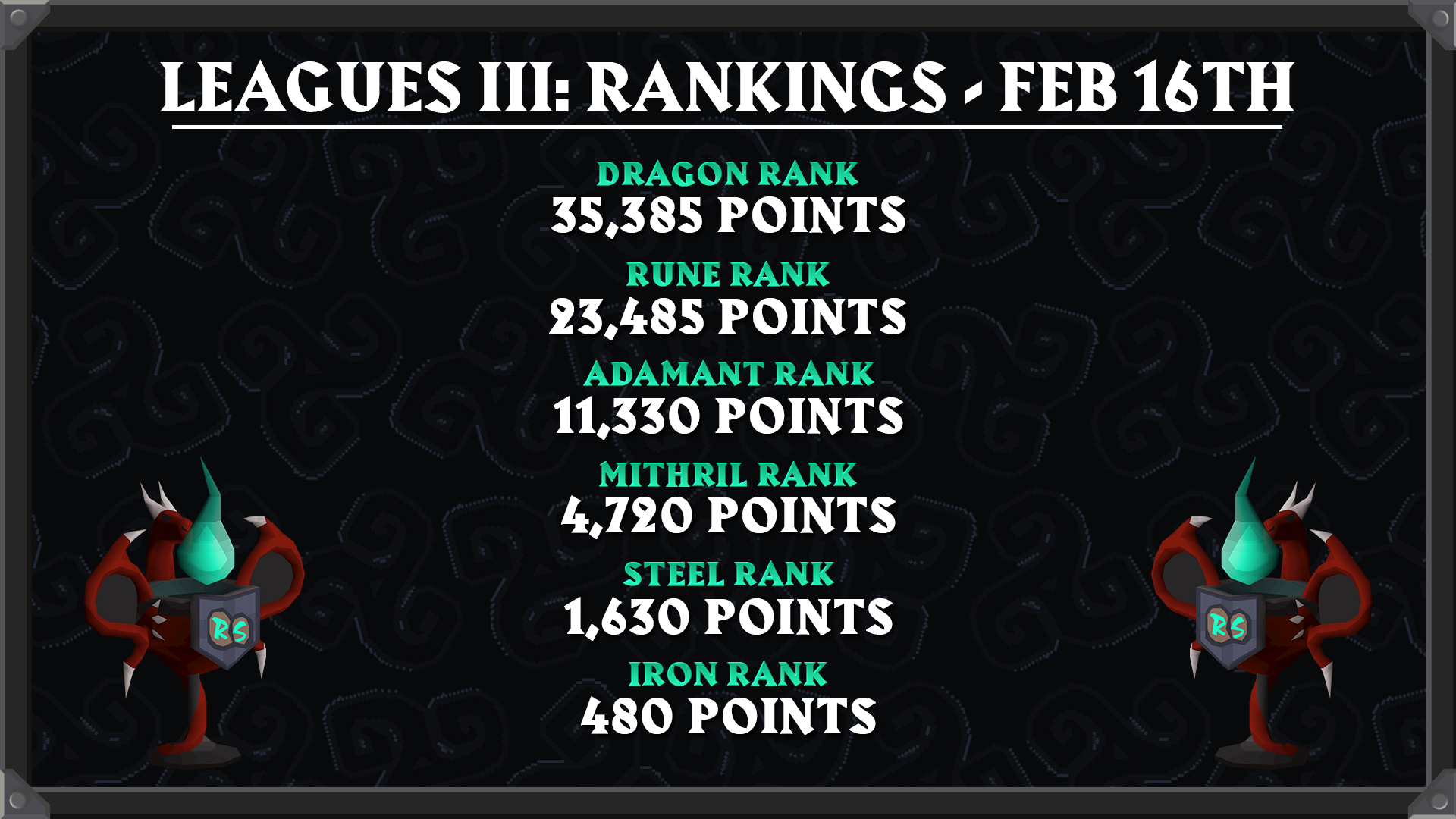 Players will now receive teleports on their Kharedst's Memoirs after purchasing the Kourend II or III bundles and will have access to them when opening the League interface.
Crafting the Crystal Body or Crystal Legs at the Singing Bowl in Prifddinas will now complete the 'Craft a piece of Crystal Armour' task.
The Saradominist Defence effect is now correctly applied in PvP.
Leagues III Medals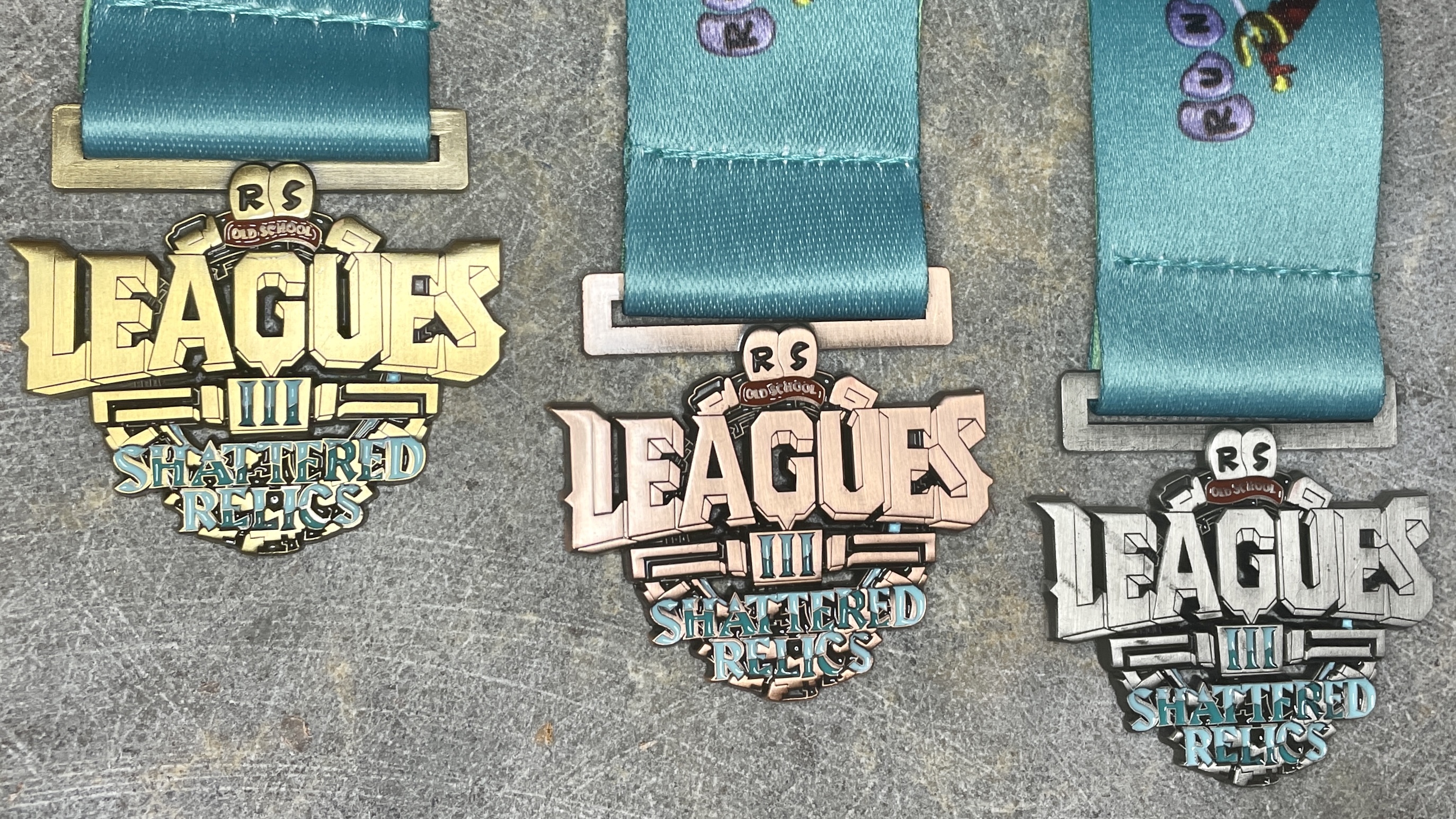 Last week, we showed off some exclusive, real-life Leagues III medals. Here's how you can get your hands on one!
The first set of medals have a Gold, Silver, and Bronze version for the 1st, 2nd, and 3rd place in the following categories:
Most Leagues Points
Most Tasks Completed
Most XP gained
First to Max
And the second set of medals have just one Gold variant for the dedicated players who complete the following achievements:
First to Obtain All Fragments
First to Unlock all Skills
First to Unlock all Bosses
First to Reach Tier 7
First to Reach Tier 7 without Hitpoints
Although some of these milestones have already been achieved, we'll be waiting until the League is over to confirm the winners. Should you be among them, we'll contact you via your player inbox, where we'll gather a few more details so you can receive your prize!
Remember, the League has been extended – so there's still time to complete those tasks, earn those League Points, and put yourself in the running!
If you miss out on one of these prizes, then stress not. An Antique Nickel variant of the medal will be coming to the merch store for you to reward yourself with, no matter where you finish!
Good luck!

Additional Changes
Recoloured and redesigned various red cross symbols throughout the game.
Green Dragons in the Wilderness Slayer Cave now drop their loot as banknotes for players with an Amulet of Avarice equipped.
The Zaryte Crossbow's special attack now triggers the teleport prevention effect after it is used in PvP.
XP is no longer lost upon death in a Deadman world if the dying player is unskulled. This applies to both PvP and PvM deaths.
The Miniquest Journal for Hopespear's Will now gives more information.
Previously, the music track Dusk in Yu'biusk wasn't unlocked during Land of the Goblins because it only appears in the post-quest version of Yu'biusk. However, as this was confusing, we've allowed players to unlock it during the quest itself – although it still won't play unless you return to Yu'biusk afterwards.
Oldak's dialogue following Land of the Goblins now changes based on whether you've found a way back to Yu'biusk or not.
The recommended Combat level for Land of the Goblins has increased from 60 to 65.
Fixed spelling errors in Land of the Goblins.
Readded missing Wiki options in the Quest List.
Combat Achievements Competition
Last year on the release of Combat Achievements we threw in some extra thrills with six competitions and some fantastic prizes! We'd like to reveal the winners of those competitions:
Grandmaster: Ginny
Master: Karl
Elite: Nosevesey
Hard: igotnoolife
Medium: evonaabi
Easy: Ozzys
Congratulations to all the winners! Messages have been sent to your player inbox with more details on your prizes!

PvP World Rota
The PvP rota has moved to Period A:
539 - (US) - PvP World
548 - (Germany) - High-Risk PvP World
577 - (US) - Free-to-Play PvP World
559 - (UK) - LMS Competitive
World 390 (AUS) for LMS Competitive has been activated with this rota.

Discuss this update on our official forums, on the 2007Scape subreddit, the Steam forums, or the community-led OSRS Discord in the#gameupdate channel. For reference on the above content, check out the official Old School Wiki.
Mods Arcane, Archie, Argo, Ash, Ayiza, Banjo, Boko, Brow, Bruno, Curse, Daizong, Deagle, Dibber, Ditto, Dylan, Ed, Elena, Errol, Fed, Gecko, Grub, Halo, Havik, Hornet, Husky, Jalo, John C, Kandosii, Katies, Kamon, Kieren, Kirby, Kurotou, Lenny, Light, Lottie, Mack, Matheus, Maylea, Markos, Meat, Morty, Nasty, Nin, Nylu, Oasis, Peppers, Regent, Redfield, Roq, Ry, Sarnie, Sigma, Skylark, Sova, Squid, Steve W, Tide, Torrance, Veda, Vegard, West, Wolfy & Zuko
The Old School Team