Welcome to the new Android Client Open Beta! The Beta client is now live for testing - and we're so excited for you all to get stuck in.
We'll be using this newspost to communicate FAQs and document any known bugs and hotfixes that might arise. It'll be updated as needed, so be sure to check in regularly!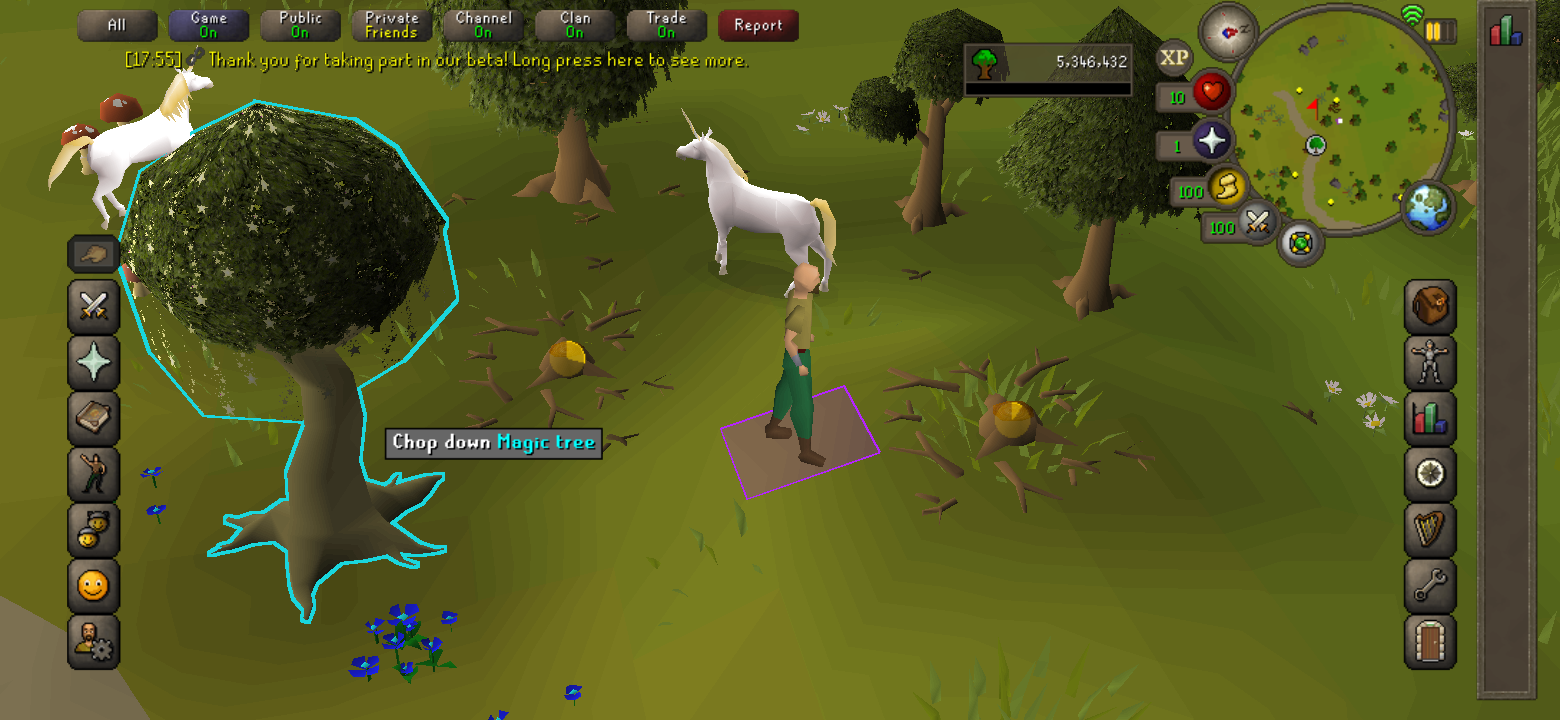 Directory
If you have general issues with the mobile client, your first port of call should always be the Mobile Support Hub, which you can find here.
The FAQ for the Enhanced Client can be found here.
To report a bug, check out the official OSRS Discord server here.
Please note, the minimum specifications for the new Android Client Open Beta are:
Android 8.0 (Oreo) or later
At least 2GB RAM
If your device does not meet these specifications, you will be unable to participate in the Android Open Beta.
How can I participate in the Android Open Beta?
If you already own the non-Beta version of the app, you'll be prompted to update your existing Old School RuneScape app, replacing the Beta version.
If you're currently unable to opt into the beta via the Google Play Store, don't worry - sometimes app updates can take varying amounts of time to reach everyone's devices. Keep checking back via the Old School RuneScape store listing to see if the opt-in option is available.
If you have not opted in already, you should do the following:
Open the Play Store.
At the top right, tap the profile icon.
Tap Manage apps and devices > Installed.
Locate and tap Old School RuneScape to open the app details page.
Under 'Join the Beta', tap Join > Join.
How can I leave the Android Open Beta?
To go back to the previous client, you are required to uninstall the Beta version because an update will not be offered automatically.
Open the Play Store.
At the top right, tap the profile icon.
Tap Manage apps and devices > Beta.
Find the Old School RuneScape app.
Tap the app to open its details page.
Under 'You're a Beta tester', tap Leave > Leave.

The new Android Client Open Beta will bring some of the new client features to mobile for the first time, including (but not limited to):
Buff Bars
XP Tracker
Minimap Zoom
Fishing Spot Indicators
HUD Improvements (NPC Information, Stat Boosts, Combat Styles, Health and Special Attack Regeneration timers)
Agility and Slayer Helpers
Chambers of Xeric Helper
Woodcutting and Ore Respawn Timers
Increased Draw Distance
Navigation Tile Indicators
Chat Improvements
Entity Highlights for NPCs (new to mobile)
Known Issues
These are known issues which we are aware of going into the new Android Client Open Beta.
Known Issues: 28th February




General




Swapping between apps can leave large areas of black. To resolve this, we recommend restarting the app.
Switching apps and back will result in the audio buffers sounding misaligned.
There can be crashing or freezing at 0% when loading into certain instances around the game. Examples of this include Player-Owned Housing, Chambers of Xeric and the Threatre of Blood.
The client can freeze when tabbing out to another app and back again.
Buttons not taking input without long press and menu click.
Top Left interfaces are dodging the side panel when chat is closed.
When taking a screenshot on certain devices, the game can freeze for a few seconds.
Bounty Hunter interfaces appear on Target worlds when no target is assigned.
Buff Bar does not populate correctly when logging in on mobile.
New Google accounts that have no RuneScape account linked to it will be unable to login.





Interface/UI




There are incorrect minimap icons in various places.
Various long menus have scroll arrows to move around them. to resolve this, we recommend holding down the arrow so that it continues to scroll.
Scaling on mobile can make text pixelated and difficult to read.
When taking part in the Gauntlet, the Gauntlet timer does not dodge the left side panel interface.
After closing the World Map, attempting to zoom in or out causes the camera to snap to the maximum or minimum zoom setting, depending which is closer to the current setting.
Zooming in is sometimes slower than zooming out.
When tapping the logout button for the first time, the button reacts to the input but doesn't perform the logout. To resolve this, please attempt to use the button again, as it should work the second time.





FPS




FPS fluctuates in and around Chambers of Xeric when changing draw distance.
There is noticeably lower FPS whilst using either: ASUS ZenFone 3 Max or Sony Xperia Z5 Dual.




Here are a list of known issues which should be resolved by March 2nd. Many of these involve known issues with the Buff bar:




All forms of Ranged ammo are disabled and will not appear on the Buff Bar.
Mark of Darkness timer displays the time remaining incorrectly.
Limit on number of buffs shown in resizeable mode increased to 12.
New Bugs & Issues: 28th February - 1st March
When minimising the map, the player may lose their ability to zoom. Restoring the minimap resolves the issue.
The autocomplete option on some keyboards is not appearing. Swipe typing is also affected by this.
Settings menu and Bank interfaces overlap with the inventory tab on certain devices.
We are investigating an issue with 'One-tap' login. There are reports where the login screen does not remember user details as intended. If a player is logged out for idling, their login details are not stored and they will need to relog.
UI issues when using the World Switcher menu.
Two finger input on the world map is responding slowly.
New Bugs & Issues: 2nd March
Entity highlights are not working correctly in Tears of Guthix.
Split Screen mode is not functioning as intended.
Huawei devices cannot launch the application from the home screen. It can however be opened from the application menu.
Withdrawing an item from the bank or closing the bank interface may cause the chat to disappear until reopened.
When selecting items in the inventory, the container shifts slightly to the left and right.
New Bugs & Issues: 8th March
The Clanmates PvP option is affecting regular players.
Graphical issues causing black lines to appear in certain environments.
Multi-finger and swipe gestures can cause the app to stop receiving input correctly.
Entity highlights cause significant FPS drops inside of GWD instances.
Entity highlights do not work on Fairy Rings.
There are some issues Issues when using a bluetooth mouse.
There are some issues when panning the World Map.
The App can stop responding correctly under certain circumstances.
We'll be listing new bugs and issues along with their status here. A lot of these issues are likely to be client-based rather than content based, which means they are unlikely to be hotfixable.

Player Feedback Survey
During the Android Closed Beta, we used Discord as our main channel to communicate between playtesters, QA and our developers. The new Android Client Open Beta will be completely open (hence the name!), and therefore we're unable to provide the same level of support and direct responses as we did for the Closed Beta.
We reckon a survey will be the most efficient method of gathering your feedback – the link to this Survey can be found here.
We'll use the information we collect to understand where we need to focus our efforts the most to make the mobile client as good as it possibly can be.
Thank you for leaving your feedback!
When can we expect an iOS Beta?
We're still aiming to have a Beta for iOS in the near future once we've completed our initial steps for Android. We'll be looking to share news on this either in a Gazette or another round-up summary.

Discuss the new Android Client Open Beta on our official forums, on the 2007Scape subreddit, the Steam forums, or the community-led OSRS Discord in the Android Beta category!
Mods Arcane, Archie, Argo, Ash, Ayiza, Banjo, Boko, Brow, Bruno, Curse, Daizong, Deagle, Dibber, Ditto, Dylan, Ed, Elena, Errol, Fed, Gecko, Grub, Halo, Havik, Hornet, Husky, Jalo, John C, Kandosii, Katies, Kamon, Kieren, Kirby, Kurotou, Lenny, Light, Lottie, Mack, Matheus, Maylea, Markos, Meat, Morty, Nasty, Nin, Nylu, Oasis, Peppers, Regent, Redfield, Roq, Ry, Sarnie, Sigma, Skylark, Sova, Squid, Steve W, Tide, Torrance, Veda, Vegard, West, Wolfy & Zuko
The Old School Team.