You've heard the news about our partners Steamforged bringing Gielinor to tabletop. Today we can reveal that Steamforged's RuneScape Kingdoms: Shadow of Elvarg Kickstarter campaign will launch Tuesday 31st May, 2022!
The Kickstarter will be live for just 10 days, so be sure to follow the campaign so you don't miss out. And that's not all we've got for you today. We're ALSO super excited to unveil the core game box art!
Introducing RuneScape Kingdoms: Shadow of Elvarg!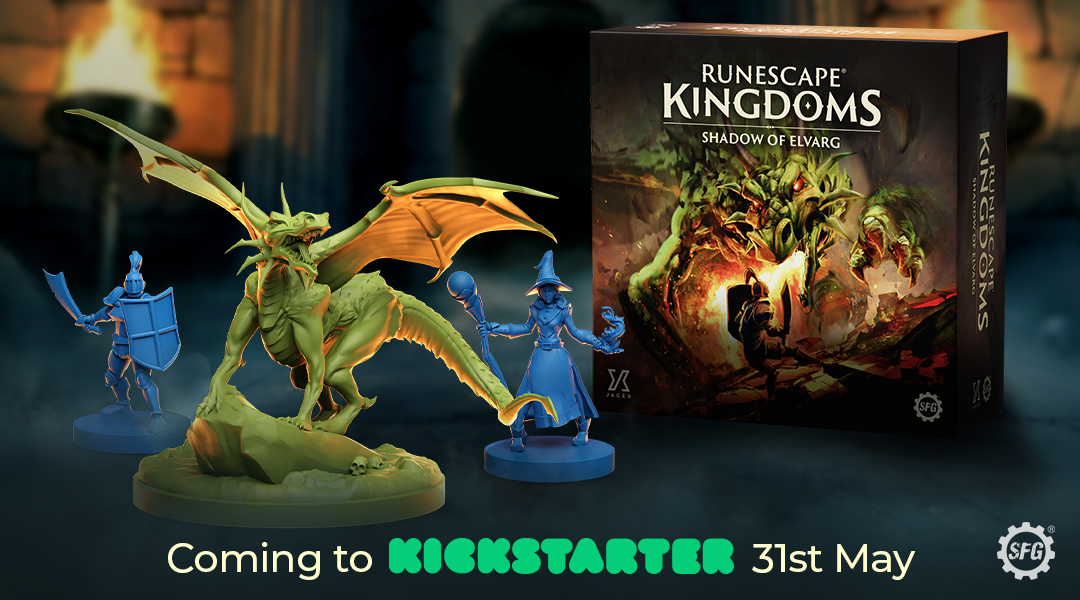 Suddenly it all feels more real, huh? We have a name, box art and Kickstarter date! And that's not all: today we've also got a first look at the game board, mechanics and which iconic locations of Gielinor will be brought to life! Plus – and we know this is what you've been waiting for – you'll get your first look at minis!
Before we get started, don't forget you can follow Steamforged's Kickstarter now – you won't want to miss launch day!
So, without further ado, let's take a look at RuneScape Kingdoms: Shadow of Elvarg!

The Ultimate Tabletop Adventure
RuneScape Kingdoms: Shadow of Elvarg is a cooperative campaign board game for 1-5 players, set in the fantasy world of Gielinor you know and love.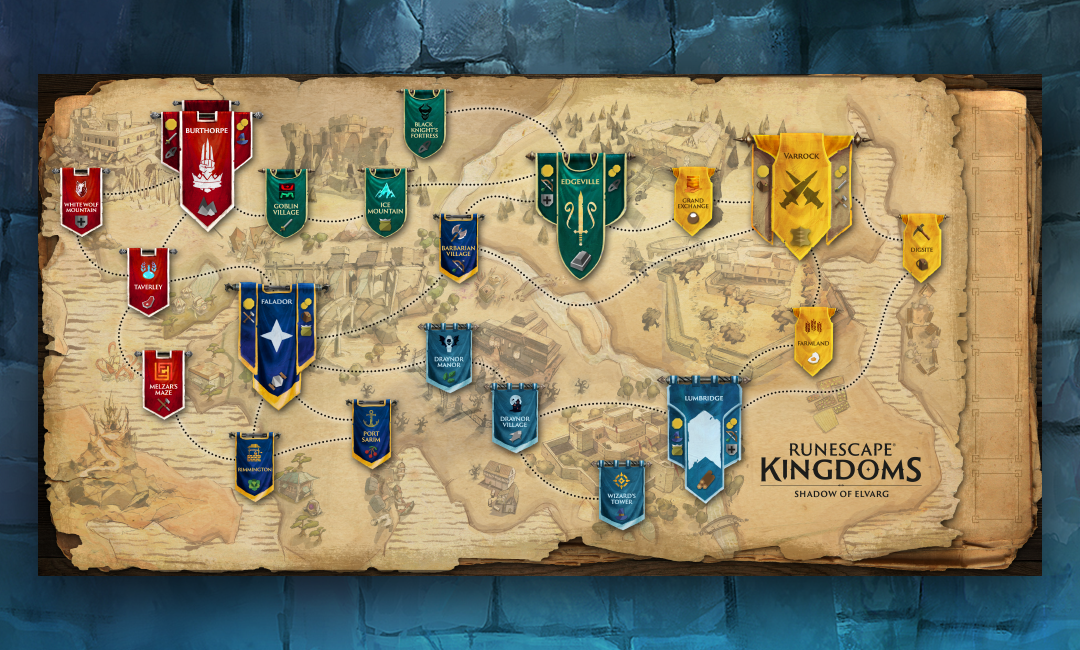 Explore from above with a game board styled like a fast-travel map, jumping from region to region as you level up your skills and complete quests. Zoom in for face-to-face encounters with iconic bosses that become even tougher as you work your way toward the final quest!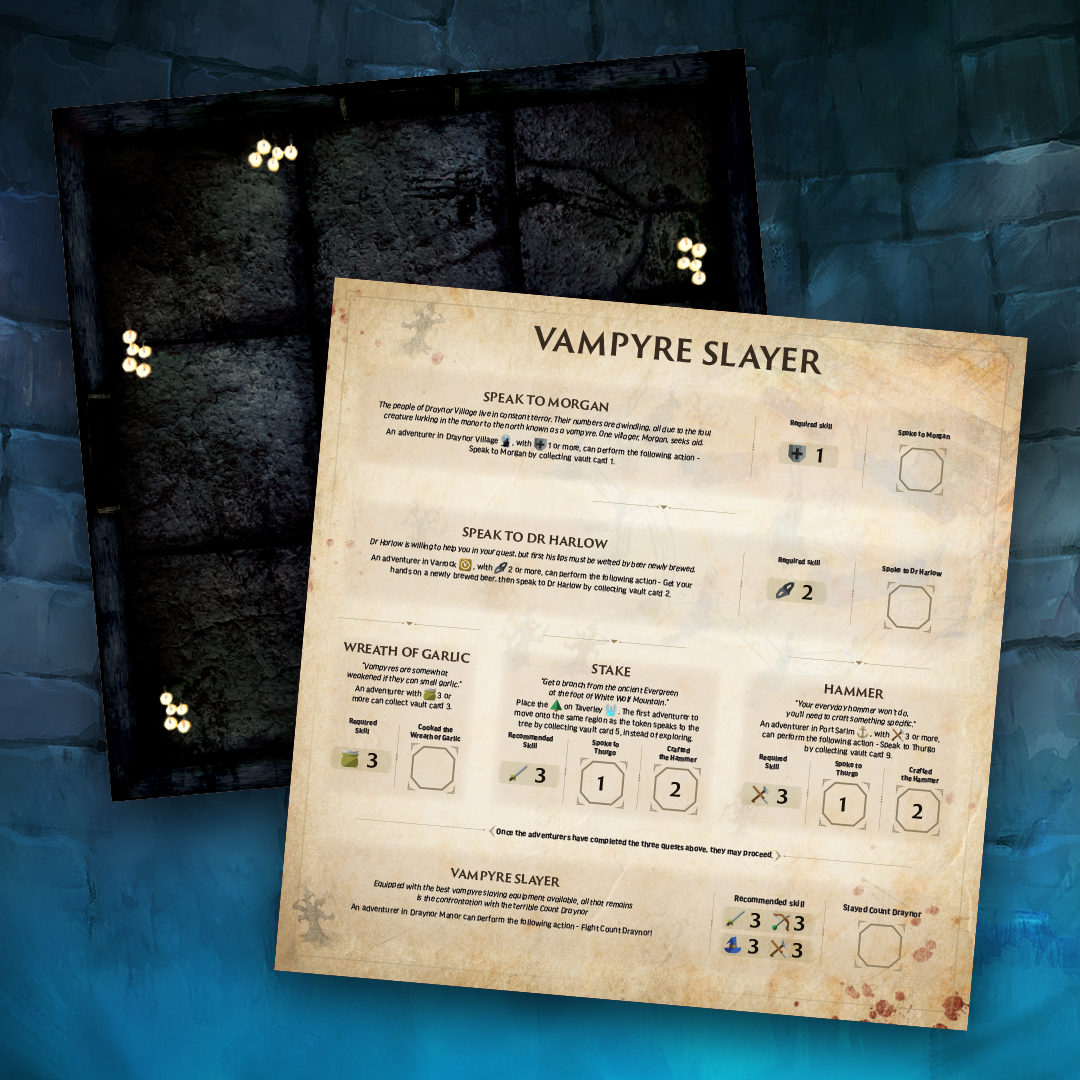 Just like in the games, you get to choose what skills to max, which weapons to craft, and even where to explore next. Meander through Gielinor sampling every side quest on the way, or keep your eyes on the prize and cut a straight path through the campaigns to take on challenging boss fights. Every group member can play their way, maxing skills to level up and earn those all-important capes! Experienced 'Scapers will recognise iconic moments and sneaky references to their favourite video game, while total newbies will be enthralled by the wide world of Gielinor and all the adventures they get to experience on their own terms.
It was really important for the board game to appeal to 'Scapers of all kinds. Whether you're a full member or a free-to-play adventurer, and whether you play Old School RuneScape or RuneScape (or both!) you'll be experiencing the world you love in an authentically familiar tabletop adventure.
Iconic Locations
RuneScape is over 20 years old, and therefore absolutely enormous. Steamforged knew it would be impossible to do justice to every location, so they have focused on Asgarnia and Misthalin. As the first realms created in the video games, and the core of the free-to-play areas, they're rich in content and central to any new player's journey. We wanted anyone experiencing Gielinor on tabletop to have that same sense of anticipation felt by players starting out in RuneScape!
And now the part you've all been waiting for…
Miniature Reveal!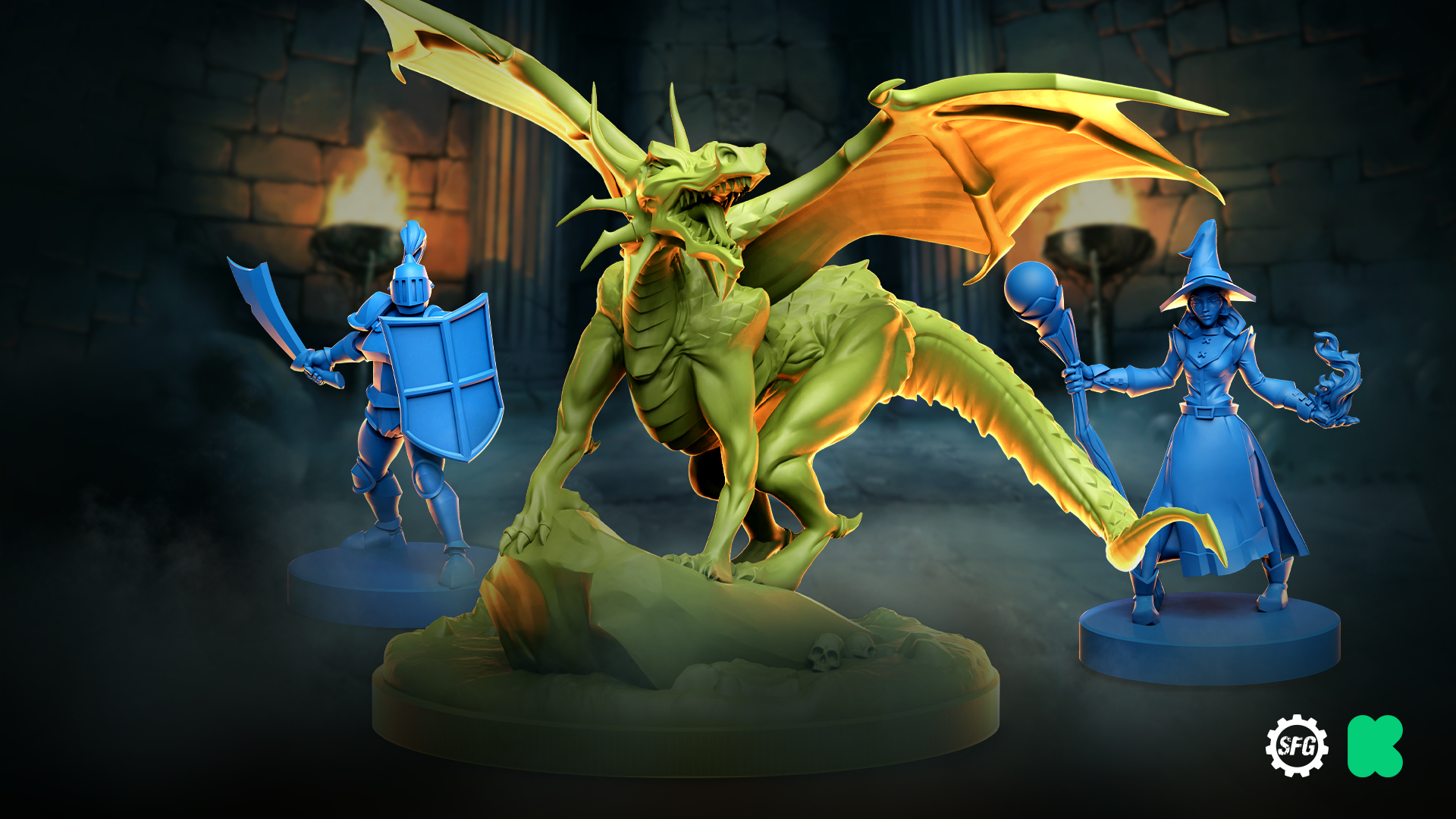 Steamforged have developed a unique visual style for the RuneScape Kingdoms minis to reflect iconic outfits, NPCs and bosses from the past 21 years. This look is inspired by RuneScape's low-poly roots, but with all the detail you'd expect from a thoroughly modern mini.
These first four minis give a taste of that style, and we look forward to revealing more in the coming weeks!
Certain types of players may be drawn to certain minis, but remember – no matter which mini you choose it's entirely up to you how you build your skills, select your equipment, and explore Gielinor.
Knight
A melee powerhouse clad in trusty bronze armour, the knight faces every challenge with brash determination. In the eyes of the knight, there's no problem that can't be solved with a swing of their scimitar!
Wizard
Through magic, all things are possible. Whether teleporting long distances, enchanting items with magical properties, or casting foes aside with elemental spells, the wizard is a blue-robed paragon of quick wit and explosions.
Skiller
With their pickaxe, chef's hat, and fishing rod, this mini pays homage to the many hours players have whiled away fishing for sardines and mining ore!
The Archer
Where there's danger, the archer ensures no foe gets close enough to be a threat! Completing the melee, magic, and ranged combat triangle, the archer gives you a full selection of combat-focused minis to choose from.
Inspired by early-game archer gear, the archer is equipped with a shortbow and bronze arrows. Like their weapons, their leather body, chaps, and boots are cheap and easy to come by — ideal for someone just starting their RuneScape Kingdoms journey.
Elvarg
No hero is complete without their villainous counterpart. You'll face many challenges on the way to face the mighty green dragon, Elvarg! Take the ultimate champion's test and put an end to the winged terror of Crandor, before Gielinor is consumed by shadow and fire…

Follow All The Action
Want to find out more? Keep an eye on the Steamforged blog as they take you on a Tutorial Island-style tour of the game in the run-up to the Kickstarter!
Want to back the game on Kickstarter? Follow the campaign now so you're ready for launch!
Want to get hyped with other 'Scapers? Join the dedicated tabletop group over on Facebook (where Steamforged will be sharing ALL new reveals!)

The Old School Team.